Now that we know the basics of giving a corporate holiday gift, it's time to start planning your own gift-giving strategy. The following five steps will help you be proactive this holiday season and plan out your corporate holiday gifts with an ample amount of time.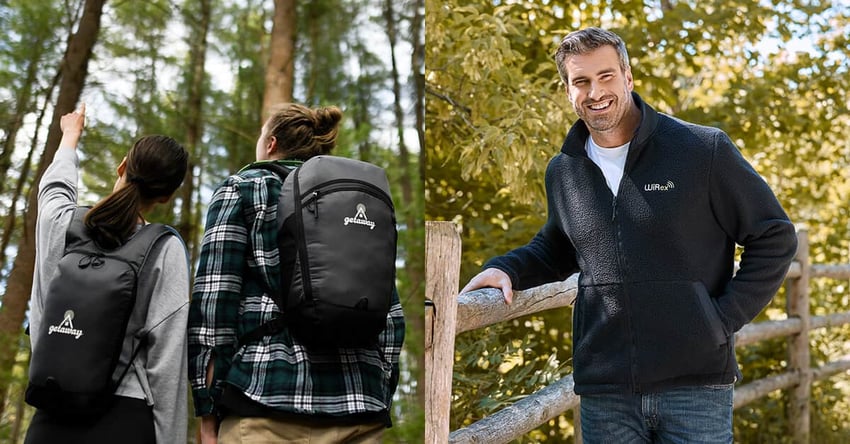 1. Know Your Company Gift Budget
Budgeting is a critical first step in sending or giving a corporate holiday gift. Typically companies wait until Q4 to assess their gift-giving budget. This year, Q4 will be too late. It's time to hash out those budgets now, so you'll be prepared to place orders earlier than usual. Remember, the goal is to have products selected and orders in by October to ensure you have access to the highest quality choices.
Once you've hashed out your total budget, you'll want to allocate how much you want to spend on each client, and/or employee gift. For instance, maybe you break up your budget into three sections:
VIP clients - High-level accounts that do the most business with you deserve top-level gifts. Consider separating these recipients and choosing a higher-end, premium gift package.
Regular or frequent customers - Repeat customers that are valuable, but might not spend quite as much as your VIPs, might not get quite as much as your budget. But it's still important to allocate enough to send a high-quality gift that shows appreciation.
Employees - Finally, save money in the budget for your employee gifts. Internal team members are just as important as the very best clients, so make sure you plan accordingly to send a thoughtful gift.
Follow these two steps to help put together your entire corporate holiday gift budget:
Make a list of everyone who will be receiving a gift.
Establish the amount you want to spend on each recipient, considering the three categories we listed above. To give you an idea, on average companies are spending around $79 to thank employees and about $46 on average to thank clients.
2. Understand Who You're Sending Your Business Gift To
Once you've determined your price range, you'll need to start brainstorming gift ideas. In order to do that effectively, you need to have a solid understanding of who your audience is. This will help your gift be more personal, genuine, and overall, just more meaningful. The following questions will help as you define who your audience is:
What is their age?
What's their gender?
What type of company do they work for?
What's the role at their company?
How are they related to your company?
The more you understand about your audience, the better gifts you'll give. Don't be afraid to do some of your own research too, especially for those very important clients. Social media can reveal a lot about your target recipient and help you choose a better, targeted gift that will truly delight.
3. Select Your Corporate Holiday Gifts
Now that you have a budget, and clearly understand who your recipients are, it's time to select your gifts. Typically, when it comes to corporate holiday gifts, you'll want to select from two different tiers: high-quality premium gifts to medium-priced gifts with a high perceived value. Stay away from lower-tiered trinkets that you might order in mass quantities ahead of a trade show. While there is a time and place for this type of promotional swag, it doesn't belong in a corporate holiday gift package. So what types of items do fall in these categories? Let's take a look.
Top Tier Items
These are the gifts you budgeted for those VIP clients. Typically, you'll purchase these in low quantities and reserve them for high-level clients. The following categories might make good premium gifts.
Retail Inspired Items - These are brands that are popular and have a high perceived value. Some of our favorites include Corkcicle, CamelBak, Thermos, and Bose.
Gift Sets - Bundling items into high-quality gift sets is another way to send a premium gift. Packages might include food bundles inside a branded cooler or a cocktail gift set that includes a piece of branded drinkware and high-quality cocktail mixes. You can choose from already created gift bundles or make your own by pairing high-quality gifts together.
Middle Tier Items
High-end gifts won't be for every client or employee. Middle-tier items are just one step down from premium gifts. They are moderately priced but still have a high perceived value. The following categories make good middle-tier gifts:
Logoed Apparel - When gifting apparel, think about items that recipients will want to wear outside of work, and inside the office. Versatile branded apparel styles might include logoed fleeces, sweatshirts, lightweight jackets or even branded scarves, beanies, socks or shoes.
Branded Drinkware - It's hard to go wrong with branded drinkware. From logo etched cocktail glasses to more durable, vacuum insulated, stainless steel tumblers, there's really something for everyone. Plus, it's a gift that recipients will find use for all year long.
Hybrid Office Accessories - There are so many unique desk accessories out there that will delight recipients just because of their functionality. With more and more employees jumping between home office and work office, branded desk accessories will get a lot of use and appreciation.
Tech Items - Branded Bluetooth speakers, earbuds, wireless chargers, or powerbanks are all extremely useful items that have a high perceived value, and will get a lot of use amongst hybrid or remote workers.
Food Gifts - When the holidays come around, everyone enjoys a decadent box of chocolates or sweets, or logoed jams, cheese, and snacks. With so many different food combinations, you're sure to find a taste treat that will please every different persona. Plus, you can always combine food gifts with a logoed cooler, piece of drinkware, backpack, or some sort of branded accessory to increase its staying power.
4. Pick Your Gift Packaging
Once you've decided on the items that will make the best corporate gifts for your personas, your next step is to determine how you'd like to present these gifts. We know that 50 percent of people agree that premium packaging makes them more excited about opening a package. But what exactly does premium packaging mean? Here are a few things to consider when it comes to packaging your corporate holiday gifts:
Brand Aligned Packaging - Your brand is what you and your clients or employees have in common. So use it to establish a middle ground. The packaging you choose should align with your company's brand in some way. This could mean including bold colors and patterns or be as simple as including a logo. The key here is to make sure your recipient knows who the gift is from, and recognizes your branding.
Messaging - What are you trying to communicate with this corporate gift? Don't be afraid to use your packaging to get your message across. Maybe this includes branding the gift box with a quote or message of appreciation. Think hard about how you want your box to be perceived, and structure your packaging design accordingly.
Packaging Logistics - Though not quite as bright and shiny as the messaging, and branding, you can't forget about the logistics of your packaging. You'll need to consider the size of your gifts and whether or not you're shipping these gifts. These factors will determine the size of your packaging and whether or not you might have to include room for a shipping label.
Continued Reading: How to Design a Custom Swag Box (+Free Templates)
5. Delight Your Recipients with Corporate Gifts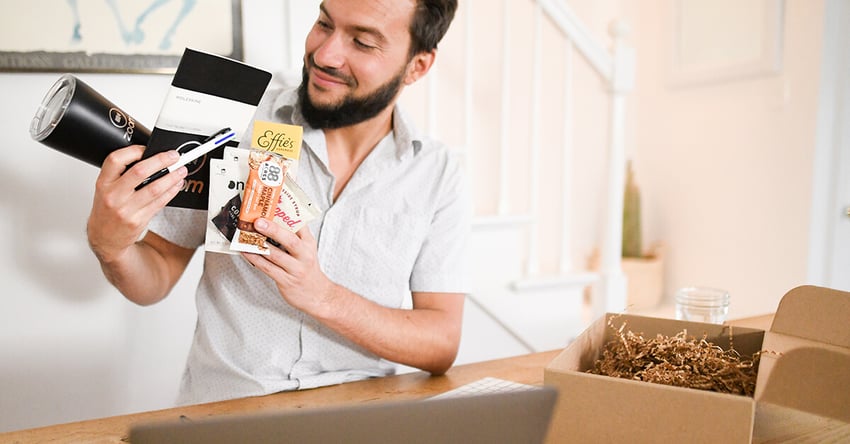 You've purchased your gifts and selected your packaging. All that's left now is to give your gifts. This is the fun part and where the benefits of corporate holiday gifts shine through. When you delight your recipients with the right gift, the product you've invested in becomes so much more than just an item. It becomes a physical reminder of the relationship that exists between your brand or company and your target recipient. The right corporate holiday gift has the power to strengthen the bonds between you and your personas, increase employee loyalty, and drive more meaningful relationships that will ultimately drive business success.