There are few better ways to invest in customer relationships than corporate gifts for clients. A thoughtful, high-quality gift goes a long way toward demonstrating your appreciation for the support your clients give your business.
When you send your clients branded corporate gifts, you're not just strengthening your relationships, you're also strengthening awareness of your brand. Clients will understand that your business values them, but they'll also advertise your brand every time they use the gift you gave them.
Any business can send corporate gifts, but the real key to success lies in finding truly memorable items your clients will use every day. Let's run through the factors you need to consider to choose the best corporate gifts for your clients, plus 12 unique examples.
Tips for Choosing the Best Corporate Gifts for Clients
Whether you're in the market for corporate holiday gifts for clients or are looking for a unique way to thank clients for their business, following these tips will help ensure your corporate gifts leave a lasting impression:
Tailor Gifts to Their Interests - The best gifts aren't always the fanciest or most expensive items – they're the ones with thought behind them. Choose gifts that match your clients' interests and hobbies. For some, that might be a golf gift, whereas for others, sustainable swag might be a better choice.
Choose a Unique Item - Get your clients something they don't already have and might not buy for themselves. Generic gifts have a place, but if you want to make a real investment in your relationship, splurge for more unique corporate gifts for clients.
Opt for a Quality Item They'll Use Regularly - Even if you're choosing corporate holiday gifts for clients, make sure you choose an item that can be used all year long. You want the gift you give to be an important part of your clients' daily life, not something they only take out a couple of times a year.
Include Subtle, Tasteful Branding - Adding your business's logo to your corporate gifts is always a good idea, but do this mindfully. Strike a balance between clearly displaying your logo and ensuring the gift is the main focus, not your brand.
Gift Something Shareable - People get great joy from sharing their gifts with their families, friends, and colleagues. Select gifts that recipients are proud to show off, whether that's a waterproof speaker for their next beach day or gourmet gift baskets that teams can enjoy together.
Add a Personalized Message - Consider choosing a gift you can customize for your client. Not only will your gift be tailored to their interests, but it'll be entirely unique. Make sure to include a card with a handwritten note expressing your gratitude for their continued support.
Create a Pop-Up Shop - Sometimes, the best gifts are the ones you pick for yourself. Creating an online pop-up shop that allows clients to select their preferred gift is a great way to ensure everyone gets something they'll use time and time again.
12 Unique Corporate Gift Ideas for Clients
Ready to take your customer relationships to the next level? These 12 unique corporate gifts are sure to leave a lasting impression on your clients.
1. Stanley Quencher H2.O FlowState™ Tumbler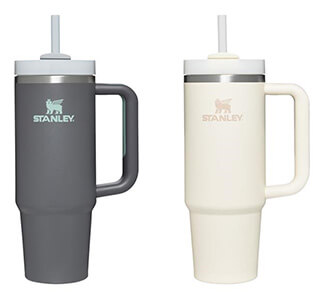 Stanley cups are this year's must-have drinkware, and it's easy to see why. With a huge 30 oz. capacity, double wall insulation technology, and a three-position lid, it's a great gift option. Gift this item, and next time you visit your client, we bet you'll see this cup taking pride of place on their desk.
2. Rest and Relaxation Kit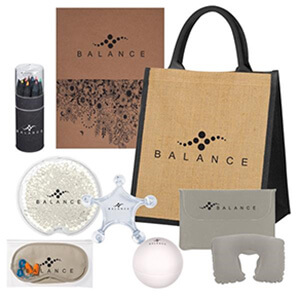 Give your clients the gift of tranquility with this rest and relaxation kit. It's one of the best corporate holiday gifts and is made to help your clients kick back and recharge over the break. Inside the kit, you'll find a therapeutic gel pack, eye mask, neck pillow, adult coloring book, and a set of colored pencils.
3. Upcycled Throw Blanket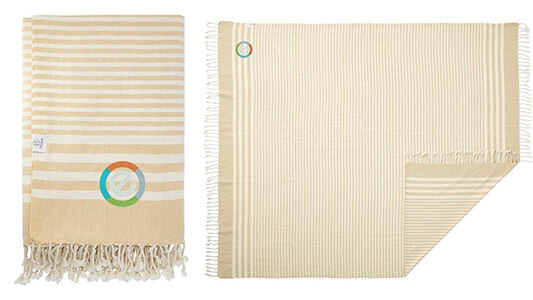 This throw blanket is perfect for everything from watching movies on the sofa to an afternoon picnic in the park. Made with 50% recycled cotton, every blanket features hand-knotted tassels crafted according to ancient tradition. It's a truly unique corporate gift for clients that's perfect for making memories.
4. The Executive Thank You Kit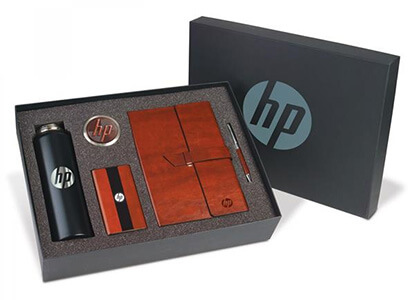 Sometimes, more is better. That's certainly the case with this Executive Thank You Kit, which comes with a selection of high-quality gifts neatly packed in a customizable box. Inside, your recipients will find a stainless steel water bottle, a rechargeable battery, a stylish portfolio, and a refillable ballpoint pen.
5. Money Tree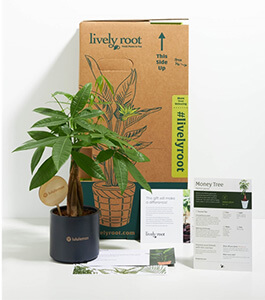 Money might not actually grow on this tree, but great relationships certainly do. This bonsai tree is said to bring good luck and fortune, making it a perfect corporate gift idea for clients. This indoor plant thrives in sunny spaces and purifies the air around it, making it ideal for office environments. With options to customize the plant pot, sticks, and message card, there's ample opportunity to show clients how grateful you are.
6. Soundpro Waterproof Magnetic Speaker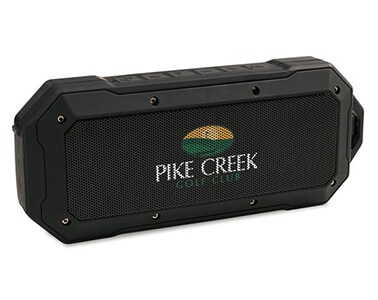 If your client is the life and soul of the party, they'll love this waterproof magnetic speaker. The magnetic design means this speaker attaches easily to golf carts, tents, and coolers, making it the perfect companion for your clients' next adventure.
7. Slate Serving Plate with Cheese & Sausage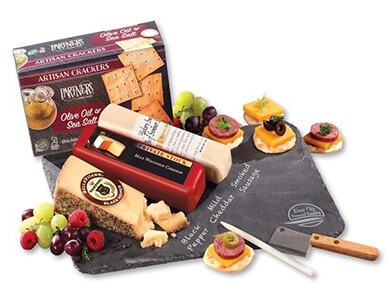 Everyone loves gourmet food gifts, especially as a corporate holiday gift for clients. This gift set comes with crackers, assorted cheeses, and a selection of sausages. Even if the snacks don't last, the elegant slate serving platter they come with will be used for years to come.
8. Cuisinart® 3 Piece Pizza Grill Set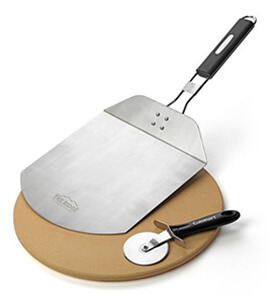 Pizza is a universally loved food, but without the right equipment, it can be difficult to make a truly great pie at home. With this Cuisinart® gift set, you'll give your clients everything they need to cook up a slice of heaven right from their home. When they bite into that first slice, you can bet they'll be grateful.
9. Moleskine® Notebook and Kaweco Pen Gift Set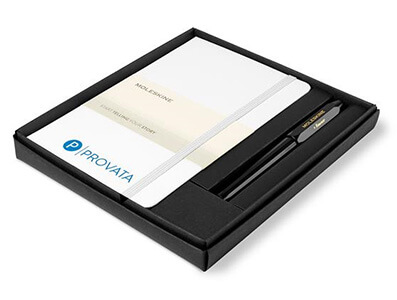 When it comes to corporate gifts for clients, custom notebooks are a timeless, classy option. This gift set takes that up a notch, packaging a hard-cover Moleskine® notebook with a high-quality Kaweco refillable pen. It's an elegant, stylish gift for your clients that they'll use on a daily basis to store their most important ideas.
10. PowerTrip Classic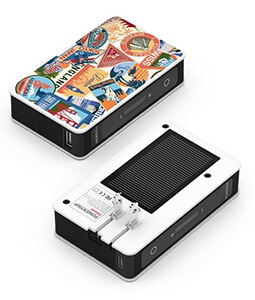 Today, everyone is more reliant on their mobile devices than ever. But keeping them charged all day long can be a pain, particularly for busy business travelers. This power bank puts an end to that pain. It can be charged via an outlet, USB, or even a built-in solar panel, and features superior battery retention and auto shut-off technology that ensures your clients will never run out of power when they need it.
11. Fast Wireless Charging Stand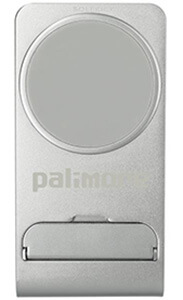 Empower your clients to wirelessly charge their devices with this magnetic charging stand. Compatible with both iPhone and Android devices, phones stick to it as if by magic, resulting in a clean, trendy look that will ensure your clients be the envy of their co-workers.
12. Igloo® Legacy Lunch Pack Cooler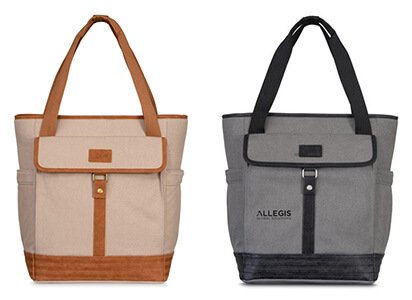 Corporate gift ideas for clients don't come much better than this versatile lunch pack cooler. It can be carried as a backpack or tote and has plenty of room for meals, snacks, and water bottles. Whether your clients love to meal prep their office lunches or want to pack snacks for an afternoon at the beach, this portable cooler is the perfect gift.
Ready to Select Classy Corporate Gifts for Your Clients?
Taking a thoughtful approach to choosing the best corporate gifts for clients is key to giving presents your clients will love. A unique gift is sure to make your brand stand out from the crowd, building improved awareness and opening up a new chapter in your client relationships.
If you need some guidance selecting the best corporate gifts for clients, reach out to a GoDelta Brand Consultant. We'll partner with you to help you pick unique gifts that will take your client relationships to new heights.