There are corporate gifts, and then there are luxury corporate gifts. Whether you're striving to impress clients or show your appreciation to your employees, investing in high-end gifts is a surefire way to dazzle your recipients.
Luxury gifts elevate your brand to new heights, creating a premium perception of your business and what it stands for in the minds of your clients and partners. But beyond that, these swanky gifts spark stronger relationships, promoting increased loyalty and fostering closer bonds between your business and the people that matter most to it.
Best Premium Corporate Gifts to Personalize in 2023
The best luxury corporate gifts are unique – personalized with your business's logo and branding, they're a one-of-its-kind gift that won't be replicated. Whether your recipients use them at work, while traveling, or just at home, you can bet they'll be the envy of everyone around them.
If you're buying gifts for your executives or treating your most important customers, you'll find inspiration from this list of the best premium corporate gifts for 2023.
1. Leather Padfolio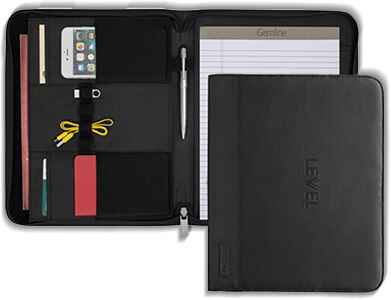 Nothing says understated luxury quite like a premium leather bound padfolio. This stylish option will be right at home in the corner office. It's functional too, with a multi-pocket organizer, built-in notepad, and storage for a laptop and smartphone. The padfolio ships in a gift box with customizable branding, meaning you can present it in style.
2. Samsonite Executive Computer Backpack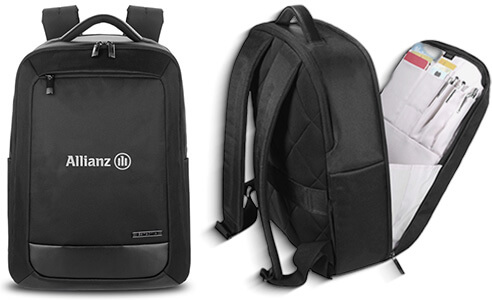 Great gifts are gifts that get used every day – not left to collect dust on a shelf. This executive computer backpack from Samsonite is the perfect gift for modern business professionals. It comes with plenty of storage, an RFID pocket to keep devices secure, and a sleek, matte-black design that will look right at home in business class.
3. Kenneth Cole® Computer Tote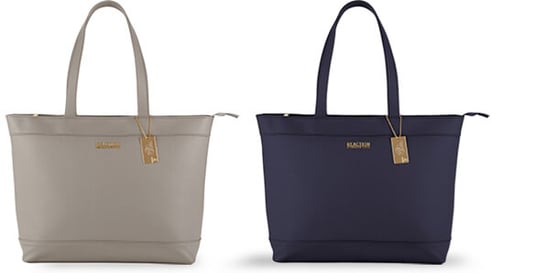 This computer tote, from well-known luxury brand Kenneth Cole, is the perfect high-end corporate gift for fashion-forward recipients. It's just the right size for busy professionals and comes with a zippered laptop compartment and elegant gold accents that elevate this bag above a traditional tote.
4. iHome Deep Tissue Massager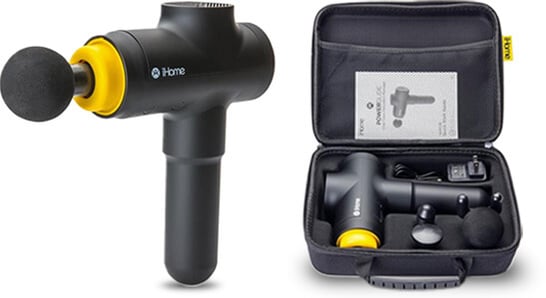 Whether it's a long day of travel or endless back-to-back meetings, sometimes we all need to kick back and relax. This deep tissue massage gun blasts away muscle soreness, making it a great luxury gift option. With a six-hour battery life and a convenient carrying case, this massager comes ready to go wherever business takes you.
5. Rollerball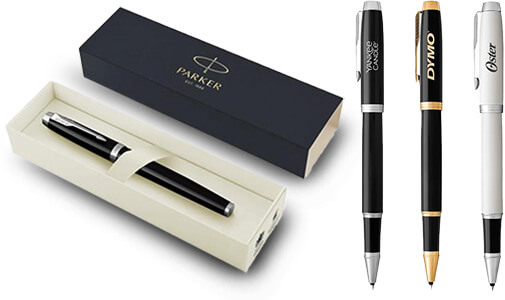 There are few premium corporate gifts more enduring than a Parker Rollerball pen. Whether your recipients will use it to ink major contracts or jot down their important notes, this pen is a timeless expression of craftsmanship and precision. It comes packaged in an elegant gift box and you can choose from a range of finishes, trims, and branding options that perfectly complement your brand's style.
6. Fringed Throw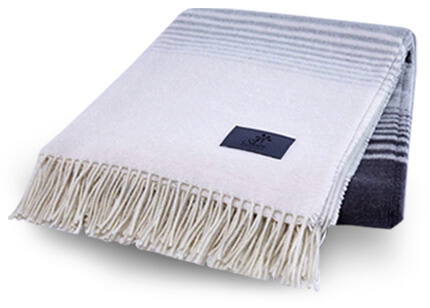 This stylish throw blanket effortlessly strikes the balance of cozy and classy, with a solid knit blend that's perfect for movies on the sofa or cool summer evenings on the patio. Have it embroidered with your business's name and logo for a high-end gift that will have your recipients thinking of you every day.
7. Luxury Beach Towel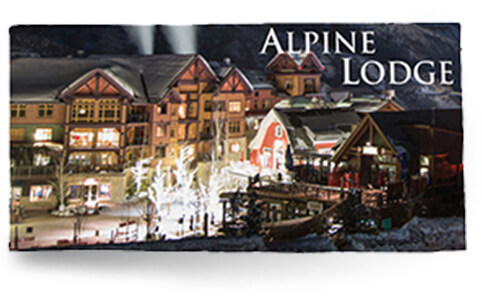 Whether your recipients are headed on a tropical vacation or just taking their kids down to the neighborhood pool, one thing they'll always need is a high-quality beach towel. This towel can be fully customized to prominently feature your business's logo and branding, making it the perfect summer promotional item.
8. W&P Porter Eco-Commuter Bundle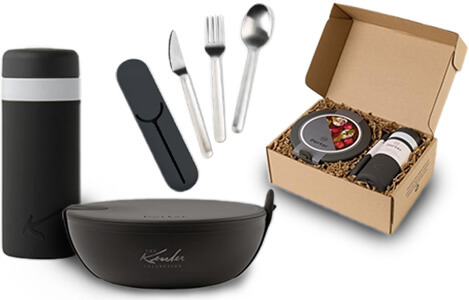 This stylish bundle includes a ceramic water bottle, plastic bowl, and stainless steel utensils, giving your recipients everything they need to enjoy a gourmet meal on the go. It's the perfect gift for busy professionals that stick to a healthy diet, and the water bottle, bowl, and cutlery set can all be customized with your business's logo.
9. Out Of The Woods® Wine Time Gourmet Tote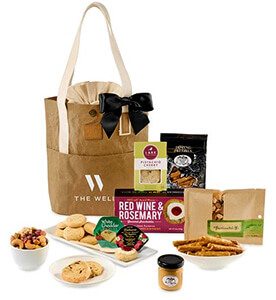 A luxury tote bag is a great gift on its own, but a luxury tote bag packed with gourmet snacks? Count us in! Made from eco-friendly Supernatural Paper, this bag is a sustainable swag item that can be imprinted with your business's logo. What's more, 1% of sales from these bags support environmental causes.
10. Chef's Premium Bundle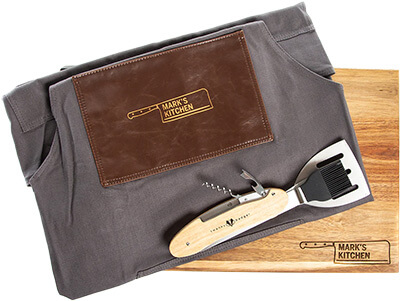 This high-end corporate gift is perfect for aspiring master chefs. Inside, your recipients will find all the keys to a great dinner party, including a customizable chopping board and a stylish BBQ apron. There's even a premium bartender bottle opener to ensure the good times never stop flowing.
11. Bose Wireless Speaker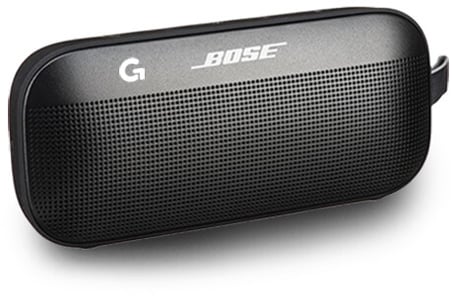 This high-end speaker ensures your recipients will be the life and soul of every social event they attend. It's water-proof and dust-proof, making it the perfect companion for days at the beach, afternoons at golf tournaments, or just relaxing at home. With Bose's signature sound, this wireless speaker will prove an indispensable gift.
12. Apple™ AirPods 3rd Gen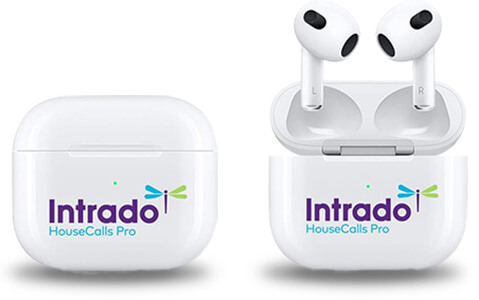 The latest Apple AirPods feature the clean, crisp design Apple is renowned for, plus powerful features including spatial audio, adaptive EQ, and long-lasting battery life. Customize the case with your business's branding and logo. Every time your recipients are ready to rock out to their favorite tunes, you can bet they'll be grateful for your gift.
13. Cuisinart® 14 Piece Deluxe Grill Tool Set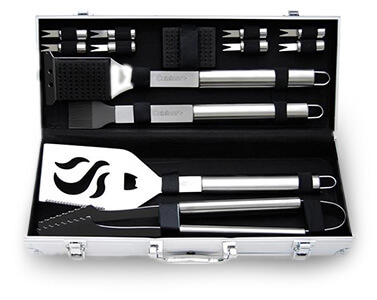 Whether it's a summer cookout or a pre-game tailgate, nobody is more popular than the grillmaster. And when you gift this 14 piece deluxe grill tool set, you're giving them everything they need to grill the perfect steak or smoke a mouth-watering brisket. Everything is made from stainless steel and comes in a durable carrying case that can be imprinted with your logo.
14. Multi-Device Wireless Charger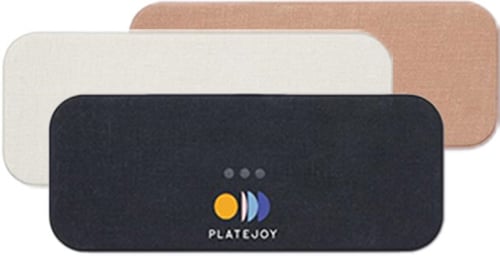 This multi-device wireless charger can charge two wireless devices at once, making it the perfect gift for business professionals. Your recipients can get rid of their endless charging cords and replace them with this clean, stylish charging pad complete with your business's logo.
15. Waterford Tumblers & Square Decanter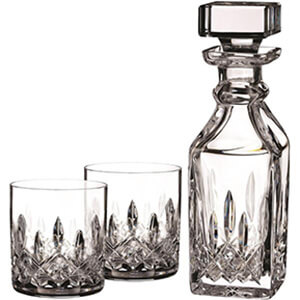 As luxury corporate gifts go, it's hard to beat a Waterford crystal decanter set. It's an opulent gift that looks at home in any setting, coming with a square decanter and two tumblers perfect for toasting special moments. All your gift recipient needs to do is add their favorite liquor and they'll instantly feel like a titan of industry.
16. Cuisinart® Venture Portable Gas Grill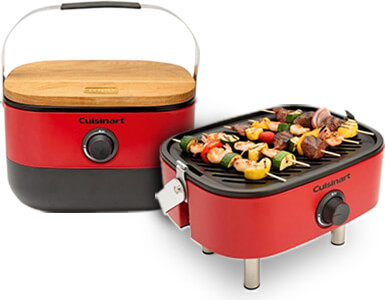 The perfect summer companion, this portable gas grill from Cuisinart® can go anywhere – from the beach to the backyard. It's an ideal gift for people who love to balance entertaining with adventure. Include your logo on the built-in chopping board to ensure your brand is taken along for the ride.
17. YETI Tundra 45 Hard Cooler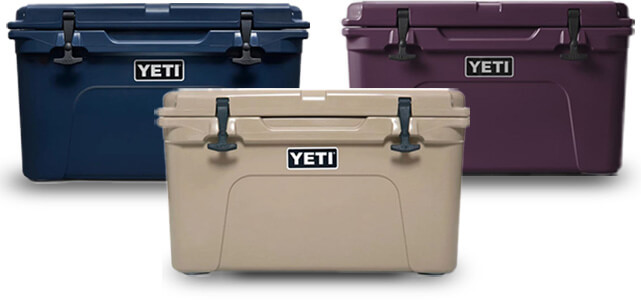 YETI coolers are famous for being indestructible, much like the loyalty your clients will feel to your business after you gift them this cooler. Thanks to the lightweight construction, this cooler remains portable even when it's full of your favorite beverages. Choose from a range of colors and add your business's branding for unmatched brand visibility.
Select the Perfect Luxury Corporate Gifts For Every Occasion
Nothing shows your appreciation for a client or colleague like a true luxury corporate gift. A classy, meaningful gift strengthens important relationships. By customizing gifts with your company's branding, you can elevate clients' perception of your brand to new levels.
Need some support selecting the best luxury corporate gifts? Connect with a GoDelta Brand Consultant – we'll work closely with you to understand your needs and help you create the perfect premium corporate gifts.