A work anniversary (often called a "workiversary") is a perfect chance to recognize your employees for their hard work and celebrate the opportunities ahead. To truly make an impact with work anniversary gifts, you have to practice consistent employee appreciation. A random gift might be nice but will do little to build loyalty and boost morale. Creating a year-round culture of appreciation and recognition with employee gifts will help your team feel valued and motivated.
Why Celebrate Employee Work Anniversaries?
According to NetSuite research, turnover is increasing, and companies see an average 18% turnover rate each year. Simply put, employee turnover costs your business money. The one-year mark is especially crucial - ten times as many employees quit at the one-year mark compared to five years.
One of the best ways to prevent employee turnover is by investing in their success with work anniversary gifts and showing true interest in your team's development.
In this post, we'll walk you through the importance of work anniversary gifts and our hand-picked selection of 31 ideas to make your employee gifts a success.
31 Best Work Anniversary Gift Ideas to Build Brand Identity and Culture
Ready to build brand awareness, boost company loyalty, and reduce turnover? Here is our list of the best work anniversary gift ideas that your employees will love.
1. Deck Them Out in Branded Company Apparel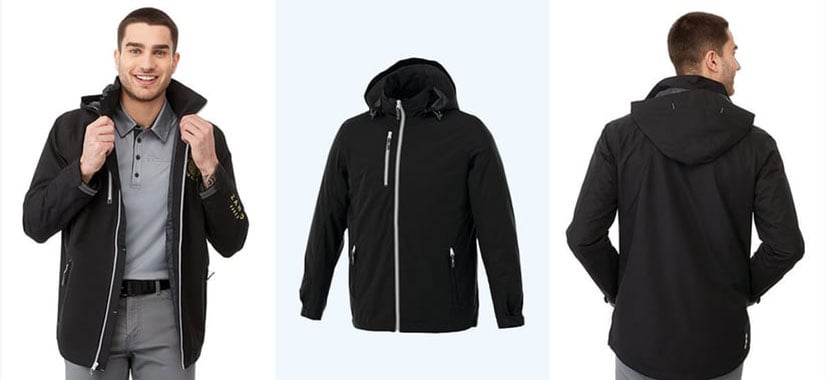 Company apparel inspires employees' sense of belonging and unity while building brand awareness. Plus, high-quality clothing items will last for years, giving you brand exposure whenever the apparel is worn. It's a win-win! According to the 2022 ASI Ad Impressions Study, apparel takes 3 out of the top 5 spots for most influential branded products in the United States. That's why branded company apparel items make excellent employee anniversary gifts.
The top trending branded apparel include:
2. Send a Gift Basket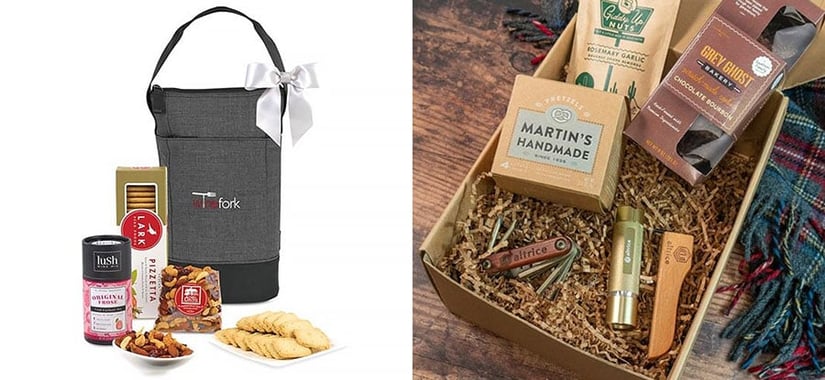 Gift baskets are a simple way to show employee appreciation because they're easy to ship and offer a unique unboxing experience. When done right, putting together a purposeful gift basket as an employee gift is effective because it's personal.
Our favorite gift basket ideas include:
3. Send a Work-From-Home Care Package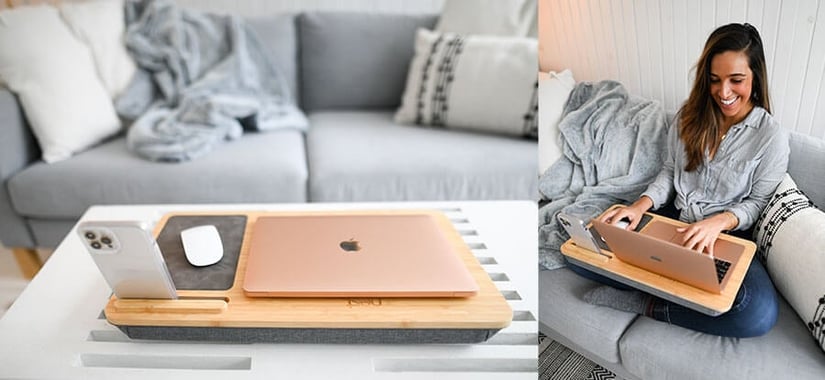 Two-thirds of American employees work remotely, at least part-time. How do you help your remote employees feel valued, appreciated, and celebrated even when disconnected from the office? A work-from-home care package can brighten their day! Consider anniversary gifts for employees that encourage a sense of belonging, even while physically away from the office.
Our favorite products to include in a WFH care package are:
4. Revive their Office Space unique office gifts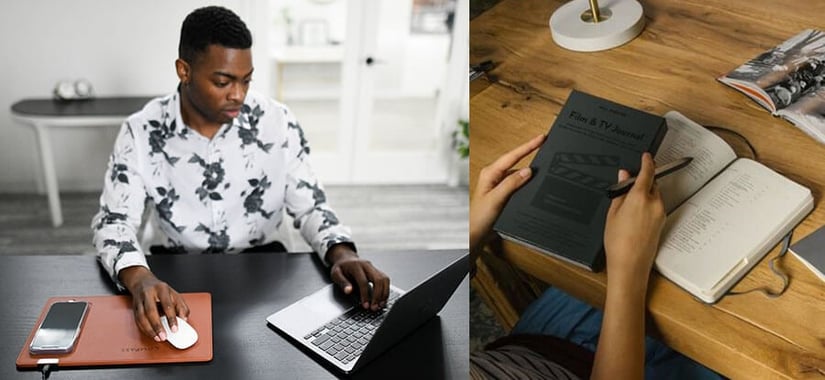 Are you celebrating a long-term milestone? You might think about sprucing up your employee's office with items they can use in person or remotely. Maybe it's time to upgrade their daily devices to increase productivity and make their day more enjoyable. Think about creative employee gifts for a hybrid or home office.
Our favorites are these popular gifts:
5. Give an Indulgent Treat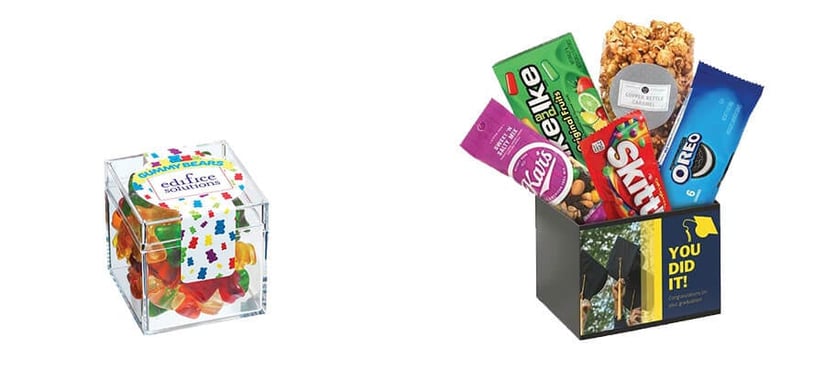 Sometimes, a sweet treat is all you need. Celebrate your team member's special day by surprising them with sweet snack items. This is a fun work anniversary gift for those celebrating 1 or 2 years with your company. You can include a handwritten note or other personalized items, too.
Employee appreciation is sweet! Some of our favorite options include:
6. Treat them to Relaxation with a Cozy Gift for the Home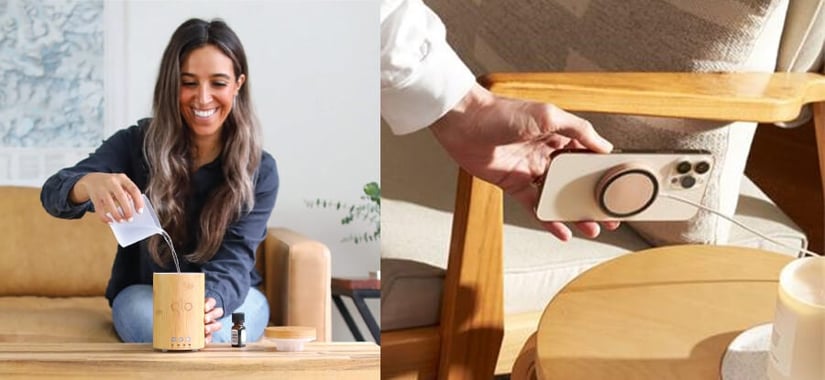 Employee burnout is a critical factor in annual workforce turnover, and it's more prevalent than you might realize - 74% of respondents to a recent NetSuite survey experienced job burnout. Not to worry - you can ease your team's stress levels and lower the turnover rate within your organization by celebrating work anniversaries with a nice gift for the home. Help employees relax, unwind and give them a much-needed break. Cozy up with these thoughtful employee gifts for the home.
Our staff picks are:
7. Give them Everything they Need for a Weekend Away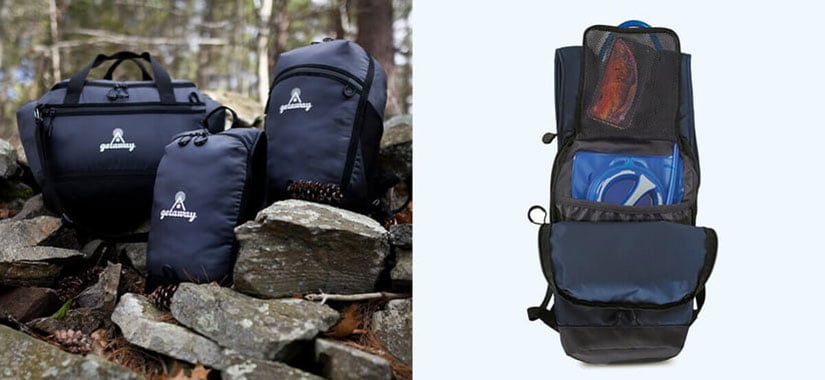 If you have employees who love to travel, a thoughtful work anniversary gift could give them what they need for a weekend away. We'd recommend including a backpack or luggage carrier and items like a toiletry case, packing cubes, and gadget organizers.
Here are high-quality trending options:
8. Toast to their Milestones with Cocktail Gifts & Accessories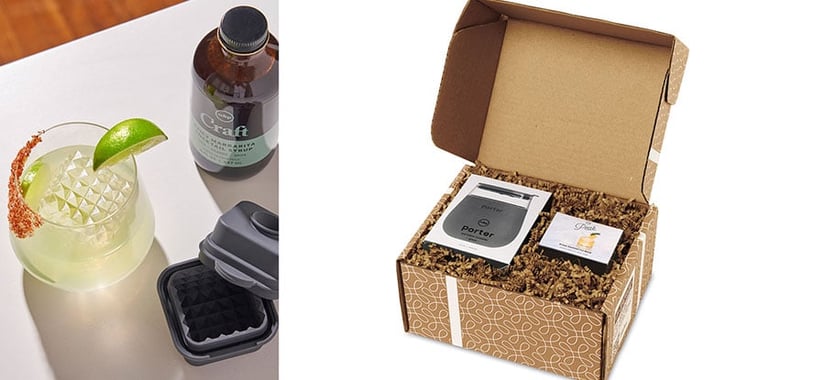 Work anniversaries are worth celebrating with friends, family, and loved ones. Let your team toast their milestones with the people who matter most by giving them a personalized cocktail set or a collection of branded drinkware. These customized employee gifts can go a long way in showing appreciation. Raise a glass to these outstanding cocktail gifts.
Here are a few of our favorite sets:
9. Help them Celebrate with a Gourmet Meal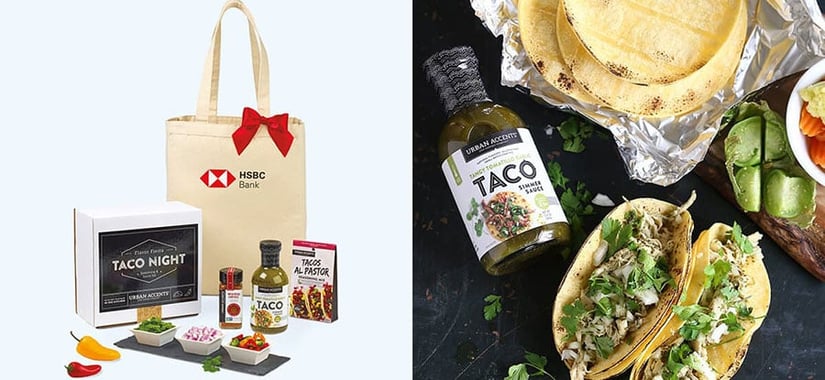 Everyone loves a good meal, but you can get more creative than just another free lunch! Let your employees enjoy a delicious meal with their friends & families at home instead. The thoughtful touch of a meal for the home adds to the authenticity of your gift by showing employees you care about them as people, not just as business tools. Dig into these creative food gift sets.
Here are some of our favorites:
10. Give a Potted Plant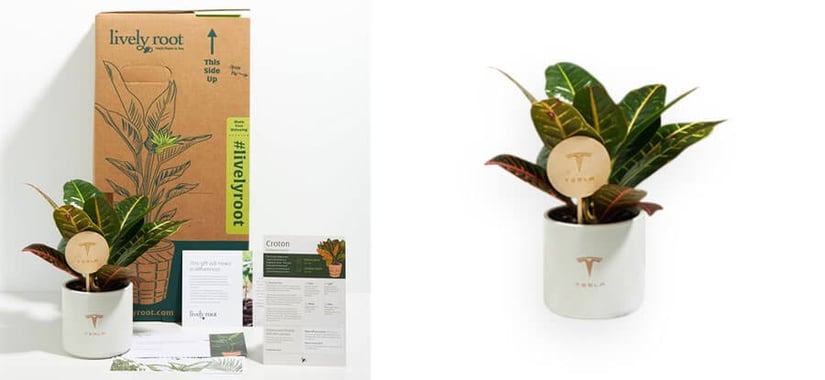 We love the symbolism of these employee anniversary gifts - potted plants continue to grow as long as they have the necessary care and attention. The same is true of your employees. A plant is an excellent gift for a 1-year work anniversary to convey that you'll continue to support employee success. Just add water! Inspire growth with a beautiful plant gift.
The best-potted plants on the market? Here are our favorites:
Ready to Discover the Best Work Anniversary Gifts for Employees?
Now that you have some ideas to get started on your work anniversary gifts, it's important to remember that recognizing important employee milestones should be a team affair. Employee appreciation, no matter what the occasion, is a team-building opportunity.
Need help finding the right gifts for your employees? Speak with a Brand Cosultant today With our assistance, you'll be sending out the best workiversary gifts in no time, growing brand loyalty, employee appreciation, and recognition for your organization.