Strategic Growth Plan
After conducting extensive market research, we developed a strategic growth plan that identified their challenges, opportunities, buyer personas, and ideal customer profiles.
The final deliverable was a comprehensive blueprint that provided actionable marketing tactics for building brand awareness and nurturing prospective customers. These tactics included a growth-focused website, HubSpot implementation, content marketing, paid media, social media, email marketing, and more.
Brand Development
The Fit4D team was up for the rebranding challenge and made the commitment to work with GoDelta to complete this project quickly. Together, we created a new name - Cecelia Health - that tells a bigger story, and a logo that reflects the company's past and where it's going next. We fleshed out the messaging strategy, which now centered around the story of Cecilia and how she helped the company's founder.
The new logo uses a warm, modern color palette, and the typography features lowercase letters to signal that the brand is personal and patient-focused.
We also designed unique promotional products, including branded apparel, to create buzz around the rebrand and raise awareness among the target audience.
HubSpot Implementation




Like most startups, Cecelia Health had a disparate technology stack at the time. GoDelta identified HubSpot as the ideal solution because it provides a unified and scalable platform that simplifies data management and facilitates inbound selling, marketing, and service.
We helped Cecelia Health transition effortlessly to HubSpot – configuring portals, migrating existing data, setting up custom reports, and providing technical training on essential features and tools to ensure their marketing and sales team could hit the ground running.
HubSpot CMS Hub Website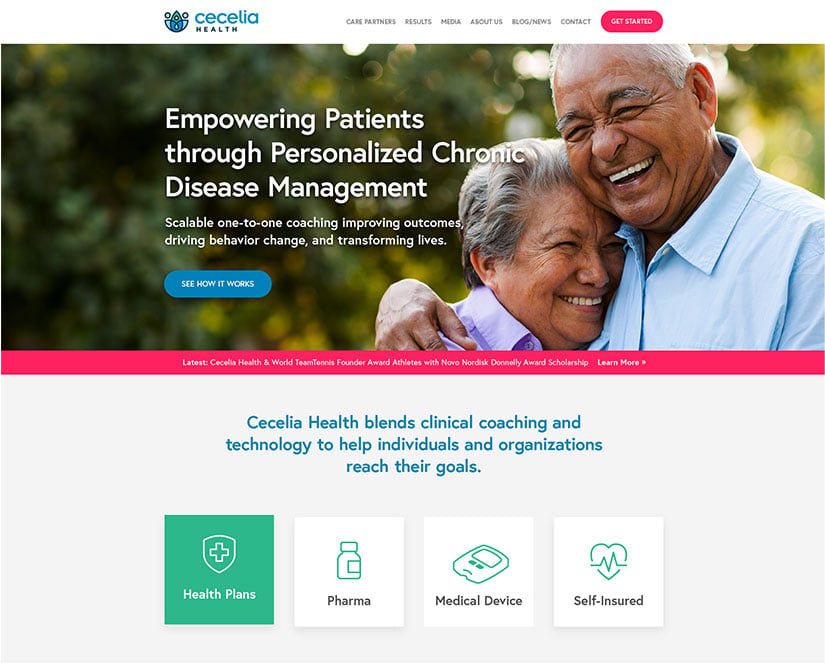 Cecelia Health's marketing team required an easy-to-use platform so they could independently update their website at their convenience and as necessary. GoDelta identified HubSpot CMS as the ideal solution because it offers a user-friendly platform that allows for custom responsive design, speed, security, and integrations with other tools and platforms.
Using HubSpot CMS Hub, we developed a dynamic and responsive website Cecilia Health could adapt and scale as its needs evolve.
Content Marketing
GoDelta created and executed an SEO-driven content marketing strategy segmented for various personas, buyer's journey stages, and relevant keywords. The strategy included various types of content, such as blogs, social media posts, videos, podcasts, and ebooks. All content was distributed through various social channels to ensure maximum visibility.
We also crafted a robust pillar page and topic cluster on "Medication Adherence In Diabetes Patients" to help Cecelia Health rank for relevant keywords, build trust with its target audience, and establish thought leadership in the healthcare industry.
Lastly, we conducted an intensive content marketing workshop to help Cecelia Health's team maximize their content marketing efforts moving forward. Attendees received 1:1 coaching, tips for SEO, and materials for future reference, such as templates and checklists.
Sales Enablement Training
Cecelia Health looked to improve its sales process and help its sales team close more deals. Their goal was to tie revenue to sales, help their sales team with online sales techniques, and maximize revenue using the HubSpot CRM.
GoDelta audited its current sales process and provided updated sales collateral, email templates, and personalized coaching on how to do outreach to prospects and sales-qualified leads. We set up custom reports that track performance and enable leadership to better understand the impact of their team's sales efforts. Our sales enablement training included:
Sales Process Audit
Sales Enablement Strategy
Reporting and Analysis
Sales Content Optimization
Technology and Automation