No matter how fast technology moves, some things never change. Using a custom notebook is one of those behaviors that many of us will never give up. There's just something magical about the blank canvas where pen meets paper.
Your journal is an extension of your brain, holding all your most inspired ideas, important follow-up items, and even your very finest doodles. For such an important collection of ideas, a boring journal won't do. Instead, you need a unique, customizable journal.
12 Unique Branded Notebook Ideas
Promotional journals are a great gift, regardless of whether they're an employee appreciation gift, swag for new hires, or promotional giveaways for your next event. Customized journals are even better, offering you the chance to prominently display your branding on an item people use every single day.
A branded notebook isn't just a useful gift: it's a thoughtful one too. Today, there are a variety of custom journals available; from timeless leather-bound designs to tech-enabled notepads that are the perfect fit for the modern professional.
1. ApPeel® Medio Journal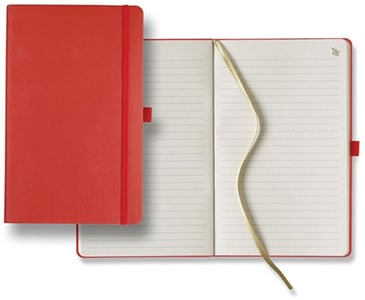 This journal takes sustainable swag to a whole new level. It's manufactured from apple peels that are ground and emulsified into organic paper. But unlike apples, this notebook doesn't just come in red or green – there are a range of colors to choose from, and you can even add your own branding.
2. Vienna Hard Bound JournalBook®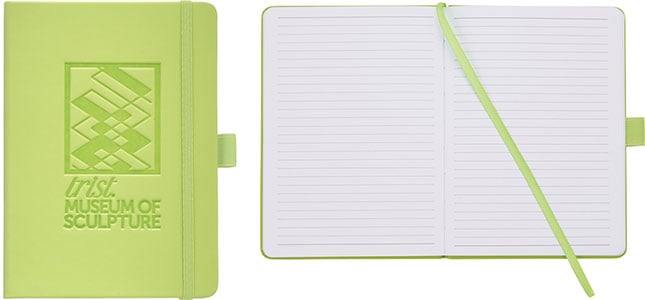 At 5" by 7", this hard bound journal is a compact, on-the-go notebook that's ready for wherever life takes you. There's an elastic closure, a ribbon to keep your page, and even space for a pen, giving you everything you need to keep track of your thoughts, wherever you are.
3. Eco Color Pop Journal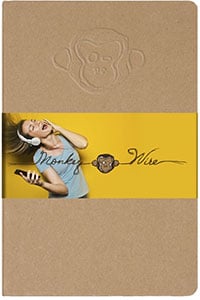 This promotional journal can be imprinted with your business' logo and comes with a full-color graphic wrap that ensures it stands out from the sea of plain notepads you'll find in most offices. Made with recycled paper products, inside you'll find all the elements of a great journal, including an accordion pocket, pen loop, and an elastic band closure.
4. Softcover Classic Layflat Notebook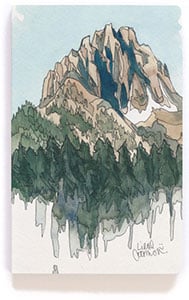 Library quality Smyth-sewn binding ensures this notebook lays perfectly flat. The cover is soft yet water-resistant, meaning you don't have to panic if you knock over your coffee cup. Even better: a portion of the proceeds from this journal go to building schools around the world.
5. Lucca™ Journal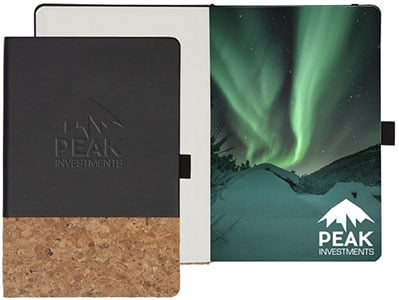 A cork panel wrapped around the outer cover makes for an eye-catching journal. Customize this journal by imprinting your logo on the front cover and adding a full-color insert on the first page.
6. Medio Centre Sewn Notebook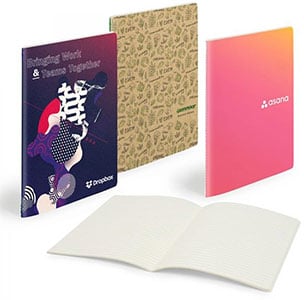 This notebook comes with 56 pages and countless customization options, with the ability to custom-create your cover design from scratch. The compact design and sewn binding mean this journal is the ideal lightweight travel companion. Choose from dotted, lined, or blank paper.
7. Bamboo Bound JournalBook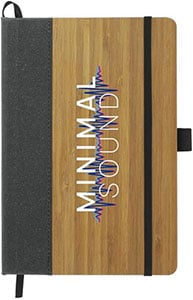 With a sleek, modern design made from bamboo and recycled leather, there are plenty of reasons to feel good about this journal. Need another? 1% of sales are donated to nonprofits working to protect the planet.
8. Refillable Journal with Wireless Charging Panel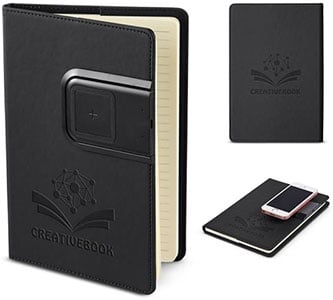 It's a sad day when you reach the last page of your favorite journal. But with this refillable journal, you'll never experience that feeling again: just add more paper. Plus, there's a built-in wireless charger that's compatible with the latest devices, including iPhones.
9. Rite in the Rain Side Spiral Notebook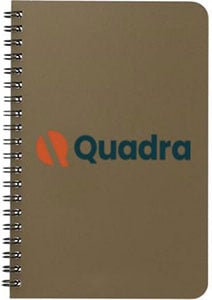 Spiral notebooks are a classic – they're both portable and practical. This one comes with a hard cover to protect your notes from scratches and stains plus impact-resistant spiral binding that can handle the rough and tumble of the daily grind.
10. Moleskine® Hard Cover Ruled Medium Notebook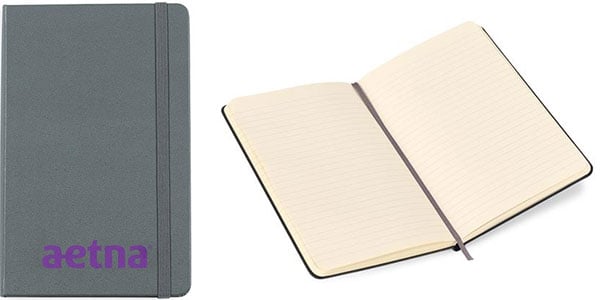 Journals don't come more classic than Moleskine® journals. This notepad comes with the craftsmanship you'd expect and features an accordion pocket, soft, off-white lined paper, and the ability to add your business' logo to the front cover.
11. Soft Pedova Journal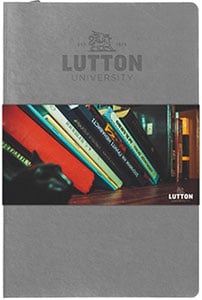 This promotional journal is made from soft yet durable vinyl. It comes with an accordion pocket, elastic closure, and a satin ribbon. Customize it with an embossed logo and a bespoke graphic wrap that brings your brand to life.
12. Notebook Bundle Set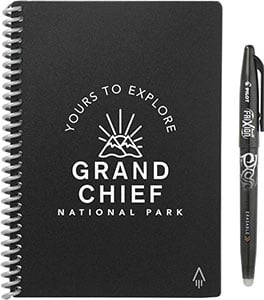 What's better than a single notebook? A notebook with unlimited pages! This bundle comes with a Pilot Frixion pen that can be erased with a damp cloth, meaning this journal can be used time and time again. Use the Rocketbook app to digitally record and store your notes – you'll never lose another important thought.
Choosing the Best Custom Journals and Custom Notebooks for Your Team
Custom journals make a fantastic gift; one that will be used every day. The recipients of these gifts will think of your business every time they jot down a flash of inspiration or show up for a big meeting.
If you need some advice on which custom notebooks and journals are the best match for your business, speak to a GoDelta Brand Consultant. We'll work with you to help you choose, design, and order the perfect customized journals for your business.