When it comes to promotional swag and employee gifts, there are few better options than a custom backpack.
A high-quality backpack lasts years, building brand visibility as your employees and customers commute to work, travel for business, or head out on weekend trips. It's the ultimate travel companion.
Whether you're looking for classic business backpacks for the everyday commute or custom backpacks that can stand up to the great outdoors, we've got your back. Here are our picks of the best custom backpacks for businesses.
The Best Customized Backpacks for Gifting and Employees
Wherever life takes your employees and customers, there's a pretty good chance they'll want to bring their belongings with them. Give them a custom backpack with your logo and you can be sure your brand will be taken along for the ride.
1. Collapsible Backpack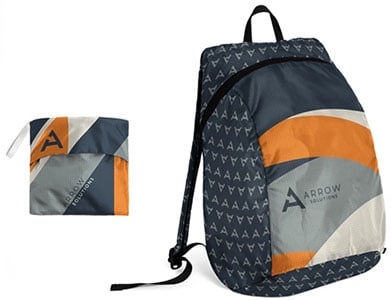 What's even more portable than a backpack? A backpack that folds down into a pouch that easily fits in other bags and suitcases. Portability isn't this backpack's only selling point, though. With water-resistant coating, side pockets, and the ability to custom brand the pouch and the backpack itself, this is the perfect backpack in every sense.
2. Targus Ecosmart Backpack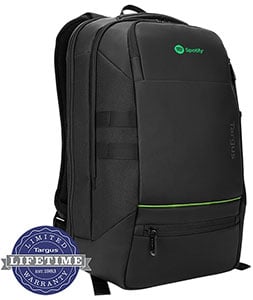 Targus is renowned for its commuter gear, and this custom logo backpack lives up to its reputation. It's made from recycled materials, can be carried on your back or as a briefcase, and comes with an air mesh back panel to keep you cool.
3. Samsonite Convertible Backpack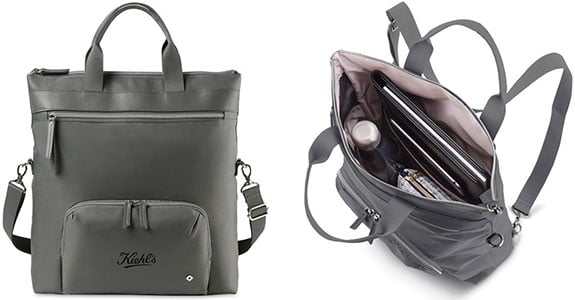 Your imagination is the only limit when it comes to this Samsonite backpack. It can be carried in five different ways: backpack mode, crossbody mode, shoulder mode, handheld mode, and oversized clutch mode. With a sleek, stylish design and an internal tech pouch big enough for laptops, this bag is the ultimate blend of function and fashion.
4. Samsonite Everyday Computer Backpack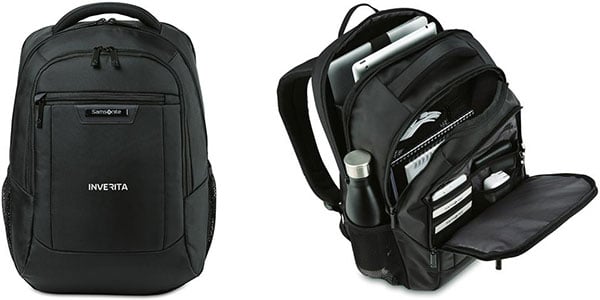 Samsonite backpacks are timeless classics for a reason. With a modern design and unrivaled organization features, these Samsonite customized backpacks are ideal for commuters. There's enough space for multiple laptops and every accessory you could think of – books, clothes, chargers, and more.
5. Hybrid Computer Backpack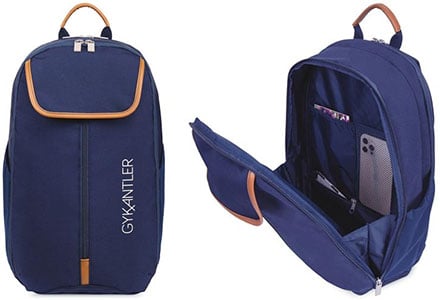 Today, so many businesses have pivoted to hybrid work environments, with employees working both remotely and in the office. This custom logo backpack is a great solution for that lifestyle, with a padded laptop compartment and space for all the files employees need to carry between home and the office.
6. Cotopaxi Luzon Backpack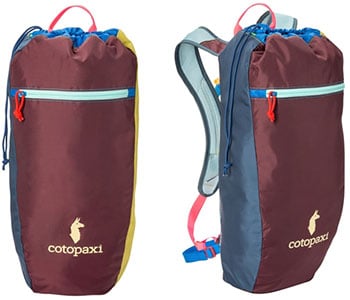 If you're looking for the perfect companion for your next adventure, you found it. This Copotaxi custom backpack features a lightweight, portable design tough enough to withstand wherever life takes you. With a large main compartment and a zippered front pocket, there's plenty of room for supplies.
7. Recycled Backpack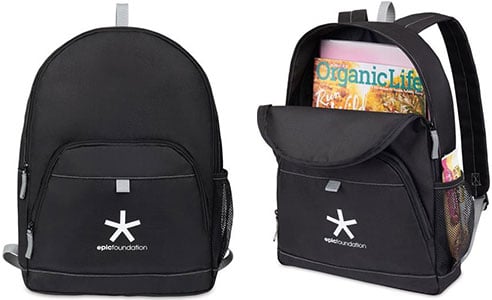 Sustainability is a huge focus for modern businesses. Embrace sustainable swag with this recycled backpack made from recycled fabric and water bottles. It won't just be your employees and gift recipients thanking you – the planet will too.
8. High Sierra Swerve 17" Computer Backpack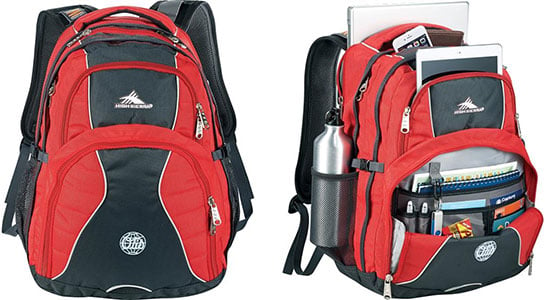 This custom logo backpack is packed with features, including a multi-section organizer compartment, a smartphone pocket, S-shaped Vapel™ mesh Airflow™ padded shoulder straps, and a hidden waist strap. All those features add up to a backpack that's both comfortable and stylish.
9. Recycled Cinch Pack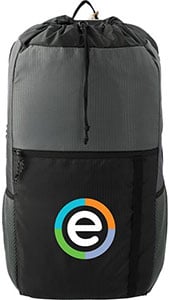 A perfect fit for the office or the trail, this cinch pack comes with a dedicated laptop compartment in addition to a roomy main pocket. There are side mesh pockets that hold two water bottles plus a zippered front pocket. Bonus: one percent of the sales of this EcoSmart® product are donated to environmental nonprofits.
10. Osprey Arcane™ Roll Top Pack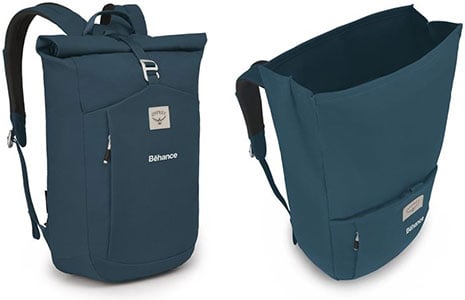 Another brand renowned for the quality of their backpacks is Osprey, and this roll top custom backpack is no exception. The bag is made from no fewer than 13 recycled bottles and features a clever roll top design with an aluminum security clip that ensures security and easy access.
11. Roll-top Water Resistant Backpack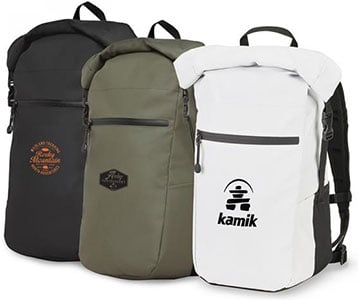 All great backpacks are water resistant. Your life lives inside your backpack, from your computer to your most important documents. This roll-top backpack from Call of the Wild keeps your belongings safe, no matter what Mother Nature throws your way.
12. Harmon Ridge Laptop Backpack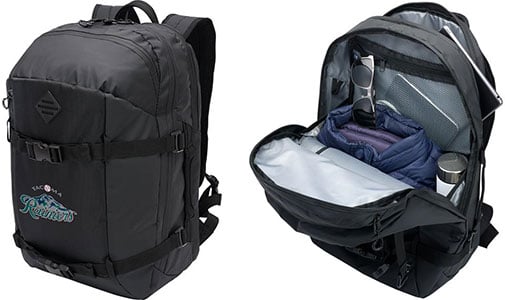 We might call it a laptop backpack, but don't be fooled: this customizable backpack can hold much more than a laptop. Sure, there's a laptop compartment, but there's also space for a main compartment, two water bottles, a fleece-lined front pocket, a tablet pocket, and more.
13. Arctic Zone® Repreve® Backpack Cooler with Sling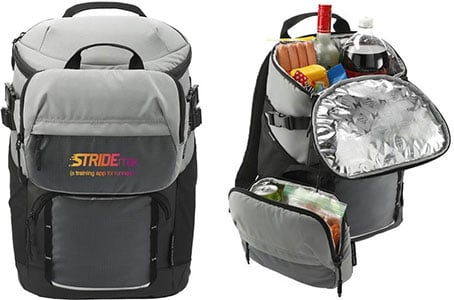 Not all custom backpacks are made for commuting – some are made for fun. This backpack cooler is the prime example, with a removable insulated sling that's perfect for cold drinks and snacks. Even better, this backpack is made from REPREVE® RPET, the world's leading recycled fiber.
14. Igloo® REPREVE 36 Can Backpack Cooler
Keep your favorite beverages cool with these insulated custom backpacks from Igloo. It's made with REPREVE® recycled performance fiber and lined with durable MaxCold insulation that ensures your drinks stay cool, no matter how warm it gets outside.
15. Osprey Travel Pack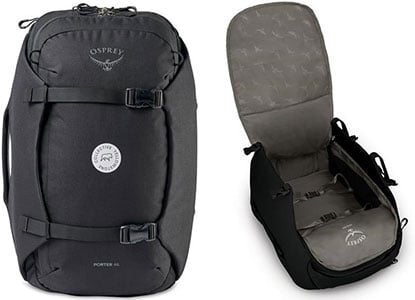 Equip your employees and customers with a weekend bag for their next getaway with this large custom backpack. There's a zippered top pocket for easy access to toiletries and liquids in the TSA line, plus compression straps for those who tend to overpack.
16. Vertex® Fusion Packable Backpack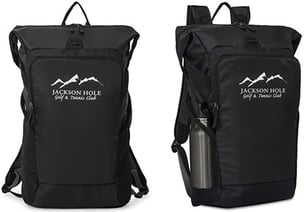 This packable backpack is lightweight and perfect to take along as an extra travel bag on trips, hikes, and more!
17. TSA 17" Computer Backpack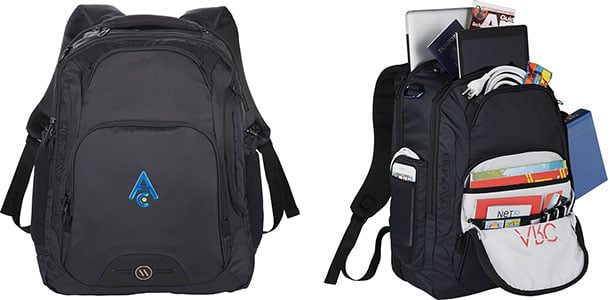 This backpack is made for business travelers. There's a wide range of features, from an RFID pocket that shields your passport and credit cards from would-be hackers to a built-in file divider and organizational system for all your important documents.
18. Bucket Sling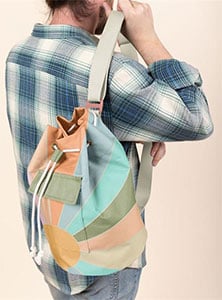 This fashionable sling backpack can handle everything from summer days at the beach to casual Fridays at the office. With several design styles to choose from and an adjustable shoulder strap, you can make it your own.
19. CamelBak Eco-Hydrobak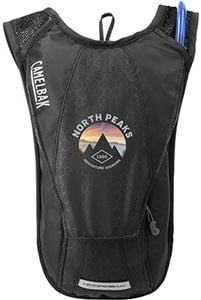 Staying hydrated is key to achieving peak physical performance. Whether you're gifting this CamelBack Hydrobak to hikers, bikers, or marathon runners, you'll have their back – quite literally. With a 1.5L capacity and a pocket for keys and other essentials, this CamelBack has everything they need to smash their personal bests.
20. Thule Bike Commuter Backpack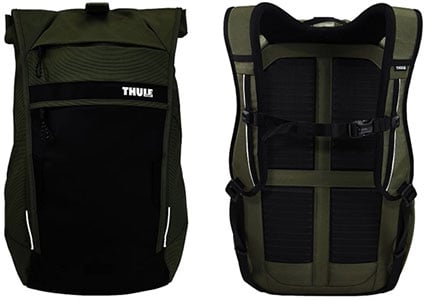 People that bike to work will love this commuter backpack from Thule. It's designed specifically for bike riders, with a shoulder and sternum strap that accommodates your natural riding position. The capacity is expandable by 50% for those days when you have to bring a little too much work home with you.
How to Choose the Best Custom Backpack for Your Team
People use backpacks practically every day: whether it's bringing their laptop to the office, traveling internationally, or bringing snacks for a weekend day trip.
The right custom backpack ensures your brand is visible on every adventure. If you need some assistance figuring out which option is best for your team, speak to a GoDelta Brand Consultant. We'll help you choose the best option and then do all the heavy lifting to bring your ideas to life.