There's a lot of mixed opinions out there about remote work. Some swear by it. Others are skeptical. Most are somewhere in the middle. And this hesitation to adopt a fully remote workforce has led to a rise in hybrid workers.
It's not really about productivity. In fact, during COVID-19, survey after survey revealed that remote workers actually got more work done. So what's the hangup on the remote office? It all comes down to company culture.
Businesses recognize employees can get stuff done just fine at home, but collaborating with team members and building relationships, just isn't the same in a virtual office. And even as business leaders adopt a hybrid working environment, they're continuing to look for ways to boost a sense of teamwork, collaboration, and company culture.
Employee swag boxes filled with useful branded giveaways can bridge the gap between the remote worker and an in-person office. It can also help an employee feel valued, no matter if they're working on-site or on the couch in their pj's.
What to Consider When Creating Employee Swag Boxes for Hybrid Workers
Sending your employee swag to hybrid workers in a custom swag box is an important part of an employee engagement strategy that can't be ignored. Swag boxes may have been a trend born from the pandemic, but they are here to stay even as live events return. When swag items are packaged in a custom gift box, it just makes your gifting efforts feel much more personalized, and well, gift-like. A personalized swag box makes employees feel special, especially in bigger companies where it might be easy to blend in.
The other advantage of creating an employee swag box, is you can pack multiple branded items into one gift. When high-quality and thoughtful promotional items are packaged together, you create a gift that truly delights.
So what do you put into an employee swag box for hybrid workers? Consider items that make their transition from office to office easier. Typically, we recommend choosing three different items:
A bag or carrier - hybrid workers spend their time back and forth from the home office to the work office. Some type of bag or carrier can help during this back and forth travel.
A piece of drinkware - hybrid workers will always find use out a solid quality drinkware item. Plus, with so many different options, you're sure to find something that fits your target persona.
Here's where you can get creative. Think of something useful for a hybrid worker, but also something fun. Some things we recommend include a

branded apparel item

,

a desk accessory

,

tech items

, or a

high-quality custom journal

.
Bundle these three types of items together in a custom designed swag box and you have a personalized and gift like employee swag box for your hybrid workers.
6 Employee Swag Box Ideas for Hybrid Workers
When selecting your employee swag, it's important to consider items that offer some sort of value to your hybrid workers. This not only ensures your swag box will be appreciated but increases the likelihood that your swag items will be used and thus activate your brand by generating impressions. Here are 6 employee swag box ideas that hybrid workers will appreciate.
1. Hybrid Office Travel Bags or Carriers
Whether it's laptops, electronics, or paperwork, your hybrid workers likely have a lot to carry back and forth from home office to work office. Think about bags or carriers that make it easy to keep office items organized, electronic devices safe, and lunches cool.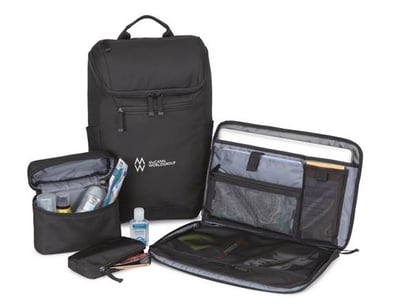 Our top picks include the Mobile Professional Computer Backpack which has everything a hybrid worker would need to transport their office equipment. We love it because it comes with three separate pouches that can be combined into a large backpack pouch. It includes a padded laptop commuter sleeve with an interior multi-functional organizer, a large zippered pouch for various office supplies and gadgets, plus a smaller zippered pouch for pens or desk items. Your brand's logo will stand out embroidered on the bag's front pocket.
We also love the Reclaim Recycled Computer Backpack as it's made from sustainable materials and is the perfect item to support a cause marketing campaign. With two zippered front pockets and space for a 15-inch laptop, it's a great commuter bag.
And let's not forget about coolers. Hybrid workers have to each lunch at some point, and many breakroom kitchens or cafeterias aren't quick back to full capacity. A bag like this Goodwin Delux Box Cooler, which includes a built-in placemat, plenty of storage space, and keeps food items cold, will certainly be appreciated.
2. Hybrid Office Drinkware
There are so many different directions you can go with branded drinkware items. From water bottles to tumblers, even insulated mugs, there's something for everyone. You'll want to think of drinkware items that make travel easy. So consider products that have a leakproof lid, can fit into cup holders, or have a handle. When sending employee swag boxes, you'll want to stay away from glassware or ceramic drinkware. I mean, can you think of anything worse than having your gift show up in pieces? With so many other options, you're better off not risking the breakables.

Our top drinkware pick for hybrid workers is the Nayad Trouper 22-ounce Stainless Double Wall Tumbler that comes complete with a straw. It comes in bright colors, with a large imprint area that can make a bold brand statement. With a snap-on lid and stainless steel double-wall insulation, drinks can be kept cold for up to 12 hours and hot for 7. It includes a cleaning brush which adds a nice and thoughtful touch.
Other top choices for hybrid workers include the Corkcicle Canteen, a great on-the-go waterbottle option that's triple insulated and vacuum-sealed. You can pretty much guarantee that your drink will stay ice cold all day long. Or, for hot coffee drinkers, the Miir Vacuum Insulated Coffee Mug is a great, unbreakable option that will keep beverages warm for hours. Plus, with the added carrying handle, it's great for those on-the-go hybrid workers.
3. Hybrid Office Food Containers
We talked about coolers above, but food containers in the hybrid office are a popular trend we've seen in the workplace. While working from home, many workers have gotten used to homemade lunches from their kitchens. High-quality food containers, and branded bento boxes, allow employees to take nutritional lunches with them and stay away from the fast-food options on the road. Not to mention, it makes meal time all-around easier, whether your workers are in the office or at home.

Our top pick is the Satsuma Bento Lunch Box, which comes complete with sectioned food storage, a natural bamboo lid that can be used as a cutting board, a leakproof silicone sealing ring, and elastic nylon strap to keep everything secured and fresh. Choose from a full color, laser engraved, or print logo imprint.
Another great option is the Osaka Bento Box which includes a reusable utensil set. It has two compartments with ventilation ports in the lids for microwaving food. The plush handle makes it easy to carry on the go. Screenprint your logo on the bento box itself.
If you're looking for an eco-friendly option, we love this on-trend Bamboo Fiber bento box. It's the same design as most traditional bento boxes but made with more sustainable materials. With built-in utensil storage, a divider, and included utensils, hybrid workers will have everything they need for a fresh lunch, either at home or in the office.
4. Hybrid Office Branded Apparel
Branded apparel items can help employees feel included and a part of the time, whether in the office or at home. Not to mention, a high-quality branded apparel item will be worn outside the office and draw brand impressions and extra awareness. When choosing branded apparel items, think about styles that cater to the hybrid work office. Comfortable and casual clothing is the new work attire. Clothing items that look professional on Zoom calls yet feel comfortable enough to wear after work are what you want to go with.

Our top pick? This Eco Softshell jacket, that's comfy, professional, and made from sustainable materials. The included No Contact Keychain on the right pocket allows hybrid workers to easily open public door handles, elevator buttons or touch other surfaces. With a brushed fleece lining, and made with breathable, three-layer waterproof material, it's the perfect lightweight jacket for any weather.
Other versatile and fashion-forward branded apparel items for hybrid workers include the Stinson softshell vest, that's waterproof and lightweight. Quarter Zips are another great option for hybrid workers, as they can can be worn inside and outside. The Fusion ChromaSoft is made with moisture-wicking and antimicrobial material, with a front zipper and side vents for breathability.
5. Work Office Tech Items
Office tech items make work easier, plain, and simple. Even if you think it's an item your hybrid workers already have, it's a pain carting things back and forth from the office. So don't worry so much about your hybrid worker having duplicate tech items. These types of gifts will always be seen as useful, and they make hybrid work much more enjoyable.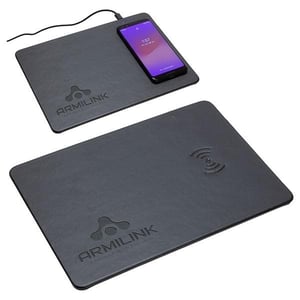 One of our favorites is the Avalon Mouse Pad with Wireless Charger. It can follow hybrid workers wherever they go, and is especially useful for laptop users. Working with all Qi-compatible devices, this mouse pad offers a convenient place to charge devices and work all while on-the-go. Its soft-touch faux leatherette material is professional and can be branded with an edge-to-edge imprint.
Other tech favorites include the Easy Clean UV-C Chamber, which makes it easy to sanitize electronic items. It's great way for hybrid workers to efficiently keep their desk items germ-free while they go back and forth from the office.
Let's not forget about all the added screen time hybrid workers have to deal with. Between remote meetings, and virtual events, screen fatigue is high among workers. This daylight desk lamp is designed to provide a boost of sunshine, and keep energy levels high and focused despite the added exposure to screens. It comes with three different colors of light, (white, natural and warm). Plus it can be personalized with a large brand imprint for maximum brand exposure. Your hybrid workers will love this added touch to either their home or office work environment.
6. Home Office Desk Accessories
Finally, one of the best ways to show your hybrid workers you care is to set them up for success no matter where they're working. Think of creative, useful, and unique gift items that allow your hybrid workers to be both productive and comfortable while working from home.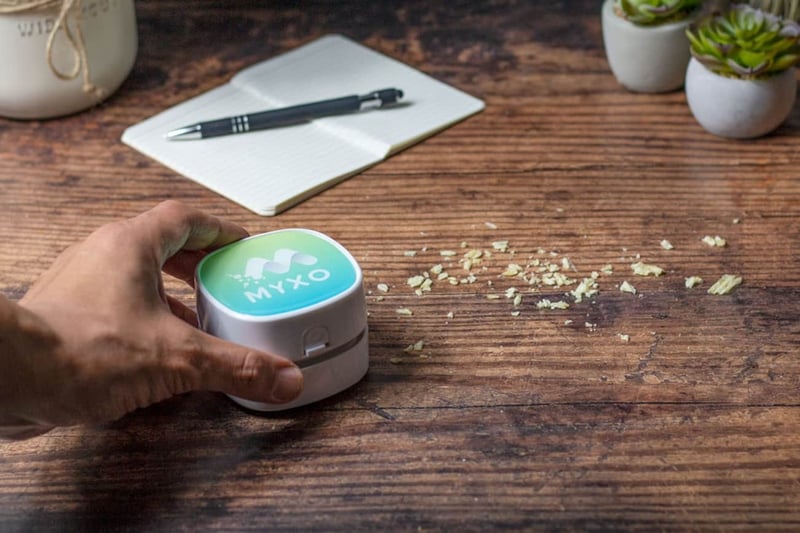 Definitely a crowd favorite for the home office is the Crumbee. This mini desk vacuum is designed to keep workplaces crumb-free. Let's be honest, we all do a whole lot more snacking while working from home. The Crumbee helps eliminate crumbs, even while snacking at your computer device. It's battery-operated and fits within the palm of your hand, making clean-up extra easy and straightforward. The rotatable design is made to get in between crevices like keyboard keys, desk drawers, and other small spaces in the office. Just stick in two double-A batteries, and you'll have up to 100 minutes of continuous clean time. Hybrid workers will appreciate a gift that helps them stay clean and organized. Not to mention the bold customization options that help make your brand pop.
Other favorites include the Brume Mini Humidifier, a customizable mini desk humidifier that holds up to 6.75 ounces of water and includes two attachable USB lights and fan accessories. Employees will love feeling comfortable at their desks, plus the fun color-changing lights add some creativity and expression to their home office.
The Truman Wireless Charging Desk Organizer is another favorite option that keeps hybrid workers powered, organized and productive. This would be a great gift to have both at the home office and at the workplace. It includes a Qi-standard wireless charging device and can be magnetically attached or separated into three parts. It's the perfect place to stash pens, paperclips, or other miscellaneous office items while keeping everything in the same place.
Send Appreciation to Hybrid Workers with Employee Swag Boxes
The remote world isn't going anywhere. If anything, the hybrid workplace will continue to be a trend that picks up steam. If employers are worried about losing company culture to the remote world, it's important they think strategically about how to bring teams together, even while apart.
Employee swag boxes sent straight to the homes of hybrid workers can help team members feel valued in a distant and remote world. And the benefits are two-fold. While hybrid employees are brought together, your brand will be activated beyond the office.