Branded apparel will always be a trend. No matter the year, promotional apparel consistently ranks among the top promotional products among consumers. Custom-designed t-shirts, polos, and even outerwear are among the most influential branded promo items you can invest in. Combined, they generate over 9,000 impressions and have a staying power of up to 16 months. Talk about making a brand impact.
But the thing about promotional apparel is styles are continually changing. What's in one year is out the next. If you miss the mark, people won't want to wear the items you invest in. So if you truly want to maximize your brand's exposure, you must know what's a branded apparel trend and what's not.
To help get you started, we put together this guide of the top branded apparel trends of 2023.
A Mix of Virtual & Office Branded Apparel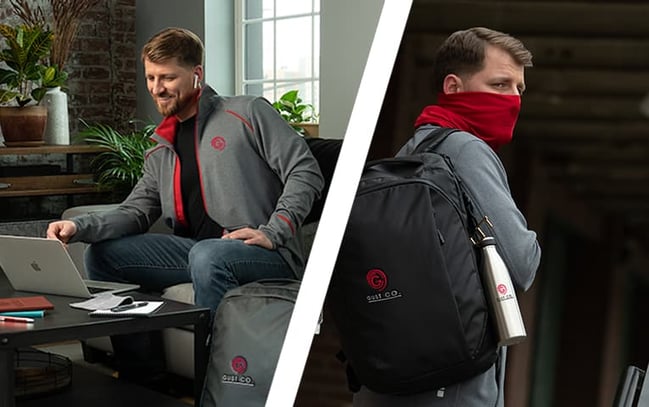 Comfort is key in 2023. Whether people are working in-person or still working remotely, office wear that prioritizes casual styles is in high demand. You'll want to choose branded apparel that appeals to both office and remote workers.
Layers are key. Consider choosing pieces of clothing that can easily be paired with other apparel items, making dressing up - and dressing down - a simple process. After spending so much time dressing down, even the office worker will keep comfort a top priority. The virtual worker will either want professional clothing that's easy to throw on for an important meeting or comfortable enough to keep on the whole day. Branded apparel items like quarter-zips, sweaters, or even professional looking hoodies are all great options.
Keep in mind the virtual worker when branding your logo on these apparel items. Remember, on video calls, people see other people from the upper chest up. So logo placement is key. The traditional left-chest decoration on polos and quarter-zips might be missed. Consider imprinting on the collar or shoulder instead.
Here are some of our favorite branded apparel trends that both the remote and office worker will appreciate.
Branded Apparel that Aids in Healthy Living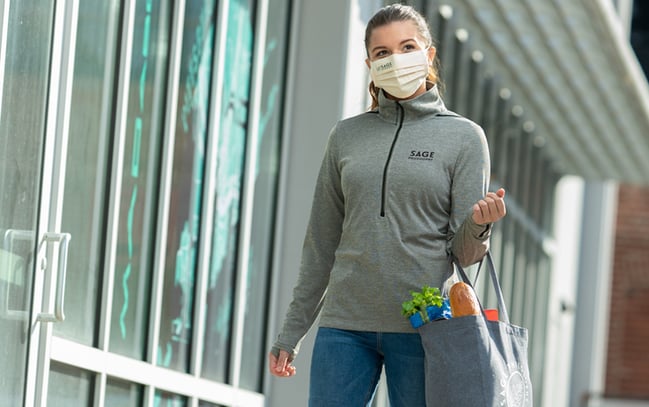 The focus on health and safety continues in 2023. It's a trend that's trickled down into most areas of our lives - including our wardrobes. So branded apparel items that help individuals be safer, healthier, and feel protected are all in high demand.
Fabrics with features such as antimicrobial and antibacterial properties are hot among consumers. New branded apparel trends on the market even include things like the Touch Tool attached to the pocket to keep you from avoiding contact with highly touched surfaces or built-in neck gaiters as face coverings.
Fitness and outdoor activities are also both health trends fueling today's apparel styles. While staying active and being outside are both seen as ways to destress and stay well, athleisure outerwear is in high demand. Consider jackets, fleeces, or even polo shirts with features like UV protection, moisture-wicking fabric, or water-resistant material.
Sustainable Clothing
As consumer interest in environmentally friendly and sustainable products increases, so does the need to dress sustainably. But it's not just about choosing "green" products. Now, consumers are looking for higher quality apparel items that are made to last. It's the idea that less, but higher quality, is more. So think about premium fabrics and multifunctional apparel that will have longevity and versatility.
Specifically designed eco-friendly branded apparel items are hot too. There are quite a lot of styles out there that feature various recycled fabrics. Many of these types of branded apparel items are part of a social giveback program or designed by a brand that donates proceeds back to a sustainability fund. Consumers love when they feel they are making a difference in a tangible way. So consider promotional apparel items that either offer a green solution, actively help support a green seen solution, or do both.
Here are some of our favorite sustainable clothing options:
Family-Focused Fashion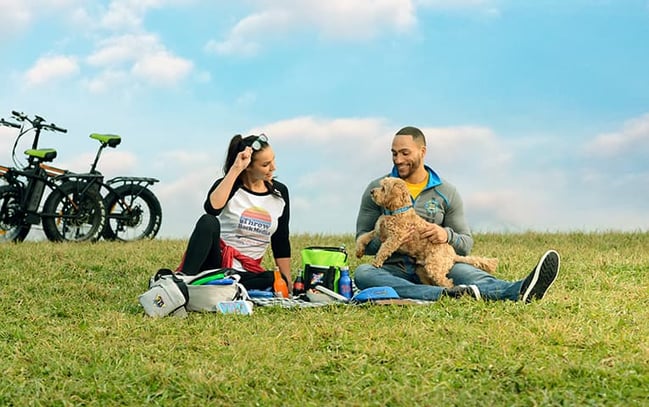 One of the biggest benefits seen from home-focused living is a renewed emphasis on family life. During times of upheaval and crisis, people everywhere have taken hard looks at what makes life worthwhile. As a result, we've seen a big shift in attention as people focus on what truly gives life meaning.
Choose branded apparel items that support this renewed family value. Easy, movable, and breathable fabrics and styles are the biggest goals here. Think of clothing that people can be comfortable at home in. Consider soft fleeces that offer cozy warmth.
Nostalgic styles are also fueling branded apparel trends alongside family values. Items that take people back to the past often spur warm memories of cherished family experiences. Consider vintage features like heather grey, or even bright colors or bold patterns.
Maximize Brand Exposure with these Branded Apparel Trends
Despite the trends, the biggest piece of advice I can give you when selecting your company's branded apparel is to remember who your target audience is. Effective branding means understanding who your customer is and what it is they want.
Not all of these branded apparel trends will be perfect for your buyer persona. But it's a great place to start. Take into account what's trending, and adapt each style to your intended prospect, customer, or employee.
But remember, when it comes to fashion and branded apparel trends, things constantly change. So it's important to stay educated, and consult with branded apparel experts when needed. Our team is always standing by with the latest industry knowledge to help ensure your investing in fashionable promotional apparel that's made with your customer in mind.