Over the past ten years, the number of gyms and fitness facilities has skyrocketed, making the $21.8 billion dollar fitness industry highly competitive, according to Gym Insight. Because the industry is unbelievably large and continuously growing, companies must be remarkable in order to stand out.
A way to expose your brand is by using promotional products. There are hundreds of promotional products for fitness companies available, but it's up to you to choose the ones that will further your brand exposure.
Stand out in your industry with my 10 promotional products for fitness ideas below.
1. Branded .75 Liter CamelBak eddy (TM)

Make sure your customers stay hydrated while exercising with the branded .75 Liter CamelBak eddy outfitted with your logo. Custom CamelBak water bottles are popular promotional choices for businesses because consumers love the CamelBak brand. Pick from a wide selection of colors to fully customize your CamelBak water bottle with your multicolor logo.
2. Custom Arm Band Phone Holder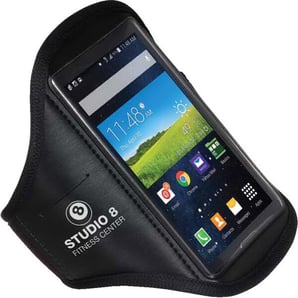 Associate your brand with the cutting edge tech world with the custom arm band phone holder. 91% of U.S. citizens have their phone on them at all times, according to Hubspot. Make it closer to 100% with this product that allows people to keep track of their phones while they're exercising.
This product is made from flexible (and comfortable!) neoprene material that conforms to the recipient's arm. Users can control their smartphone through the protective, clear window of the arm band. Additional features of this product includes an adjustable strap with hook and loop fasteners that attach to the bicep along with a key storage pocket.
3. Promotional Aqua Pearls Hot/Cold Pack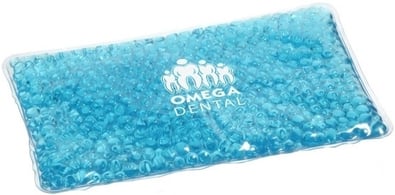 Your clients will stay cool or soothe aches and pains they get from working out with this cold or hot compress. The promotional Aqua Pearls Hot/Cold Pack is an increasingly popular promotional item that is perfect for the fitness industry.
4. Personalized Multi-Function Pedometer
Branded pedometers are increasingly popular promotional choices for all companies; even ones that aren't in the fitness industry! The personalized Multi-Function Pedometer will help athletes track their progress by counting steps, miles, kilometers, and calories burned.
5. Customized Budget Duffle Bag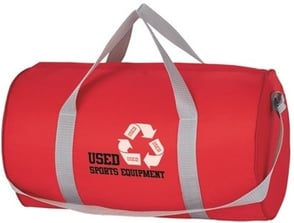 Give customers something stylish and logoed to tote their exercise equipment to and from the gym in. The customized Budget Duffle Bag is big enough for gym goers to carry supplies like towels, shower items, weights, and more. Promote your brand name and image on a product customers will use in more places than just your facility.
6. Logo Quick-Speed Jump Rope
Make way for a fun fitness activity with logo Quick-Speed Jump Ropes! Have these cool items for sale or available at the front desk for a quick warm up activity. You could even host a jump rope contest to generate a sense of community. Your logo will appear on the handles. Choose from black, blue, green, or orange "rope" to match the image of your company.
7. Branded Moisture Bead Hand Sanitizer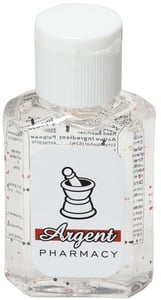 With so many people a lot of communal equipment, gyms and other types of fitness centers can harbor germs. Have branded Moisture Bead Hand Sanitizer bottles available for sale or giveaway at the front desk and throughout the center to promote a healthy environment. Customers will appreciate hand sanitizer being available at your facility rather than having to worry about finding antibacterial gels or wipes at a different location. I like hand sanitizers as promotional items because they can be used universally for any company and they have plenty of space and freedom for you to display your brand logo or message in multiple colors.
8. Personalized Exercise Band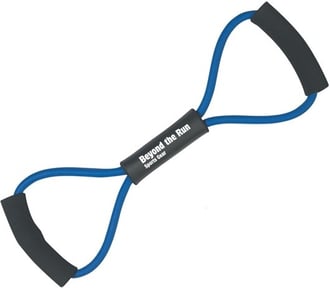 Have logoed exercise equipment scattered throughout your gym starting with personalized Exercise Bands! These useful products will keep people exposed to your brand throughout their workout. This exercise band comes in blue, green, red, and black. You have a choice of over twenty colors to print your logo or brand name on the middle black trim. The handles are made of foam, so they'e comfortable for continuous exercise.
9. Promotional Yoga Mat and Carrying Case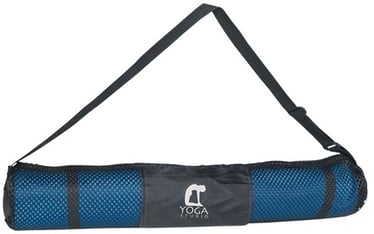 Here's a perfect custom item for any gym, fitness and wellness center, or yoga studio. The promotional Yoga Mat and Carrying Case makes it easy for clients to tote their item while advertising your brand. Have these useful, high-quality items ready for sale in your center.
10. Custom Corona Deluxe Cinch Bag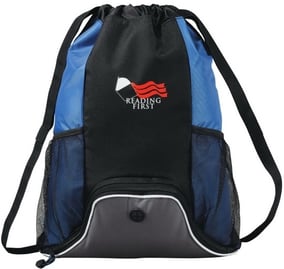 For customers who don't need as much space as a duffle bag provides, the custom Corona Deluxe Cinch Bag is ideal! This custom drawstring bag is perfect for fitness centers as it has two outside holders made for water bottles and other gym equipment. The front pocket has a headphone port that is great for customers who listen to music on their commute to your facility.