The endless scrolling.
The pages and pages of results.
The point where you think, "Seriously, what's the difference between all of these shirts?"
Finding high quality branded clothing for your company can be—to put it politely—challenging. How do you know whether you've made good choices? How can you be sure the jackets you chose won't fall apart after the first wear?
Here's everything you need to keep in mind when searching for high quality branded clothing for your company.
Work with an experienced professional
First and foremost, the best way to be sure you're purchasing high quality company clothing is to work with an experienced branded apparel professional (like me!). Industry professionals have a deep understanding of which clothing items have the qualities and features you're looking for. They can help you navigate through the options and narrow down your choices.
Another benefit to working with a professional is that they have hundreds of other customers' orders as experience.They can tell you whether other customers liked or disliked a certain item, and guide you to the most popular selections. A second opinion backed by years of customer experiences is invaluable.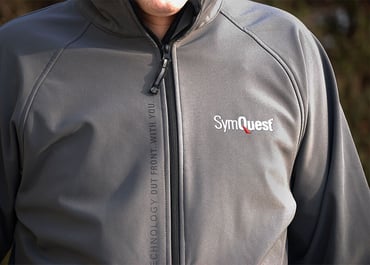 Brand names aren't the end-all and be-all
You may think the easiest way to ensure high quality branded clothing is to go with recognizable retail brands such as Carhartt, Nike, or Columbia. It's true that these name brands are often known for their quality, and sometimes you want to align your own company with a well-known brand. The problem is that they can also be expensive.
You can find high quality branded company clothing without shelling out big bucks for name brands. Think about the qualities and features you admire in those pieces, then seek out the same features in more traditional "promotional apparel" brands. Again, work with a professional who knows the industry well. They can steer you towards affordable options that are comparable to the name brands.
Pay attention to fabric choice
You can tell right away when you're wearing something that's made of a high quality fabric versus a cheap fabric. Cheap fabrics may itch, fade, stretch, or shrink over time. If your goal is to order clothing that people will want to wear for years to come, invest in a long-lasting fabric.
Keep in mind that the ideal fabric choice differs depending on the type of clothing. You'll want a different look and feel for an everyday t-shirt versus a moisture-wicking performance shirt versus a dress shirt.
Consider cut and fit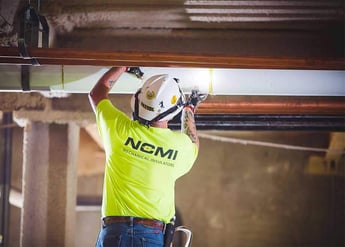 You want to wear things that fit well and make you feel good. So do the people who will wear your company's branded clothing!
Buy clothing in a variety of inclusive cut and fit styles. If possible, directly ask the folks who will be wearing the clothing what they'd like. Choose brands that give options for unisex and women's cuts, as well as a wide variety small sizes, large sizes, and everything in between. Branded clothing is about creating company unity and spirit, and the highest quality options will make it easy to help everyone feel included.
Choose long-lasting decorating techniques
A high quality clothing item is one that can be worn countless times while your company branding stays visible. This can be achieved by selecting the right long-lasting decorating method for your application.
Honestly, apparel decorating techniques have come a long way, and technology innovations have made most decorating methods good options. It's important to match up the decorating technique with the clothing you choose, however; you probably wouldn't want a screen printed jacket, for instance.
Design is key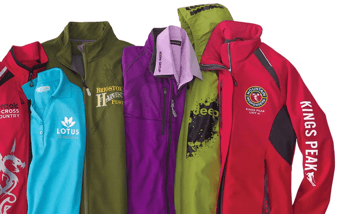 Beyond the clothing itself—the construction, cut, fit, and material—the design also needs to be considered. This could mean the design of the apparel piece, but it can also refer to the design you decide to imprint on the clothing.
Instead of just using your logo, you may want to work with a designer to get creative. The decorating options today are endless, and the locations you can imprint are cooler than ever! The quality of a design is instantly recognizable, and it's the first thing people will notice, even before they notice the feel of the clothing item.
Don't forget the details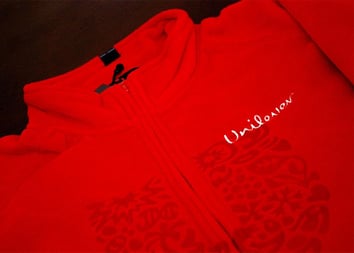 Details make the difference! Choosing high quality branded company clothing means thinking about the small things that make a big impact.
Clothing brands today are getting creative when it comes to adding details to their products that are both functional and fashionable. Whether it's breathable mesh panels in a performance polo or sleek piping decoration on a jacket, people will pick up on the details and appreciate that you went the extra mile to seek out something nice.
Ordering high quality branded clothing for your company is all about creating clothing people love to wear. When company apparel fits just right, has a great style, and feels good, your recipients will love wearing their company apparel and becoming an enthusiastic brand ambassador.