Despite a spike in COVID-19 cases, people are still going to be traveling. It's inevitable. Flights are still taking off and roads are still open - so people will be on the move.
Whether it's because of family emergencies, essential work, or just visits with family and relatives, you'll likely have some clients still hitting the roads. And now - more than ever before - safety on the go is a top concern.
So if you have customers, employees, or clients that you know are traveling, think about giving them a promotional item to help keep them safe. Consider this pre-departure safety checklist when choosing the right promotional giveaways for travelers. This will help keep your gifts sensitive and considerate, which in return will be more appreciated.
Experts have recommended travelers to make sure of the following:
Social distance as much as possible
Wear a mask (including at rest areas, inside gas stations)
Wash or sanitize hands frequently (especially after touching things like gas pumps, door handles, other common surfaces)
Pack all the essential PPE
Avoid touching commonly touched surfaces
With the right products, travelers will be more equipped to get to their destinations safely, without spreading (or catching) any germs. Here's a look at our top 10 promotional giveaways that are perfect for traveling clients, prospects, or consumers.
1. Hand Sanitizer Spray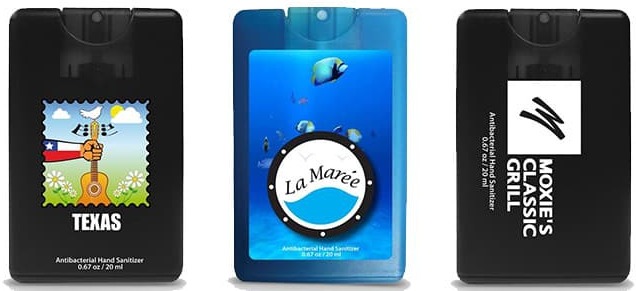 Hand sanitizer is a must for keeping hands clean in public areas with lots of commonly touched surfaces. But it can be bulky carrying around a bottle when traveling. This antibacterial credit card-sized spray sanitizer is perfect for the traveler.
When selecting a hand sanitizer, remember the CDC recommends the solution to be at least 60% alcohol-based. This product - and all of our hand sanitizing products - meets this requirement.
The travel-sized "credit card" design makes it perfect for your pocket, purse, or even wallet. The sanitizer container holds .68 ounces or 20 ml of solution and is citrus scented. The best part is the customizable features. It comes in ten different colors and can be imprinted with a full-color process decal or one color direct print to spread.
2. Advanced PPE Travel Kit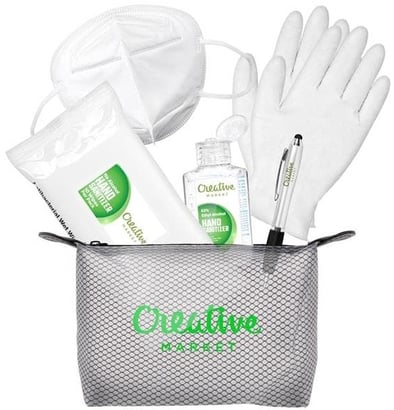 Masks, gloves, wipes - all travel essentials nowadays. But packing all these PPE products can get cumbersome. Plus, with such an extensive list of essentials, it can be a challenge to remember everything you need. Help your traveling customers keep everything in one place with this Advanced PPE Travel Kit.
It comes in an easy to pack custom travel pouch which can be branded with a spot color imprint in your company's colors. Packed inside is more hand sanitizer, ten 5-ply disposable face masks, a pack of ten wet wipes, three pairs of latex gloves, and an added bonus - a stylus pen with your company's logo.
3. TouchTool

Avoiding commonly touched surfaces is one of the biggest travel recommendations from doctors. But traveling often requires a lot of touching, which in return can result in lots of spreading.
TouchTools can help eliminate contact while traveling.
A product born during the pandemic, the Touch Tool, is a small and compact tool that's main purpose is to help users limit contact with commonly touched, germ-infested surfaces. With a small hook to grab door handles or press buttons, it's perfect to use in the airport or at rest stops. Create distance between yourself and these surfaces when you open the door to the restroom or stop to get money out of the ATM.
4. UV Sanitizing Wireless Charger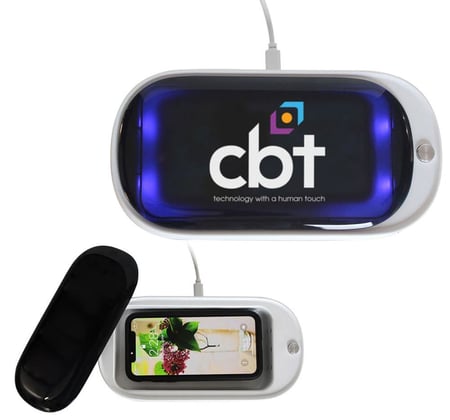 Travelers aren't going anywhere without their devices. Which makes wireless chargers an essential on the promotional giveaways list for travels. Even more handy, is a portable charger that can keep devices clean. This UV Clean Wireless Charger does both.
It uses UV light technology to destroy molecular bonds that hold together the DNA of viruses and bacteria. What's great about UV light is it can safely keep technology clean by sanitizing devices without the risk of water or liquid damage.
This 15W Qi charger will work with all devices that have a built-in QI or an external Qi receiver. This includes all newer versions of iPhones, including the iPhone 8. This charger also works to sanitize watches, keys, or other small but highly touched items.
It comes with a Type-C input cord and can be customized with a full-color imprint.
5. Travel Blanket & Sleep Mask Kit

Safety isn't the only thing that's key for travelers. If you're hitting the road, comfort is another important essential. Your promotional giveaways can give travelers an added layer of comfort they might otherwise go without.
This travel blanket and sleep mask kit is a great place to start. Whether they are trying to fall asleep in a strange bed or just trying to sleep in the car or on a plane, a little familiarity goes a long way. Travelers will appreciate this easy-to-pack blanket and sleep mask combo.
The luxurious, soft flannel blanket comes with a carrying pouch with a carabiner. It includes a sleep mask that is made with 100% polyester satin and has an elastic strap for a comfortable fit. The bag can be customized with a heat transfer or silkscreen logo.
6. Collapsible Water Bottle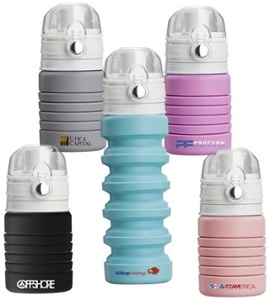 Water bottles are another travel essential, and luckily a fairly popular promotional giveaway. But when you're selecting a water bottle for those traveling clients, think about packing space.
This collapsible bottle can easily be packed away in a suitcase or purse without taking up much space. When not in use, it measures just 3 inches. Yet, it can hold to 20-ounces of liquid. It comes with a tethered cap which has a loop handle easy for carrying.
And with a screw-on cap with an airtight, leak-proof seal travelers won't have to worry about it spilling while they're on the move.
It comes in fun colors like black, gray, light blue, light purple, and light pink.
7. Packing Cubes for Luggage

It's all about saving space on the road. Packing cubes can help your travelers fit more into their suitcases, in a much more organized way.
This 3-piece packing cube set allows travelers to separate their luggage based on size. They can keep clothes in one pouch, devices in another, and all their essential PPE safety products in the other. Plus, they easily collapse which helps to save space in the suitcase or the backpack. Each pouch differs in size, ranging from medium to large. The small black packing cube can be branded with a digital print transfer.
8. Tech Travel Organizer

With all the devices we carry around nowadays, it's easy for our tech to get cluttered while traveling. A tech travel organizer, like the Ruckman Roll, is a thoughtful and useful promotional giveaway for travelers.
The Ruckman Roll is a tech roll that keeps all cords, accessories, and tech necessities rolled up and stowed away in the suitcase or backpack. It features 4 snap straps inside to organize devices, and a leather strap closure to keep it all together. It also has an inner zippered pocket great for additional storage. Laser etch your company's logo on a leather patch on the front of the Ruckman Roll.
9. Wireless Earbuds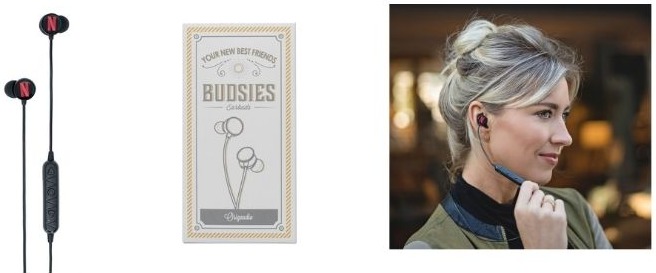 Ever been forced to travel without music? It's always the worst when you forget your headphones at home, and you're left with the silence - or lack thereof - of the plane or car you're stuck in.
So if you know of a frequent traveler, it never hurts to give them an extra pair of headphones. These Budsies wireless earbuds are both fashionable and useful. They are outfitted with silicone ear tips and connected by a single sports performance-style cords, so they can be comfortably worn and always attached to each other. Featuring Bluetooth technology, travelers won't have to worry about extra cords. They also feature a panel with playback control buttons, making changing the music or talking on the phone easy. No need to dig out their devices.
The Budsies come in black or white, and the ear tips can be customized with a full-color imprint.
10. Travel Backpack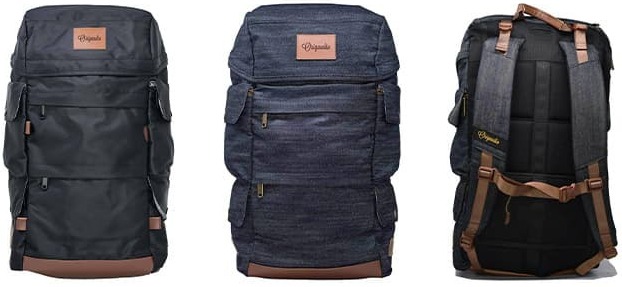 Of course, every traveler will appreciate a sturdy and spacey bag to carry all their luggage in. This Presidio backpack is the perfect travel pack for those that frequently hit the road. What we love about it is that it offers dedicated laptop and tablet sleeves and a charging cord port, making traveling for work a whole lot easier.
In total it features 16 pockets, including an RFID blocking pouch which will keep wallets, and financial information safe from thieves, even electronically. It also provides a ton of comfort, with a memory foam back panel, adjustable shoulder straps with load stabilizers, and a sternum strap.
It comes in denim or black for a classically modern look. Personalize the bag by laser engraving your company's logo on the front.
Invest in Promotional Giveaways that Protect Travelers
With travel being such a big concern, the best thing you can do for your frequent flyers or roadtrippers is to protect them. By double-checking the pre-departure checklist, and making sure your promotional giveaways help travelers accomplish those essential safety tips, you can ensure you're giving a gift that will be both used and appreciated by the traveling client.
Luckily, PPE products and travel essentials have come a long way throughout the year. With so many different creative options, safe promotional giveaways for travel no longer have to be boring. We encourage you to browse our PPE product collection for more inspiration.