What do you look for when searching for corporate gift ideas? Are you mainly focused on brand awareness, or are you more concerned with purchasing something that leaves a lasting impression on recipients? Corporate gift baskets have the power to do both.
These days people value experiences over things. So if you want to leave a lasting brand impression, you've got to get creative with your corporate gifts. Combining food, a powerful experience-based gift, with the value of a high-quality branded item sets you up to delight recipients in a meaningful way.
How to decide what to put in a corporate gift basket?
One of the things we love about business gift baskets is the versatility they offer. You can bundle so many different things together, which allows you to get personal and choose items that reflect well with your target personas. So what can you put in one? There's a lot of different options. Start by considering the following:
Product assortment and quantity: Typically, gift baskets have an assortment of different food items. Think about what will resonate well with your recipient, and consider including a variety of items. Usually, these gifts are going to a team of people, so you want to include a little something for everyone.
Pricing: How much should you plan to budget? If you include food in your basket, prices do skew a bit higher than just a traditional branded item. Consider if you want to send perishable items. This will also bump up the cost a bit. For VIP clients, we'd recommend budgeting between $30-50 for a high-quality package. Smaller food items in the $10 range are available if you're looking for more of a bulk office gift idea.
Personalization: You'll also want to consider how you're going to personalize it. This can be done in multiple different ways. If you have a strong relationship with this particular client, maybe the food items inside are how you get personal. Speak to their specific interests or tastes. Or, you can include a handwritten note that expresses genuine appreciation. Don't forget to add in your own branding, whether it's on the package itself or a product inside the basket.
Now that you have an idea of what you want to send, how much it will cost, and how you're going to personalize it, it's time to start browsing ideas. The luxury of choosing one of our company gift baskets is they come perfectly packaged and ready to send out. You can even dropship them straight to your recipient's doorstep.
Unique Gift Basket Ideas for Businesses in 2021
Here's a look at some of the most unique corporate gift basket ideas on the market today, which all include mouth-watering treats, personalization options, and premium packaging.
1. Cozy Night In Gift Basket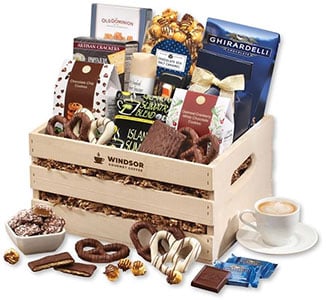 Let's be honest. We're all spending a whole lot more time inside of our homes. Hop on that trend by giving a gift basket that offers clients everything they need to relax and enjoy a sweet night to themselves. A reusable wooden crate makes this gift basket extra cozy. Packed inside is everything from gourmet hot chocolate to savory and sweet pretzels. Tie it all together with your company's logo on the front.
2. Elegant Client Appreciation Gift Basket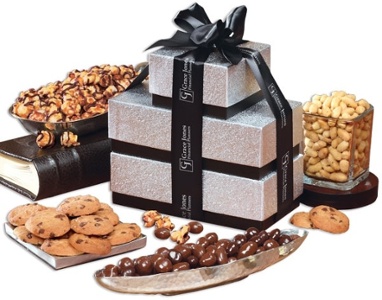 Here's a great option for VIP clients. This elegant silver and black gift bundle consists of three towers of treats. Inside you'll find gourmet chocolate chip cookies, chocolate-covered peanuts, sea salt caramel corn, and crunchy peanuts. But what's truly special about this gift basket is the presentation. Recipients will enjoy the experience of opening each box and the surprise that waits within. Plus, the sturdy gift boxes can easily be reused or repurposed. Don't forget to add a personal touch with a custom foil-stamped black or silver ribbon. And add in a personal card or gift message for an extra meaningful gift.
3. Artisan Foods Gift Basket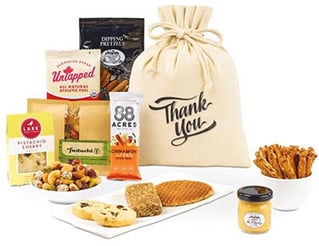 This gift basket is actually a gift bag, and combines a collection of sweet and savory gourmet treats. It's perfect to pair with a cooler, tote, drinkware item, or gift on its own. Here's what's included:
Pistachio cherry cookies
Dipping pretzels
Sweet and tangy mustard
Berry nut mix
Cinnamon seed bar
Maple waffle
Include a greeting card with a personalized message and/or your business card for a genuine gift that delights.
4. Cheese & Crackers Gift Basket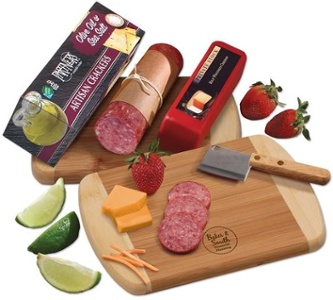 Here's another fun gift basket that business clients will love to take home to their families. Featuring a sustainable Bamboo chopping board firebranded with your logo, this corporate gift offers brand recognition that will last even after the tasty cheese, meat, and cracker assortment is eaten up. Included with the cutting board, is a half pound block of Private Stock Mild Cheddar cheese, a five-ounce stick of tangy beef summer sausage, and a box of water crackers. A cutting knife also comes included.
5. Savory Sampler Food Basket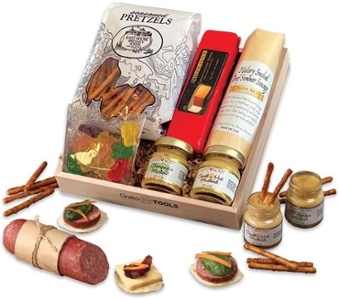 Have clients who aren't huge fans of sweets? No problem. This wooden tray packs a whole bunch of savory goodness inside. Included are creamy, mild pepper cheese, tangy beef summer sausage, and season dipping pretzels with two gourmet mustards. A snack pack of Jelly Belly jelly beans is included for just the perfect pop of sweetness. The customizable tray can be firebrand with your logo and can double as a useful storage item long after the snacks are gone.
6. Hardwood Pen Holder with Fancy Cashews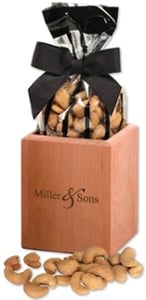 Okay, so this isn't really a "basket". But this premium quality pen holder, crafted from American beech wood with a hand-rubbed oil finish, is a pretty unique alternative. Packed inside are five ounces of extra fancy jumbo cashews. Recipients still get the experience of opening a gift packed with a delightful snack, but they'll also love the firebranded pencil or pen holder that will last long after the cashews are gone. This business gift is great to buy in bulk and give to individual clients at a smaller price point.
7. Gift Pouch & Snack Combo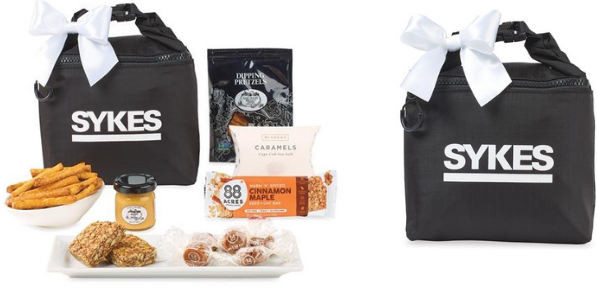 Here's another fun variation on a gift basket. This reusable branded pouch is packed full of fun snack items to delight clients. The pouch itself is made from durable fabric, made for outdoor adventures. With a roll-top opening and buckle closure that doubles as a grab handle, it can easily be attached to another bag for on-the-go travel. It packs a lot of storage space, with a front zippered pocket, and includes a wipeable PEVA interior lining for easy cleaning. And let's not forget about the included snacks. Here's what's packed inside:
McCrea's Cape Cod Sea Salt Caramels
88 Acres Cinnamon Oat Seed Bar
East Shore Dipping Pretzels
Sweet & Tangy Mustard
Tie it all together with either a white, red, navy blue, royal blue, black or grey ribbon. And personalize the pouch itself with an embroidered or heat transferred logo.
8. Branded Snacks Gift Basket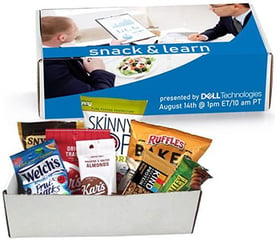 Everyone loves snacks. With more and more people working from home, a branded snacks gift basket will be loved and utilized. Plus, with a variety of different snacks to choose from, there's something to please everyone's taste buds. Elevate your next virtual meeting by sharing a bite together. Inside is delicious cheddar & sour cream chips, snack bars, and mini salted pretzels, plus more.
9. Sticky Note Holder with Chocolate Covered Almonds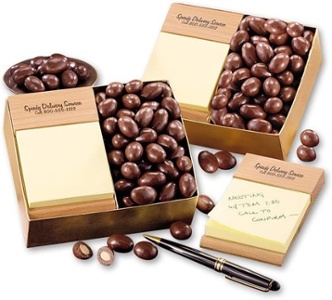 Pairing a super useful item with a tasty food item can be a less expensive alternative. This sticky note holder and chocolate-covered almonds combo is the perfect one-off gift for individual clients. Crafted from American Beechwood, a hand-rubbed natural oil finish brings out its natural beauty. Plus, a firebrand logo showcases your company with premium quality. Included is a stack of sticky notes and five ounces of chocolate-covered almonds.
10. Nut Mix Gift Bag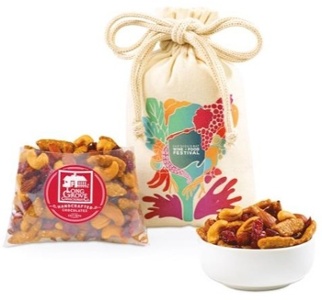 You don't always have to spend a ton on a gift baskets or branded food item. Here's the perfect little gift that says thank you in a small but bold way. This custom-blended berry nut mix is packed inside a cotton gift sack branded with a heat transfer logo. It can be gifted by itself, or for a greater impact, turned into a gift bundle by pairing it with a piece of branded drinkware or another logoed gift.
Delight Recipients with Corporate Gift Baskets
The best thing about business gift baskets is their versatility. With so many different options to choose from, combinations to make, and items to include, you can bet you'll send a corporate gift that is unique, individual, and truly appreciated.
Don't get caught up in the fact that food items disappear. Sure, food doesn't last forever. But the memories associated with meaningful gifts do. Food is a gift that everyone loves and appreciates. Plus, it's always easy to extend the staying power of your gift by combining delicious food items with high-quality branded swag. When paired together, you create a high impact, memorable, and delightful gift experience for your clients.