Everyone loves to receive packages. There's just something exciting about getting a personalized gift sent to your doorstep. The anticipation about what's inside, the unboxing experience, and the delight after discovering what's inside, is an experience that leaves a memorable impression. Corporate gift boxes sent straight to the home can have the same impact. It's a way to create a more powerful connection with your corporate gifts and form a lasting brand connection with your clients or employees.
Why Corporate Holiday Gift Boxes are Powerful
Corporate holiday gift boxes put a personal touch on the typical office gift. Yes, traditional gift-giving at the annual holiday party is always appreciated, but when everyone is receiving the same gift, people don't feel as special. Even if you ship the same gift to all your recipients, the individuality of receiving that gift at your door makes all the difference.
If you do want to get personal, holiday gift boxes provide an easy way to do so. For instance, if you have two different buyer personas as clients, customize each gift box with the best items for each persona. Gift boxes provide an easy way to mix and match promotional products, while still creating a gift to please everyone.
4 Things to Include in Your Corporate Holiday Gift Box
So what should your corporate holiday gift box include? It's about more than just the products. Here are the four things we always recommend when planning a gift box for our clients.
A Lift-Top Box

PackAGING Paper

A Message Card

Products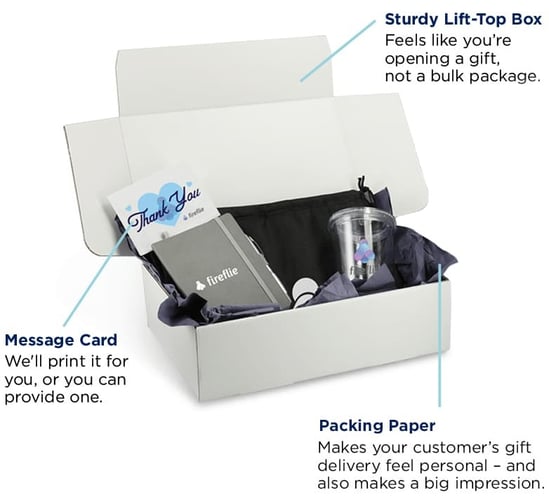 1. A Lift-Top Box
With the box being one of the first things people see when they receive your gift, it's important to get it right. In the best-case scenario, you would have enough time to choose a powerful custom box to activate your brand. With 90% of consumers reported to reuse packaging, and 40% more likely to post pictures of a brand online because of custom packaging, there's sheer marketing strength in the box alone.
For custom boxes, timeline is key. From mapping out the design to the printing process, the whole project takes about seven weeks. So if you're going the custom route for holiday corporate gifts, you'll want to wait no later than the beginning of October to begin the process. To help you plan ahead, we've put together this guide on how to select the perfect custom gift box based on your budget, timeline, and design ideas.
For holiday gifts, we recommend choosing a box with a lift-top lid like this one. This makes your package feel more like a gift, as recipients can open it and see the beautiful products you've selected neatly laid out.
Even if you don't have enough time to go completely custom, you can still add some custom branding to your box. We offer custom sticker labels that will distinctly showcase your company's identity while making an impression on your gift recipients.

2. Packaging Paper
It may seem trivial, but imagine receiving a gift with no wrapping paper at all. It loses its magic because presentation matters. Consider the study done by marketing professor Daniel Howard. He gave his students a sheepskin bicycle cover as a gift but packaged it in different ways for different students. He then asked them to rate the gift. Those that received the bike cover in gift-wrapping rated the gift significantly higher than those who received the gift in a plastic bag. He then did the same experiment testing the quality of wrapping paper. It turned out that it didn't matter if it was cheap paper or expensive packaging, those wrapped in something were rated higher than those not wrapped at all.
This tells us that we don't have to spend a ton of money on packaging, but it is important to include it. According to Dr. Howard, "Gift wrapping not only affects the perceived value and ownership of a gift, but it also affects the mood and attitudes of the recipients."
Decorative and custom gift wrapping can be included in your corporate holiday gift boxes if you plan ahead. Remember the magic 7-week number. But if you're short on time, Howard's study shows that even standard gift wrap is enough to do the trick.
3. A Message Card
Including a personalized message card is key in a corporate holiday gift box. This is what will give your gift that added personal touch, that will truly make your employees or clients feel valued. Consider a holiday-themed message or a simple "thank you" message. Remember, the purpose of your gift is to show your appreciation.
4. Products
Last, but certainly not least is your products. Obviously, you don't have a gift box without the actual gifts inside! It is important to note that when choosing products for a gift box, you do have shipping and size restraints to think about. So we've selected a list of our favorite products that would fit perfectly into a corporate holiday gift box.
Branded Apparel
Branded apparel makes a great corporate holiday gift because it's an easy way to include your brand while giving a personal and thoughtful gift that an employee or client will want to wear. When considering holiday gifts, consider products that can be worn in cooler weather.
Good: Branded Long Sleeve Shirt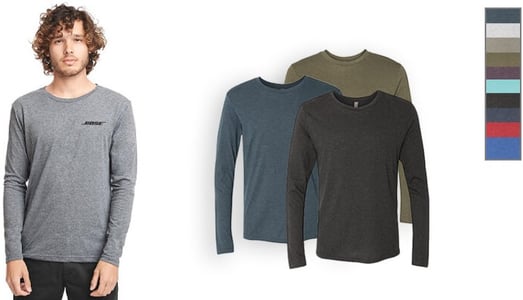 A branded long sleeve shirt like this one is a casual apparel item that can be worn at the office or at home. Clients or employees can layer it with a branded sweater or jacket during the colder months, or wear it on its own when the weather gets a bit warmer. It's made with a tri-blend of polyester, combed ringspun cotton and rayon, and features a set-in 1x1 baby rib collar. With multiple colors and both women and men sizes available, this long sleeve shirt can delight just about any persona. A company logo branded on either the best, upper sleeve or back makes a professionally branded apparel item that any recipient would appreciate.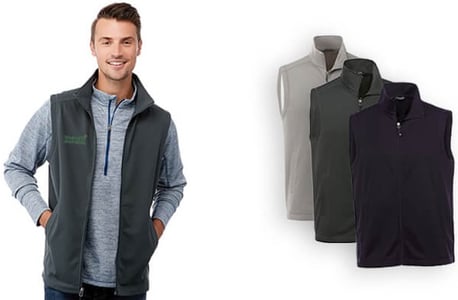 Vests can be worn pretty much any time of year and is another branded apparel item that's casual enough to be worn in both the home or work office. This particular custom knit vest is snag-resistant and durable and has extra features like an interior media pocket and exit port. It's made with 100 percent polyester jersey knit material with a brushed back. Choose between navy, heather grey, grey storm, or black, and brand your company's logo on the chest for maximum brand exposure.
Best: Logoed Fleece Quarter-Zip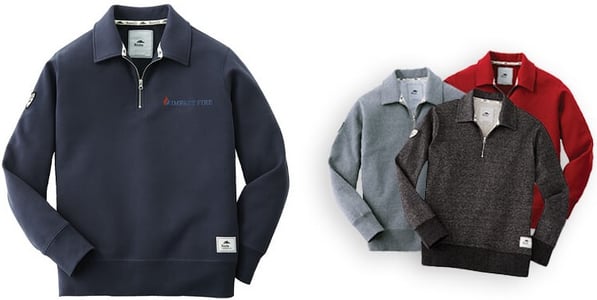 Encourage your recipients to embrace their inner adventurer with this logoed fleece quarter zip. Connecting with nature and the outdoors is a corporate holiday gift trend we've seen gaining popularity this year. This logoed fleece quarter-zip is durable enough to keep you warm outdoors, while lightweight enough to be worn in the office, or at home. With a convertible collar, rib sleeve cuffs, and a rib-knit body hem, it's a flattering fit for both men and women. Choose from several different color combinations, including dark red, navy, charcoal, black, or indigo. A custom logo on the chest provides excellent brand visibility wherever your recipient's travels take them.
Food Products
Food products are often small and simple to ship. They make a great addition to another product in a gift box and have the power of completing the package. Plus, when it comes to the holidays, sweets are always a must.
Good: Branded Cube-Shaped Snack Box

Customize this acrylic cube container with your recipient's favorite snacks for a simple, yet thoughtful gift. Choose from a variety of different snack or candy items, including apple rings, chocolate buttons, chocolate shamrocks, chocolate coins, Goldfish crackers, Jelly Beans, Sour Patch kids, or M&M's. Recipients will not only love the treats, but they'll also love the box they come in. The clear cube is 2.35 x 2.35 inches and can easily be reused as a desk accessory or a handy storage container around the house. Add a festive holiday message to the included 4-color process label for a gift they'll appreciate and remember.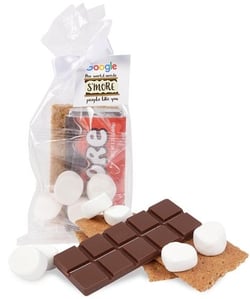 Even better is a gift that provides an experience. This S'mores gift bag provides recipients with everything they need to make their own smores. It's the type of gift that goes beyond just the product but provides a memorable experience for clients or employees to enjoy with their family or friends. This type of gift amplifies your brand in a different and sometimes stronger way. Recipients will associate the wonderful night of fun with their family making S'mores, with your gift, and as a result, your company. Included in this gift bag is a Hershey chocolate bar, two Graham Cracker squares, and four marshmallows. Include a branded message card for a more thoughtful and personalized gift.
Best: Cocoa Dusted Truffles in Premium Gift Box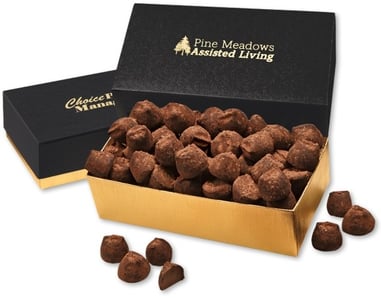 These decadent truffles make an elegant and sophisticated corporate food gift. But what makes them truly premium is the custom black and gold gift box, foil-stamped with your logo on the cover. Presentation is everything. Inside, 18 individually wrapped Cocoa Dusted Truffles sit carefully placed. Chocolate lovers will be in heaven, with these rich, creamy candies, complete with a decadent chocolate center, carefully blended for supreme smoothness.
Personalized Tech
Personalized journals are small enough to pack into a gift box and can easily be personalized. Plus, it's a gift you can be certain your recipients will get a lot of use out of, whether it's for work or their own personal use.
Good: Eco-friendly Wireless Charger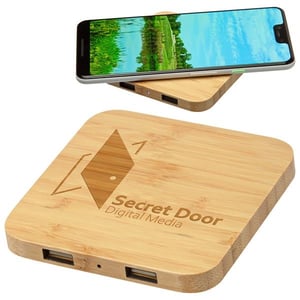 This Bamboo wireless charger is an eco-friendly and useful tech item for any desk. It combines the functionality of a wireless charger, with two convenient USB ports, giving employees an easy and convenient way to stay powered on. Made with renewable bamboo, your logo will look powerful and mission-conscious laser engraved or with a full-color digital imprint on the top of the wireless charger.
Better: Unique Custom Branded Power Bank with Heartbeat Feature

Here's a unique take on what's already a popular corporate gift idea, the branded power bank. This specific power bank has a "heartbeat breathing" feature. When in use, the power bank "breathes" new life into connected devices, with a rhythmic beat. Your company's branded logo on the device lights up with each breath, as it charges. The product can be laser engraved on the black finish, and has a 10,000 mAh battery.
Best: Fully Customized Wireless Speaker

Branded wireless speakers make great gifts in general, but by adding a full-color logo you'll deliver a brand-forward gift that's truly unique. This speaker stands out from all others with crisp sound quality, a unique shape, and three total imprint areas. It also features a built-in microphone and on-speaker controls. Connect Bluetooth-enabled devices from up to 33 feet away, and enjoy 2.5 hours of audio playtime. It also comes with a micro USB cable for charging.
Branded Drinkware
Branded drinkware is one of those corporate holiday gifts that will please everyone. With so many customization options and different features for hot and cold beverages, it's easy to come up with a one-of-a-kind holiday gift for your holiday gift box.
Good: Customized Vacuum Insulated Bottle

Vacuum insulated bottles are a functional piece of drinkware that clients or employees will enjoy using all year round. With double-wall stainless steel vacuum construction and copper insulation, hot drinks stay hot for at least 12 hours and cold drinks stay cold for two whole days. It's the type of bottle that can be used anywhere, at any time, and you can always bet your drink will be fresh. With an on-trend, durable, powder coating, stainless steel screw-on lid, and a durable stainless steel loop to make carrying easy, this 22-ounce bottle will delight any persona.
Choose from a variety of fun colors like bright orange, light blue, turquoise or go more professional with black, grey, or white options available. Laser engrave or screen print your logo for maximum brand exposure and a high-quality corporate gift item.
Better: Branded Eco-Friendly Glass Bottle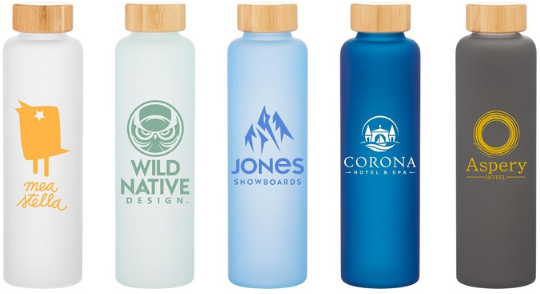 If you're looking for an eco-friendly corporate gift option, this 18-ounce glass bottle, made with a threaded bamboo lid is a high-quality option. With a single wall of borosilicate glass, it will keep beverages extra cold even during hot days. Plus, it features a translucent soft-touch finish that pairs perfectly with a company logo. Choose from unique colors like sea glass, frost, or storm grey for a truly unique and custom piece of drinkware.
Best: Corkcicle 16-ounce Canteen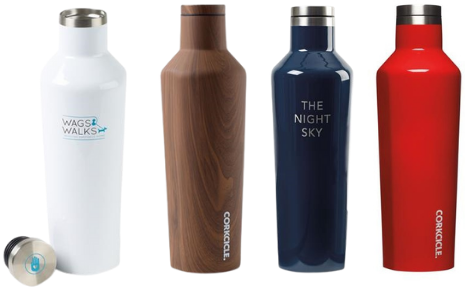 The gold standard of all drinkware has to go to the Corkcicle 16-ounce Canteen. It's not just a stylish bottle but has proven durability. With a shatterproof stainless steel interior, it's made to last and will keep drinks cold for over 25 hours, and hot for 12. With its industry-leading three-layer insulation, you won't have to worry about condensation or a hot exterior. The no-leak screw top makes it easy to take drinks on the go. Other useful features include side grips and a wide mouth for adding ice cubes, making the Corkcicle Canteen an all-around functional and premium piece of branded drinkware. It comes with a retail gift box and a laser engraved company logo.
Embrace the Opportunity
The holiday season is a time to celebrate your people. Whether it's your clients, your employees, or potential customers, the corporate gifts you invest in say a lot about your business and the appreciation you have for those helping you achieve success. Sending a corporate holiday gift box with premium items packed inside can help send a message of thanks that keeps your personas feeling valued.
With so many pieces to think about, sending out a corporate holiday gift box might seem a little overwhelming. Our team is here to help you facilitate ordering and your customization needs. We guide you through each step until your package arrives safely at your recipients' doorsteps.