Every second, 2,760 packages are shipped around the world. That equates to around 16 billion packages delivered a year. With millions of boxes shipped each day, it becomes a challenge for companies who wish to send gifts in the mail that truly stand out.
With virtual event gift boxes becoming more and more popular, that challenge is only going to increase. So how do you make your business stand out? The custom gift box.
Whether you're planning for a virtual event or maybe just thinking about sending a holiday or thank-you gift box to clients, a customized box is going to set your company's efforts apart from the hundreds of other packages that arrive on the recipient's doorstep.
Why choose a custom gift box?
A custom gift box turns your promotional product strategy into a flywheel approach. By turning your package into a gift, you create excitement for your brand that people want to share, thus creating brand ambassadors who increase your company's exposure. It's the power of creating happy customers and using that momentum to drive awareness, which leads to brand activation.
So let's dive into exactly how a custom box sets your brand apart, and why it's so important.
Make Your Box a Gift
The whole reason you're sending a swag box to begin with is to give/reward your prospects or event attendees. With people doing most of their shopping online these days, they are ordering boxes for themselves every day. So the best way to make your gift feel like a gift is to make it look like one.
Think about it this way. When you go to a friend's birthday party and bring a gift with you, do you bring it in a generic brown bag, or do you wrap it in fun wrapping paper, maybe with ribbons and bows? I have my bets on the latter.
To make your swag box a true gift, you should follow the same protocol. Sure, shipping gets a bit in the way of things, but you can still make shipping boxes fun and personalized. It's how to make your swag box feel like a gift.
Promote Excitement
If it's an event you're gearing up for, your swag box's whole point is to get people excited about it. If you're just sending out gift boxes, then the goal is to get people excited about your company and brand in general. Either way, it's all about evoking emotion.
Imagine this. You're heading to your mailbox to grab your mail, and you see two packages stuffed inside. One is a standard shipping box that looks like it probably holds one of the many household items you just purchased online. The other is a bright patterned box, with a fun phrase branded on its side. It definitely doesn't look like anything you ordered.
Which one do you think you'll open first? I know I'm going with the second.
Here's a more concrete example. Have you ever been a recipient of a monthly subscription box like Birchbox or Hello Fresh? These are boxes you got excited about seeing every month in the mail. They stand out because they are designed with fresh colors and branded logos.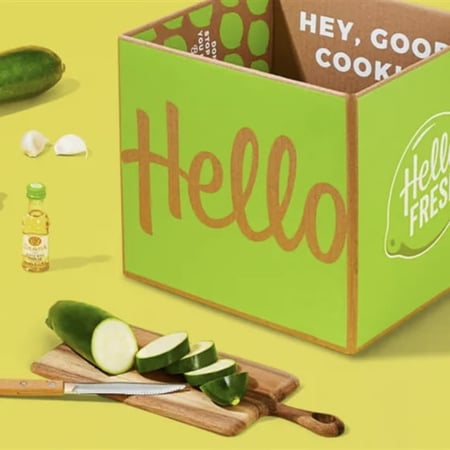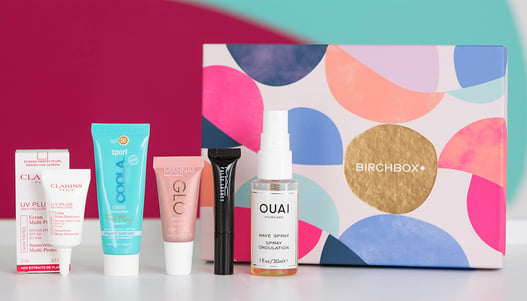 That's the power that custom boxes have. As consumers, we're attracted to the flashy. According to market research company Ipsos, 75% of consumers care about package design. That's a pretty staggering percentage but proves that focusing on your box's look is not a waste of time.
Increase Brand Exposure
Did you know that 90% of consumers will reuse a packaging box if they can? I'm a walking example of that statistic.
Recently I attended a virtual conference hosted by Commonsku. Part of their event strategy was sending out virtual event swag boxes to a number of registered attendees. I was one of the lucky recipients of a custom branded box that included various promotional items. The box itself was beautifully designed and just begging to be reused. It is now the proud new holder of my fairly extensive tea collection. Every time I brew a new mug, I'm reminded of Commonsku's event and the amazing experience it offered.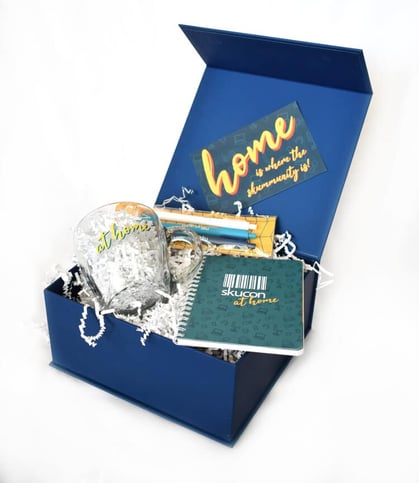 Source: Commonsku
This is what a custom swag box can do for your event or brand. It's all about creating a lasting impression. And if you are planning for a virtual event, a custom box will help you spread the word.
Just think - 40% of consumers are more likely to post pictures of your brand on social media because of your custom packaging. So, a cost-efficient way to increase exposure to your event is by creating something share-worthy for your already committed attendees.
Related:
Before you start thinking about your box, you'll want to determine what swag items to put into it. We've put together this helpful guide for you with 8 popular virtual event swag and gift ideas to get you started.
Three Steps to Sending a Custom Gift Box
Alright, so you're ready to invest in your own custom swag box. But where do you start? Luckily, the process isn't all that complicated, but it is helpful to have a plan in place before you start ordering away. Here are a few steps to help get you headed in the right direction.
1. Determine Your Budget
The first step to tackle is determining your budget. The double-edged sword of custom boxes is the sky's the limit as far as customization goes, but, as with anything, the more you do, the more expensive it becomes. Setting your budget will help you determine how far you go with the customization and how big you go with the box size.
Determine first if a custom box makes sense for your situation. We've already explained the benefits that one can provide, but there are situations where it's just not wise for the budget. And that's okay - as long as you're making the smart choice for your company. For custom boxes to be worth the price, we recommend ordering at least 100. Though you can purchase as few as 12 custom boxes, if your list is that small, a standard white box might be a better investment.
If you have a pretty large list of recipients, then custom is the way to go. When you're deciding the overall amount you'll need, keep in mind custom boxes are typically sold in increments of a dozen.
The next step is to determine which size will be best. When choosing a size you'll want to consider two things: the type of items you're putting into your box and shipping costs.
Every company swag box is different, but we have some recommendations based on what we've seen work. Keeping in mind that the average swag box has between 2-6 items inside, we recommend choosing between the following three sizes:

2. Map Out Your Timeline
When it comes to sending custom boxes, we can't stress enough the importance of planning ahead. If you are planning for an event or giving a gift for a specific holiday, you have a pretty important deadline for your box arrival.
It's important to note that if you're planning to send a custom box with swag items inside, the whole project from start to finish takes around seven weeks. That includes the printing process of the boxes themselves, which takes between 15-25 working days, or about four weeks.
With this in mind, custom boxes aren't something you'll want to rush into. The more time you budget, the better the result will be, and the less stress you'll go through in the end. With an ample amount of time, the process will be much closer to seamless.
3. Plan Your Design
Once you have your budget squared away and a timeline set, it's time for the fun part - the design. Planning what you want your custom box to look like is obviously an essential part of the process.
Before you get too overwhelmed about your lack of Photoshop skills, you don't need to worry about the actual design process. That's what our team at DMG is here to do. But because you know your clients, prospects, and event attendees best, the box's overall idea and concept will be most effective coming from you.
Here are some ideas to help get you started:
Color themes - Come up with some fun colors that coincide with either your company or event brand.

Incorporate your company name/logo - Leverage the creativity of your company's brand by including your logo.

Go beyond your logo with messaging - Come up with a branded hashtag or phrase for your event or gift box. This will also help with social media engagement, giving people a central place to post content related to your box.

Consider sponsors - A great way to help finance your custom box and incorporate sponsors is to open up the opportunity for them to have their logos featured on your box.
Once you have an idea of what you want your box to look like, our team can do the rest. Our graphic designers will work with you to develop a look that reflects both your company and/or your event. Here's a look at the work we did for CSTA, a client who enlisted us to design their virtual event swag box strategy.
Now It's Your Turn
We hope some of these tips helped spark some inspiration for your own virtual event or gift campaign. Swag is a very powerful tool to connect with your audience, but the method of delivery is something that is often overlooked. By incorporating a custom swag box into your promotional product strategy, you'll be one step closer to connecting with your prospects or event attendees in the most personal way possible.
The goal is not to let the custom swag box hinder your ability to plan a successful virtual event or get in the way of whatever else might be on your plate. That's why our team is standing by to walk you through the process and create a personalized strategy designed just for your company, and it's brand activation goals.