Press pause for a second, and take yourself back to 2019.
Our society was dipping its toes into things like remote working, online learning, and virtual events. But we were slow to jump fully into the virtual world for fear of losing that human and personal connection.
Now, with everything forced to go digital, businesses and marketers must learn new ways to connect in a world where customers crave meaningful connections with brands.
We've found that virtual event giveaways can turn attendees into brand ambassadors. By giving a gift that's worth remembering, you create a personal bond that people want to share.
Why Use Giveaways to Create Brand Ambassadors
Epsilon research indicates that 80% of consumers are more likely to purchase when brands offer personalized experiences. It all comes down to the idea of experiential marketing - where customers crave the power of experience.
People like to buy from people, and when consumers connect with a brand via a person or "brand ambassador", a bond is formed that creates trust and value for the brand. At first glance, it may seem that virtual events strip away that face-to-face value. But giveaways have the power of bringing it back.
By generating excitement, bringing people together, creating user-generated content, and expanding your audience - giveaways can be the secret to activating your brand, even if virtually.
Virtual Event Giveaways Generate Excitement
We've seen it before at in-person trade shows and events. People always seem to rush over to the tables that have the most exciting swag. And the businesses giving away those products are likely seeing a return on investment. According to the Advertising Speciality Institute, 85 percent of worldwide consumers remember the advertiser that gave them a promotional item, making them more likely to do business with that company.
But with in-person events, it's easy to see and thus prove the excitement that surrounds your products. How do these items create that same energy during virtual events?
Let's look at a few examples.
Microsoft hosts a tech conference each year for its developers called Microsoft Build. This year for the first time, their event went virtual. But they didn't want their attendees to miss out on the swag. So they decided to mail early registrants a swag bag of branded products, including a welcome card, lunch box, socks, sticker sheets, a lanyard, and a badge. They mailed the boxes out before the event and watched as engagement grew on social media. You can feel the excitement through every post on their Twitter page, as attendees share their gift boxes and what they're looking forward to learning.
Another great example comes from one of our own clients, the Computer Science Teachers Association. CSTA is an organization that helps bring Computer Science teachers together through professional development and learning opportunities. As you can imagine, their annual conference is a key part of their efforts each year. When forced to go virtual, they came to us for help putting together a virtual event giveaway strategy.
What was amazing is CSTA saw results before the event even started.
"Delivering [the boxes] the Friday before the conference began was perfect, as it increased enthusiasm and build," CSTA's Event Manager, Michelle Lippoli, told us.
The proof is all over social media. Here are just a couple of tweets from attendees who took to their social platforms to share their excitement before the event.
Explore #CSTA2020 for even more posts from attendees sharing their excitement. CSTA saw their Twitter impressions increase by 35,000 in just one day.
Virtual Event Giveaways Brings People Together
One of the biggest challenges that will always face virtual event hosts is discovering how to bring people together while they are physically apart. As long as you're choosing the right products, virtual event giveaways will help you do just that.
Let's look again at the example of CSTA. During the conference, one of the presenters snapped a quick picture of the branded pen she received in her custom gift box. Using the event's hashtag #CSTA2020, she shared that she was excited to network with teachers in the breakout session she was leading. But look at the comment thread.
She networked right on Twitter, with one of the event attendees sharing she would be there, and then one of the exhibits encouraging others to stop by their virtual booth. With four retweets and 15 likes, this is just one example of a small community built virtually, all surrounding a picture of a pen found in a virtual event giveaway box.
Another example comes from a virtual conference our team at DMG attended. Commonsku is a software company specifically designed for promotional products businesses. This year their annual conference took the form of skucon At Home. Commonsku sent out gift boxes to the first 500 registrations, which included a journal, a glass coffee mug, a pen set, and a special postcard that read, "Home, it's where the skummunity is."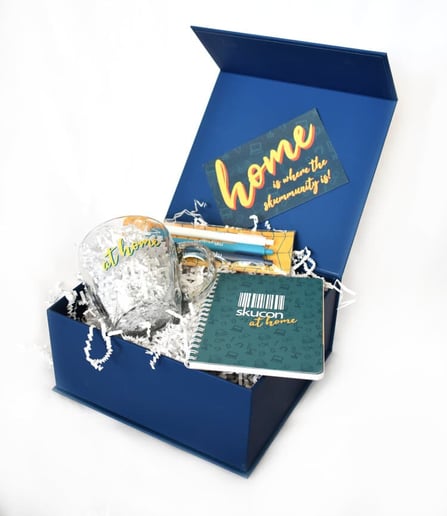 Source: Commonsku
The theme of their whole virtual event gift box was community, and it worked. Just head over to their twitter hashtag #skuconathome to see some of the responses. Here's a post from one of the attendees, Maple Ridge Farms, that proves event giveaways can bring people together even when they're apart.
Virtual Event Giveaways Help Create User-Generated Content
Have you noticed the common theme in the examples we've shared above? Each of the organizations that utilized giveaways saw a significant increase in their UGC.
So what is UGC, and why is it important?
User-Generated Content (UGC) is any content, including images, videos, text, comments, that have been created by real people rather than companies or brands. Many marketers refer to UGC as the most valuable form of content marketing there is. Here are just some reasons why:
Consumers are

2.4 times more likely

to say UGC is more authentic compared to branded content
79% of people say UGC content highly impacts their purchasing decisions
Brand engagement

increases an average of 28%

when users are exposed to a combination of UGC and branded content

25% of search results

for the world's 20 largest brands are links to UGC
UGC works. But how do you get people to start talking about the products you send?
Well, honestly, it's pretty natural. As you can tell from the above examples, people love to share about gifts they receive or exciting company giveaways. And it makes sense because branded products fit into all the best practices that encourage UGC.
Social Media Today lists a few key ways to increase UGC. Take a look at how promotional products fit into each one.
Run contests on social media.
You can use your gift boxes as rewards for contests you run on social media. This will get more people involved and create a bigger incentive to produce something spectacular, depending on your contest.
Leverage the power of hashtags.
This is a best practice for gift boxes. We always encourage our clients to include a postcard or message in their boxes with direction on where to share their swag. Creating a hashtag for your event is the best way to do this, and why the organizations we listed above saw such great results on social media.
Ask questions.
Ask questions - receive answers. It seems simple enough, but sometimes it can be hard to come up with engaging topics. Giveaways can be a great starting point. Ask your attendees what their favorite item in their gift box was and post a picture of it. This will get the conversation going, and you'll see more and more people join in on the fun.
Virtual Event Giveaways Help Expand Your Audience
Finally, virtual event giveaways are a great way to reach people who have never heard of your brand, let alone your event. It can do this in a few different ways.
Social Media - Sticking with our social media theme, we can confidently say that your business will be reaching new people with all that UGC. Think about each post and the list of followers for that one person. Chances are, not very many of those people are following your brand, but they could fit right into your target audience. Virtual event giveaways drive impressions on social media and thus drives new impressions to your brand.
Referral Programs - This is a great idea that can be incorporated with virtual event swag to expand your audience. Think about launching a referral campaign for your virtual event, where registrants who refer other registrants to your event can receive exclusive branded products as a reward. Here's a great example from CoinDesk, as they marketed their virtual conference Consensus 2020.
Gifts - Did you know that more than three out of five consumers will pass on promotional products to someone else if they don't use them anymore? Even though, as a company, you're hoping you select something of value for your attendees, even if you don't capture everyone's interest, the chances are pretty high your promo item will reach someone else. That's just another eye exposed to your brand.
Advertising Power - The advertising power of promotional products, in general, is a benefit of virtual event giveaways that we can't leave out. Though your attendees might be at home during the conference, they won't be confined to their houses forever. The chances are pretty high that they'll be grabbing that water bottle or coffee mug you sent them before they leave the house and go about their day. In fact, 53% of people use a promotional product at least once a week. Multiply that by the number of people attending your event, and all the places they go during a week, and that's a lot of free advertising!
Okay, You're Convinced - Now What?
We've thrown a lot at you, and you're probably thinking, "okay virtual event giveaways seem like a good idea, but where do I start?" Well, if you're already planning a virtual event, you know that it's no easy task. Between choosing a digital platform to forming an agenda, there's a lot to coordinate.
We understand. That's why we want to help take virtual event giveaways off your plate. Our team can help you select the perfect products for your gift box, form a social engagement strategy, and even fulfill and ship your boxes right to your attendees' doors.
From start to finish, we can help you conquer the virtual event box while bringing your guests together - all over a simple gift.