Sending a custom swag box? How much thought have you given to the packaging? People judge books by their cover and packaging is no different. A well-designed and strategic custom swag box can enhance the overall perception of your gift. It makes your package feel like a gift.
Plus, it gives your brand a bit of a boost. Consider this:
People form their impression of a brand

within 7 seconds

.

Forty percent

of consumers will share an image of your packaging on social media if it's uniquely branded.
More than

half of shoppers

will recommend your brand if your gift comes in a gift-like or branded package.
Packaging design matters. So to fully capitalize on the benefits of a custom swag box, think strategically about how you want your brand to be perceived. A custom swag box design should reflect your brand's personality, values, and mission.
These 5 steps will help you design a custom swag box catered to your target persona. Plus, we've included some free templates you can download to get started now on your custom swag box design.
Download 4 Free Custom Swag Box Design Templates
5 Steps to Design a Custom Swag Box
1. Determine Your Audience
Who are you sending this custom swag box to? An effective swag box design will be targeted to your ideal persona. Remember, the purpose is to make your package seem personalized and your brand human. This requires having a strong understanding of who your audience is.
Considering the type of swag box your campaign falls under, can help you determine your audience. Generally, we see four different types of custom swag boxes.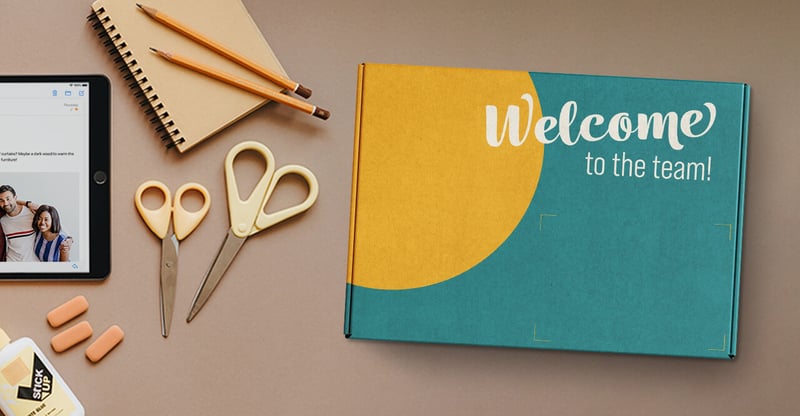 New Employee Swag Box
Welcoming new employees with swag helps to boost employee morale while increasing retention rates. Having an understanding of who your employees are can help you create a more personalized box. You'll also want to make your box design brand forward and showcase more company culture. Consider incorporating fun photos of co-workers, or inside office jokes.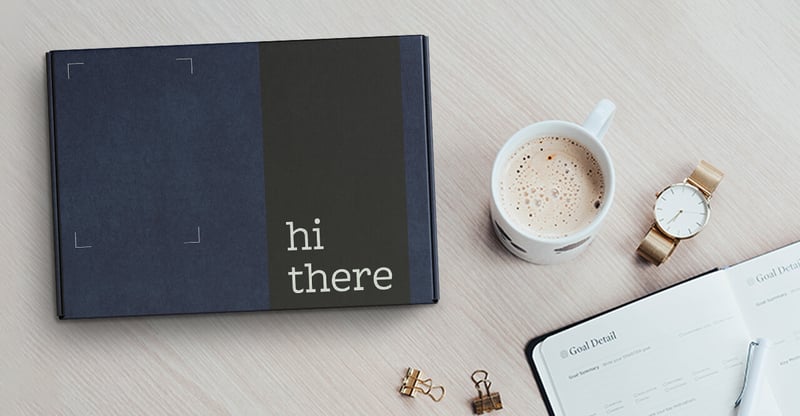 Sales Prospecting Swag Box
Swag boxes sent to leads are an effective way to nurture prospects through the buyers' journey. These types of boxes should be relationship-focused. Use it as an opportunity to introduce prospects to your brand, but don't just make it all about you. Make your box design focused on what you, or your brand, can do for them.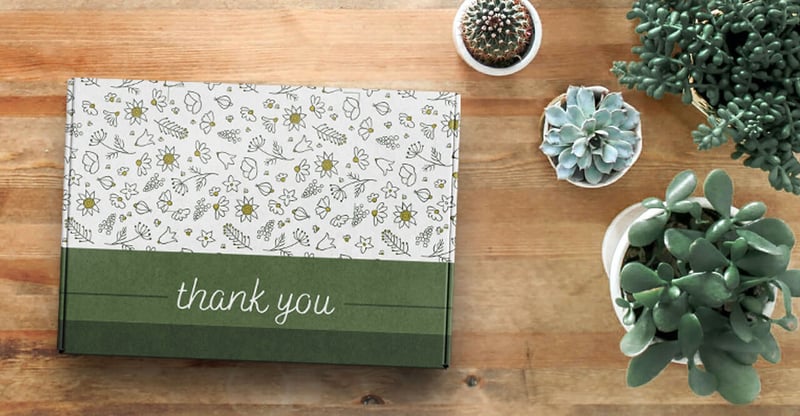 Client or Employee Appreciation Swag Boxes
These boxes are all about saying thanks. Your clients, and/or employees, are a valuable part of your business. Client or employee appreciation boxes are a way to show how much you appreciate their support or hard work.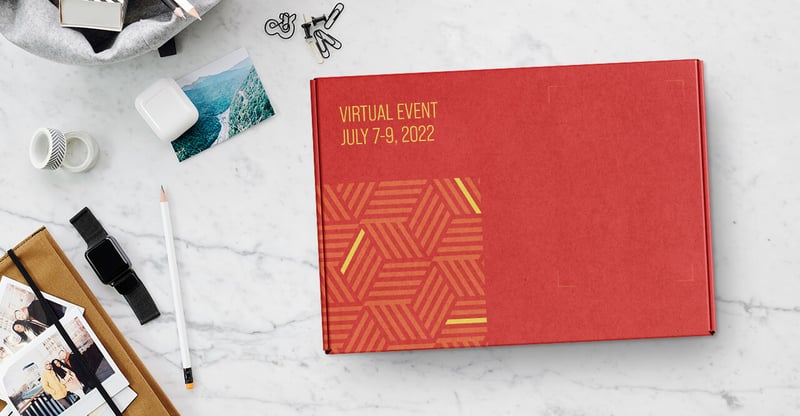 Virtual Event Swag Boxes
Swag boxes have the power of increasing engagement and personalizing your brand in a distant world. They can be used to build up hype for event attendees while creating a memorable brand experience.
Chances are, your swag box will probably fall in one of those four categories. By determining the box type and who it is you're sending it to, you'll be able to come up with a comprehensive strategy for its design.
2. Develop a Theme and Message
Once you know your audience, it's time to develop a theme or message for your box. This should be the foundation of your design. Not only will it help you determine the look and feel of your box, but it will also help inspire the products you select for your corporate gift box.
Here are some things to keep in mind when developing your theme:
Make sure you incorporate your logo and company identity into your box's theme.
Keep branding consistent, including colors, fonts, and graphics.
Create a tagline that speaks to your audience. This depends on your box type and goal. It could be a message of thanks,

an event theme

, an introduction to your brand, or company/brand values.
Once you've established a theme, you'll be better positioned to think about the smaller elements of your custom swag box design.
3. Think About Box Perception
How do you want your box to be perceived? The answer to this question will make up the meat and bones of your design strategy. And there's a lot to think about.
The first step is to determine the hierarchy of information included in your box design. What do you want people to look at first, and how do you want people to read the information you are giving them?
Make sure your organization is intentional. Again, this all comes down to purpose and audience. For example, if you're sending a client appreciation box, you'd want your messaging to be the primary focus. This will ensure gift recipients feel the appreciation that your box is designed to give. In this instance, your company logo would be a secondary part of the design.
There are cases when a logo might be the primary focus. If you're designing a virtual event gift box, your event's logo might be showcased as the primary design feature. This will ensure you gain the needed brand exposure and awareness that you're trying to create with your swag box.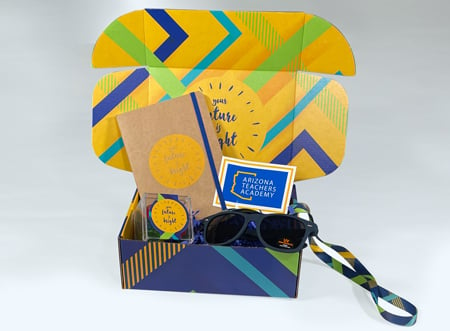 Perception is all based on box purpose. By being strategic with where you place your messaging and incorporate your branding, your swag box design will be intentional and give you much better results.
4. Consider the Logistics of Your Box Design
Once you have a pretty good idea of what you want your box to look like based on your audience, theme, and perception goal, it's time to translate this design onto a box. This requires a few other considerations unique to packaging design.
Remember your custom swag box will be shipped. This comes with certain logistical restraints that could influence your end design. Here are some things to consider:
Design Complexity - You want your design to enhance the overall perception of the gifts inside. This means not going overboard, but creating something simple yet engaging. Your design shouldn't take away from the focus of the box - the products inside.
Box Size - You'll want to make sure the box fits whatever products you've chosen. The size of your box will determine the size of your design. If it's a smaller package, you won't need massive text or design elements. At the same time, if you have more surface area to play with, you'll want to utilize the space.
Box Goal - You also want to consider your audience and goals. If this is about employee or customer appreciation, maybe you want your message of gratitude to take over the full box. But if you're sending a virtual event gift box, your box design might need to save room for event sponsors.
Shipping Label - Don't forget to save room in your design for the shipping label sticker. Technically, it can be placed on either the top or bottom of the box (and sometimes overlapping two sides!), but you'll need to evaluate how you want this box to travel. If your sticker is on the bottom, do you have products inside the box that will be affected by that? If you're overlapping sides, how much control do you have over the placement? Having a successful swag box roll-out is impacted by how consistent and user-friendly your packaging is.

Outside or Inside of Box - Do you have a small box and a large shipping label? Consider incorporating a design inside the box. You might not have a whole lot of room to get creative on the outside, but including a special message on the inside can make the unboxing experience extra special for your gift recipient.
5. Final Box Design Checklist
By now you should have a pretty good idea of what you want your box to look like. Now it's time to bring that design to life; this is where a lot of people get overwhelmed. It's often easy to dream up a creative look in your head, but it takes skill to translate that onto paper - or in this case a box.
Not to worry. You don't have to be a graphic designer to put together a custom swag box with strategic and personal packaging. A professional designer will bring your vision to life. These design experts know the ins and outs of packaging design and can ensure your idea is brought to its best light. But if you're working with a box designer, there are a few last things you'll need to consider to make the process seamless. This is what we call our final box design checklist:
Brand Style Guide - Having a brand style guide is often the easiest way to pass along your vision and ensure it reflects your company's identity. Included in this guide should be all the assets the designer will need to bring your vision to life. This includes logos, color palettes, and brand fonts.
Colors - Make sure you give your designer CMYK or Pantone Matching (PMS) colors. This is critical, as these values are essential for printing. If you don't know the PMS color for your brand or logo, let your designer know. They will likely be able to choose it for you.
Logos - Make sure you have vector file versions of your logos, and all other graphics you're having your designer incorporate.

Timeline - Don't forget about your timeline. Make sure you're giving yourself (and your designer) enough time to bring this vision to life, and still get your box to your recipients on time. There's about a two-week printing time for a custom swag box. This is for the box alone. So if you're planning to send a custom swag box, we recommend planning at least 7 weeks in advance. This gives you enough time for product selection, box design, plus fulfillment and distribution.
Ready to Get Started on Your Own Custom Swag Box Design?
A custom box design will help your swag box stand out, humanize your brand and make your prospects, customers, or employees feel special. That's why it's important to put some thought into your strategy. By incorporating the necessary elements into your swag box design, you'll ensure you're capitalizing on the opportunities a swag box offers.
There's a lot to think about when designing your custom swag box, but it's important not to feel too overwhelmed. Follow these steps to come up with a vision, and then let our design experts do the heavy lifting of bringing it to life. With a solid understanding of what you want your box to look like, you'll be well on your way to using the power of packaging to bring your brand to life.