I bet you've heard it a lot this year. Client and employee appreciation is more important than ever. But with everyone staying home, we don't have the luxury of hand delivering corporate gifts.
Gift-giving has become a bit more intentional. Now, packages are being sent straight to the home. And while sending corporate gift boxes comes with challenges, it's also created new opportunities for companies to get creative with packaging, personalization, and the overall presentation of their present.
To help you capitalize on these new possibilities, we've created a list of five things to consider when sending corporate gift boxes.
1. Timeline
One of the biggest roadblocks that will send any corporate gift plan swerving is a misjudgment on time. We can't stress enough the importance of planning ahead when it comes to sending gift boxes.
Do you have a specific deadline? If you're planning your gift for a particular event or specific holiday, you'll want to make sure your package arrives before that date. If you're sending a gift of thanks, you might have a bit more leeway.
We recommend planning at least four weeks ahead of time. From choosing your box's actual contents to planning your packaging, the production and fulfillment process of drop shipping boxes takes more time than hand-delivering a typical corporate gift.
The more time you budget, the better. It will ensure your project goes seamlessly and alleviate unnecessary stress to the gift-giving process.
2. Budget
When talking with clients dealing with the hurdles of COVID-19, the biggest obstacle they are dealing with is canceled events. Whether it's an annual corporate party or conference, most gifts were saved for these big events. But as businesses turn towards virtual events or even canceling events altogether, there's been a lot of cost savings. There's no longer a venue to be paid for, food to buy, or entertainment costs to factor in. This has left some extra funds in the budget for corporate gifts and allows businesses to get a bit more creative.
Two important things to keep in mind when mapping out your budget for your corporate gift boxes are the size and weight of products. When selecting items, you'll want to make sure you pick things that won't cost a ton to ship. Remember, quality over quantity. We recommend not overwhelming the recipient with products but choosing around 1-3 items for each box. Focus on one high-quality gift, and keep the others at a lesser price point.
Also, keep in mind the number of people on your recipient list. When ordering gifts, many products have certain minimums. If you have a smaller contact list, you'll want to stay away from products with larger minimums.
Other factors that will affect your budget are packaging and shipping costs. We dive deeper into both of these below, but remember to factor these additional costs into your overall budget.
3. Gift Selection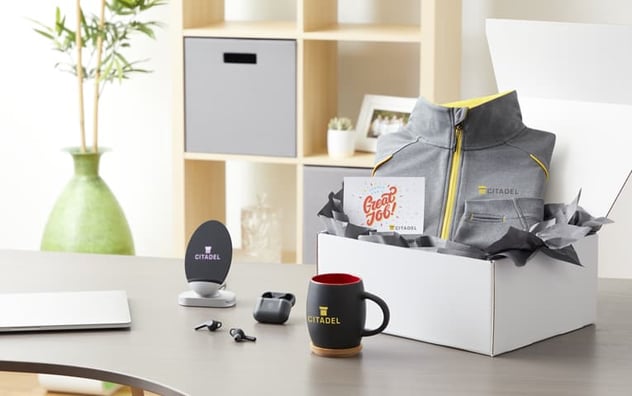 Selecting your gift box contents is probably the most obvious part of corporate gifting. But it can get a little bit more complicated when you're sending your gifts via mail. Again, you have to consider the size and weight, but you also can't forget to consider what your gift recipients actually like and would appreciate.
When selecting gifts for a corporate gift box, we recommend varying the contents. For instance, food gifts are very popular for client gift boxes. But instead of just sending chocolate or fruit, consider pairing it with something impactful and useful that will last. Pair chocolate with a bag of coffee and a branded tumbler, which they'll be able to enjoy together. Or if you're sending a bottle of fine wine, consider pairing it with a custom cheese board or stemless wine glasses. This makes your gifts more thoughtful and useful for your recipient. Plus, it will ensure your gift will last longer than a consumable gift by itself.
Related:
If you're looking for some ideas for corporate gifts, browse our gift guide here.
Another important thing to consider when selecting your gifts is your gift recipient's persona. For instance, if your recipients are all pretty techy people, maybe you'll want to consider pairing an item like a custom hoodie with a wireless speaker. If your recipients are primarily women, perhaps consider a spa-themed gift, complete with a robe, scented candles, and maybe some essential oils. Here's a list of premium items that would be perfect for sending in a corporate gift box.
4. Packaging
Mailing packages give you a unique advantage over the traditional way of handing out gifts. With 83% of Americans looking forward to receiving packages each day, you have an excellent opportunity to bring more delight to your gift recipients this year.
But it's important not to forget about the power of packaging. Logistics provider Dotcom Distribution conducted a survey to find key insights into consumers' packaging expectations. They found that 50% of consumers say that premium packaging makes them more excited about opening a package.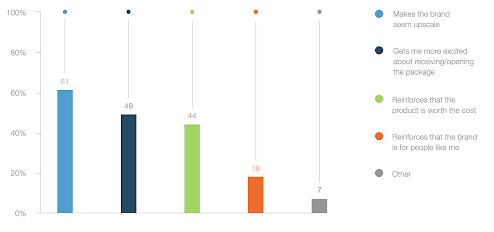 What exactly is premium packaging, and what does that mean for corporate gift boxes? Premium packaging can be defined as going beyond the traditional brown box and including quality materials, custom designs, and eye-catching colors. This is how we wrap traditional gifts, so the same mindset should be carried through when sending corporate gift boxes through the mail.
There's a lot to think about when choosing packing for gift boxes. Here is what we think is most important to consider.
Timing
Again, timing is everything and it will determine how creative you can get with your packaging when sending corporate gift boxes. Here's a quick breakdown look of the amount of time you'll need for each of the following options. Choose what works best for your company's situation.
Custom Printed Mailer Box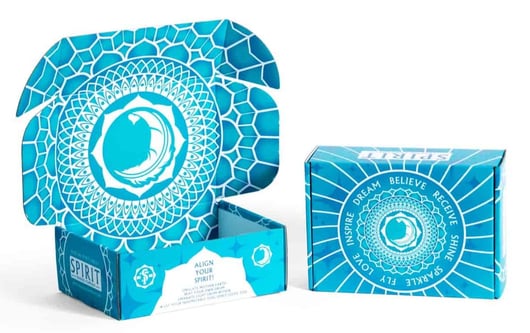 If your budget and timeframe allows, we always recommend businesses to consider going with a custom printed mailer box.
Why? Because it makes your corporate gift feel like a gift. With most shopping happening online, your recipients are likely receiving several boxes a week in the mail. But when you decorate your box and set it apart from the traditional brown packing box, it makes people excited to open your gift.
We offer custom design solutions to any printed mailer box. We'll help you pick out a pattern or theme that coincides with your brand. The result will be a personalized and custom experience for your gift recipient. You can rest assured your box will be open and enjoyed.
Mailer Box with Custom Label

Another option if your budget is small is a mailer box with a custom label, sticker, or tape. This allows you to still benefit from some custom branding but save a bit of money on packaging.
You can order your mailer box in a fun and festive color or a color that coincides with your brand and logo. The label is flexible and can be designed to reflect your messaging and theme as a company. Consider adding messaging that encourages recipients to share their gifts on social media with a specific hashtag. We've had clients follow this advice and see an insane amount of social media engagement because of it. It's another way to boost engagement with your gift recipients while encouraging user-generated content for your brand.
Custom or Standard Tissue Paper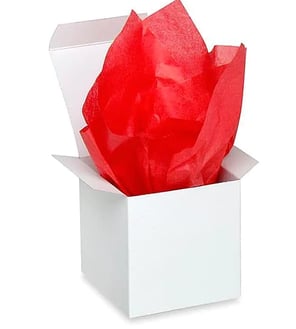 Let's not forget about the packaging that goes inside the box. For a retail feel to your corporate gifts, we recommend using tissue paper. It adds an extra layer of excitement when unboxing.
Choose between custom or standard tissue paper based on your budget and needs. Keep in mind that when ordering custom tissue paper there is a 50-sheet minimum. So if you have a smaller gift list, standard tissue paper might be the better option.
Tissue paper is ideal if you are sending soft items like branded apparel or a custom blanket. If you are sending something fragile, you'll need something with a bit more padding.
Crinkle Packing Paper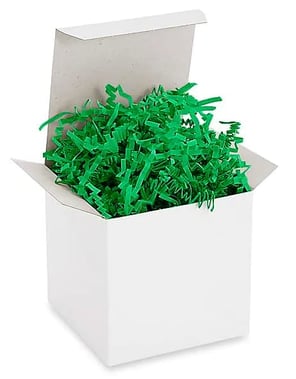 For fragile gifts that need extra protection, crinkle packing paper is your best bet. It's better than packing peanuts because it still adds an element of cheer to your gift while serving the dual purpose of protection. You can choose from various colors to make sure you have a look that fits with your company's brand.
5. Distribution
When it comes to sending corporate gifts, distribution is a big part of the process. You'll want to determine where your packages are being sent. If you're planning on drop shipping gift boxes straight to the home, it's good to keep in mind that it does cost slightly more than shipping to a business.
It's also important to remember that time of year will factor into the length of distribution. If you're sending out holiday gifts, then shipping times might be delayed.
Because of all ins and outs of mailing corporate gift boxes, it's always easier to work with a team of experts that manages the process for you. Our team at DMG will facilitate the fulfillment and distribution of your gifts to make sure you are getting the most bang for your buck and that your gifts arrive on time and in good condition.
Start Planning Your Corporate Gift Box
Sure, there's a lot that goes into sending out a corporate gift box. It may be a bit more tedious than just handing out gifts to employees at the annual holiday party or clients at that fundraising event. But, when done right, you have the opportunity to create a personalized experience that will truly delight your gift recipients in ways beyond traditional gift-giving.
Our team of brand experts is here to help you with the process. We'll walk you through all five of these considerations and make sure we check off all the boxes so you can send a corporate gift box you'll be proud of.