It's what makes your company unique. It's what gives your employees direction. And it's what keeps your customers coming back. Your brand is the heartbeat of your business.
Something so important needs to be showcased. That's why we believe in the power of brand activation. And guess what goes hand-in-hand with brand activation? Virtual events.
By connecting with your prospects through experience and interaction, virtual events give companies the opportunity to activate their brands in new and unique ways. But to maximize success, it's important to have a brand activation strategy in place.
Here are five ways to help you activate your brand during your next virtual event.
1. Brand your Virtual Event with a Common Theme.
Theme has always been important for event planning. It gives an event personality and purpose. Plus, it gives people a reason to attend. So, don't overlook the power of branding your virtual event with a common theme.
Choose a Brand Consistent Theme
Your event's theme should reflect your brand. You want to make it clear to your event prospects who is hosting this event. Here are some things to consider to ensure brand cohesion:
Incorporate your company's values
Tie in your brand's logo, colors, or other elements that correspond with your company's identity
Ensure your theme is relevant to your buyer personas or target audience
Take a look at these two examples to see how these well-known companies reflect their brand in their event theme.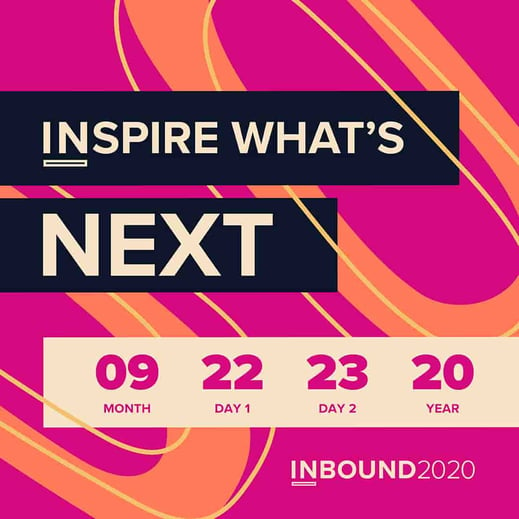 Shown above is HubSpot's virtual event graphic for it's annual conference INBOUND 2020. Below is how Microsoft designed their theme for their virtual conference Build.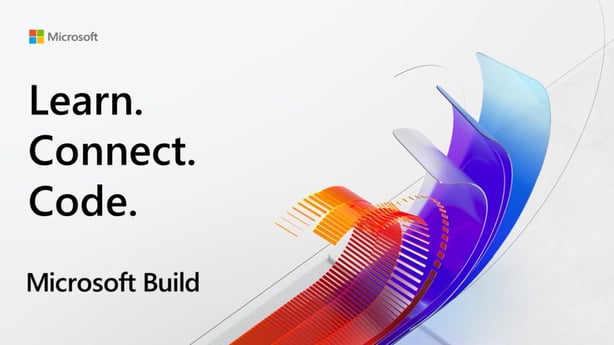 When working with clients planning their own virtual events, we've found personalized and inspirational messaging to work very well when branding their events. Create a tagline that's strong and powerful, and will inspire your audience to take some sort of action. Some examples that might spur inspiration include, "Facing the Future - Together", World of Opportunities", or "Together Towards Tomorrow". Here's a great list to reference to help spark ideas.
Of course, you'll also want to incorporate your logo in some way, but make sure it's not the focus. Messaging pertaining to your event should be the focal point, with your logo secondary. This is something we've seen change a bit from in-person events. In today's uncertain world, we've found it to be much more successful to tie in company logos into the central message of the event, versus trying to fit the event message into a company's logo. People need inspiration and a cause now more than ever, and by having a clear purpose for your event, you'll find people much more excited about engaging with your brand.
Create Excitement with Your Theme
A great way to create excitement with your theme is to incorporate giveaways. Consider sending a custom-designed box that incorporates your event's theme, and filling it with items that might be useful for your attendees during the event. Here's a great list of swag and gift items you might consider incorporating into your custom box.
Need Inspiration:
See and feel our handpicked collection of popular giveaways for your virtual event. Request your custom Inspiration Kit here.
Giving out branded apparel as a registration incentive is another great way to create excitement to activate your brand. You could offer a free t-shirt or sweatshirt for the first 50 registrants, and then encourage these registrants to wear these items during the event.
If budget allows, offering everyone a free branded apparel item will create a sense of unity during the event. If everyone has the same item, they might feel more confident in wearing it during the event. An instant brand activation tactic.
There are some important things to consider if you want to incorporate branded apparel. If you opt for an idea that needs a size, be sure to gather that information at registration. Otherwise, you might find yourself having to chase down your attendees - not a road we want to go down. Or, you can consider some of these branded apparel items that don't require sizes:
These types of items will generate excitement that goes a long way, where people continue activating your brand long after your event is over.
2. Be Consistent with Messaging.
Once you've established your theme and tagline, it's important to brand any marketing materials, event props, or external messaging with this theme. Custom design your event giveaway boxes with this branding and include your messaging and logo on any giveaway items you plan to include in your box.
Don't forget about branding the virtual elements of your event as well. You should always create an event website, incorporating your theme and messaging. This gives attendees a central location to go to get information about your event. By being consistent with the color scheme, font, and logo - you'll ensure visitors that they reached the right spot.
When you go to an in-person conference or event, you normally see lots of banners and displays showcasing the event name, tagline, and sponsors. This same tactic should be recreated in the virtual space. Start by creating a virtual background for your event, incorporating your theme. Canva offers a great free virtual background maker. Then make sure all speakers and presenters use this background during their sessions. Share it with your attendees too. This will help everyone feel connected with your brand and your event's purpose.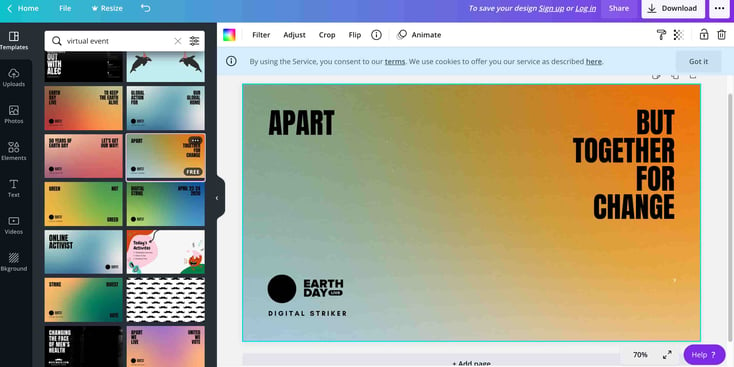 3. Incentivize Interaction.
You've done a lot of leg work before the event to activate your brand. It's time to keep that same momentum going into the event.
During in-person events, networking is natural, and a big part of brand activation. You're giving people the chance to meet the real person behind your logo. But how do you recreate that same experience in a virtual setting?
It's a bit tougher, but it's possible. We've found incentivizing interaction to be key. By making it easy and enticing to network, more people will take advantage of it. Giveaways can be a great incentivizer. Here are some ways you can use them to encourage networking:
Virtual Cocktail Hours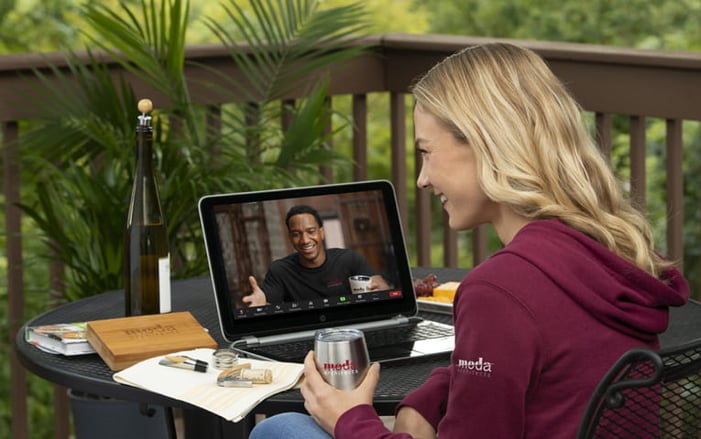 Typically a live conference might be held at a hotel or conference center with a bar nearby. The natural result is people gathering together after the final session to talk business and make connections. By building a virtual cocktail hour into your event, you can recreate this experience.
Consider including bar or stemware in your virtual event swag box. You can also include ready to drink cocktail mixes (without the alcohol). This makes it easy for attendees to "get together" with their drinks in hand, and connect. Plus, with your logo in hand, they'll be activating your brand in a new way.
Virtual Award Ceremonies
Another idea is holding a virtual award ceremony. You could host contests or games throughout your event, and at the end bring everyone "virtually" together for a celebration of the winner. Here, you could consider giving out some sort of prize or even an actual award.
Here are some ideas of actions/people to recognize:
Event sponsors
Most dedicated volunteer to your relevant industry
Team collaboration award
Above and beyond in your industry award
Most influential in your industry award
Coffee Time
"Want to grab a coffee?" It's a common phrase during in-person conferences. Professionals love their caffeine, and what better way to meet someone, then over a cup of hot, steaming coffee?
Who says you can't recreate this experience virtually? Give your attendees a branded mug with your event's theme, and even some coffee to make at home, and encourage them to meet up virtually and drink their coffee together. We always recommend to our clients to include some sort of healthy snack too. By showing you care about your attendees and their wellbeing, you'll give your brand a sense of empathy.
When everyone has the same mug, coffee and snacks to enjoy, they feel less uncomfortable about the idea of networking virtually, and more inspired to make the powerful connections that conferences can offer. Be sure to include a card in your event box that explains what each product is for. If you're including a mug, let them know on a postcard to use this mug to meet a co-attendee for coffee. By giving them strategic instructions, and even outlining a timeframe, you'll be more successful with your networking promotion.
4. Use the Agenda to Your Advantage.
Aside from networking events, it's important to build in breaks throughout your event. There should be time in the agenda set aside for your attendees to really step away from the computer to stretch their legs and relax their minds.
Don't let this time go to waste though. You have a great opportunity to activate your brand even during breaks. By sending your attendees gift items that encourage relaxation and stress relief, you'll not only help them be more mindful while your sessions are taking place, but you'll also give them one more place to connect with your theme, message, and brand.
Some gift ideas include:
Take this strategy a step further, by sending out a reminder to your attendees when it's time to take a break. You can make a social media post reminding everyone that now is the time to grab their coloring book, step outside for an hour, and relax. Then have everyone share photos of their coloring creation. This is a great way to get your attendees to engage with you and your brand while sharing your event's message, theme, and logo to their followers and beyond.
5. Leverage Social Media.
That brings us to our fifth and final tip, leveraging the power of social media. The important thing to note here is that social media should be incorporated into all of the methods of brand activation that we mentioned above. Of course, you must have the activities, strategy, and methods in place to inspire attendees to connect and engage. But social media is really where the real magic begins.
Start by creating a branded hashtag for your event. Be sure to incorporate your event name, theme, or message. Consider including this hashtag on your custom box, or in a postcard inside your box. Below is a great example from one of our client's CSTA. They included a postcard that encouraged all attendees to post photos of themselves enjoying their swag items to #CSTA2020 and #CSTASwagBox. To encourage participation they hosted an "Unboxing Contest" offering up a free registration to their next conference as the prize. It worked. They saw a 35K increase in Twitter impressions - in just one day alone.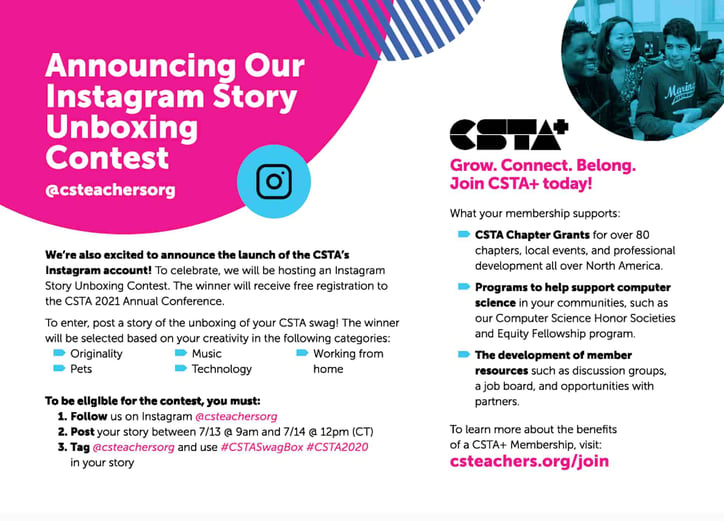 It doesn't stop at the hashtag though. Consider using social media throughout your event. Ask your attendees to send photos directly to you for shareable content on your pages. Even better, ask them to post photos and tag your event or brand in those photos. This creates User-Generated Content, which is proven to be much more effective in bringing your brand to life.
Keep it going even after your event is over. Share memorable moments from your conference, and ask attendees to post about their favorite sessions, experiences or moments. This will help keep them excited about attending another one of your events in the future, plus it will bring your brand to life in an engaging and personal way.
Ready. Set. Activate.
Let's put it straight. You've got a lot of competition out there. With virtual events being the new norm, your attendees are probably getting several invitations from various companies asking them to attend their latest conference, webinar, or online event. That's why it's so important to be strategic about your event planning and find ways to truly bring your brand to life while connecting with your attendees on a unique level. This will set your company apart and activate your brand in ways you've never seen before.
So whether it's coming up with a new way to leverage your branded swag, or just being strategic about your event agenda and theme, be creative and embrace the challenge and opportunity of virtual events. You'll not only be shaping a new future for events, but you'll be engaging and connecting with your audience in a unique way, which will make them much more likely to convert.