Virtual events are currently the only way for large groups to gather. But as organizers discover new benefits of going completely virtual, these changes will likely affect the event industry forever.
A recent Northstar Meetings Group survey revealed that event planners are seeing a big increase in demand for all things virtual for the next year and a half. We also know that by 2022, video content, including conferencing, will make up 82% of the internet's web traffic.
Given these trends, it's safe to say virtual events aren't going anywhere any time soon. But with in-person events still on hold, what can event hosts do to capture that same energy level even in this new digital atmosphere?
Easy. Virtual event swag.
But before we dig into the best types of products to invest in for your virtual event, let's take a look at what you should consider before adding swag to the agenda.
Timeline
One of the biggest roadblocks that sends any event planner swerving is a misjudgment on time. We can't stress enough the importance of planning ahead when it comes to virtual event swag. Remember, your swag box should arrive at each destination before the event. Make it a goal to deliver three days in advance. This will build up hype, and get people talking before participating on event day.

This means planning at least six weeks ahead of time. From choosing your swag to designing your custom box, production and fulfillment is a lengthier process for swag boxes. By giving yourself plenty of time, you'll ensure you won't miss out on the virtual swag options, and create opportunities for engagement before, during and after the event itself for attendees.
Budget
One of the advantages of planning a virtual event is the room for creativity in budgeting. Cross off the expenses of a venue, equipment, and refreshments, and you'll find some extra funds that can be invested in event promotion and marketing. Swag bags will help you do both.
Two important things to keep in mind when mapping out your budget for your event boxes are size and weight. When selecting items, you'll want to make sure you pick things that won't cost a ton to ship. Remember, quality over quantity. We recommend not overwhelming the recipient with products but choosing around 2-5 items for each box. Focus on one high quality gift, and keep the others at a lesser price point.
Custom Box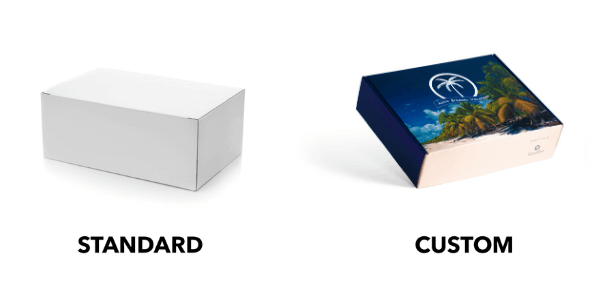 Sure, you can send your promotional items in a standard unprinted box. But you'll be missing out on the full potential of a swag bag.
Picture this - it's been a long day cooped up in the house, working from home. You're tired and finally ready to call it a night, when the FedEx driver knocks on your door holding a bright and colorful package, branded with the phrase, "Beyond All Limits - 2020". Excited, you dig into the box, anxious to see what's inside.
Now imagine the same situation, but with an unprinted box. It looks like just a standard package you order for yourself all the time. Maybe you just set aside to open later, thinking it's just that household item you ordered online and forgot about.
You want your event to promote excitement, generate hype, and get people talking. That's what a custom box can do for you. We all love getting gifts in the mail, but the challenge is making yourself stand out from the dozens of other things they order for themselves. A custom box will make it feel like a gift, plus it will give your event that much more exposure.
8 Branded Products for Virtual Event Swag Bags
So you're at least six weeks out from your event, you have your budget, and are ready to invest in custom boxes for your attendees. Now is the fun part. Let's dig into what you should fill those boxes with.
When choosing products for your virtual event swag box, think of items that attendees will be able to use during your event. This will help create a sense of community and unity around your brand.
1. Reusable Water Bottle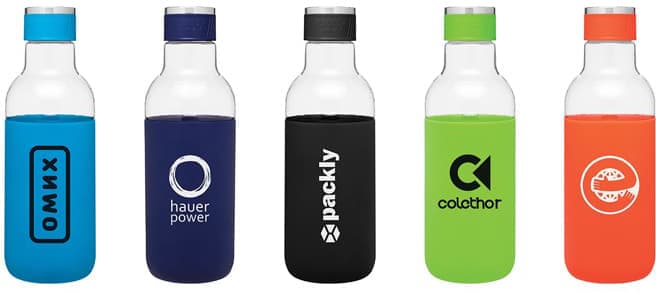 This 25-ounce BPA free reusable water bottle is a perfect place to start. You can bet your event attendees are going to have a beverage nearby during the event. Why not give them a custom bottle to drink from? It's a simple way to build community and personal connections through video. Give your attendees something to laugh or smile about, as they drink from the same bottle during each workshop.
This bottle comes with a silicone sleeve designed to keep hands warm and beverages cold. The sleeve can be ordered in various colors and complemented by a matching spill-proof lid accented with a stainless steel border.
Print your event name or logo on the sleeve and the lid. If you want to add some sparkle, go with the glitz print option, an exclusive print process that adds a glitter base to your standard color logo.
2. Insulated Tumbler

When insulated tumblers first became popular, they had a big drawback -most could only be found in 20- or 30-ounce sizes. While great for keeping a huge carafe of coffee warm, it was always frustrating using these in the morning with my Keurig. I would have to use two mugs of coffee to fill up one tumbler, creating more dishes to clean, and taking much longer than necessary to access a steaming cup of joe.
But now, this 11-ounce tumbler is one of my favorite drink holders, whether I'm at home or on-the-go. It fits perfectly under any Keurig machine and will keep your coffee hot. It would be the perfect gift for your virtual event attendees to use for quick coffee breaks during the event.
Or you could use this tumbler as a networking tool during "virtual coffee breaks" to build engagement. Have everyone grab their tumbler, fill it with their favorite beverage, and meet around the computer for some fun ice-breaking conversation. Consider these virtual coffee break ideas and topics to help get you started.
This tumbler comes with a clear press-on lid with slide closure. It will keep drinks hot for 5 hours or cold for 15 hours. It comes in 12 different colors and can be imprinted with your event logo front and center.
3. Custom Journal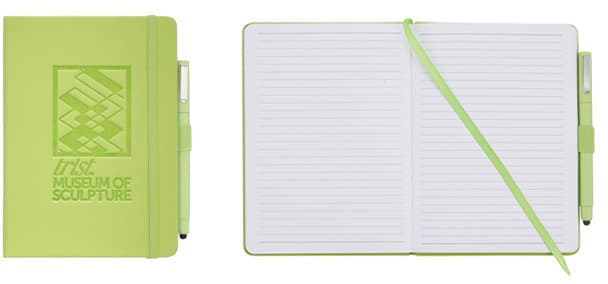 Chances are your virtual conference is not the only virtual event your attendees will be participating in throughout the year. With almost all meetings transitioning to digital, note-taking can quickly become cluttered. A branded journal designed for your event can help.
When I attended Commonsku's skucon At Home, one of the items they included in their swag bag was a skucon At Home branded journal. It was the perfect size to keep all my notes from the conference. Now, when I want to reference something from that day packed full of knowledge sharing, I know exactly where to find my notes and don't have to search through other generic notebooks I have stashed in my office. I bet your virtual event attendees will also appreciate a branded journal like this one to help keep them organized during and after the conference.
The hardcover design sets it apart from other meeting notebooks and comes in 10 different colors to match your event's style. Imprint your logo, event motto, or any other phrase on the cover. It also comes with an elastic loop holding a ballpoint pen and stylus tip plus a ribbon bookmark.
4. Stylus Pen

One of the things virtual conference expert Lexie Carbone of Later shared when asked about advice for first time virtual attendees was to minimize distractions and grab a notepad and pen.
"When you're watching alone, it's easy to 'multi-task' and get distracted," Carbone explained.
I certainly find this true. When I'm attending a virtual conference, it's so easy to take notes on one of my multiple screens. But then the distractions of chat, email, notifications get in the way. That's why old-fashioned note-taking by hand has been proven to improve learning.
Encourage your attendees to take notes by hand by giving them a custom branded and stylish pen. Consider opting for one that includes a stylus point on the end like this one. This gives your attendee the flexibility to switch between devices and paper.
Customize this metal pen using ColorJet, our full-color, photo-quality direct imprint process, which makes your event logo stand out. The pen is designed with a rubberized finish barrel for comfortable writing in your choice of black or blue ink. Choose from a variety of different colors to match your event color scheme perfectly.
5. Power Bank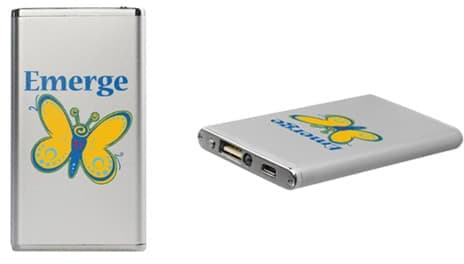 One of the biggest benefits for virtual event attendees is the ability to attend a work conference in the location of your choice. You're no longer bound to a conference space all day. There's the flexibility of grabbing your laptop and heading outside on a sunny day or even attending on-the-go.
That's why power banks can be a very thoughtful gift that your attendees will likely use right away. This slim design comes with a LED flashlight, which makes it even more perfect for traveling. It's also extremely lightweight and includes a micro-USB outlet for charging the device itself and a USB outlet for connecting it to other devices.
Customize it with a high-resolution full-color UV imprint. This decoration technology gives your logo an even more vivid look and ensures it won't fade over time. The power bank measures 4.2 X 2.4 inches - a manageable on-to-go size perfect for a grab-and-go charge.
6. Wireless Earbuds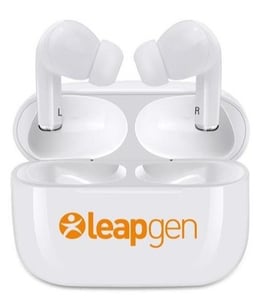 Perhaps one of your biggest concerns for your virtual event is that something will go wrong. A valid concern as technology sometimes has a timeline of its own. But one way you can make the event go smoothly for your attendees, no matter what, is by providing them with a set of earbuds or headphones.
Our team at DMG tested various options and found these wireless earbuds to be the real deal. They will allow your attendees to tune into your event all day long while not worrying about wires or tangling. The Bluetooth technology allows connectivity up to 32.8 feet. It also comes with two different sound versions, stereo or single, providing a high-quality playback option.
Customize these earbuds with a large imprint area right on the plastic carrying case. With a high perceivable value, your virtual event attendees will love this gift, while you'll also be ensuring they'll have a much better virtual experience.
7. Neck Gaiter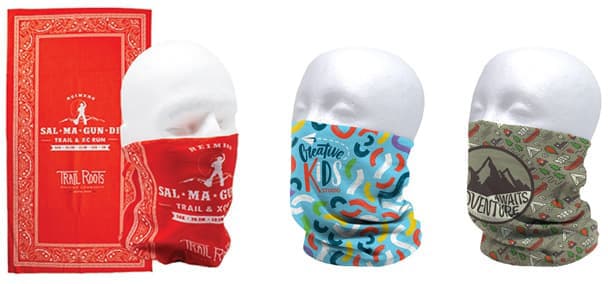 You might wonder, "Why would I give my virtual attendees face masks if they won't be needing them during the conference?" That's why we suggest going with a neck gaiter instead of a traditional face mask, so attendees can wear it during your event.
In general, a face mask is an item your attendees will get a lot of use out of given our current new normal. But the neck gaiter allows for more creative and stylish uses as well. This microfiber covering can be worn over a dozen different ways, allowing your attendees to show it off in their own creative way during your event. They can then reuse it as a mask when the event is over.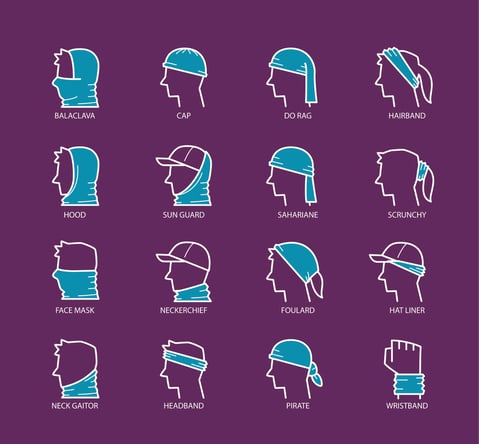 Made from soft and stretchy fabric, this neck gaiter is comfortable, breathable, and machine-washable. Customize it with a Pantone-matched imprint or full-color, full-bleed design.
It's important to note that though neck gaiters do provide a barrier from airborne pathogens, they are not medical devices, and should not be relied upon as the sole form of protection against COVID-19.
8. Custom Socks

One of the best things virtual event swag can give you is user-generated content. By making your giveaway items fun and "shareable," you'll be creating a perfect storm for a trending hashtag. That's why we recommend something fun, unique, and wearable like these custom socks.
We saw the success firsthand with one of our clients, the Computer Science Teachers Association. They ordered these very same socks and sent them to their virtual conference attendees in July. Take a look at the results they saw on Twitter.
You can create the same experience for your attendees by customizing your own pair of these socks. Choose up to 3 different colors to mix and match a design that works for your event. The socks are made of nylon, cotton, and spandex and are woven together from scratch. If you want to get really creative, you can even design two different looks for each foot.
Worried about design? Our design team at Delta Marketing has you covered. We'll work with you to create the perfect look that you're attendees will love.
Next Steps: Start Planning Your Swag Box
Virtual events are becoming the new way to bring everyone together in a unique way. They give you a chance to get creative, put on your thinking hat, and develop ways to inspire your attendees throughout their virtual experience.
Now that you have an idea of what to put into your swag box, it's time to start building your own. Don't forget to plan ahead and hash out your budget. With plenty of time and an idea of price, our team at DMG can help you craft a winning virtual event swag strategy that will have your attendees buzzing all over the digital world about your virtual event.
If you're feeling a bit overwhelmed on where to start planning, here's a virtual event checklist we put together. This will help you stay focused on your event goals and give you some additional inspiration for creating a successful and engaging virtual event.