Employee engagement is hard to master. Try too hard, and your efforts look a bit cheesy. But don't focus enough on employee engagement ideas, and your workplace will lack culture. And a toxic work environment will eventually turn employees off. It's a rabbit hole that's easy to fall into and very detrimental to the health of a business.
The success of your prospects and customers stems from the employees that make up your team. By making their individual goals and overall wellbeing the foundation of your organization, you'll notice their happiness reflected in the work they do. If your employees feel valued and part of the overall company mission, they'll understand that what they do matters. And your whole organization will benefit.
So how do you find the middle ground?
It starts with understanding who your employees are. It's hard to engage with anyone if you don't know what defines their personalities and what they are passionate about. Employee engagement is no different. Once you begin to understand what makes your employees tick, you'll be able to launch an employee engagement strategy that gets your staff and team members excited about coming to work each day.
To help get you started we've come up with 10 employee engagement ideas to improve company culture, all rooted in understanding the personalities that make up each of your team members.
1. Welcome Package for New Employees
Start your employee engagement strategy from the very beginning. Take a look at your onboarding process. Do you have an established strategy that sets employees up for success in their positions? Does your process include a taste of company culture?
Onboarding is a huge part of employee retention. In fact, a solid onboarding program can improve retention rates by 82 percent. What better way to capitalize on the benefits of onboarding than by sending a customized welcome package to your new employees? Fill it with useful branded swag that they'll be excited about showcasing.
Benefits of Employee Welcome Packages:
Start employees off with a solid first impression of your company's work culture.
Introducing company values to new employees. Consider including your brand's mission statement or culture code on the box itself, and choose products aligned with this mission statement. Here's a great example from the advertising agency, Ogilvy & Mather.
They include a book they require all onboarding employees to read which talks about the history of their organization and the values the company was founded on. It also includes other on-brand swag items like a USB drive, branded journal, and custom printed pencil.
Employee welcome packages will also help employees feel more excited about the role they're assuming at your company, and thus more likely to be engaged in their responsibilities.
What to Include in Your an Employee Welcome Package: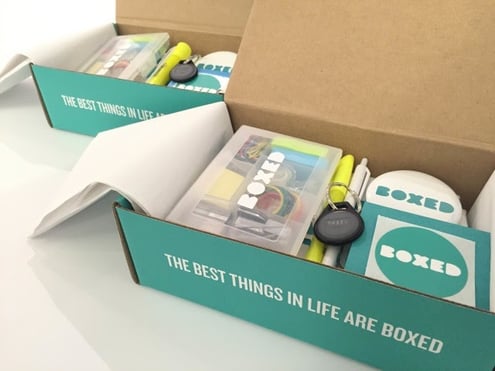 We love this idea from the online retailer store, Boxed. They came up with an interesting strategy to onboard new hires. Each new employee receives one of these employee welcome packages which includes:
A custom-designed box with a branded logo
Welcome letter signed by the whole team
A branded water bottle
Custom pens
Branded notebook
Office & Desk supplies
A company logoed t-shirt
Explore our employee onboarding collection for more ideas for employee welcome packages.
2. Celebrate Work Anniversaries
How often do you thank your employees? Probably not often enough.
A study done by Reward Gateway found that over half of employees (52 percent) felt their boss could do more to appreciate them. More shockingly, nearly half of employees would actually leave a company if they do not receive the recognition they feel they deserve.
Celebrating work anniversaries is a simple and easy way to start prioritizing employee appreciation. It's generally pretty easy to keep track of team members' anniversary dates, and it also helps motivate other employees towards longevity in their position.
Benefits of Celebrating Working Anniversaries:
Encourage a positive work culture of appreciation.
Prevents turnover - if employees feel appreciated, they're more likely to continue with your company.
Enhance your overall employee experience and engagement.
Inspire other employees to reach these same milestones.
Ideas to Celebrate Work Anniversaries:
Handwritten thank-you notes are a human and personal approach to celebrating work anniversaries. Here's a great example from the sending platform, Sendoso.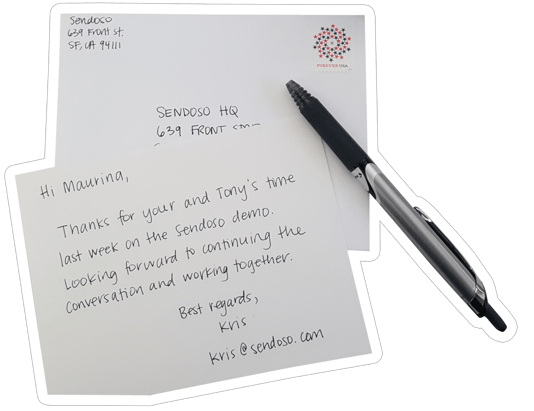 Notice how the letter is personalized to the recipient, and specificities what the employee is doing well, and why they are valuable. The best (and most authentic) appreciation letters will highlight what it is the employee does well, and why their strengths are so valuable to the company.
Don't just stop with a letter. Take things a step further by pairing your personalized note with other fun corporate gifts that show appreciation. Here are a few ideas:
3. Personalized Gifts for Life Events
When we talk about employee engagement, it's critical that we don't neglect appreciating our employees and their accomplishments, outside the workplace. What do we mean by that? Treat your employees like friends, and celebrate their life outside the office. What personal events are going on in their lives that deserve recognition? Think birthdays, weddings, the arrival of a baby, or the purchase of a new home.
The key here is to get to know your employees. Don't just talk about work related tasks. But actually get to know their personalities. Not only will this help you get to know what's going on in their lives outside of the office, but it will help you come up with better gift ideas to help them celebrate these important moments.
Benefits of Celebrating Employees' Personal Milestones:
Insight into who your employees are, beyond their office lives. This not only improves your overall relationship with your team members, but helps you better understand how your employees work, and what they might be dealing with.
You'll make your employees feel like people.
Employees will feel valued for more than just their organizational duties.
Ideas For Celebrating Employees' Personal Milestones:
Cater in an office meal for a birthday, or grab a birthday cake for everyone to celebrate together.
Give an employee the day off for a special life moment.
Come up with a unique gift idea.

Here's a cool spin on a birthday card

. Why not give a birthday cake inside a card!?

4. Holiday Gift Baskets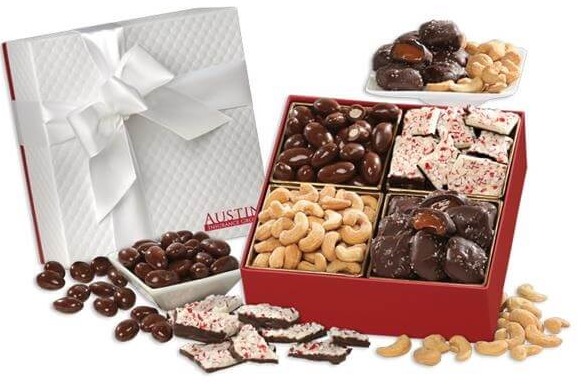 What's your holiday budget look like during November, December and January? Do you use it all up on client gifts and corporate holiday parties? Why not save a portion of that budget and set it aside for your employees?
Well thought out and personalized holiday gift baskets for employees can go a long way in boosting morale and employee engagement. Extending gift giving during the season of giving to your own workforce will reinforce a positive and harmonious work environment while helping to bolster and strengthen relationships with your team members.
Benefits of Holiday Gift Baskets:
Gift baskets look and feel like a gift. They go beyond a traditional "company swag" item, and will show true appreciation to employees.
They can be personalized to your team members' individual tastes.
They can be shipped straight to your employees' homes adding to the gift appeal.
Ideas For Employee Holiday Gift Baskets:
Get creative. Think beyond a generic fruit basket or chocolate box. There's lots of room to use personalization to your benefit when putting together holiday gift baskets. Here are some creative ideas:
A spice basket

that employees can use for their holiday cooking and meal preparation
A

relaxation gift basket

filled with mindfulness gifts like essential oils, candles, a therapeutic neck pillow, and even a coloring book to help encourage a moment of destressing.
A gift basket for the family. For those employees who might have young children at home, consider a movie night-themed gift basket, or a basket of supplies for a family s'mores night.
5. Employee Awards
If you have a team made up of fairly competitive people, contests can be a great way to increase employee engagement while also recognizing and appreciating your team members. Consider implementing an employee of the month program, or some type of corporate gamification system.
Be sure to come up with clear rules and conditions for this type of rewards system. When not done right, employee awards can easily lose its meaning and purpose. But when well thought out and consistently awarded, this type of recognition can help inspire and motivate your employees.
Benefits of giving employee awards:
Public recognition will stimulate a sense of pride for the awarded employee.
Inspire other employees to aspire for the same award and recognition.
Increase in employee engagement and overall productivity and work output.
Corporate appreciation will improve employee retention.
Ideas for employee awards:
You really can't go wrong with a

traditional award or trophy

. Make it special by adding a special quote, company motto, and personalizing it with the employee's name.
Consider giving a special day off as an employee award, or have half day Fridays. This not only is an added token of appreciation but will act as an incentive to other employees.
A special employee luncheon is a fun way to get everyone together while recognizing your team member's accomplishments.
6. Launch a Company Wellness Program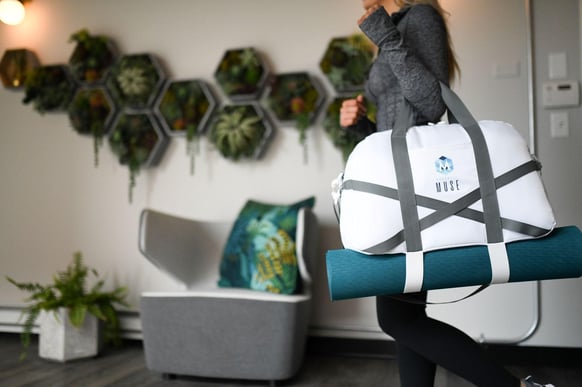 Take a break from the workplace, and consider hosting an all-team wellness day or wellness breaks into your workday schedule. Wellness programs are a great way to build a sense of community with your employees, while also getting to know them outside the office and work setting. It also promotes a healthier work environment, that will not only improve employee engagement but improve the overall health of your team members.
Benefits of Company Wellness Programs:
With a healthier staff, you'll have higher productivity, more focus, and fewer sick days.
When employees are together in an exercise and fitness setting or in an outdoor activity it fosters collaboration between team members.
Wellness programs will enhance relationships outside of work responsibilities, thus promoting overall wellbeing, while also creating better team environments and more effective workflows.
Ideas for Company Wellness Programs:
Hold an office fitness challenge. Challenge employees to compete together with a physical activity, or hold a 30-day fitness contest. Incentivize them with

fun health and wellness prizes

.
Have an office or workplace yoga day. Consider laying down

yoga mats

in a breakroom and give your staff a chance to improve posture, recharge their focus and strengthen their core muscles to prevent aches and pains from sitting all day.
Come up with a healthy office cookbook. Have all your employees share their own favorite healthy recipes and compile it together into one document. You can get special folders and bind it all together for a fun cookbook that you hand out.
7. Offer Creative Work Environments
We're not talking about regular office supplies here. For employees you have working at the office, give them a fun place to work. Get creative with their desk setups, and think about office supplies that go beyond branded pens and paper.
Benefits of Creating a Creative Office Environment:
Promotes creativity within your employees. If they're in a physically creative space, they're much more likely to think outside the box.
It makes it more fun for employees to come to work. No one wants to sit in a bland office.
It shows you care. By valuing the environment they work in, you'll show employees that their wellbeing matters.
Ideas to Create a Creative Workplace:
Take the office outside. Schedule walking meetings and give everyone a chance to get some fresh air.
Spice up their desks with fun office items like this miniature crumb vacuum or a

branded desk speaker

.
Forget foosball. Take your office breaks to the next level by adding unique activities to the office, like this desktop game set or a bag toss game for the desk.

8. Give Work From Home Care Packages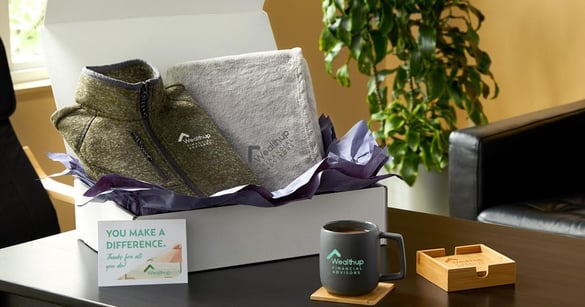 What about those employees that are remote? There are still ways to engage them too! And it's worth it. Companies that sent their employees a work from home care package during the pandemic actually saw a boost to virtual employee engagement and productivity by as much as 17 percent. Working from home can be tough on morale. But by being intentional about employee appreciation, you can ensure no employee feels left out.
Benefits of Work From Home Care Packages:
Work from home care packages act like gifts sent straight to the home. They improve employee morale and show that you care.
If you have a whole team of remote workers this can be a fun way to engage the group together. Host a virtual call where everyone unboxes their care packages and shares what they received.
Well thought out care packages can help relieve stress while making your employees feel special and appreciated.
Ideas for Work From Home Care Packages:
Consider gifts for the home.

Blankets

,

kitchen essentials, and decor items

are all good choices.
Make sure to add a heartfelt note of thanks.
Customize your box and consider the packaging. Premium packaging will make your package feel more like a gift.
9. Ask Employees How They Want to Be Recognized
Recognition is essential to employee engagement. But, each employee is different, and not every single engagement idea listed above will work for all your team members. The best way to appropriately show appreciation to your staff is to get to know each team member and ask them how they prefer to be recognized.
You'll begin to notice that some employees might prefer public recognition and love winning the employee of the month award. Others might shy away from the spotlight, and prefer a private gift or personalized thank you message. By discovering each employee's preferred method of appreciation, you'll be well on your way to improving employee engagement.
10. Just Have More Fun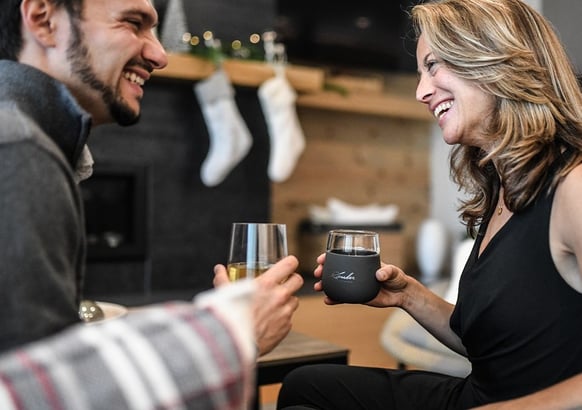 Finally, the last piece of advice to improve employee engagement is to just have more fun as a company. Employee engagement is best received when it's natural and not overbaked. As an employer, take some time out to simply spend the day with your team members. Take a half day and do something fun with each other. Maybe it's an outside barbeque, a company trip to a baseball game, or even as simple as a team trip to a fancy restaurant.
If your team members are working remotely, you still have options! By now those virtual get-togethers may have gotten a bit old. But consider the following gift ideas to make remote engagement activities more fun. They can also be used to spice up in-person activities.
Now It's Your Turn
We talked about a lot of ideas, and honestly, there's so much more you can do. Employee engagement is all about experimenting with what works best for your own employees. Keep it real, natural, and about the people at your organization.
Ingrain employee engagement into your company's mission as a whole. It should be much more than just a corporate initiative. Make it part of your company culture.