Can you believe it? It's already time to start thinking about holiday gifts for clients. Q4 is just around the corner, and this year it's going to be more important than ever to plan ahead.
With supply chain issues plaguing the global economy, we're encouraging all our clients to be proactive. Your customers are the most valuable asset to your business, and you want the gifts you invest in to reflect the appreciation you have for their continued loyalty. This year, to ensure you have plenty of high-quality client gift ideas to choose from, we recommend acting now.
We've put together five popular categories to focus on when choosing holiday gifts for clients. Recognizing various budgets, we took our guide a step further and gave you a range from good, better to best. This will help you find the best holiday gifts for the most value.
1. Food Gifts
Food gifts are an incredibly effective way to leave a lasting impression on your clients. The combination of taste, smell, and texture offered by food is proven to trigger deeper emotions and memories that can positively impact your customer.
Good: Hot Chocolate Bomb in Full-Color Gift Box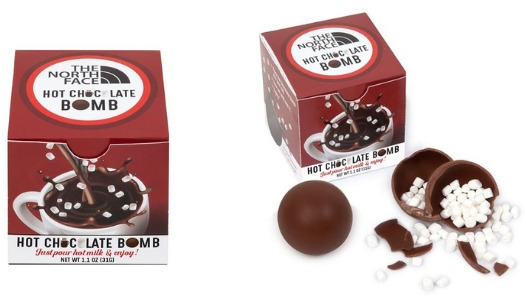 One of the hottest new trends of this year's holiday season is the Hot Chocolate Bomb. First exploding in popularity on TikTok, hot chocolate bombs have more than 28.5 million videos associated with the craze. And now you can spread the fun to clients with a branded hot chocolate bomb as a corporate holiday gift.
So what exactly is a "hot chocolate bomb"? Simply put, it's a bath bomb that you can eat. This customizable hot chocolate bomb is a hollowed-out chocolate ball filled with marshmallows. Pour hot water over it, and it magically transforms into a steaming mug of hot chocolate. It comes in a box that can be customized with a full-color imprint.
Better: Igloo Gourmet Cooler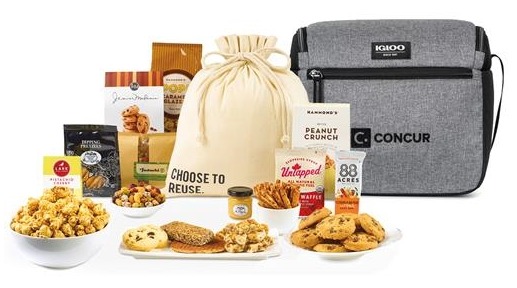 Corporate holiday food gifts don't always have to be sweet, indulgent treats. In fact, a lot of people prefer crunchy and salty snacks or enjoy a mixture of both. That's why we love this retail brand-inspired Igloo Rowan Artisan Gourmet Cooler. The cooler itself is made with PEVA heat-sealing lining, has a 16-can capacity, dual-zippered opening, and an adjustable shoulder strap. Plus, it can be customized with an embroidery, heat transfer logo, or printed logo.
And let's not forget about the snacks. Inside the cooler, your clients will be surprised with chocolate chips cookies, peanut crunch snacks, sourdough honey mustard pretzel nuggets, honey crisp granola, berry nut mix, sweet and tangy mustards with dipping pretzels, and some delicious caramel popcorn. The food weighs a total of 1.6 pounds.
Best: Speakeasy Gourmet Gift Box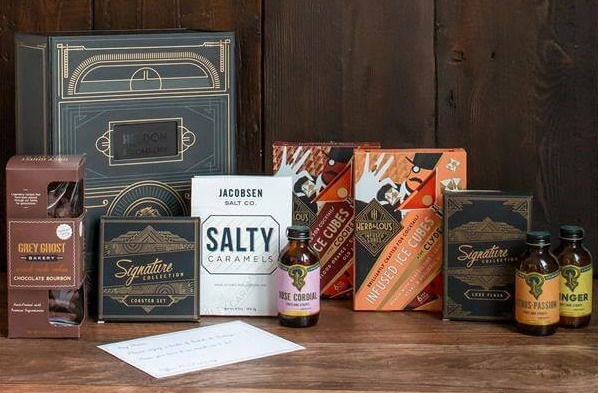 Go bold with this classy and sophisticated gift box that packs a lot of flavor into one. This is perfect for those clients that love to entertain. We love this option because it offers three different tiers: light, regular, and deluxe. Each kit features gourmet snacks, drink mixers, and quality drink accessories, as well as a personalized card.
Light Kit - Contains 8 ounces of Grey Ghost Bakery Chocolate Bourbon Cookies, 6.5 ounces of Jacobsen Salt Co. Salty Caramels, a six-pack of Herb & Lou's Old Fashioned Infused Ice Cubes, and a customized Luxe Flask.
Regular Kit - Contains 8 ounces of Grey Ghost Bakery Chocolate Bourbon Cookies, 6.5 ounces of Jacobsen Salt Co. Salty Caramels, a six-pack of Herb & Lou's Old Fashioned Infused Ice Cubes, a 3-pack of Portland Soda Works Beverage Mixers, and a customized Luxe Flask.
Deluxe Kit - Contains 8 ounces of Grey Ghost Bakery Chocolate Bourbon Cookies, 6.5 ounces of Jacobsen Salt Co. Salty Caramels, a six-pack of Herb & Lou's Old Fashioned Infused Ice Cubes, a six-pack of Herb & Lou's Cosmopolitan Infused Ice Cubes, a 3-pack of Portland Soda Works Beverage Mixers, a customized Signature Coaster Set, and a customized Luxe Flask.
This package is customizable with a UV printed logo on the box, flask, and coasters. You can also include an original custom message on the postcard, which is included in all three tiers.
2. Wireless Speakers
Wireless speakers are becoming more and more popular as more and more companies embrace remote work, and many workers need supplies for home offices. Most people already have headphones of some sort, but you'd be surprised how many people don't have a reliable speaker they can turn to.
Good: Chyrp Portable Speaker

This portable speaker is an excellent gift for bike lovers, hikers, snowshoers, or just those always on the go. Weighing just over 3.5 ounces, this speaker is super lightweight and, with a 7-inch strap, is designed to clip onto a backpack or bike. It has a wireless capability of up to 33-feet, and up to five hours of audio playtime. Imprint your full-color company logo on both the speaker itself and its strap. Plus, it comes in a compact box perfect for wrapping and delivering as a gift.
Better: Mini Sono Speaker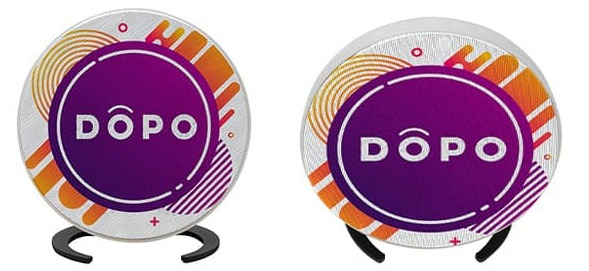 For even more functionality, you could give this Mini Sono speaker. Featuring a built-in microphone, it makes a good option for those attending virtual conferences or meetings. With a 5W speaker, it provides an even higher quality sound and a 33-feet wireless range. If you're looking for a high-quality gift for clients, consider pairing two of these speakers together to be used as surround sound in the office or at home. Get creative with your speaker design with a full-color imprint on the front speaker grill.
Best: Bose Bluetooth Speaker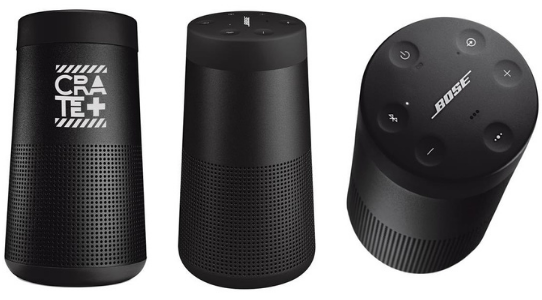 For those top-notch clients, sometimes you need to go bold and premium. This custom Bose Soundlink Bluetooth speaker is one of the highest performing bluetooth speakers on the market, period. It offers 360 degree sound and is durable, water-resistant, and great for those on the go. With a rechargeable battery that plays up to 13 hours of sound, your clients will truly be wowed by a gift of such high quality.
Align your brand with this premium product by customizing with a full-color logoed imprint. Brand your logo on either the back of the speaker or centered on the front for maximum visibility.
3. Branded Drinkware
You really can't go wrong with branded drinkware as a gift. It's one of those products that everyone will have a use for no matter what. But with so many different options out there, it can be hard to narrow down a selection for client gifts.
Good: Sherpa 11-ounce Vacuum Tumbler & Insulator

This 11-ounce sherpa tumbler is a great addition to a holiday gift box. Its compact size makes it perfect to pair with a few other high-quality items. But don't let the size fool you. Double-wall construction vacuum insulation is designed to keep drinks hot for five hours and cold for 15. It can even serve as a tumbler or a drink insulator. Plus, clients will love that its convenient size fits right underneath a Keurig coffee machine. Choose from 12 bold colors like hot pink or turquoise, and brand it with a logo, custom quote, or company emblem.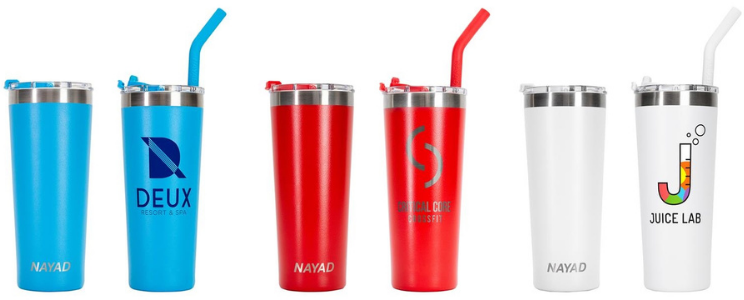 A bit larger and bolder is the Nayad Trouper 22-ounce Stainless Steel Tumbler, which also comes with double-wall insulation. We love that it comes with a flexible silicone straw and snap-on lid. Clients will also be impressed with the included cleaning brush to ensure dirt or bacteria doesn't build up within the drinking straw. It features a wide-mouth lid that will easily fit ice cubes. Drinks will be kept cold for up to 12 hours and hot for 7.
What makes this corporate holiday gift idea truly premium? The bold customization options. The Nayad tumbler comes in 12 bright colors and features a bold imprint area for your custom logo.
Best: 20-ounce Corkcicle Hybrid Canteen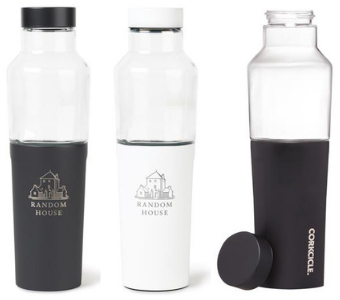 For a top-of-the-line corporate gift option, we recommend the 20-ounce Corkcicle Hybrid Canteen. What makes this retail-inspired drinkware item unique is its hypoallergenic glass properties. It also has a triple-insulated stainless steel base that unscrews from the glass portion and creates a completely separate drinking vessel. A two-in-one bottle. With easy-to-grip slides and non-slip bottom, clients will love how unique this bottle is. Plus, it comes in a retail gift box for a true gift experience. Make it your own with a laser engraving or printed logo.
4. Custom Blankets
Custom blankets can be enjoyed at home and on-the-go, making it a thoughtful and versatile gift for clients. They also can be easily branded with your company's logo or chosen design. Here are a few of our favorite options for the holiday season.
Good: Buffalo Plaid Ultra Plush Throw Blanket

This blanket gives a new meaning to cozy. Oversized and ultra-plush, clients will love snuggling up to this buffalo plaid ultra plush throw at home after an exhausting day. Plus, its stylish checkered pattern will blend well with pretty much any home decor. Or, they might even enjoy bringing it into the office with them.
It's made of 240gsm coral fleece and measures 60 x 70 inches unfolded, the perfect size to share around a movie, or out under the stars. The corner of the blanket will feature your embroidered logo on a black background. Choose between black, red, or blue checkered patterns.
Better: Oversized Wool Sherpa Blanket
Have your clients snuggling up in this wool sherpa blanket all winter long. Made with a high-quality wool blend on one side and Sherpa on the other, it's designed to keep you warm and cozy. Plus, its oversized design of 60 x 70 inches will leave no body part uncovered.
This blanket comes with a full-color card and blanket band, making it look truly like a gift. Embroider your company's logo on the open corner bottom. Choose between charcoal, navy, or olive.
Best: Extra Large Sherpa Lined Blanket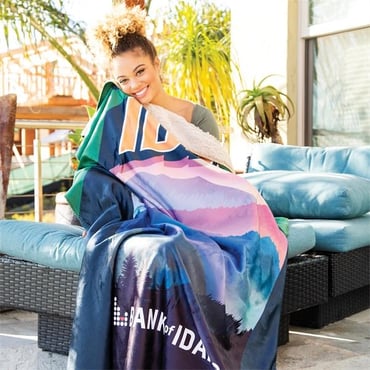 Go even bolder with this extra-large sherpa-lined micro mink throw. The customization options are what make this blanket truly premium. With sublimation technology, you can use the whole blanket as a branding canvas. Don't have a full background imprint in mind? You can choose from six different predesigned backgrounds, including a snow scene, mountain scene, tie-dye pattern, a fall scene, a snow scene with trees, or a wave design.
The blanket measures 60 x 80 inches and features high-quality polyester plush Sherpa lining with an ultra-smooth micro mink polyester face. A whipstitch edge gives it a unique, handmade touch that turns this corporate holiday gift into a welcomed accessory for the home. Clients will love snuggling up to it at warm, in the office, or out and about at a sporting event or other outdoor venue.
5. Gifts for the Hybrid Office
These days, people are back and forth between home and the office. As more and more companies embrace work-from-home policies, we've seen an increase in hybrid workers. Capitalize on this trend by giving versatile gifts that can be used at the corporate office and in the home office. Clients will love gifts that make this work transition a bit easier and more enjoyable.
Good: On-The-Go Lunch Set

Whether at home or in the office, this lunch set can be used and enjoyed. Perfect to pack fresh food or meals, clients trying to eat healthier in the New Year will especially love this thoughtful set. It includes the following:
Goodwin Lunch Cooler - This innovative cooler includes a placemat that can fold down flat into an easy-to-clean eating area. It also features fold-out flaps with slash pockets and an added utensil storage pocket. With side mesh stash pockets, it can hold up to 11 cans.
Satsuma Bento Lunch Box - Made of BPA-free materials, this bento box features an interior movable divider for organization, plus a natural bamboo lid that can be used as a chopping board.
Gaia Bamboo Cutlery Set - Completing this set is this eco-friendly utensil set that comes complete with a fork, knife, and spoon. It's made with bio-composite bamboo fibers and includes a reusable cotton travel pouch.
Decorate all three items with a branded company logo, and your clients will be excited about repping your brand.
Better: Branded Computer Backpack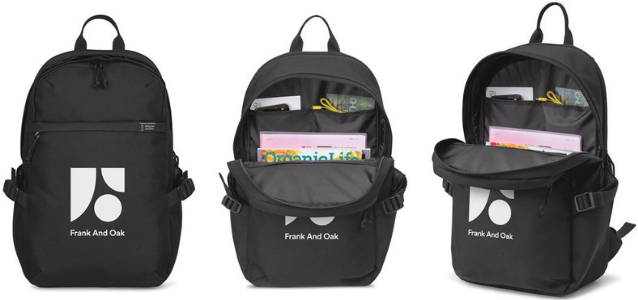 Whether they're at the office or at home, your clients always have their laptops with them. Give them a safe way to transport it with this modern and sustainable computer backpack. Made from recycled fabric and webbing from plastic bottles, it's an eco-friendly choice that clients will love. Plus, it packs a lot of space. With a top dual zippered pocket for storing accessories, a front zippered pocket with a key fob clip, and dual side water bottle pockets with compression straps, it's a functional and durable option. It features a large imprint area where you can customize it with your own company logo.
Best: Noise Cancellation Bluetooth Headphones

One of the most premium corporate holiday gifts you can give clients is noise-canceling headphones that will connect to any device. These particular Revo Active Noise Canceling Bluetooth headphones include integrated buttons that allow you to answer calls, adjust volume and skip music tracks, plus 30-feet of Bluetooth operating distance. Customize each earpiece with a laser engraved or dome imprinted logo. And for an even higher perceived value, customize the molded hard case that it comes in. The included drawstring pouch and gift box add to its premium quality by making these headphones feel like a true gift.
Show You Care with Thoughtful Holiday Gifts for Clients
Client gifts during the holidays should be focused on showing appreciation. Show customers you care by going beyond the traditional chocolate box or fruit basket. Choose a unique, custom, and personalized gift, and watch as you create deeper connections that promote long-term relationships and continued brand loyalty.
But to keep your gifts unique, high quality, and intentional, you will have to plan ahead and act fast. Q4 is going to test the limits of the already stressed supply chain. Our best advice to show clients you care? Choose the items you're going to hand out now. The right holiday gifts for clients will create deeper connections with customers while allowing you to start the new year off on the right foot for your business.