Would it really surprise you to learn that tech items are one of the most popular promotional items on the market? Probably not. I mean, just think about your own life. How many tech items have you used in just the past few hours? In fact, you're using one right this second.
Technology promotional products are both useful and have a high perceived value. This makes them one of the most powerful types of branded swag out there. But to get technology gifts right, you have to constantly keep track of the new trends and products out there.
That's why we created this post. We've outlined some of the hottest technology promotional products on the market right now, the features that make them special, and why your recipients will love them.
Let's get started!
Top 10 Branded Tech Items on the Market
There's a lot of different tech items out there. If you're scratching your head, wondering which direction to go in, we recommend starting with these top 10 trending items. We've broken them down into three easy categories.
Custom Headphones & Wireless Speakers
When it comes to tech products, usability is key. That's what makes custom headphones and Bluetooth speakers such a good investment. With more and more meetings going virtual, headphones are a workplace necessity, while wireless speakers are a fun gift for the home office. Both options offer a variety of different branding options, including a large space for logo imprints that maximize brand awareness. Here are some of our top picks:
1. Outdoor Waterproof Bluetooth Speaker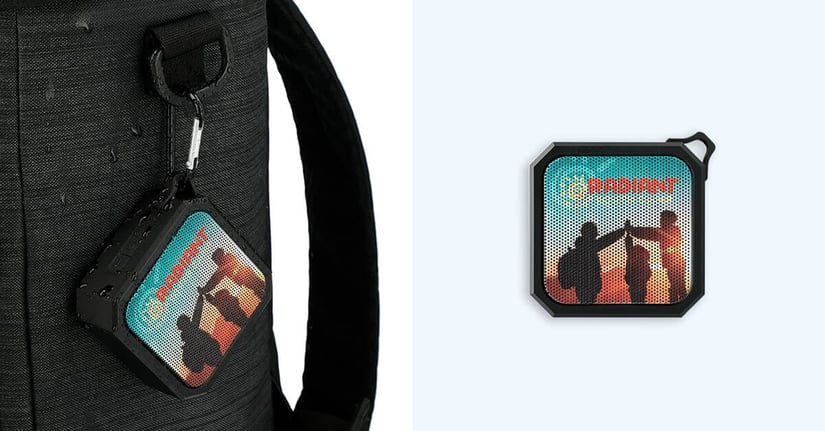 The best type of speaker? One that can be used anywhere. This rough and tough outdoor speaker is waterproof and can be taken on any of your daily adventures - indoor or out. Clip it to your favorite backpack with the included carabineer clip for easy travel. The speaker itself is 3 Watt and has a built-in microphone and music controls. The Bluetooth working range expands up to 10 meters, plus boasts 2 hours of music at max volume on one single charge. Brand your logo design on the speaker with a digital inkjet imprint.
2. Waterproof TWS Earbuds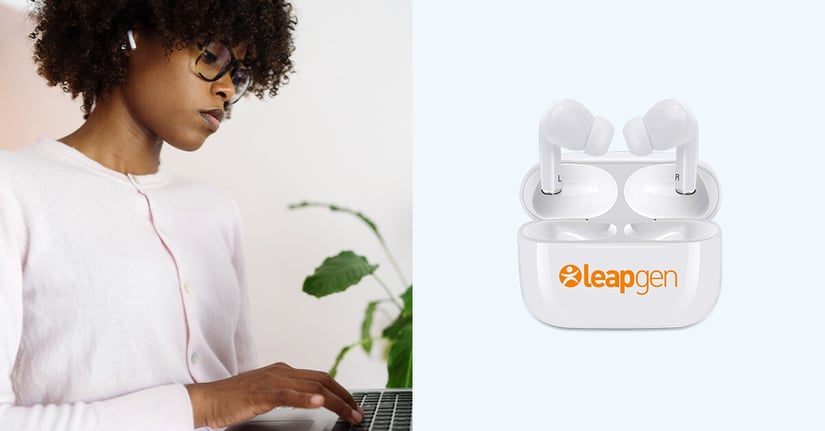 Earbuds are one of the biggest tech crazes, thanks to Apple's Airpods. People love how simple it is to pop them in their ears, wear them all day long, and not even notice. But how do you get your brand name out there on something so small? These waterproof TWS earbuds offer a convenient carrying case that doubles as a charging box and can be branded with a bold full-color imprint. Sound quality is exceptional with the ultra stereo speakers, and with advanced Bluetooth technology, plus built-in dual microphones, recipients will love using these for video calls and meetings.
3. MyWorld Headphones
Perhaps your employees or clients work in a noisy place. Or, maybe they are frequent fliers for work. You might consider a premium set of noise-canceling headphones like the MyWorld. They still feature Bluetooth capabilities and have a lightweight and compact design. But put them on, and you'll enter a completely different world of sound. They offer 27 hours of continuous play and even answer and receive phone calls. We especially love the included full-color imprint that makes these headphones truly a reflection of your brand.
Custom Wireless Chargers & Powerbanks
Our smartphones have become our everything. Consequently, we always need to be powered on wherever we go, leading to the rise in demand for wireless chargers and power banks. You'll notice more and more devices are what's called Qi-enabled, which means they can be charged without being plugged in and when in close proximity to a Qi-enabled charger. These types of chargers are becoming more and more popular and can come in the form of round chagrin pads, power banks, and even phone case battery packs. Here are some of our favorite picks:
4. Suction Cup Wireless Charger Power Bank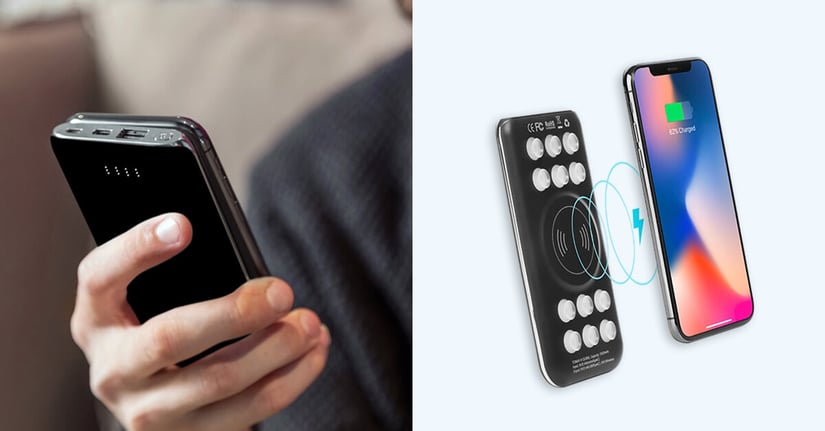 This special suction cup wireless charger allows you to charge your phone without even knowing you're doing so. The attached suction cups gently hold your phone in place for the smoothest possible user experience. Just set it, and forget it. The two-tone charger boasts 5,000 mAh and is compatible with any Qi-enabled device. It also features a Type C input for any devices that aren't wireless charging capable. Brand the power bank with a full-color imprint for maximum brand awareness.
5. Ambient Light 10W Wireless Charger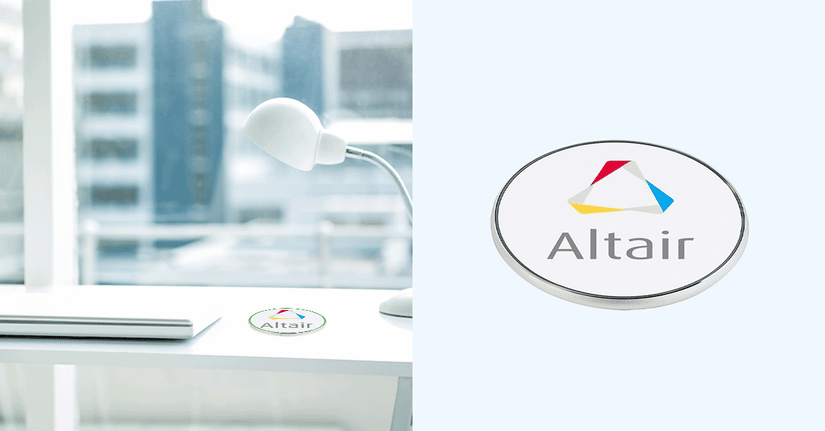 Kick your branding up one more notch with this built-in light and wireless charger combo. It lights up green when your device is completely charged and blue when charging is in progress. The charger itself comes in a circular shape, making it easy to connect any QI wireless-enabled device. It has aluminum casing on the side and bottom, which offers easy heat dissipation and durability. With a large space for branding, feature your brand front and center with a bold full-color logo imprint.
6. Maple Wireless Charger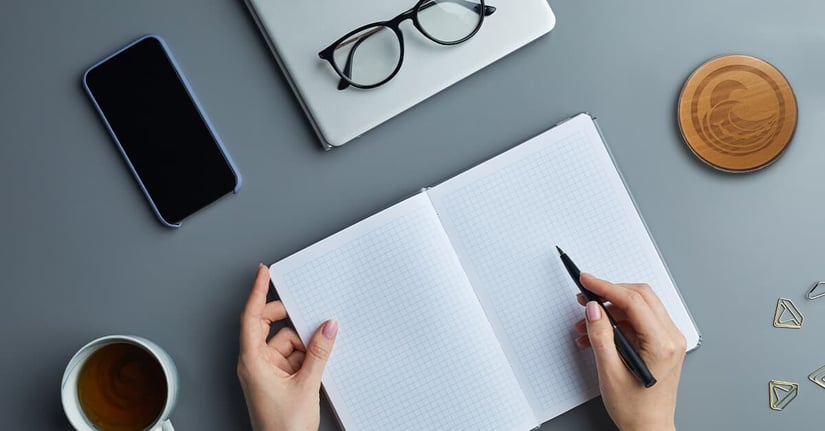 Here's a cool, sustainable option. This Qi wireless charger features a beautiful Maple finish that can be laser engraved with your brand's logo. With a natural look, it blends in with the decor in any office or home. Plus, it includes rubber feet for extra stability and a brushed aluminum trim for a more premium look. The 10W charger also boasts quick charging speeds for any Qi-enabled device. All in all, a great tech promotional item for brands looking to have their logo stand out on an item people will want to use every day.
Fun & Unique Branded Tech Items
When choosing branded tech items, don't forget to think outside the box. The more unique (and fun) the item, the more likely it will be used and appreciated by your recipients. Luckily, when it comes to technology, there are so many cool items you probably have never even heard of. Here are just a few of our favorites:
7.
Mini Drone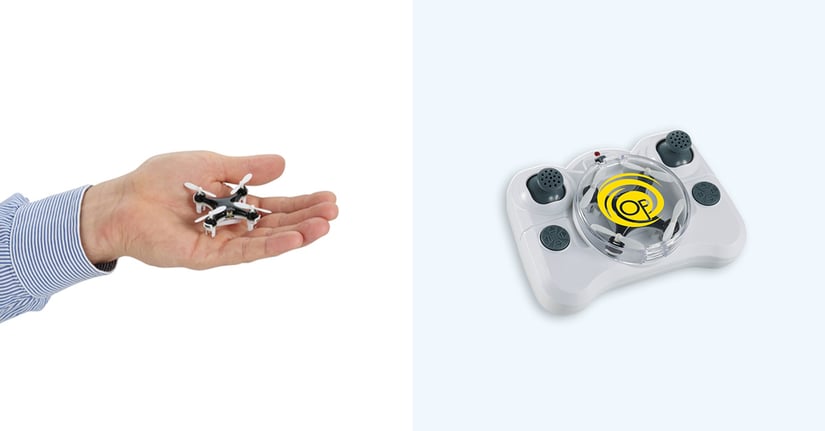 Ever seen someone playing with a drone? Looks pretty fun, doesn't it? Well, why not invest in your own company drone to hand out to prospects, customers, or employees. Just imagine how much fun this could be as a networking activity during in-person or even virtual events. This fun mini drone comes in a compact size that can be carried conveniently in pockets or bags. It's controlled by a remote control and can fly up to 250 feet with one single charge. Brand the carrying case's lid with a full-color print pad logo and watch your company logo soar high!
8. WalletTrack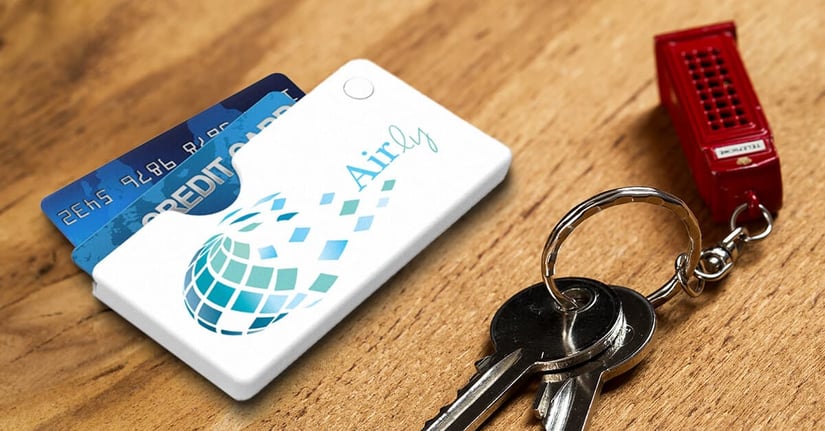 When you lose your phone, you can ping it. But when you lose your wallet, you're usually out of luck. This WalletTrack helps put an end to that. It's a wallet that features a Bluetooth tracker that can be monitored using the Beagle 2.0 app. The app will instantly alert users when they may be leaving without their wallet or help map the location a phone and WalletTrack were last together. The wallet uses two-way technology, meaning it can even help find your phone. The wallet measures 4.5 x 2.2 inches and holds up to five cards. Add your logo with a 4CP Digital Print, and recipients will always know who to thank when they lose - and find - their wallet.
9. Spot Bluetooth Finder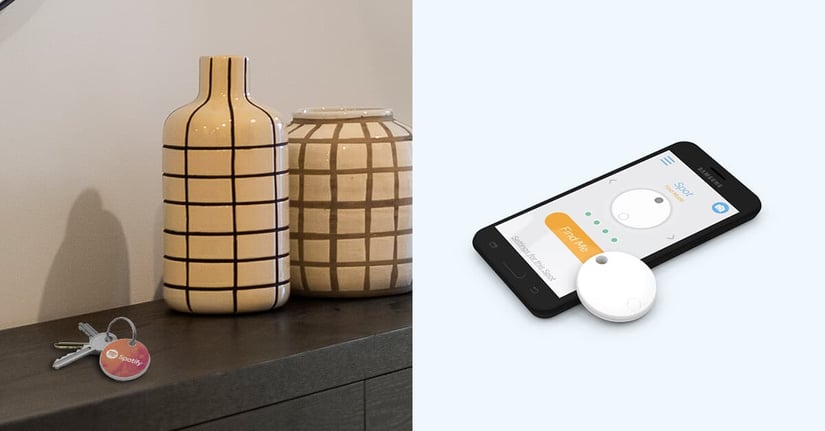 You can use this Bluetooth Spot finder to find just about anything. Measuring 1.5 x 1.5 inches, this two-way finder can be attached to an important item, like keys, and paired to the supporting app on a phone. Attach it to pretty much anything that has a loop. Plus, with a digital printed imprint on both sides, recipients will again always know who to thank when they find their lost items.
10. Fisheye Lens Set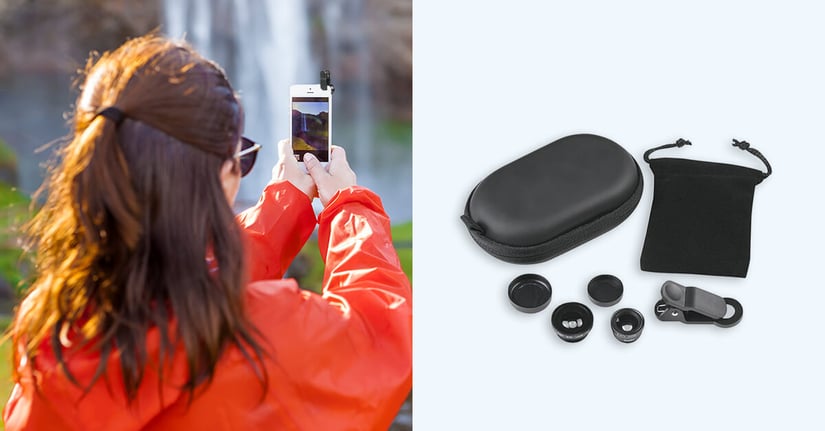 Last but not least, this Fisheye Lens Set tops our list. It turns your iPhone camera into a professional photo studio device. It includes two 180 degree lenses, one macro lens, a clip, and a velvet pouch combined all together in a protective travel case. With a .5 and .67 magnification options, recipients will love using this on their personal devices, or even at the office for marketing purposes. With a silkscreen logo imprint, you'll create a truly unique, brand-forward item that keeps eyes on your business.
Delight Recipients with a Branded Tech Item
When selecting technology promotional items, the biggest thing to keep in mind is function. Look for impressive and unique items that recipients will actually use. Think about the latest tech trends and how you can translate them to your giveaway strategy. And don't forget to consider branding, and how to incorporate your logo in a bold and memorable way. If you need help, our team of brand experts can help you navigate the latest product trends and find the best technology promotional product to delight recipients.