Consumers expect brands to be socially responsible. It's no longer an option.
We're not just talking about investing in eco-friendly products. Sure, developing sustainable practices as a business will have favorable effects on your prospects and customers. But they expect more than that.
It's about aligning with a cause your target audience values. And it's about supporting that cause wholeheartedly, taking a social stand when necessary, and adopting a business model that is founded on this moral ideal.
This is known as a cause-related marketing strategy, and it's changing the way we do business.
What is Cause-Related Marketing?
Cause-related marketing is all about shifting your business strategy to focus on a social issue or belief, rather than a product or service. By aligning with a relevant societal cause, organizations show social responsibility. This creates brand loyalty within an organization's customer base.
The facts speak for themselves. Cause-related marketing is a must in today's business world.
70 percent

of consumers want to know what the brands they support are doing to address social and environmental issues.

46 percent

of consumers pay close attention to a brand's social responsibility efforts when they buy a product or service.
77 percent of consumers would be more willing to do business with a company if they demonstrated a commitment to addressing social, economic and/or environmental issues.
Benefits of Cause-Related Marketing
Perhaps the biggest, and most impactful, benefit of cause-related marketing is the effect it has on society. By supporting a value, bigger than your organization, you'll help make a positive impact on the world. But if that's not enough, there are specific organizational benefits to launching a cause-related marketing campaign.
Here are just a few of the perks:
Improved corporate image
A stronger relationship with prospects and customers
Increase in brand loyalty
A more human appeal
Boost in employee morale
An edge up on competition
Using Gifts to Launch a Cause-Related Marketing Campaign
So you want to start your own cause-related marketing campaign. But where do you begin? Gifts can be an easy focal point of your campaign. By investing in and handing out cause-driven items you'll send a clear message that your brand is focused on a larger purpose. And in the process, you'll give out a gift that delights your prospects.
How do you use gifts to launch a cause-related marketing campaign? The following steps will guide you through the process.
1. Choose a Cause
First, you have to choose a cause that you're passionate about. The best cause-related marketing campaigns are genuine. This means you have to truly care about the mission you are supporting. Consumers are skeptical, and can easily see through your efforts if the cause you choose isn't aligned with your brand.
You'll also want to consider what your target customers value. Choose a relevant cause that your own company can get behind, and that your prospects will appreciate.
2. Involve Your Audience in Support of this Cause
The gifts you invest in are just one part of the contribution. You'll want to involve your audience too. And we're not just talking about donations.
The best cause-related marketing campaigns get creative and find a way to incorporate their audience. The idea is to spread awareness of the cause you're supporting, with the hopes of getting other prospects involved.
Here are a few ideas:
Take photos and videos of your clients or prospects with their cause-related gifts
Run advertising campaigns around that cause
Hold an event in support of that cause
Come up with a direct mail campaign and include the cause-related gift
Run an email marketing campaign announcing the cause you're supporting
Create a website dedicated to this cause, and tell the story of why you are supporting it
3. Partner Up with Your Nonprofit
Ask the nonprofit you're supporting to join you in your promotion efforts. This will help your campaign, and help the cause your supporting get more traction. Here are some ideas on how to partner up:
Start with social media. Be sure you're tagging each other in posts, photos, event pages, etc.
Use blog posts to document any success stories of your campaign.
Incorporate each other's logos on any marketing materials you use.
6 Cause-Related Marketing Gift Ideas
Now that you know how to launch your cause-related marketing campaign, it's time to choose the gifts that align with your cause. These gifts are the heart of your cause-related marketing strategy and will help showcase your company's values to your clients, customers, and prospects. Luckily, there are a lot of great gift ideas out there that support a wide variety of causes. These products are useful, high-quality items that are made in support of a specific mission. They also are genuine organizations. So you can rest assured that your cause-related marketing campaign efforts are going to a true social giveback program.
1. MiiR® Insulated Tumblers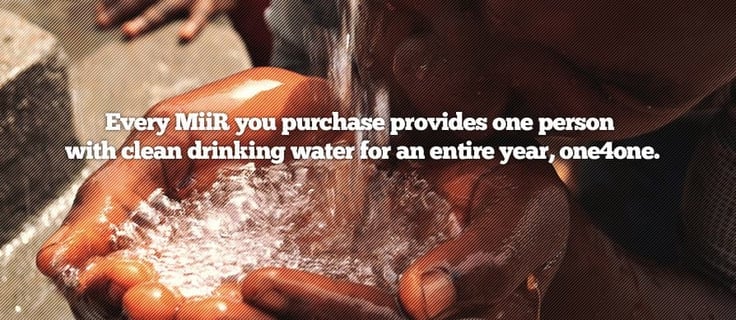 Get your customers and prospects involved in your cause-related marketing campaign by giving them a trackable gift. MiiR® is a drinkware company that donates a portion of all product proceeds to projects focused on clean water, a healthy environment, and strong communities. But what makes MiiR truly unique is the fact that all these projects are trackable. This gives prospects a chance to get involved at an even deeper level, and feel more personally involved in the cause you're supporting.
Every MiiR® product comes with a Give Code™ that gift recipients can register online. They can then connect with a project and community they are interested in and track its progress.
One of our favorite MiiR® products is this Vacuum Insulated Camp Cup.

Not only is it the perfect size to fit under a Keurig coffee machine, but it also comes with double-wall vacuum insulated technology made from 18/8 medical grade stainless steel. This will keep your drinks warm almost all day long. With a snap-on lid and an easy grab-and-go handle, this mug is both functional and cause-worthy. Make it your own by adding a laser engraved logo of your company brand.
2. Ecosmart Products®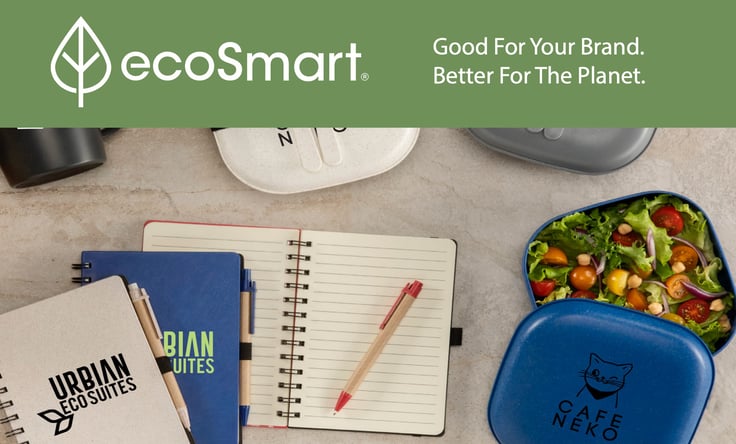 This product line takes a new take on sustainable products. Not only are all the items made from eco-friendly materials like bamboo, wheat straw, recycled cotton, and PET fabrics, but the proceeds also go to support environmental nonprofits. Through a partnership with 1% For The Planet, an organization committed to building an alliance of businesses working towards a healthier planet, 1% of Ecosmart product sales support two different nonprofits. WellAware is an organization that builds clean water systems in east Africa, and OneTreePlanted, an organization dedicated to helping reforestation efforts around the world.
The Ecosmart product line includes more than 50 different items all made from sustainable materials. Several products also offer reusable alternatives to single-use plastic items. Plus, retail brands like Parkland backpacks, and FinalStraw stainless-steel straws.
One of our favorite Ecosmart products is this recycled cork bound notebook.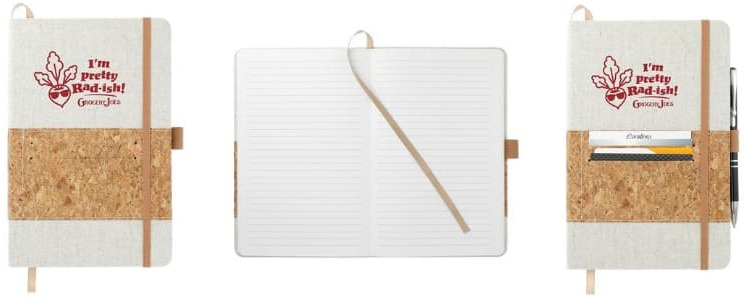 Made with recycled cotton and cork material, it features 80 sheets of recycled lined paper, an elastic pen loop, and a ribbon page marker. It comes in a natural color and can be imprinted with a color print silkscreen logo. This eco-friendly gift item can be the perfect way to align with a sustainable cause, while truly making a difference with your investment.
3. Basecamp® Bags, Coolers & Drinkware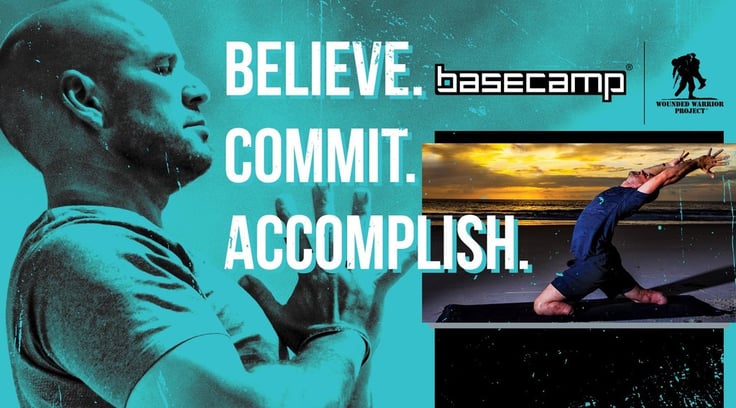 If you have a more active audience, Basecamp® offers high-quality and durable gift options that support wounded veterans. A portion from all Basecamp products sold goes to support the Wounded Warrior Project®. This organization's goal is to empower and support veteran soldiers wounded in the line of duty and help them transition to civilian life. It started as a grassroots effort to provide basic comfort items to soldiers returning from Iraq and Afghanistan.
The impact of Basecamp's partnership can be seen in the story of Dan Nevins, a 15-year army vet. Dan received a Basecamp backpack while recovering after an IED explosion in Iraq took both his legs. He says the impact of that backpack changed his whole life, and that it was the most significant gift he had ever received or ever will.
Our Basecamp product pick? The Navigator Laptop Backpack.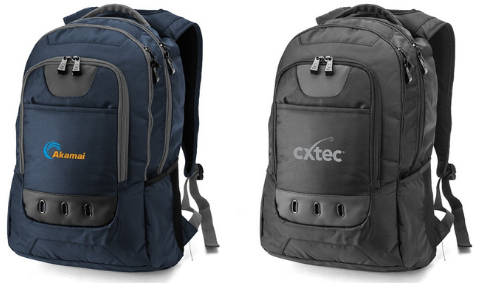 This durable bag measures 20 x 13 x 5 inches and features a large main compartment with a dual heavy zipper and a protected secure slot that can fit up to a 15-inch laptop. It has a center zippered compartment with an organizational panel, an extra inner zipper pocket, a front zipper full-size pocket, and an additional front drop pocket with an oval metal grommet accent. With large side pockets, a top sturdy web handle, and adjustable wide comfort shoulder straps, this backpack is a high-quality gift that supports a great cause. It's a great choice for active prospects or customers who also want to align with a social initiative that makes a difference. A brand imprint can make your company stand out on this cause-worthy bag. Choose between an embroidered or heat transfer logo. The bag itself comes in black or blue.
4. Welly® Bottles and Tumblers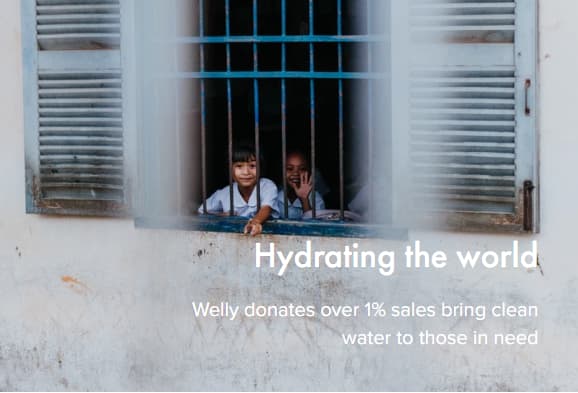 Welly is a company that offers functional yet fashionable drinkware that supports clean water efforts around the world. The organization is fueled by the belief that pure water is essential to pure living. One percent of all sales of Welly products go towards water projects that bring wells and other long-lasting clean water solutions to communities worldwide.
Every bottle comes with a trackable code, so gift recipients can track the difference such campaign efforts are making. So far, Welly has helped bring clean water to Mai Welay, Ethiopia, and funded a clean water initiative in Malawi. Currently, the organization is also supporting a new well with a hand pump that will bring clean water to Chikhwawa, Malawi, and funding a new pump system for a school in Southern Bangladesh.
This Welly Copper Vacuum Tumbler is one of our favorites.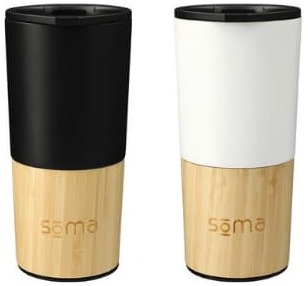 Choose between a white or black tumbler, which features a durable, double-wall stainless steel vacuum construction with copper insulation. This keeps beverages cold for 24 hours and hot for at least 8 hours. Plus, the insulation will prevent any condensation from forming on the outside of the tumbler. The 16-ounce tumbler has a powder coating that includes a natural bamboo wrap, giving it an eco-friendly feel. It also has a screw-on lid with slide closure and a wide opening that can fit ice cubes. Your brand's logo can be imprinted with a color print silkscreen or a laser imprint on the bamboo-portion of the tumbler.
5. Corkcicle® Drinkware
Another brand that supports clean water efforts around the world is Corkcicle®. The company partners with charity: water to help give people access to clean water in developing countries like Ethiopia, Bangladesh, Nepal, and Cambodia. The company donates a portion of proceeds from all products to support these efforts and help bring real change to these nations.
One of our favorite Corkcicle products is this unique 20-ounce hybrid canteen.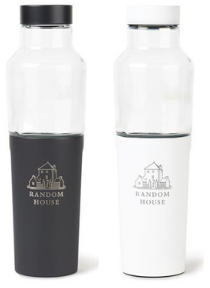 It's made from hypoallergenic glass and stays colder twice as long as your typical glass bottle. With a triple insulated stainless steel base that detaches from the glass portion, you can have two separate drinking vessels. It also has easy-grip flat sides and a non-slip bottom. A screw-on cap and a wide mouth designed for ice cubes make this a functional option. It comes complete in a one-piece retail gift box that makes this cause-related marketing gift feel like a true gift. Print or laser engrave your company's logo on the stainless steel base of the canteen.
6. Modern Sprout® One For One Tree Kits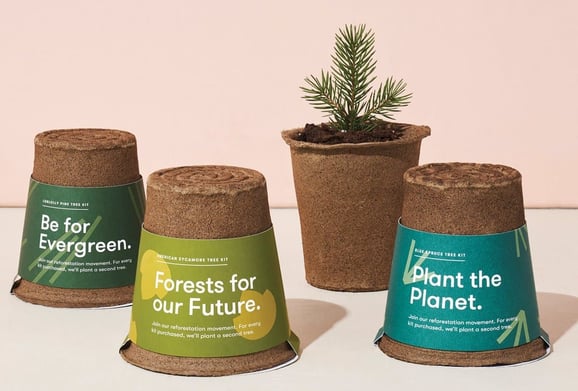 Deforestation is a huge issue in parts of our world. Modern Sprout® has partnered up with American Forests and Pollinator Partnership with a unique cause-related marketing campaign. They offer tree planter kits that serve a dual purpose: to plant more trees while providing monetary support to reforestation efforts.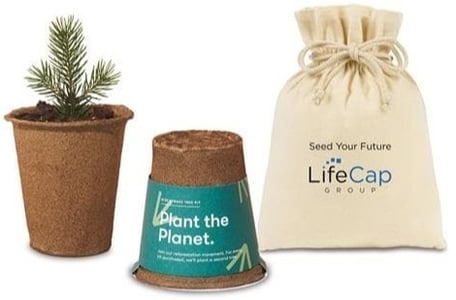 These One for One Tree Kits are made in the U.S. out of 100% biodegradable up-cycled cow manure. Each kit contains carefully selected seed types that will thrive in most parts of the country. The goal of each kit is to help heal nutrient-depleted soil and help replace some of the 18.7 million acres of forest that's lost each year.
The planter comes in an eco-friendly pouch, that can be embroidered, or imprinted with a heat transferred company logo.
Use Cause-Related Marketing Gifts to Align with Customers
Cause-related marketing is an excellent way to meet your customers and prospects on a personal level. Social responsibility matters in the business world today. Customers are demanding more from brands, and it's time for companies to follow through.
Choose a cause that represents what you value as a company, and support it wholeheartedly. Keep in mind that consumers can easily see through ingenuine efforts. So be sure the cause you choose is one you can truly get behind. Your prospects, customers, and clients will value the brand mission you establish, and will reward you with their continued loyalty.