Looking for one of the smartest branded swag items? You've found it. Promotional tote bags have the power to tell your brand's story for years to come. You can reach people you've never marketed to before with an intentionally designed custom tote bag.
Consider this - a logoed bag that costs just $5 will have a cost-per-impression of under 2/10 of a cent! But if that's not enough to convince you of their power, here's more. The typical tote bag is kept for an average of 11 months, generating 3,300 impressions during that time period. Sure, investing in a custom tote bag might not feel like the most aggressive form of marketing, but it sure can make an impact.
So what's the secret to getting recipients to keep and use custom tote bags? They need to be unique and intentional. Get the most bang for your buck by investing in a bag that is high quality, useful and attractive.

To help get you started, we've created a list of 10 unique high-quality promotional tote bags that recipients will love showing off.
1.
Recycled Cotton Boat Tote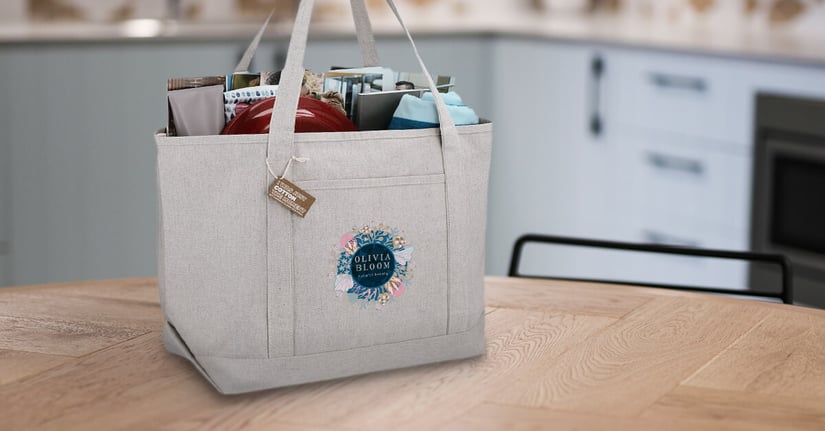 One of the best things about tote bags is that they help cut down on single-use plastics. Recipients will love taking this recycled cotton boat tote shopping while feeling good about using it. Made from pre-consumer recycled cotton, it's a sustainable way to delight target customers while aligning your brand with a larger cause. Add a custom logo to the bag's front pouch to complete the look. Through a special partnership with 1% For The Planet, one percent of sales from this tote bag is donated to nonprofits dedicated to protecting the planet.
2.
Cotton Mesh Market Bag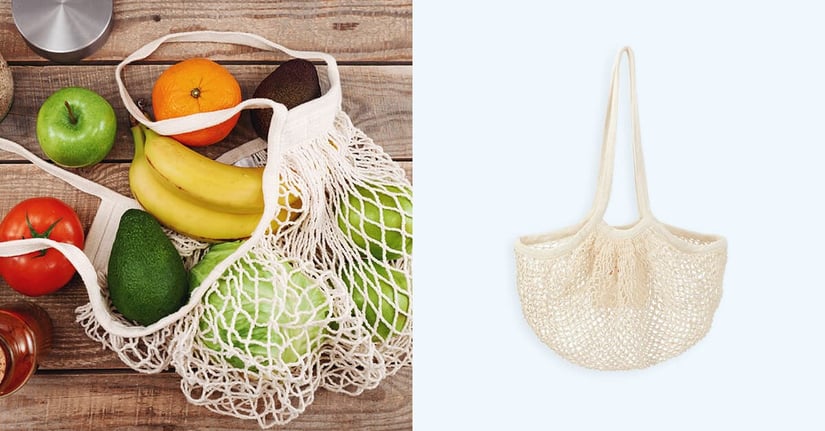 Because we're all about the latest trends, here's one you won't want to miss. "Fisherman Net" bags. You heard that right. This cotton mesh market bag is made to look like a net and has strong handles that go over the shoulder. It's great for using as a shopping bag or just an all-around essentials bag. For added usability, it also features an interior zippered pocket perfect for holding change or coupons. Imprint this pouch with a colored logo, and you'll have your recipients repping your brand in style.
3.
Full-Color Collapsible Tote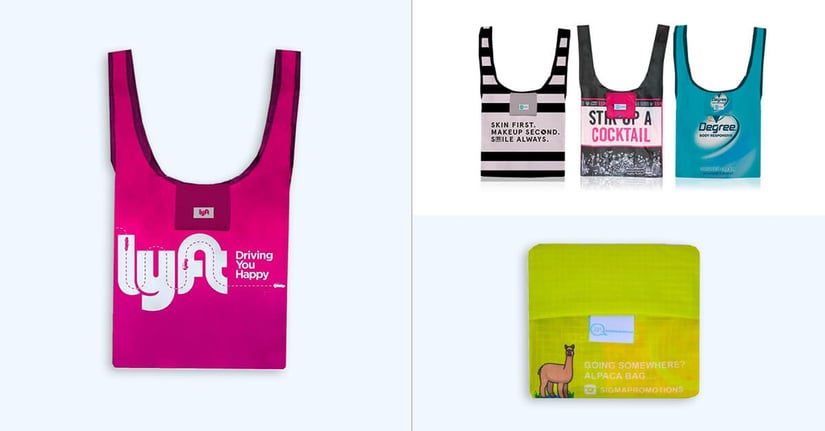 Talk about bold. This collapsible tote is printed in full color, full bleed CMYK, and can be customized any way you want it. Made from ripstop nylon, it can hold up to 55 pounds. But it's also a convenient size, folding up into a unique pouch that can be taken anywhere. You'll want to get creative and show off your brand in a bold way with this full-color collapsible tote.
4. Two Tone Tote Bag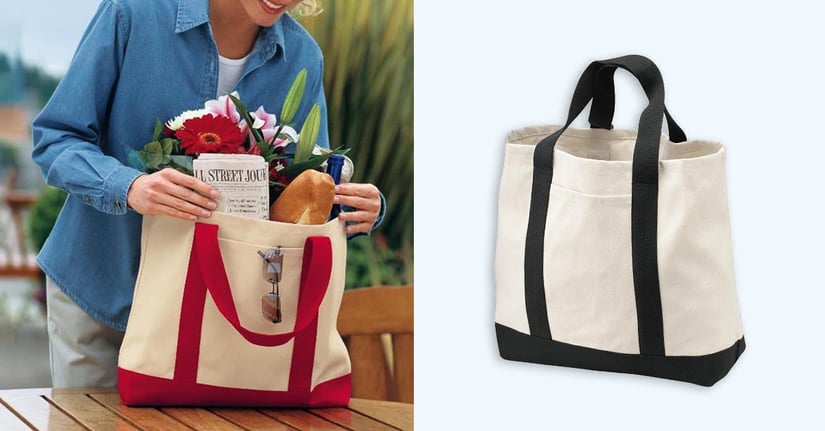 Here's another unique option. This two-toned canvas tote is a bag that looks truly premium but comes at a reasonable price. Made of 100 percent natural cotton, this 12-ounce bag is made with contrasting self-material hand straps, a zippered closure, and is made AZO-free with no hazardous chemicals. This bag is great for events or schools. Students will love carrying this around campus, while event attendees will appreciate having a branded bag to keep all their event materials organized. Choose from natural and black or natural and navy. And don't forget to add a customized logo with a variety of different printing technique options to choose from.
5. Surfside Mesh Accent Tote Bag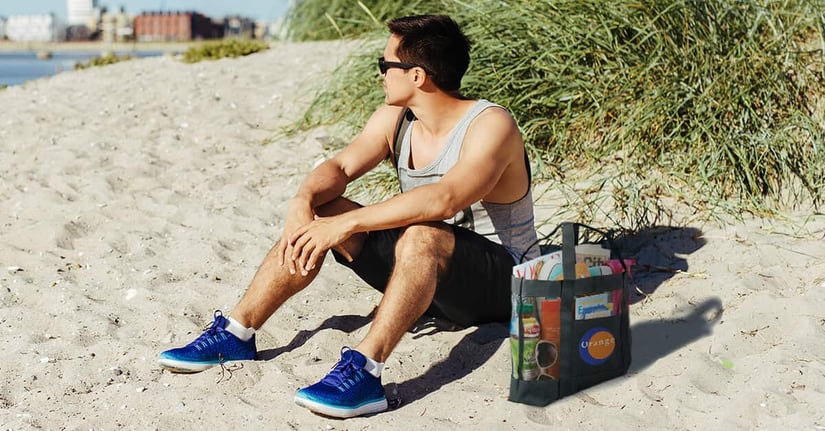 As the name suggests, this is a great custom beach bag and is durable enough to be used for everything from traveling to quick trips to the store. With a roomy main compartment that measures 12 x 17 inches, it offers quite a bit of space. Plus, a front pocket gives convenient access to smaller essentials like your phone and personal devices. The bag's unique mesh panels make it easy to find things and put a fun spin on the traditional tote bag. Choose from blue or black and brand your logo for everyone to see on the front pocket.
6. Buckle Tablet Tote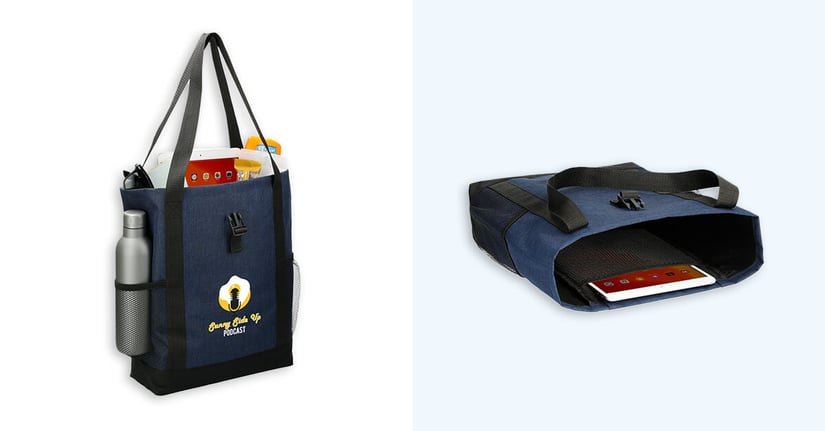 Tote's can stray away from the traditional style. This trendy convention tote features a clip and flap main compartment that helps keep belongings safe and secure. With a special pocket, it can hold up to an 11-inch tablet, making it the perfect alternative to a laptop backpack. It also has two mesh pockets on both sides for added storage. Choose between Graphite or Navy, and add a pop of color with a brand forward logo on the front pocket.
7.
Recycled Fashion Tote Bag
Here's a great option if you're considering giving a corporate care package or gift bundle. Made with laminated non-woven polypropylene, this mini-sized tote will show off your full-color design in a bold way. The colored gusset also adds an extra pop of interest. The bag is 9 x 11 inches and is durable enough to hold a variety of items, big or small.
8.
Oversized Carry-All Tote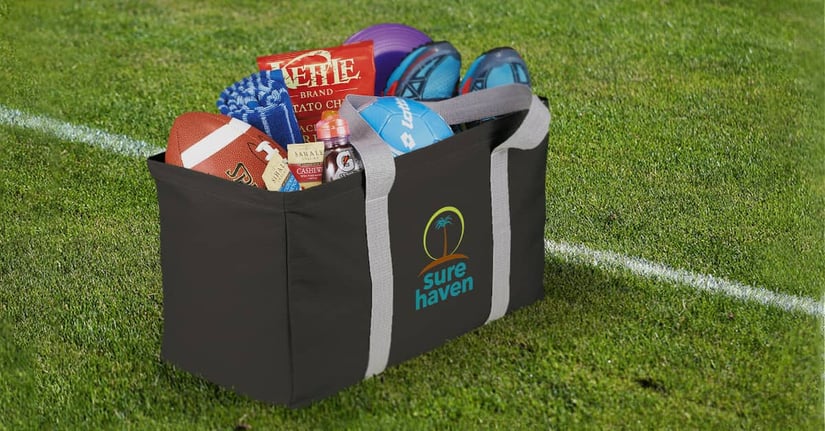 Looking for a bag that can carry it all? This versatile-sized tote bag has a large open main compartment with a wire rim to give it shape and sturdiness. It has two 14 inch handles to make for easy carrying. Add a little bit of texture, by choosing the trendy chevron colorways or go with the more traditional and popular graphite finish. Add your brand logo with a digital print transfer or embroidery.
9.
Large Shopper Tote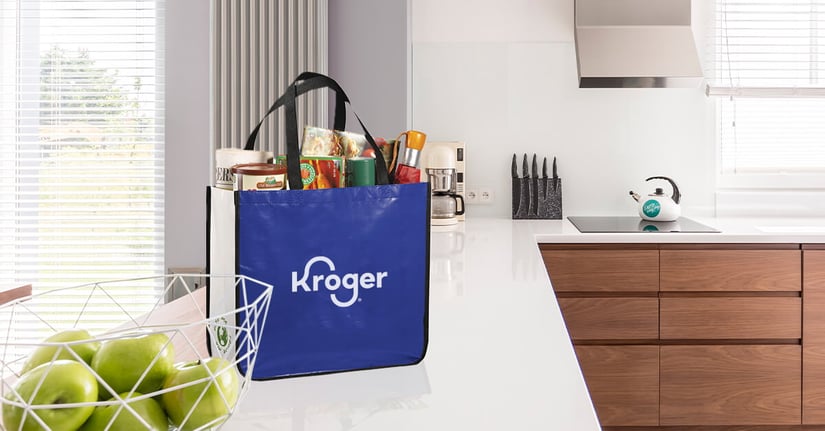 Sometimes simple is best. If your company is trying to promote sustainable habits, without making too big of an investment, you might consider this large shopper tote. It's the perfect alternative to plastic bags. Made from laminated material that's water-resistant and easily wipes clean, it makes a long-lasting bag for running errands or grocery shopping. You can bet recipients will get lots of use out of this functional tote, and with the silkscreen imprint on the front, your brand will catch lots of attention.
10.
Foldable RuMe Tote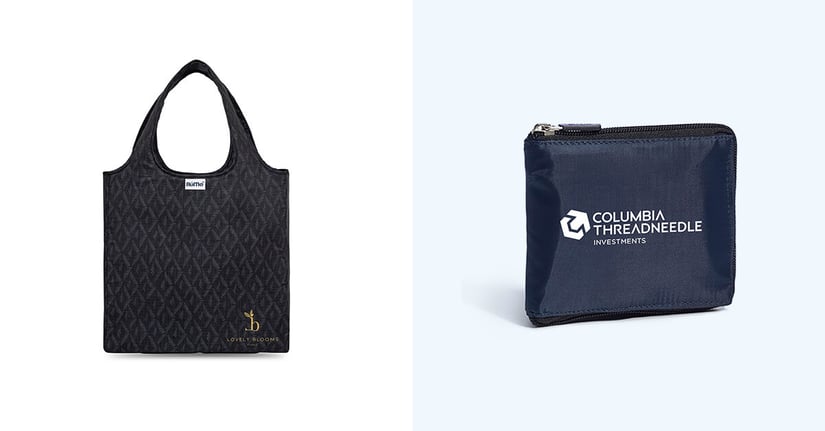 This tote is the best of both worlds. It's large enough to fit large everyday objects, yet small enough to zip up and stash into your pocket or purse. We especially love that it's machine washable. Something spills in your bag? No problem. Just pop into the washer, and it comes out good as new. With 21-inch shoulder straps, recipients can carry on their necessities in style. It also comes in a variety of different colors. Choose from Rockport Granite, Ankara, Heather Grey, Navy, or Black. With a heat transfer logo, your company will stay top of mind, wherever this bag goes.
Maximize Brand Awareness with Custom Tote Bags
By now your head is probably spinning with ideas. With so many different styles to choose from, there's really something for everyone. Think hard about who your target recipient is and what they value. Would they appreciate a high-quality tote made from eco-friendly materials? Or perhaps a versatile, work-style tote that's perfect for the office. When intentionally chosen, promotional tote bags can make a bold impact on any company or organization.
If you need help customizing any of these ideas, our team of brand experts is standing by to help. Start a conversation with us today and we'll help you find the right style, type, and design to ensure the biggest brand impact for your business.