New customers are important. There's no doubt about it. But marketing isn't all about the shiny and new. Retaining your current customers is equally important. In fact, focusing on customer retention can actually increase company revenue by 25 to 95 percent.
But sometimes we, as marketers, focus too much on acquiring new customers and fail to continue to delight the old ones. Improving customer experience should always be a priority throughout your marketing efforts. But it can be hard to know where to start.
Relationship marketing is a strategy focused on improving the customer experience. It's all about rewarding your customers for doing business with you and giving them a reason to come back. Sending gifts is one of the easiest ways to incorporate relationship marketing into your strategy.
In this relationship marketing guide, we include 8 gift ideas to improve customer experience and increase brand loyalty. But before we get started let's define exactly what relationship marketing is.
What is Relationship Marketing?
Relationship marketing is a type of customer relationship management that focuses on building customer loyalty through relationships. It's all about creating strong, emotional, and customer-centric connections that lead to repeat business and long-term buyers.
So how do you go about creating this type of relationship-driven brand loyalty? Make customers feel valued by going the extra mile with your marketing. Sending a gift to clients is a simple and powerful way to build brand loyalty and improve customer retention.
Here are 8 gift ideas to help improve customer experience and kickstart your relationship marketing strategy.
1. Prospecting Gifts
Sales prospecting is the first time your team connects personally with your customers. This is an essential first step to building a long and healthy relationship with future buyers. Yet, 40% of salespeople say this is one of the most challenging parts of the sales process.
Prospecting gifts can help build relationships in this phase while making personal connections easier for your sales teams. The best prospecting gifts are personalized and targeted to specific prospects. They are given to potential buyers to help start conversations and make personal connections before the sales process even begins.
By being intentional with your gifts in the prospecting phase, you'll be setting the foundation for a stronger future relationship. In fact, 96 percent of digital marketers say personalization advances the customer relationship.
Every audience is different so you'll have to think about what type of gift will truly delight your prospect.
Here's an idea for a prospect that's an avid coffee drinker. Consider giving them a branded tumbler like this one, and including a gift card to their favorite coffee shop. It even comes in a gift box, making it a perfect and easy gift to give.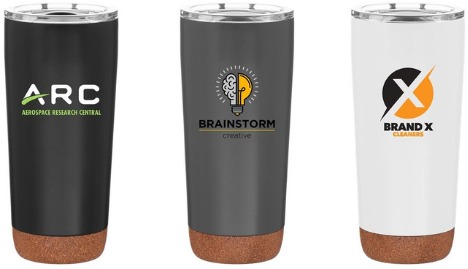 2. New Client Gifts
Take things a step further when prospects turn into customers by giving them a welcome gift to say thanks. Depending on the product or services you sell, the client onboarding process can be overwhelming. By giving a simple "thank you" to kickstart their relationship with your company, you are showing customers that you care about them and not just their money.
New client gifts don't have to be over the top. A simple box of chocolates or a sweet gift box will do. What's important is personalizing these gifts to your customer. We recommend including a card or note of thanks. Together this creates an experience that delights your customer in the very beginning of their journey with your brand.
Here's a great idea for a new client gift. This cookie or confection gift box can be personalized based on your client and their tastes.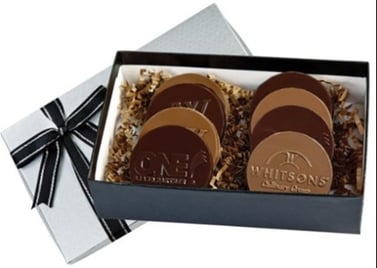 It features eight milk and dark chocolate-covered cookies, molded with your company's logo. Or, if you don't want cookies, you can choose from a variety of other confection items, from fruit-flavored gummies to mixed nuts. Plus a branded card can be personalized with a welcome message of your choice.
3. Personal Milestones
Celebrating your customer's personal milestones is a great way to bolster relationships. This shows that you're keeping tabs on what's going on with their lives beyond just your business relationship. Consider giving your customers gifts for the following:
Birthdays
Weddings
Client Anniversaries
Other big life events
When giving personal milestone gifts, think about an item that can be used at home and away from the office. This again shows your customer that you think of them as a person, and not just a business transaction.
A fun idea for a personal milestone gift is this indoor herb garden kit. Celebrate your clients growth by giving a gift that also grows! It's a gift that's fun, unusual and thoughtful.
Clients can take this gift home and enjoy growing their own herbs even if they aren't gardening experts. Since it features a self-watering hydroponic system that brings water and nutrients automatically up to the plant's roots, your clients don't have to be gardeners to find enjoyment from this gift. It's a fun idea for people who like to cook or even clients with small children.
4. Team Milestones
It's also important to celebrate your customer's professional milestones. Your company is supporting your customer's business in some way. So it's important to celebrate when your clients reach a business goal. Celebrating with your clients will not only remind them of your support as a business, but it reminds them that you truly care about their company and success.
When selecting team milestone gifts, think of items that you could give to a whole team of people. Branded apparel items with your customer's logo are one idea. Clients and their employees will love wearing logo jackets to the office and will keep your company top of mind when celebrating their team success.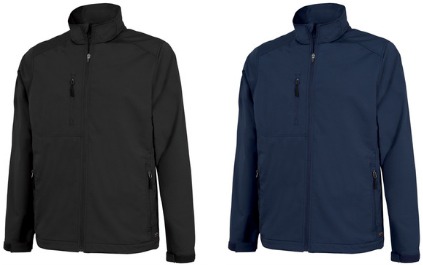 This softshell outdoor jacket is a one gift idea for team milestones. It comes in three different professional colors and can be branded with a company logo, emblem or message. Made with a drop tail hem, a shock cord drawstring, and a wind flap, clients would wear this in and out of the office.
5. Corporate Holiday Gifts
Holidays mark the season of giving. Including clients in your giving budget will show your appreciation for their business, and build a personal connection that will support a long-lasting relationship. By giving a holiday gift, you show that your customers are top of mind even during one of the busiest times of the year.
Corporate holiday gifts are most thoughtful when they can be used outside of the office. A gift for the home is a great way to show your clients you care. Plus, they'll think about your company and the relationship you've made with them even outside the office. This is what relationship marketing is all about. You want them to associate with you as a friend, not necessarily just a business colleague. This is what leads to long-term customer relationships.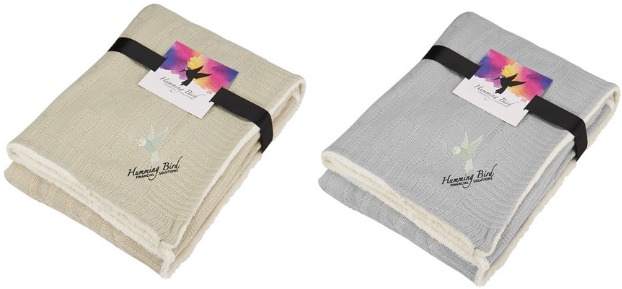 Here's a great corporate holiday gift idea for the home. This Sherpa blanket is not only soft and cozy, but it also brings a classic vintage look and feel to any sofa. Plus it comes with a full-color card and blanket band that can be customized with a holiday gift message of your choice. This is the type of holiday gift that clients will get a lot of use out of. Plus, when they go to snuggle up at night for a movie or to read a book, they'll have your company to thank.
6. Client Check-In Gifts
I like to call these "just because" gifts. You don't always need a reason or occasion for gift giving. In fact, sometimes some of the most meaningful and impactful gifts are the ones sent just because. This shows that you don't need a reason to appreciate your customers. It tells your clients that you are always thinking about them, and your company is always there for them whenever they need you.
When choosing a client check-in gift, consider picking a product that's useful like this H2go branded water bottle. It's something they'll use every day, plus it serves as a constant reminder of your company.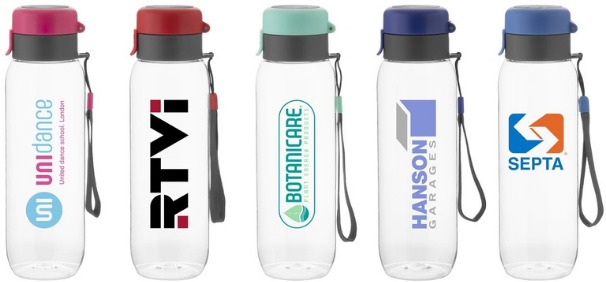 This particular bottle is a simple way to delight your clients any day of the year. And with a threaded snap-fit lid and carry strap, they'll be able to take it with them wherever they go. It's a very useful yet thoughtful gift.
7. Loyalty Rewards Programs
Offering an incentive for your customers to come back is an easy and simple way to improve loyalty and relationships. They've been proven to increase customer retention by five percent.
Loyalty rewards programs can work in a variety of different ways, and might not be suited for every business. These types of gifts are best used for businesses that have a shorter sales cycle. For longer sales cycles, it's harder for customers to build up rewards points and they might feel a little overwhelmed by such an idea.
But for shorter sales cycles, you can reward each customer for their purchases with a points system. If they get a certain number of points, maybe you give them a gift card that can be used in your store. This type of loyalty rewards program boosts customer retention and sales.
Another idea is to have a high-value gift as a reward for a certain amount of purchases. This keeps customers coming back, and shows that you care about their business.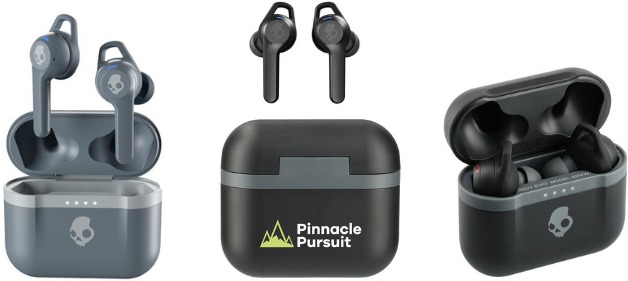 These Skullcandy wireless Bluetooth earbuds have a high perceived value and would make a great customer loyalty reward. With built-in touch sensors, they can answer calls, change songs or music volume, and even activate voice assistance. They come in a charging case that offers 24 hours of additional charge. The best part is you can customize this high-value item with your own logo, making your brand look high quality too.
8. Customer Support Gifts
The sales process isn't always perfect. There will be times when something doesn't go quite right and you have an upset customer. One of the best ways to remedy the problem? Customer support gifts.
Think of these gifts as a way to say, "I'm sorry." You usually can't go wrong with a food or snack basket. These are thoughtful and almost always appreciated.
This soft pretzel gift set is one unique way to show your clients you appreciate their patience. It's a unique gift package that includes a soft pretzel mix, a 4-ounce jar of mustard, and a laser-engraved wooden bottle opener. It also comes in a customized gift tube and personalized card where you can express your thoughts and appreciation to your customers.
Delight and Retain Customers with Relationship Marketing
Relationship marketing is really all about being personal and connecting with your customers as people. That's why gifts are such a big part of improving customer satisfaction and loyalty.
How do you express appreciation to your own friends or family? Usually, you give gifts. Customer appreciation and relationship building with your clients is no different. Sending gifts to delight your customers can go a long way. You might be surprised to see how simple it really is to make your customers smile. All it really takes is going above and beyond who you are as a business, and treating them like people.
If you're looking for a specific gift or gift package, or want some more ideas on what might work for your own individual customers, our brand team can help. We'll guide you on how to use gifts to improve your own customer experience, retain more and more business, and ultimately save money for your business.