Sustainability may have started out as a consumer trend. "Going green" was once the cool thing to do. Now - it's the expected thing to do.
And now businesses are expected to follow suit. As consumers become more and more socially conscious, they expect their favorite brands to do the same. This has elevated the sustainability trend to a business imperative.
The promotional product industry is no different. In fact, according to the Advertising Specialty Institute (ASI)'s 2020 Global Ad Impressions study, 46% of consumers are reported to have a more favorable opinion of an advertiser if the promotional product they receive is environmentally friendly. It's not just the younger generations either. Nearly a third of people 55 and older say they've purchased more environmentally friendly products in 2019 then in 2018.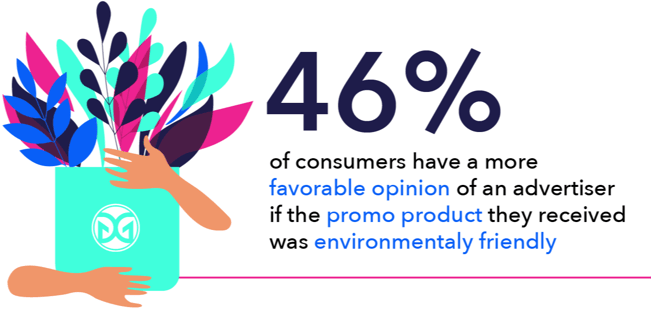 So what exactly are sustainable promotional products, and how do you implement them into your marketing strategy?
What Makes a Promotional Product Sustainable?
According to the Sustainable Products Corporation, sustainable products "provide environmental, social, and economic benefits while protecting public health, welfare, and environment over their full commercial cycle, from the extraction of raw materials to final disposal."
Sustainable promotional products can be made from all-natural materials, but they also make it easier for recipients to have a positive impact on the environment by reducing waste and recycling. Plus, sustainable items can be branded with your company logo, just like any other promotional product!
Different Types of Eco-Friendly Promotional Products
As the term "eco friendly" becomes a popular buzzword, it's often used to "greenwash" marketing. This is when companies invest more time (and money) into marketing their products as "green" when they aren't really as sustainable as they claim. So how do you see through false claims and choose truly eco-friendly promotional products?
Start by understanding the five common categories that we see sustainable promotional products fall into:
Recycled fabrics - Common fabrics we see used are recycled PET fabrics and recycled cotton.
Natural materials - Bamboo, hemp, wheat straw and cotton are all-natural and biodegradable.
Giveback Items - Products that support sustainable causes are becoming more and more popular.
Reusable Products - Water bottles, straws, and bags are all reusable and help reduce the use of single-use plastics.

Sustainably Made Items

- It's not just about the product itself, but how a company does business. Is the manufacturer B Corp certified? Do they have policies in place to make sure their factories are safe?
How Sustainable Promotional Products Improve Your Marketing Strategy
So how can choosing sustainable promotion products improve your marketing strategy? In 2021, consumers expect businesses to follow suit. They not only want to be seen as socially conscious, but they want their favorite brands to reflect the same values.
Implementing eco-friendly promotional products into your brand's overall marketing strategy is no longer a suggestion. It's key if you want to reach today's consumer. By choosing sustainable products, you'll not only appeal to your customers and prospects, but you'll establish a positive name for your company, thus improving your overall brand image.
Now, how do you implement sustainable and eco-friendly practices into your business? Here are 16 sustainable promotional products that will help get you started.
1. Reclaim Recycled Journal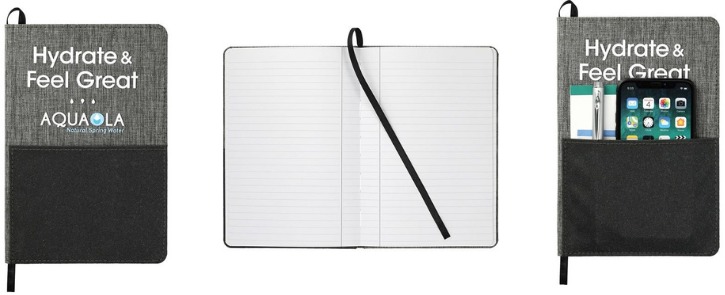 One thing consumers like even more than using an eco friendly product is actually knowing they're supporting a cause that promotes change. This Reclaim Recycled Journal can scratch that itch. Not only does it contain 85% of recycled material, one percent of sales from this notebook are donated to nonprofits dedicated to protecting the planet. Consider sharing this information in a postcard or bookmark inside the journal. Recipients will feel like they are a part of this cause by supporting your brand.
This specific journal is pretty handy too. It has an RPET cover that includes a recycled leather front pocket perfect for storing documents, pens, or even a smartphone. It also included a back document pocket for important notes or papers. At 5.5 x 8.5 inches, it's the perfect size to carry around to important meetings or classes.
The best part is the personal branding. Make this journal your own by choosing between deboss or a digital print transfer for your logo.
2. Recycled Paper Notebook or Journal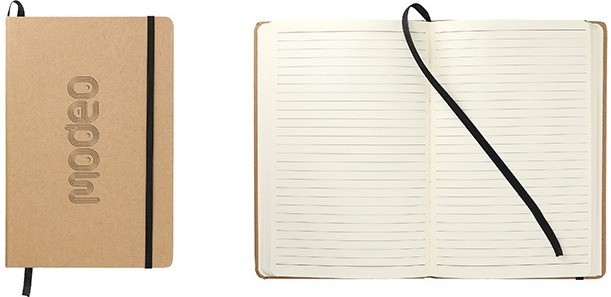 When choosing a promotional notebook or journal for your business, take into account the paper waste. Choosing an eco friendly alternative like this recycled paper notebook is a decision both the environment, and your prospects will get behind.
This specific journal is made with recycled cardboard, a biodegradable material that is much more sustainable than regular paper. It features 80 pages of lined writing space, a built-in elastic closure, and an expandable accordion pocket for extra storage. The cover can be branded with a deboss imprint for a unique and custom look.
3. ApPeel Medio Slim Journal

This ApPeel Medio Slim Journal is one of the most unique branded journals available. Its pages are made from apple pulp and other vegetable fibers that have been made into organic material, making this item eco- and animal-friendly.
The cover is available in several natural-looking colors, from red Delicious to Granny Smith, and allows plenty of room for your foil stamped or debossed logo on the front. The journal measures 5.25 x 8.375 inches and comes with 160 pages with green lines, a gold ribbon marker, and a back pocket.
4. RuMe Recycled Duffel Bag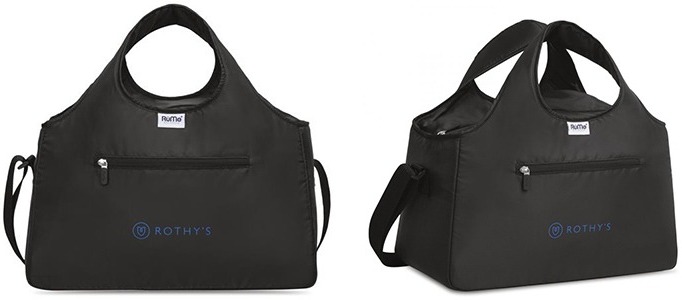 You can even choose eco friendly options when it comes to backpacks or luggage. We love this RuMe recycled duffel bag which is made from post-consumer plastics, like recycled water bottles. It offers a durable fabric that is made for travel, but much more sustainable for the environment. It's large enough to carry several items in its main zippered compartment, yet easily folds down into a compact size for storage.
It's unique too. With integrated top grab handles, a front zippered pocket, and adjustable shoulder straps, this duffel bag will truly set your brand apart. Especially when customized with a PMS imprint of your company's logo.
5. Recycled Backpack Cooler

One of the most common items thrown away after just one use is the plastic bag. For those looking for an alternative to the plastic bag and a reusable way to carry their lunches, snacks, or food, look no further than this Excursion Recycled Backpack Cooler. This two-in-one bag comes with a PEVA lined, zippered main compartment that will keep food cold and fresh. Other essentials that don't need to be cold can be stored in the front zippered pocket. And it all can be carried on your back with the adjustable, padded shoulder straps. It also is equipped with a mesh side pocket perfect for carrying your water bottle with you on a picnic or a hike.
This charcoal cooler can be customized with a logo imprint on its front pocket. And it's another investment that will support the planet, with one percent of sales donated to nonprofits focused on sustainability.
6. Reclaim Recycled Computer Backpack

Another essential product for those constantly juggling hybrid work or learning is a backpack with space for your computer. This Reclaim Recycled Computer Backpack is the perfect eco-friendly option. It has a similar look as the Reclaim Journal listed above, made with RPET material and a graphite color tone. It features two zippered front pockets for added space, plus the main compartment, which includes the 15-inch laptop sleeve.
All materials used to make this backpack are from recycled post-consumer plastic. Plus, this is another promotional product where proceeds go to support nonprofits dedicated to protecting the planet. Prospects will love knowing they're supporting such a cause.
Make it your own with a color print silkscreen or digital print transfer imprint on the front of the pouch. Also consider adding your own tag or postcard inside the bag to share the sustainable features of this bag, and how by using it, your prospects or customers are acting as stewards of the environment.
7. RuMe Recycled Pouch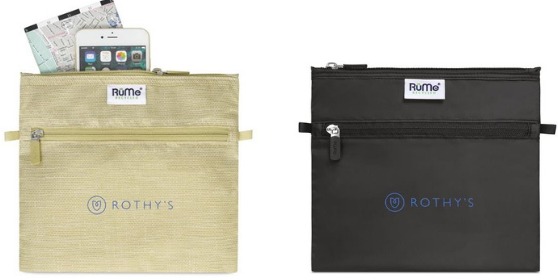 Consider this RuMe Recycled Pouch for those who love organization. Its material is made from post-consumer plastics, like recycled water bottles. The fabric delivers the same technical performance while helping to lessen our environmental impact. With two zippered pockets, this pouch is ideal for organizing and carrying small, hard-to-keep-track-of items. It also features a hidden gusset on the bottom for extra storage capacity.
The pouch is available in black or a printed burlap, which is subtle yet unique. You can then make it your own by adding a printed or heat transferred logo for maximum visibility.
8. Eco Friendly Lip Balms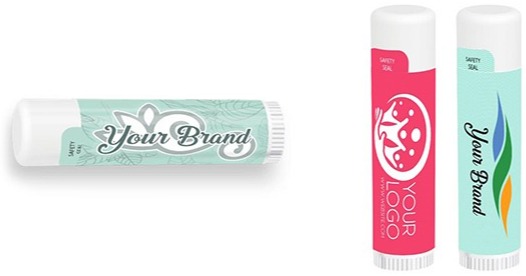 Maybe you've received a promotional lip balm before. What container did it come in? Plastic?
If you want to stand out from other promotional product giveaways, and be more sustainable as a whole, consider choosing an eco friendly lip balm like this sustainabalm. The lip balm itself is made with an all-natural formula. Plus, the packaging is made from recycled post-consumer plastic and potato bio-resin, which comes from excess potato starch. A 100% recyclable product.
You can get creative with a completely customizable full-color matte label. Design your own or have one of our designers craft one especially for your business. Choose from three fun different flavors: lemon, peppermint, or beeswax.
9. MiiR Vacuum Insulated Wide Mouth Bottle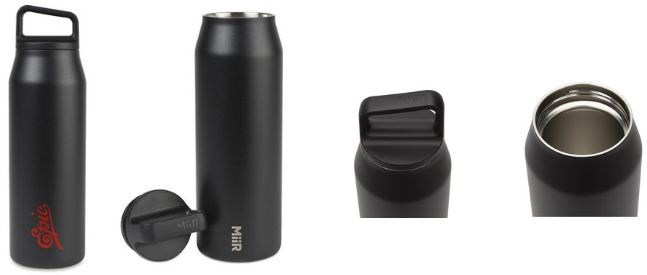 MiiR is a brand name known for its work towards a more sustainable world. The drinkware company sets aside a portion of its revenue on all products to fund projects focused on clean water, a healthy environment, and strong communities. Any one of their products is a great sustainable investment for your marketing strategy, but we personally love this MiiR Vacuum Insulated Wide Mouth Bottle.
Clients or prospects will not only love this product as a gift, but they'll love that your company is supporting and investing in an important cause. This particular bottle makes a great premium giveaway or branded gift because it's made of 18/8 medical-grade stainless steel and it's Thermo 3D vacuum insulated to keep drinks at their proper temperatures. It features a hardshell powder coat for a bold look without peeling. Plus with a wide mouth opening to fit ice cubes and a latchable handle for easy carrying, it's the perfect give for those on-the-go.
Make the bottle stand out and truly represent your company with either a printed or engraved company logo.
10. MiiR Vacuum Insulated Tumbler

Another MiiR product we love is this 16-ounce vacuum insulated tumbler, perfect for keeping drinks warm or cold. It's made with 18/8 medical-grade stainless steel, and features a Hardshell powder coating that will prevent peeling. The lid presses right onto the tumbler and combines with the Thermo 3D™ double-wall vacuum insulation that will keep drinks hot up to 12 hours and cold up to 24 hours.
Each tumbler can be customized with a one-color, one-location print or a one-location laser engraving for maximum brand exposure. And be sure to let your clients or prospects know that MiiR gives 3 percent of revenue back to trackable giving products that support a sustainable future. This bottle will come with a Give Code that will allow your customers to experience the projects you both are supporting with such a product.
11. Wheat Straw Mug

So wheat straw is a natural, eco friendly material. But what exactly is it? It's the straw that's left over after wheat grains are harvested. Wheat straw is commonly treated as waste. Many farmers end up burning it, contributing to air pollution. But it can be used to create products, such as this wheat straw mug. With double-wall construction and a stainless steel liner, this eco friendly mug will keep drinks hot or cold, proving to be both a sustainable and high-value product.
Specifically designed with K cup coffee machines in mind, clients, employees, or customers will love the convenience and appeal of this 14-ounce wheat straw mug. Make it your own with a color print silkscreen logo on the outside of the mug for maximum brand exposure.
12. Earth Travel Mug

Another bold and unique choice for those constantly on the go is this bamboo travel mug. A lot of eco friendly products come in a more natural or organic looking tone. This mug combines the look and feel of a bright and colorful promo product with the sustainable materials of an eco friendly promotional product.
It's made from organic bamboo fiber that's biodegradable and healthy for the planet. Plus, choose from these eight bold colors: blue, brown, green, pink, purple, red, teal or gray. Get really creative with your branding by imprinting your logo using glitter, matte or neon ink.
It comes with a leak-resistant screw on and sip-through lid, making it perfect for on-the-go use. With a matching silicone sleeve and spill stopper, this mug makes a bold statement for sustainability. A percentage of the proceeds from this mug are also donated to Project Aware, an organization that works to reduce pollution in the earth's oceans.
13. Bamboo Bento Box

For workers still working at the office, they'll likely be searching for a product that can keep their meals sealed, secure and safe from germs. This natural bamboo bento box is the perfect option.
Bamboo is a fast-growing plant that thrives without fertilizer or pesticides, making it a sustainable resource for products and good material to harvest again and again. It's used to make this bento box, which is a compartmentalized container that allows you to portion and store a meal. It's perfect for those who might be watching portion control or trying to incorporate different food groups into their diets. A lunchbox and tupperware container all in one - but this particular product is BPA free and made with sustainable, food-grade materials.
The lid is made with a leak-proof silicone sealing ring. Plus, you can pop it off and actually use it as a chopping board. A durable elastic nylon strap keeps the box securely closed. And the divider inside can be moved, just in case you want more of a particular dish one day.
Brand it with a logo, or customize it with a special phrase. Either way, make it your own by choosing from a full-color imprint or laser engraving. The box also comes in either white or black.
14. Bio Plastic Bento Box with Bamboo Lid
This bio plastic bento box combines two different sustainable materials: a bamboo lid and a PLA made base. PLA is a bioplastic made from polyactic acid created with plant starches. This product also fits into the giveback item category, as one percent of sales go towards supporting nonprofits dedicated to protecting the planet.
It's not just a lunch box either, the bamboo lid can serve as a cutting board too. It's a great way to encourage healthy eating, with a simple way to cut up fruits and vegetables. The lid and container are secured tightly together with a matching band. It even includes a fork/spoon combo that attaches to the side. Brand it with an engraved logo right on the lid for a professional look.
15. Eco-friendly Deluxe On-the-Go Lunch Set

For those high valued clients, consider gifting this eco-friendly deluxe on-the-go lunch set, all made from natural bamboo. As sanitation while eating remains first and foremost in many minds, this set is perfect for keeping eating areas clean. It comes complete with the following products:
This cooler features a placemat-style zippered opening that folds down flat into an easy-to-clean eating area. It also has fold-out flaps with slash pockets that offer utensil storage. With an interior bottle strap, side mesh stash pockets, and an adjustable shoulder strap, this cooler has everything your clients will need for a clean, sanitary on-the-go lunch. Add your company name or logo to the front, and your brand will remain top of mind.
This bamboo bento lunch box is the same product as listed above. It's made with bamboo and BPA-free materials and has an interior movable divider for organization.
This cutlery set includes a fork, knife, and spoon that are 100% biodegradable and made of a bio-composite of 15% bamboo fibers combined with 85% PLA. It all comes in a reusable cotton travel pouch for easy transport.
Copper Vacuum Insulated Bottle 17oz
Made from 18/8 stainless steel with double wall vacuum insulation, this 17-ounce hydration bottle will keep beverages hot or cold. It fits in car cup holders for easy on-the-go use. A slim body design allows for easy gripping, plus a screw-top lid keeps your drinks leak-proof.
16. 100% Recycled Fleece Blanket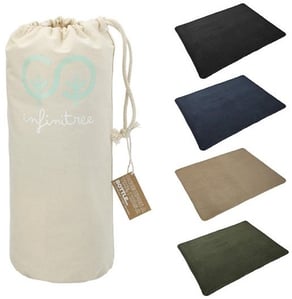 We're all about comfort these days as we're confined to our homes. This eco fleece blanket combines that homey feel with the social awareness and responsibility that your customers crave.
It's made with polyester microplush that's 100% recycled PET material. It measures 50 x 60 inches unfolded and can fit into the 100% cotton canvas pouch it comes with. This pouch contains a cinch rope to enclose the blanket and offers a handle on the bottom for easy carrying or hanging options.
It's comfort and sustainability all wrapped up into one. Consider branding the pouch with either a color print silkscreen or digital print transfer. The blanket also comes in black, green, natural or navy.
Update Your Company's Green Marketing Strategy
By promoting your brand with eco-friendly promotional products, your company is taking part in a revolutionary movement that defines this generation. Decrease your company's ecological footprint and increase brand awareness with sustainable promotional products you can feel good about giving away.
But just because your company chooses to use eco-friendly promotional products doesn't mean that your work is done. Make sure to promote other sustainable practices in your company workspace. Implement these practices in your daily office routines:
Encourage employees to bike or use public transit for their commute
Revamp office recycling practices
Use green materials like recycled paper
Reduce overall paper waste from printing (not everything needs to be printed!)
Utilize fair trade and organic products
Only use non-toxic cleaning products
These are just some ideas to better your company as a whole. Once you've got the knack for sustainability in marketing, every aspect of your company should reflect eco-friendly values as well. You'll see the results as your prospects and customers become more loyal to your brand as a whole and respect what you value as a company.