Welcome to my annual Trade Show Marketing Giveaways list of unique ideas. This list is based on what our customers are asking for, trend analysis shared at industry events, and in-depth research on what your customers want.
Since I started featuring unique ideas, some aspects of the perfect trade show giveaway will never change: they need to be budget-friendly, easy to transport, and attractive to booth visitors. Nowadays, companies are focusing on giveaways that support their overall marketing strategy, and activate their brand beyond just a pen.
Trade Show Marketing Trends
Two emerging promotional product trends for 2020 demonstrate that giveaways are changing. First, clients are looking for products that will inspire action, emotion, and loyalty for their brand—not just another trinket with a logo on it. Second, custom products are growing in popularity since technology allows us to print across entire surfaces, and semi-custom products like apparel are beginning to look like full custom products. With so many products that look the same, your brand needs to stand out, and this can be achieved by creating custom messaging, custom imprinting, and fully customized products.
I still believe that handing out cost-effective promos at trade shows is essential for generating a high volume of brand exposure. But today, your promo items need to have a higher perceived value to attract quality leads to your trade show booth. Brand awareness is essential, but leaving the trade show with a full list of highly qualified business leads is even better.
Here is my 2020 list of popular unique trade show giveaways that will help you think beyond the pen and make a significant impact on everyone who visits your booth.
1. TouchTool
Give attendees something they won't want to leave the house without. This giveaway is a small and compact tool that will make the user say, "Never again!" to touching surfaces that have a lot of germs like door handles and buttons. With the invention of the TouchTool, anyone can press, pull, and turn objects at their fingertips, safely.
Available in durable, high-strength ABS plastic or in solid, antimicrobial brass, this tool can be easily attached to keys for quick and easy access.


2. Blue Light Glasses
Blue light glasses are a triple threat promotional item: useful, durable, and customizable.
In 2020, people will continue to spend more and more time looking at screens. As they do, they will need to protect their health and sleep cycles from the intense blue light that screens and other modern LED lights give off.
As promotional products, blue light glasses deliver an impressively low cost-per-impression because people will want to wear them everywhere. And as people wear their fashionable new glasses, they showcase your brand with tasteful messaging around the temples.
3. Reusable 2-ply Face Mask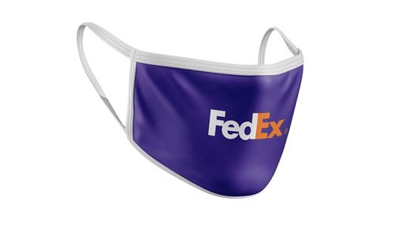 This 2-ply face mask is a giveaway that attendees can use daily to protect themselves and others. With an over the ear loop that allows for comfort and ease of taking on and off and a fully sublimated exterior, this promotional product will prevent the spread of germs and promote your brand.
4. Screen Cleaning Spray and Microfiber Cloth
The Spray & Wipe is the modern microfiber cloth. I love this item because it will easily remove smudges and fingerprints from phone or laptop screens. It's the perfect size since it is a bit bigger than a lighter but still contains both a screen cleaning spray and microfiber cloth.
This unique promotional item can win a long term spot on office desks because it's attractive, useful, and re-usable. Recipients can refill the Spray & Wipe with the cleaning solution of their choice once they've sprayed and wiped their way through the included solution.
5. Custom Pantone Matched Socks
One of our clients who ordered socks from us as a trade show giveaway actually won an exhibitor award at a recent event for having the Best Promotional Products! I'm recommending logo socks as a trade show giveaway because they are inexpensive for an apparel item, yet highly effective for making big impressions.
Customers want apparel items they'll actually wear, and socks are a gift that universally pleases everyone. Just select up to three colors and your socks will be custom-knit with a unique design. Use socks as trade show giveaways, but don't forget to order some pairs for your employees as well!
Find Them Here 👏
BONUS: Complete the look with a custom hang tag
Add an even more personal touch and give your custom socks a true retail feel. Full-color hang tags allow you to include your tagline or any other message. The included tab for hanging means you can create a showstopping display at your next trade show.
6. Microfiber Cloth with Full-Color Booklet
Why settle for a typical pamphlet when you can combine it with a promotional item? The Tek Booklet with Microfiber Cloth is versatile, portable, and the ideal way to get your message across. This handy item comes in single- or double-fold options, providing fully customizable brand exposure. The microfiber cloth, a must-have for cleaning screens, cameras, and glasses, comes packaged neatly in a PVC pouch. Your logo and branding will pop with a beautiful full color process imprint.
7. Webcam Cover
Show your clients and leads you've got their privacy covered in a fun and creative way. Instead of just a rectangle with a logo, these custom shape webcam covers can be personalized to the exact design of your choice. They are a webcam cover that people will actually want to slide onto their electronic devices.
Because people spend so much time looking at screens, earning a spot on a laptop or monitor is a huge marketing win.
BONUS: Pair the webcam cover with a custom card
Expand on the messaging of the webcam cover itself with a fully-customizable card that the webcam cover comes attached to. The cover itself is a reminder of your brand every time your lead or customer looks at their device. The card is your space to explain why they should remember you.
8. Reusable Metal Straw with Case
Plastic straws may be a bit controversial at the moment, but this eco-friendly reusable metal straw will be a hit with any recipient. The extendable design can become any length you need, and the rubber tip makes drinking from this straw enjoyable. Recipients will love the carrying case that allows them to keep this straw in their bag and use it at a moment's notice.
9. Tuscany™ Card Holder with Metal Ring
Cell phone accessories are never out of style when it comes to trade show giveaways. The Tuscany™ Card Holder elevates the typical mobile accessory to a new level with sophistication and style. This phone pocket, made of polyurethane leatherette includes a rotating metal ring that can be used as a grip or a stand. Credit cards, IDs, business cards, and more can be inserted into the useful pocket. With several attractive color options, your company's imprinted logo is sure to stand out.