Editor's Note: This post was originally published in March 2014 and has been updated with fresh ideas to inspire your trade show marketing.
Since I first posted this article a couple of years ago, promotional product trends have shifted. Companies are focusing on giveaways that support their overall marketing strategy, connect with their audience, and elevate their brand. Of course, there are some aspects of the perfect trade show giveaway that will never change: they need to be budget-friendly, easy to transport, and attractive to potential booth visitors.
Think Beyond the Pen
An emerging promotional product trend for 2017 is that prospects are expecting higher-quality giveaways. I still believe that giving away cost-effective promos at trade shows is essential for generating brand exposure, but utilizing higher-quality, more expensive promos is now needed to attract quality leads to your trade show booth.
This isn't to say that traditional trade show giveaways priced at $1 - $3 are obsolete - there's still plenty of them on this list. The point is that higher-quality promotional gifts have more potential to attract visitors to your booth, where you can then get credible information from a prospect before giving them the higher-quality gift to qualify them as a credible lead.
Here is my updated list of favorite unique trade show giveaways that will help you think beyond the pen and make a bigger impact on everyone who visits your booth.
1. PopSocket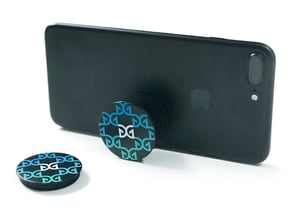 Here's another version of a phone stand with a unique twist. PopSockets stick to the back of your smartphone or tablet with a rinseable gel to use as a phone stand or grip. Be sure to mention to prospects that this stand is ideal for texting or video chatting to make it applicable to their lifestyle. Leverage full color imprinting and brand this product to make for a worthwhile giveaway that will be useful to your recipients. Learn more here.
2. Smart Wallet for Mobile Devices
I have a Smart Wallet on my iPhone, and whenever I go out people are constantly asking me where I got it. This slim silicone pocket attaches to the outside of any mobile device and is perfect for storing driver's licenses, credit cards, hotel keycards, business cards, and cash. It even protects card strips from deactivation. I love the Smart Wallet as a trade show giveaway item because it can be useful to attendees right away.

UPDATE: Since we first blogged about the Smart Wallet, this product has become one of our most popular trade show giveaways!
3. Petite Loop Cell Phone Accessory
I discovered the Petite Loop at the PPAI Expo, the largest promotional products trade show in North America. I was walking the trade show floor and juggling armfuls of samples and catalogs, so managing my cell phone on top of all that was a challenge. The Petite Loop easily freed up one of my hands while still allowing me to keep my phone at the ready. I was instantly hooked!
This is a relatively new product to become a trade show giveaway, so it's sure to catch peoples' attention when you display it in your booth. This unique tech accessory works with any mobile phone that has a case; just tuck the ends of the ribbon in between the phone and the case. Learn More Here.
4. Keystand Keychain
You know the saying that eyes are the gateway to the soul? Well, I believe that a person's keychains are a gateway to their personality. Think about it - you can often tell a person's interests, places they've traveled, and brands they admire from their key rings.
Give your trade show visitors a chic keychain to add to their collection. The keystand keychain also functions as a phone stand for easy smartphone use on-the-go. Just imprint your logo on this miniature promotion to start making impressions. Learn more here.
5. EOS Lip Balm
The great thing about branded lip balm is that it's useful to everyone, and EOS lip balm is in high demand. Though EOS products average at a higher price point (starting at $3.76 each) than your typical trade show giveaway, the investment in a retail brand promotional product is worth it. Another promotional product trend for 2017 is that consumers, particularly millennials, deeply resonate with promo products from name brand retail companies. They recognize that brands like EOS are industry leaders and want a product that they consider valuable. Incorporate retail brand inspired trends in your trade show marketing strategy with nearly 9 different flavors of EOS lip balm. Learn more here.
6. Microfiber Cloth
This soft microfiber cloth is ideal for cleaning smudges and fingerprints on your favorite devices and accessories. Versatile and portable, this cloth will quickly become a must-have for anyone with mobile phones, eyeglasses, sunglasses, cameras, tablets and other delicate surfaces. Your logo and branding will pop with a beautiful full color process imprint. Best of all, this product is available in custom shapes, sizes, edges and packaging to express your brand and meet your exact needs. Learn more here.
7. Luminous USB Car Charger Key Strap
Remind people of your brand every time they use their keys!The Luminous USB Car Charger Key Strap is the ultimate portable charger, since you never need to remember to bring it along. Available in several colors and measuring 4 3/4" x 1", this handy product is compatible with most standard cigarette lighter ports. Plus, the charger easily disconnects from your keyring for even simpler use. Learn more here.
8. Heathered Jersey Knit Noprene Koozie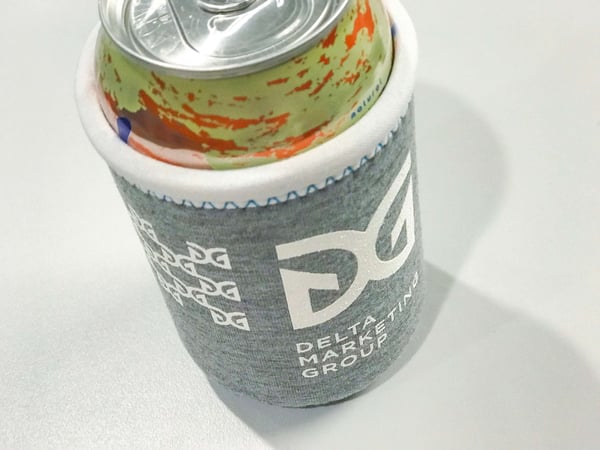 You can really feel quality of this collapsible can insulator. It's made of wetsuit material, not foam, making it more durable and fun to use than a typical promotional koozie. Thoughtful details on this product truly make your brand pop, like customizable colored stitching and room for your branding on the front, back, and all the way around! Learn more here.
9. Socks
I don't think I've ever recommended an apparel item as a trade show giveaway, but hey - there's a first time for everything! I'm recommending logo socks as a trade show giveaway because they are cheap for an apparel item, yet highly effective for making impressions.
Customers want apparel items they'll actually wear, and socks are a gift that universally pleases everyone. Just select up to three colors, and your socks will be knit from scratch with a unique design. Use this socks as trade show giveaways, but don't forget to order some pairs for your employees as well! Learn more here.
The key to the most successful trade show giveaways is finding something that hits the sweet spot between unique, attractive, and useful. These products are just a glimpse into the world of promotional products beyond the pen. For more ideas, explore our promo search website.