Looking for promotional giveaways for a trade show or high-quality swag for a new hire welcome kit? Custom water bottles make a great gift, regardless of the scenario.
Everyone drinks water – at work, at home, and everywhere in between. And everyone needs a reliable water bottle they can take on the go. Customized water bottles are the perfect opportunity to promote your brand while helping your customers and employees stay refreshed wherever life takes them.
Plus, there's an endless range of options, from budget-friendly bottles to high-end models from top brands, including YETI, Stanley, and Nalgene. The world is your oyster when it comes to customization: you can select from multiple colorways, add your logo, and engrave them for a next-level personalized gift.
Best Customized Water Bottles to Quench Your Team's Thirst
From custom insulated water bottles that keep your drinks cold to high-end self-cleaning water bottles, there's something for everyone. Here's a look at some of our favorites.
1. Stanley Quencher H2.O FlowState™ Tumbler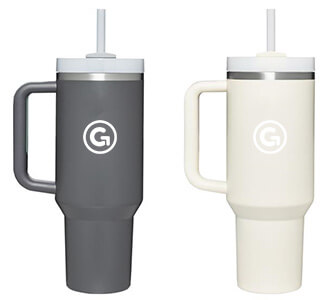 The Stanley tumbler is more than just a water bottle – it's this year's must-have fashion accessory. It's easy to see why: with vacuum insulation, drinks stay cold for hours, and the FlowStateTM lid offers three different ways to drink. Crafted from recycled steel, this bottle effortlessly blends style and sustainability.
2. H2go Ascent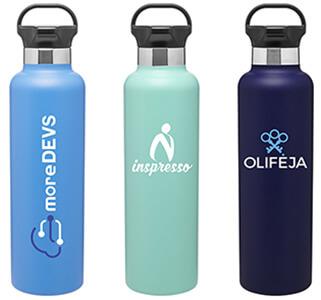 Custom insulated water bottles don't come much better than this bottle from H2go. It features a double-wall stainless steel construction with copper vacuum insulation and a threaded lid. All that engineering brilliance adds up to a water bottle that keeps drinks ice-cold for longer, promising added refreshment on your recipients' next adventure.
3. The Hippo Mug & Straw Lid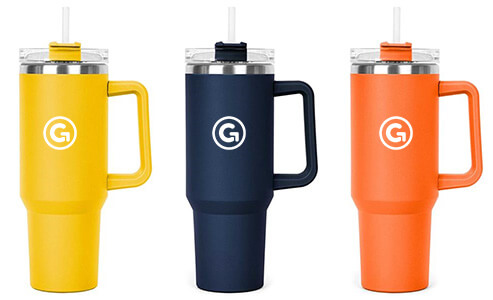 Not everyone is a huge water drinker: some people prefer a good ole' cup of coffee. If that's the case, they'll love this insulated mug that keeps drinks warm for as long as 7 hours. If you use it for water, it's even better – this mug will keep your water ice-cold for up to 11 hours.
4. Poly-Clean™ Plastic Bottle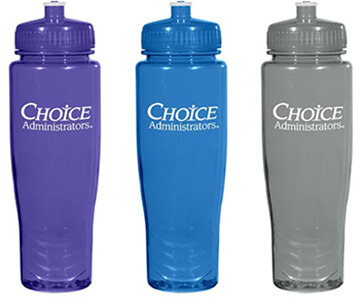 This colorful option comes with a range of customization options. Choose from nine different colorways to find the perfect match for your brand, or order a variety of colors and let your team pick their favorites. There's also a leak-resistant lid and a tapered design that ensures this bottle will fit snugly in standard cup holders.
5. Thor Copper Vacuum Insulated Bottle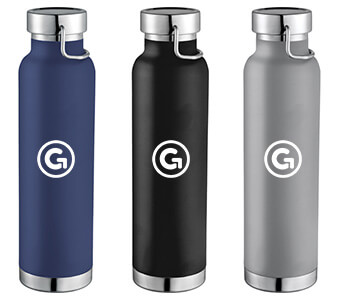 With a sleek, stylish design and performance to match, this vacuum insulated water bottle is the perfect gift for team members who are always on the go. There's a spill-resistant lid, stainless steel carrying loop, and careful craftsmanship that prevents condensation on the outside of the bottle.
6. Econscious rPET & Bamboo Hydration Bottle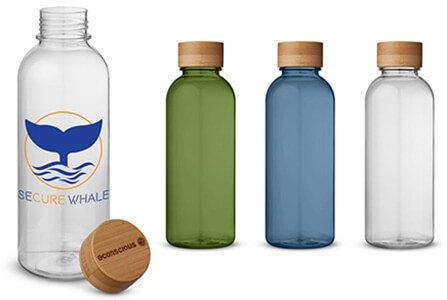 Custom water bottles are a great sustainable swag option, helping reduce everyone's reliance on single-use plastic water bottles. But some customized water bottles are more eco-friendly than others, like this option made entirely from post-consumer recycled plastic bottles.
7. H2go Elevate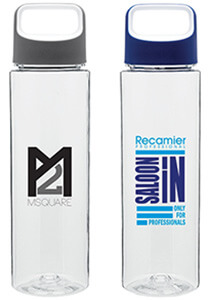 This elegant bottle looks just as at home in the boardroom as it does on the beach. With a transparent plastic design, it's the perfect match for any upscale brand looking to make a lasting impression.
8. Nalgene Sustain On-The-Fly Bottle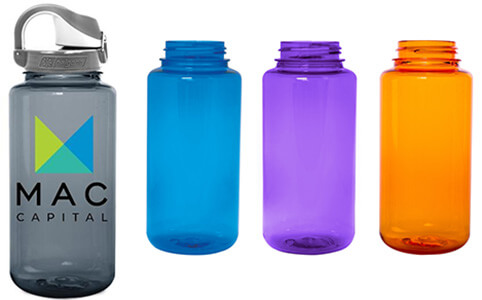 Nalgene is a legendary name in the water bottle industry, with a reputation for creating durable, high-quality products that stand up to whatever you throw at them. This custom water bottle is no exception. Even better, it's made with 50% recycled materials, meaning it isn't just a water bottle you'll look good drinking from, it's one you'll feel good about too.
9. Tritan Water Bottle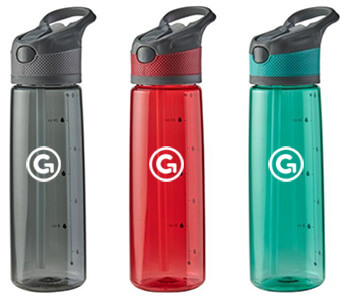 This custom water bottle is the perfect gift for the most active members of your team. It's built for exercise, with a durable plastic design and a flip-up drinking straw that's easy to drink from. Whether your gift recipients are training for a marathon or just running between meetings, they'll love the versatility of this custom water bottle.
10. Atrium Aluminum Bottle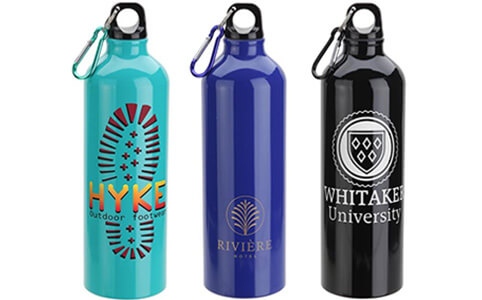 With aluminum construction and a built-in carabiner, these durable custom water bottles are the perfect option for your next event, whether planning a golf tournament or a major trade show.
11. Halcyon® Deluxe Bottle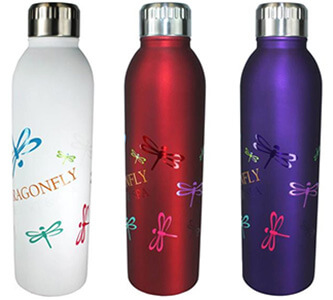 These custom insulated water bottles keep drinks cold for up to 24 hours, making them the perfect option for busy professionals who are always on the move. They boast a soft touch feel and come in a range of different color options and finishes.
12. Basecamp Tundra Bottle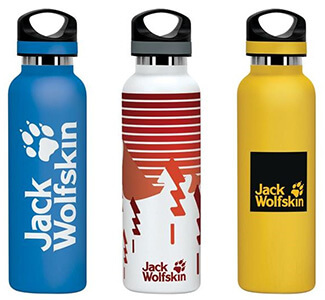 This water bottle is an upscale take on the typical aluminum water bottle, featuring a powder coat finish and high-quality construction featuring double wall insulation and a BPA-free insulated lid. Basecamp, the makers of these custom water bottles, donated $125,000 to the Wounded Warriors Project last year, meaning the proceeds from your purchase go toward a great cause.
13. H2Go Vertex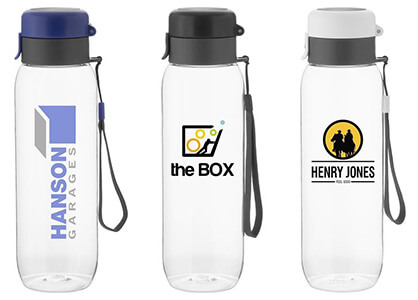 Add your brand name, logo, or message to these custom water bottles from h2Go. Their transparent design ensures your message takes pride of place, and their practical features ensure your gift recipients will love using them.
14. Vesi Hydration Tracking Tritan Bottle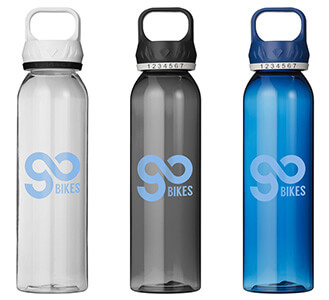 These custom water bottles offer a built-in tracking dial that ensures your team stays hydrated throughout the day. Your recipients can use it to track every bottle of water they drink to make sure they always drink their recommended eight glasses of water each day.
15. YETI® RAMBLER with Chug Cap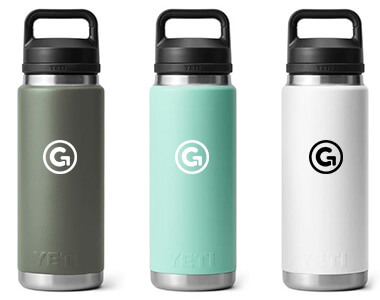 YETI® is one of the top brands in the drinkware industry for good reason. Their RAMBLER bottle is packed with the latest and greatest water bottle technology, from double-wall vacuum insulation to a shatter-resistant drinking spout. It's available in a range of finishes, with stainless steel and DuraCoatTM options, as well as a wide selection of colors.
16. CORKCICLE® Sport Canteen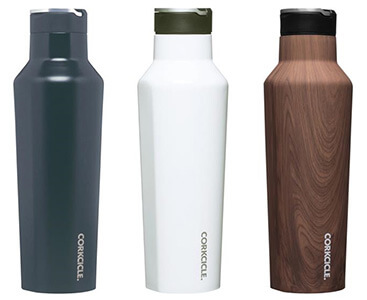 If you're looking for custom water bottles with logos that support important causes, look no further. Every purchase of these CORKCICLE® bottles brings water to people in need thanks to the brand's partnership with charity : water. That's not the only thing to get excited about, with a non-slip bottom, triple insulation, and a durable finish, this water matches a charitable purpose with high-end features.
17. Veranda Motivate Bottle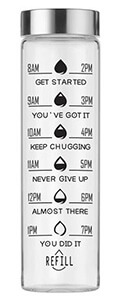 Help your team stay hydrated with this bulk custom water bottle option from Veranda. It comes with clear markings that help your recipients stay on top of their hydration levels all day long. Plus, the elegant glass and stainless steel design is sure to catch the eye, making this a fashion-forward choice too.
18. Pro+ Sports Bottle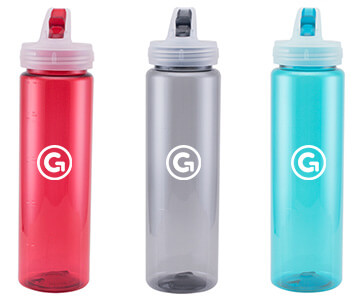 With a huge 32 oz. capacity, these custom sports water bottles are the perfect gift for individuals who love to exercise. There's a carrying loop and flip-top lid for increased portability, plus a wide range of color options that help you match your brand to this bottle.
19. Hydro Flask Wide Mouth Bottle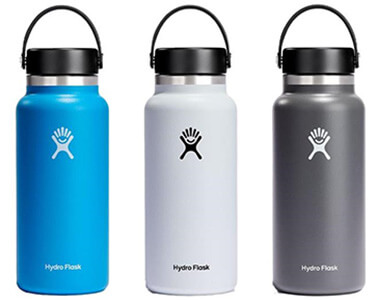 Hydro Flask bottles are an ever-popular option. The brand is renowned for its high-quality water bottles. This customizable water bottle features double-wall insulation that keeps water cold for up to 24 hours, plus a wide-mouth opening that makes it easy to add ice or top off your drink.
20. Denali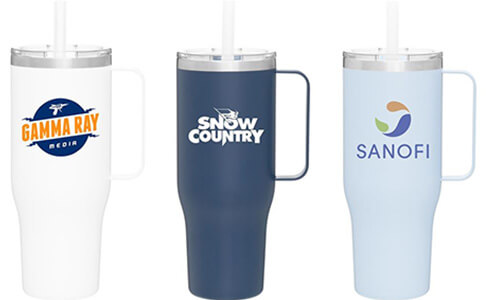 Sometimes, bigger is better. This travel bottle from Denali features a 40 oz. capacity, more than enough to keep people hydrated all day long. It's the perfect option for hot or cold liquids, with an insulated thermal design that ensures your drink stays at the same temperature for hours.
Choosing The Best Custom Water Bottles for Your Business
No matter the scenario, branded water bottles make a great gift. From bulk custom water bottles for large-scale events to more premium custom insulated water bottles, you'll find an option for every taste.
If you need some support to figure out which custom water bottles are the right fit for your business, get in touch with a GoDelta Brand Consultant. Our team will work closely with you to design customized water bottles that bring your brand to life.