There are few better chances to get your brand in the hands of your customers every day than by giving away custom microfiber cloths with your business's logo.
A custom microfiber cleaning cloth is the perfect gift, representing a budget and environmentally friendly option. Plus, microfiber cloths are highly customizable. They're available in a variety of shapes, sizes, and colors, and you can add your logo to any design.
With so many advantages, it's easy to see why custom printed microfiber cloths are such a popular corporate gift or promotional giveaway. It's a product people will use several times a week, and when they do, you can bet they'll be thinking about your business.
Best Custom Printed Microfiber Cloths to Put Your Logo On
A custom microfiber cleaning cloth is always a popular trade show giveaway. They can be used to clean all kinds of things, but unless you have a pair of eyeglasses, most people don't have one of their own.
Your business has the power to change that by gifting trade show attendees, prospective customers, and loyal employees one of these custom microfiber cloths.
1. Medium Microfiber Cloth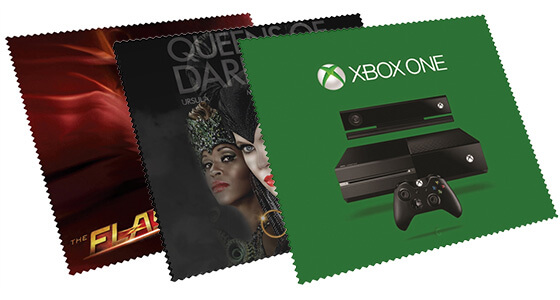 With a buttery soft texture, this 230 GSM custom microfiber cloth is perfect for gently cleaning screens, smartphones, sunglasses, and more. It's fully customizable, with the ability to add a full-color imprint of your business logo or message for a truly memorable promotional giveaway.
2. Dual Sided Microfiber Cloth
What's better than one microfiber cloth? Two microfiber cloths! This two-sided custom microfiber cloth features a plush terry cloth for cleaning screens and glasses on one side, and a silk microfiber material for polishing your devices on the other.
3. Sunglass/Cell Phone Microfiber Pouch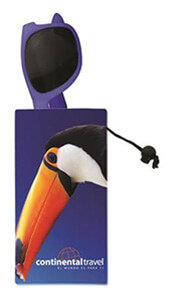 If you've ever owned a nice pair of sunglasses, you know how hard it can be to keep them scratch-free. But with this bespoke pouch, those dings and scratches are a thing of the past. This case doesn't just provide protection – the soft fabric can also be used to wipe off fingerprints and other smudges, making this a perfect custom microfiber lens cloth. It's the best of both worlds.
4. Wheat Straw Screen Cleaner Stylus Pen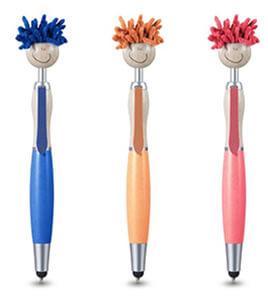 This cute gift is a three-in-one product: a traditional ballpoint pen, touch screen stylus, and screen cleaning device, all in one. Its eye-catching design will draw attention wherever your recipients use it. It's a conversation starter that's sure to boost the visibility of your brand.
5. 4-in-1 Microfiber Mousepad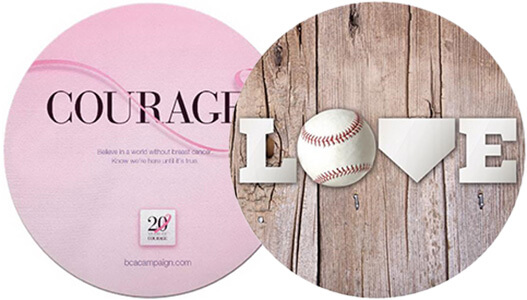 Everyone loves a multi-purpose gift, and this combo mousepad and custom microfiber cleaning cloth is no exception. The low-profile mousepad is thin enough to be stored in most laptops, making this an ideal gift for busy business travelers.
6. Tek Booklet with Microfiber Cloth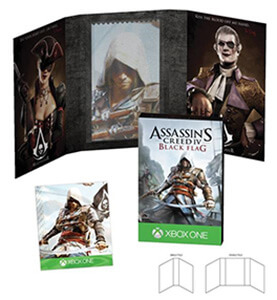 Standing out at a trade show or conference can be challenging, but when your business's pamphlet looks radically different from everyone else's, it's far easier to make a lasting impression. This fold-out Tek booklet comes with an enclosed microfiber cloth that's completely customizable to your business's artwork design.
7. Clean Screen Microfiber Kit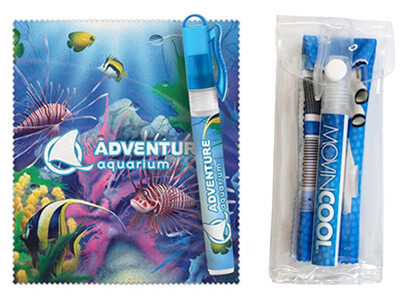 Sometimes, even the best microfiber cloths need some assistance to clear away stubborn marks. This screen cleaning kit comes with a cleaning spray and a microfiber cloth, giving your promotional giveaway recipients everything they need to get their devices gleaming.
8. Cool Swipe™ Powered by DigiClean® Plus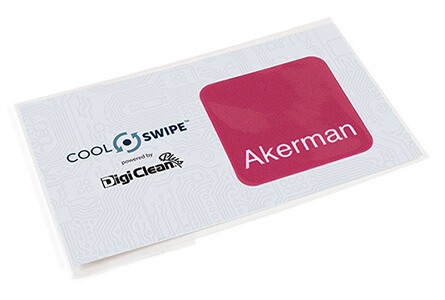 These antimicrobial wipes are specifically designed to clean smartphones, tablets, and laptops. They offer a surefire way to remove all kinds of dirt and grime from your devices. Choose from a variety of different shapes and sizes, including square, circular, and rectangular options.
9. Antimicrobial Microfiber Screen Cleaner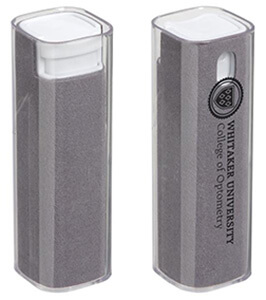 This might look more like a high-end make-up item, but it's actually a two-in-one cleaning spray and microbial wipe. The spray bottle is wrapped in a microfiber cleaning cloth, which is covered in a plastic casing that keeps the cloth clean. The cleaning spray is refillable, making this a long-lasting gift that's sure to represent your brand for years to come.
10. Deluxe Dual Sided Microfiber Cloth in Phone Case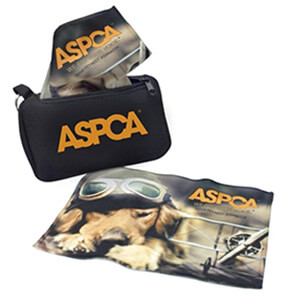 Microfiber cloths can be easy to misplace, but not when they come with their own travel case. This custom printed microfiber cloth offers two-sided photo image quality, enabling businesses to get creative with their designs. The case enclosing it doubles as a phone case, making this giveaway item the perfect match for business travelers.
11. Eco Smart Cloth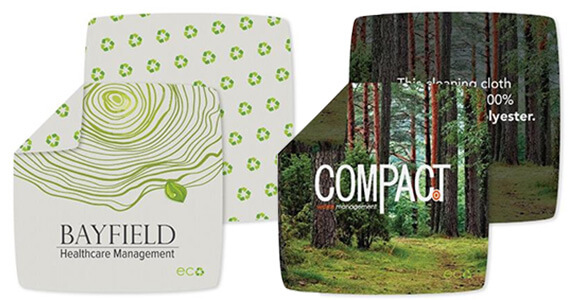 Ethically manufactured from recycled water bottles, this eco-friendly custom microfiber cloth is the perfect sustainable swag option. There's no need to sacrifice on style either: with three size options, plus full-color designs available on one or both sides, businesses can create the perfect cloths for their brand.
12. Luxury Microfiber Cloth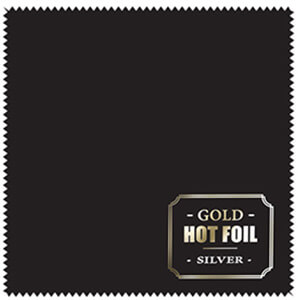 This custom microfiber cloth is a sophisticated option, with a heavyweight, luxurious material that's specially designed to clean screens and glasses without leaving a scratch. With elegant gold or silver design choices, it's a high-end giveaway for businesses with upmarket clientele.
13. All-In-One Cleaning Kit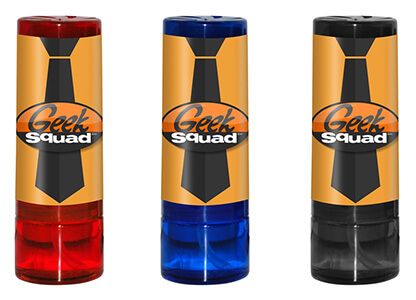 The ideal solution for travelers, this portable custom microfiber lens cloth and cleaning kit is a compact solution that fits in any bag or purse. The cleaning cloth and bottle are packed neatly together, with a vented top that ensures the cloth dries out between every use.
14. Large Microfiber Cloth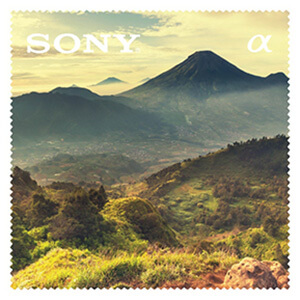 Sometimes, bigger is better. If your gift recipients need to clean their computer screen or even a tablet, smaller cloths slow down the process. This 10" x 10" custom microfiber cloth is the ideal solution for cleaning larger devices quickly.
15. Tablet Microfiber Cloth Pouch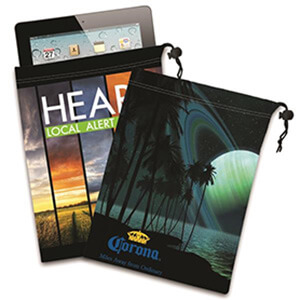 Tablets are the ultimate device for business professionals, blending the best of both smartphones and laptops into one portable, yet powerful device. But unlike laptops, you don't often see travel cases for tablets – until now. This tablet pouch is made of soft microfiber cloth fabric, keeping devices smudge-free and secure.
Ready to Design the Perfect Microfiber Cloth for Your Business?
Every day, millions of people use microfiber cloths to keep their most cherished possessions sparkling clean. From smartphones to eyeglasses, a custom microfiber cloth is the perfect solution for keeping delicate belongings in tip-top condition.
Custom printed microfiber cloths come in all shapes and sizes. If you need some assistance determining the best option for your business, reach out to a GoDelta Brand Consultant. We'll partner closely with you to design the perfect promotional items for your brand.