Trade show and career fair attendees today want promotional items that are innovative, fun, and also sustainable. That's why, we're particularly excited about a new material called wheat straw plastic: it checks a lot of boxes for marketers looking for new sustainable swag ideas.
Wheat straw makes it possible to offer sustainable promotional products without restricting your ability to choose a product that's the right fit for your brand.
Here's the background on this new material, which is really just an improved way to recycle a traditional agricultural product.
So, what is wheat straw plastic?
Wheat straw is a byproduct from growing wheat grain. It's the dry stalk plant residue left behind after the harvest of grain. Although common straw is mostly a waste product, people have historically found uses for leftover straw such as animal feed, thatched roofs, and bedding.
An important new use has emerged for straw in the last few years: replacing plastic.
Like plastic, wheat straw is both light and strong, making it one of several plants used today to make bioplastics. But unlike plastic, wheat straw isn't made from fossil fuels.
Almost any promotional product that's made from plastic can be made with wheat straw. The material is an earth-friendly alternative to plastic and can be used for promotional products from pens to lunchboxes to sunglasses.
Here are some common questions people have about this new material:
Are promotional products from wheat straw biodegradable?
Yes, in the case of items that are made entirely from wheat straw, such as the carrying case for this stainless steel reusable straw.
Other products mix wheat straw with conventional plastics like polypropylene and cannot be composted or recycled. In general, any product identified as a poly-blend or as dishwasher safe is not biodegradable.
Is wheat straw gluten free?
Yes. Despite the name, wheat straw is gluten free.
Because straw doesn't contain any wheat grain, it doesn't contain gluten. People with gluten allergies can still use wheat straw cups and utensils safely.
Wheat straw promo products in action
Many promotional products that are made from plastic can be made to incorporate wheat straw. Below is a list of current examples. But this list is by no means exhaustive. Wheat straw can dramatically expand your sustainable swag options.
Imprinted utensil lunch set made from wheat straw
These lunchboxes make popular employee gifts at offices where workers tend to dine in. The fork, knife, and box are all made with wheat straw. For extra sustainability points, reusable lunch sets can replace takeout boxes made out of foam or waxed paper.
Personalized wheat straw Malibu sunglasses
Be ready to have the coolest trade show or career fair stand with these wheat straw shades. The branding on these is subtle, a small logo or business name on the temple. But subtle is good. People are more likely to wear branded apparel when the marketing message is subtle and classy.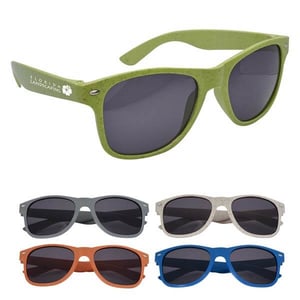 Buildable reusable straw kits
That's right, these are wheat straw ... straws. The collapsible straw and cleaning brush fit together in a handy carrying case. With restaurants and coffee shops choosing to discourage the use of disposable straws to promote ocean health, people appreciate having a reusable alternative. It's just a bonus that this one is made of wheat straw.