Believe it or not, it's time to start thinking about the holiday season. We've been talking a lot about being proactive with your Q4 gifting strategies due to the ongoing global supply chain issues. When it comes to employee gifts, the message is the same. Act now to ensure your employees' holiday gifts are high quality and unique.
Why Give Your Employees Corporate Holiday Gifts?
Looking beyond the fact that employee appreciation is just nice in general, corporate holiday gifts can improve your workplace in several different ways. Here's a quick look at some facts that might be eye-opening:
According to

the Harvard Business Review

, 40% of employed Americans say they'd put more energy into their work if they were recognized more often.

HubSpot reports

, 69% of employees say they would work hard if they felt their efforts were being better recognized.

Gallup's State of the American Workplace Report

shows that if organizations were to double the number of employees who received recognition, they would experience a 24% improvement in quality, a 27% reduction in workplace absence, and a 10% reduction in shrinkage.
So whether your goal is to increase productivity or just to say thanks, employee gifts are essential, especially around the holidays. Recognizing that it can be a challenge to narrow down the best items to delight employees, we put together this guide of our top 15 corporate gifts selected just for employees.
Gifts for Working From Home
For companies who have their employees working from home, a thoughtful holiday gift helps them do their jobs more effectively. With the right equipment, you can keep your team energized and excited about remote work. Here are our top three options:
Good: Wireless Charger Mouse Pad with Kickstand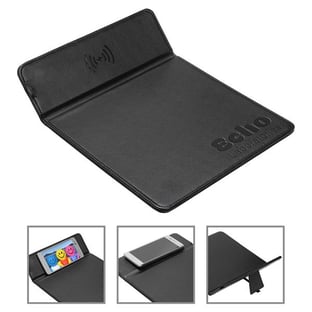 The home office can get cluttered. Especially when electronic devices and their charging cords start piling up. Wireless chargers combined with other functional uses like this wireless charger mouse pad make a thoughtful yet innovative employee holiday gift idea. We especially love that this particular custom wireless charger comes with a kickstand mount, making it great for employees who might use their phones for video conferencing.
The mousepad is 11.75 x 8.75 x .25 inches, made out of PU leather, and comes complete with a micro USB cable. It can be personalized with a deboss imprint on the front for a custom, brand-forward look.
Better: 16-Ounce Corkcicle Coffee Mug

Remote workers need coffee too. In fact, the work from home trend has actually led to an increase in coffee consumption. For those remote workers or hybrid office employees, consider giving this high-quality Corkcicle Mug, designed to keep beverages hot for up to three hours. With triple-insulated technology, remote employees will love that they don't have to keep running to the microwave between meetings. Plus, it boasts a 16-ounce capacity, which will fit right under a Keurig coffee machine. And, if your remote employees do have to leave the house, they can pop on the clear, sliding spill-resistant lid, and their cup instantly turns into a travel mug. Customize this Corkcicle Coffee Mug with a laser engraved logo for a high-quality employee gift idea.
Best: Truman Wireless Charging Desk Organizer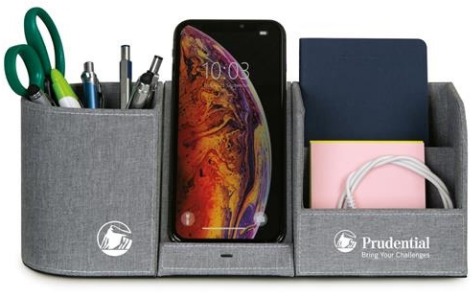 Here's another gift idea to help your remote employees stay organized -- a wireless charging desk organizer. Once again, combining innovative wireless charging technology with a useful item like a desk organizer creates a one-of-a- kind premium gift which employees will get lots of use out of.
The organizer comes in three different parts that can all be magnetically attached or detached based on personal preference. It also has anti-slip rubber feet, which will keep it safe and secure, especially from nosy remote office companions (kids or pets). Choose between several different locations for your company's custom printed logo.
Food Gifts for Employees
Specialty food baskets are an employee holiday gift idea where it's hard to go wrong. What's great about investing in a custom food basket is you can pick and choose from a variety of different snacks, treats, or even fresh food options. Plus, you can easily pair a food gift with another branded item to create a high-quality holiday gift box that can be sent right to your employees' homes. Here are some of our favorite food gifts:
Good: Hot Chocolate Bomb Gift Set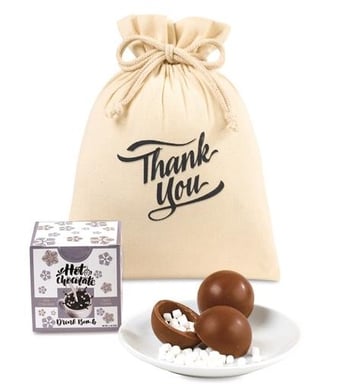 This hot chocolate bomb gift set is a unique spin on the trending drink bombs taking over social news feeds. It comes complete with a hollow ball of milk chocolate filled with mini marshmallows. Just pour hot water over it, and the ball magically transforms into a cup of steaming hot chocolate.
But what's really cool about this gift set, is the hot chocolate bomb can be paired with a 16-ounce branded drinkware item of your choice bundled together in an imprinted gift bag for a truly custom employee holiday gift.
Better: Family Pizza Night Gift Set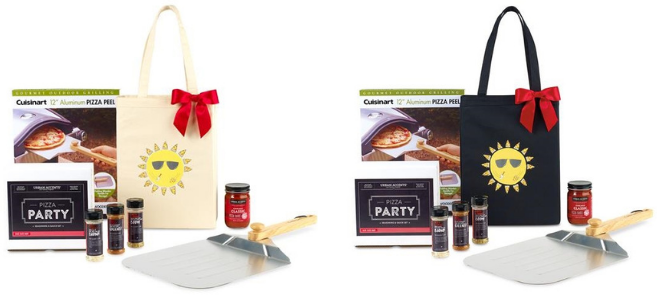 An even more unique employee holiday gift idea is this pizza gift set which provides fun for the whole family. Packed inside is everything needed to create an authentic, homemade, fresh out of the oven pizza. Plus, with seasonings that can be used multiple times, and the included 12-inch aluminum pizza peel tool, this food gift is one of longevity.
Here's what it includes:
Cuisinart 12-inch Aluminum Pizza Peel - a tool made for transferring uncooked pizza to the oven or grill easily and safely. Customize the tool with a laser engraved logo.
Pizza sauce - slow-simmered, with notes of garlic, herbs, and spices.
Herbalicious Seasoning - Made with garlic and herbs.
Hot Cha Cha Seasoning - Made with crushed chili peppers and paprika.
Really Cheezy Seasoning - A blend of authentic cheeses and spices.
Cotton Canvas Gift Bag - Holds everything together for a premium gift option.
Best: Snack Attack Kit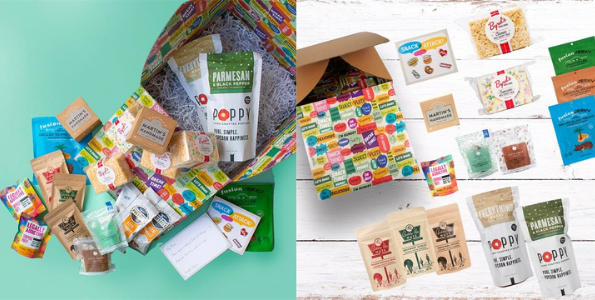 Remember, the best food gift baskets will offer a ton of variety. That's why we love this ultimate Snack Attack kit. Packed full of nearly a dozen different snacks, there's a little bit of flavor for everyone. You can also choose between a light, regular, or deluxe option, varying the quantity of your snack contents. The deluxe box contains the following:
Pretzels
Everything Bagel Popcorn
Parmesan Black Pepper Popcorn
Rice Crispy Treat
Cupcake Rice Crispy Treat
Surprise Party Cracker Cookies
Grilled Island Teriyaki Jerky
Chipotle Lime Jerky
Apple Cider Candy Caps
Apple Cider Caramels with Espresso & Cocoa
Original Spiced Almonds
Rosemary Garlic Almonds
Brazen Buffalo Wing Almonds
The regular box contains all of the above except the almonds. The light box contains the almonds, but not the jerky or Apple Cider candies.
Each kit comes packed in a high-quality gift box including a personalized message card where you can add a line of appreciation to your employees.
Branded Jackets
Company jackets are a thoughtful gift as we head into the colder season. With unique customization options, they also help form a connection with your employees that builds deeper appreciation. Consider customizing jackets with an employee's favorite quote, their name, or nickname for a personalized gift. Here are some of our favorite options:
Good: Custom Knit Jacket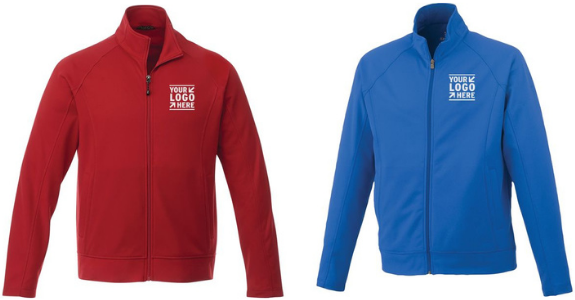 A versatile and lightweight branded apparel item is always a good choice. Employees will love that this custom knit jacket can be worn comfortably all year. It's made with 100 percent polyester jersey knit fabric, includes brushed back details, and is equipped with mesh pocket bags. Plus, with eight different color options, you'll be sure to find one that fits with your branding, as well as your employees' tastes. Embroider your logo on the jacket's chest for maximum brand exposure.
Better: Branded Softshell Jacket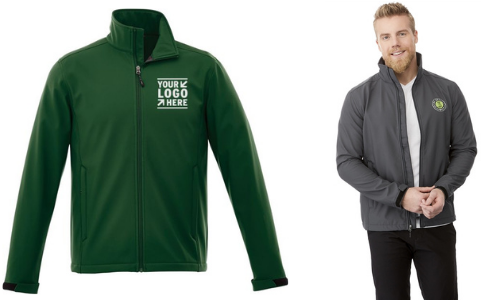 A more premium option is the Maxson Softshell Jacket. Still lightweight, this jacket's waterproof material also provides added protection from the elements. It's breathable, yet durable, with a three-layer construction made with 100 percent polyester material. Employees will look sharp representing your company in this jacket, with its ergonomic sleeves and articulated elbows. It's the type of jacket that is comfortable yet professional. Be sure to embroider your logo, ideally in the upper chest, for high brand visibility both on video calls and at in-person events.
Best: Customized Eco-friendly Jacket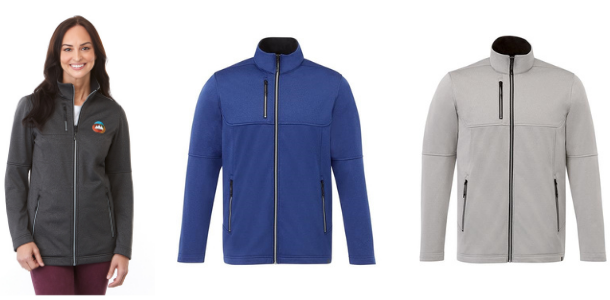 Here's an employee holiday gift that combines sustainability with function. Employees will love wearing a branded jacket that's made with 100 percent recycled materials, while also showing off a high-quality, brand-forward apparel item. This jacket has a fleece lining that's comfortable, breathable, but also durable. With three-layer waterproof construction and a water-repellant finish, employees can wear it outside the office, to sporting events or concerts, or wherever their travels take them. Another innovative feature? The jacket includes a "no contact keychain" that can be used to open doors, press elevator buttons or touch other high traffic surfaces. All-in-all, it's a great gift for those employees now returning to the office.
Customized Tech Items
Branded tech items make an excellent gift for employees, whether they're working in the office or working from home. With virtual meetings becoming a popular way to collaborate in the workplace, employees will appreciate holiday gifts that make their day-to-day work schedules easier. Think about useful items that keep employees powered on. Also consider items that can help create a sense of unity among your company, especially on video calls.
Here are some of our favorite customized tech items for employees this holiday:
Good: Custom Waterproof Earbuds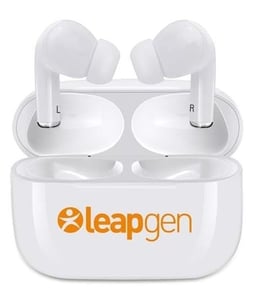 Earbuds are a simple yet useful holiday gift idea that employees will love. Take things a step further and invest in these custom waterproof earbuds that can be branded with a full-color logo. Employees will love that they can easily be connected to any of their devices with Bluetooth technology, plus when paired with the convenient charging case, it's an easy item to keep track of and always have on hand when needed. These high-quality earbuds offer ultra stereo sound quality and built-in dual microphones that employees will love using during meetings or virtual conferences.
Better: Branded Power Bank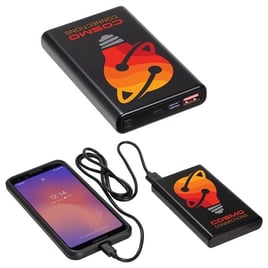 There's nothing worse than having a work device die in the middle of an important meeting. Help ensure this never happens to your employees by giving them a branded power bank for their at-home office or on-the-go work trips. This high-quality branded power bank is a premium item, complete with an 18W power delivery for USB-C ports, or Quick Charge for USB output. Brand your company's logo with either a digital top or pad top imprint.
Better: Skullcandy Wireless Earbuds
For a retail-inspired gift that you can bet employees will recognize and appreciate, consider the Skullcandy Wireless earbuds. These tiny devices pack a ton of utility, including touch controls, premium active noise canceling, personal sound tuning, and wireless charging. With one single charge these headphones will offer up to five hours of playback time, plus the case and earbuds can be fully charged in just 2 hours. Personalize each earbud with a branded logo and employees will love the usability, versatility, and high brand recognition of this employee holiday gift idea.
Branded Bags
Branded bags are not only a useful and versatile holiday gift idea, but they can also be paired with some of the other product categories we mentioned above to create a premium holiday gift package. You can easily pack in other tech items, holiday treats or logoed apparel items into a branded bag. Plus, employees will find them useful during travel, whether it be for work or for vacation. Think of versatile bags that are durable enough for remote activities like camping and hiking, but with space to pack a laptop or other work/travel necessities. Here are our favorite picks for holiday gifts:
Good: Branded Computer Backpack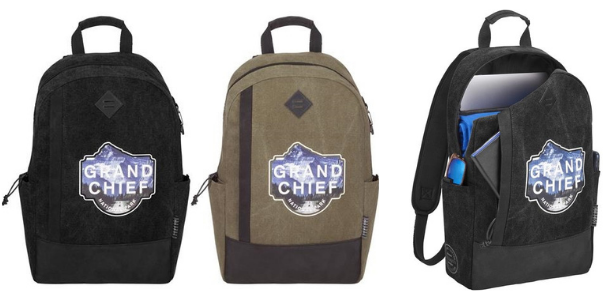 Here's a unique idea. The Field & Co. Woodland computer backpack combines a custom wood grain lining with a padded 15 inch laptop sleeve for a one-of-a kind look. The backpack also has lots of space, with a front zippered pocket, water bottle sleeve, and a premium vinyl lash tab. It even includes a trolley sleeve that can be used for longer trips. Choose from black or olive tones and brand it with either a color print silkscreen or digital print transfer imprint on the bag's front pocket.
Better: Custom Insulated Haul Bag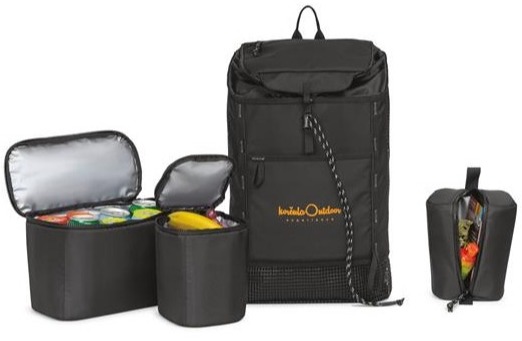 An even better choice is this insulated haul bag, which includes packing cube-inspired coolers for optimal storage. Drinks and snacks can easily be kept cold and organized. Yet, the bag is large enough to store other essential items for travel. With a front slash pocket, key fob loop, daisy chain webbing loops, and a wide mouth cinch top opening to the main compartment, employees will love this bag's functionality. It's a great option for those that love hiking and outdoor activities, as rubberized mesh detail provides both breathability and allows dirt and debris to easily fall out. Choose from an embroidered, heat transferred or printed logo on multiple different locations.
Best: Branded Osprey Bag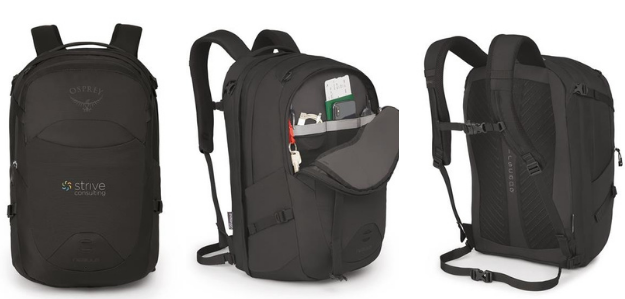 Our favorite holiday gift backpack? This branded Osprey Nebula bag. It combines durability with functionality for a great, everyday backpack that can double as a travel bag or hiking pack. With a soft, breathable back panel and harness, employees won't even notice when they have a heavy load. Plus, it includes a TSA-friendly 15-inch laptop pocket, making it easy to transport work devices when necessary. The front panel stretch mesh pocket, organization pocket with key clip, and dual stretch mesh water bottle pocket leave room for tons of extra space. Use a heat transfer logo on the bag's front pocket to make this employee holiday gift personalized, premium, and thoughtful.
The Time to Give is Now
Employees have overcome a lot to get to this point in the year, and now is your time to show them you appreciate all their hard work. Though budgets may be tight, it's more important than ever before that employee appreciation doesn't get ignored. Increase your productivity as a company and your reputation as an employer by giving the perfect corporate employee gifts this holiday.
Recognizing the challenge behind such a task, our team is committed to making your holiday gift-giving easier. From finding the perfect product to shipping it right to your employee's doors, we are here to make your lives easier and your employees happier.