Some call it the most wonderful time of the year. Others call it the season of giving. And yes, for some, it's a time of stress. But no matter where you land on the spectrum, we can all agree that this year's holiday season is going to look a bit different.
With so much uncertainty, it can be tempting to push off this year's corporate holiday gifts. But now is not the time to give in. It's more important than ever to show your clients they're appreciated.
Take it from the Harvard Medical School, who reports that, "Gratitude helps people feel more positive emotions, relish good experiences, improve their health, deal with adversity and build strong relationships."
So yes, our gift-giving might look a bit different this year. But recognition, appreciation, and motivation are important now more than ever. We've put together five popular categories to focus on when choosing this year's corporate holiday gifts for your clients. Recognizing various budgets, we took our guide a step further and gave you a range from good, better to best. This will help you find the best corporate gifts for the most value.
1. Food Gifts
Food gifts are an incredibly effective way to leave a lasting impression on your clients. The combination of taste, smell, and texture offered by food is proven to trigger deeper emotions and memories that can positively impact your customer.
This gift box combines sweet and savory treats for a classic way to show your customer's appreciation. The box itself is cream colored and decorated with a festive satin ribbon. It's filled with a full 5.1 ounces of dark chocolate covered almonds and dark chocolate toffee. Kosher options are also available. Keep your company's brand top-of-mind by foil stamping your organization's logo, emblem or message on the box's beautiful ribbon.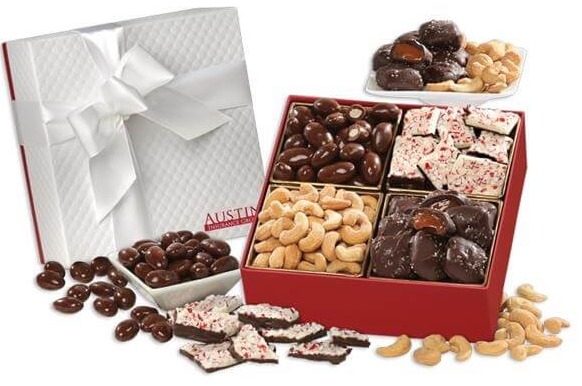 For a bit more variety, this Maple Ridge Farms "Touch of Class" box offers a delicious assortment of four holiday favorites - 5 ounces of extra fancy jumbo cashews, 5 ounces of milk chocolate covered almonds, 5 ounces of peppermint bark, and 8 pieces of chocolate sea salt caramels. The pillow top gift box divides each treat into its own section. It comes with a white satin ribbon that adds a sophisticated touch of elegance for those very special clients. Foil stamp your logo in red on the lid for a festive holiday treat.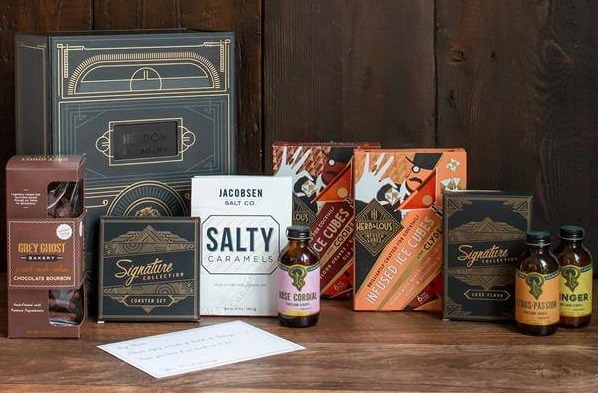 Go bold with this classy and sophisticated gift box that packs a lot of flavor into one. This is perfect for those clients that love to entertain. We love this option because it offers three different tiers: light, regular, and deluxe. Each kit features gourmet snacks, drink mixers and quality drink accessories, as well as a personalized card.
Light Kit - Contains 8 ounces of Grey Ghost Bakery Chocolate Bourbon Cookies, 6.5 ounces of Jacobsen Salt Co. Salty Caramels, a six-pack of Herb & Lou's Old Fashioned Infused Ice Cubes, and a customized Luxe Flask.
Regular Kit - Contains 8 ounces of Grey Ghost Bakery Chocolate Bourbon Cookies, 6.5 ounces of Jacobsen Salt Co. Salty Caramels, a six-pack of Herb & Lou's Old Fashioned Infused Ice Cubes, a 3-pack of Portland Soda Works Beverage Mixers and a customized Luxe Flask.
Deluxe Kit - Contains 8 ounces of Grey Ghost Bakery Chocolate Bourbon Cookies, 6.5 ounces of Jacobsen Salt Co. Salty Caramels, a six-pack of Herb & Lou's Old Fashioned Infused Ice Cubes, a six-pack of Herb & Lou's Cosmopolitan Infused Ice Cubes, a 3-pack of Portland Soda Works Beverage Mixers, a customized Signature Coaster Set, and a customized Luxe Flask.
This package is customizable with a UV printed logo on the box, flask, and coasters. You can also include an original custom message on the postcard, which is included in all three tiers.
2. Wireless Speakers
Wireless speakers are becoming more and more popular as people set up their home offices and spend more time in their houses. Most people already have headphones of some sort, but you'd be surprised how many people don't have a reliable speaker they can turn to.
With outdoor activities becoming a more popular pastime for many during the pandemic, this portable speaker is an excellent gift for bike lovers, hikers, snowshoers, or just those always on the go. Weighing just over 3.5 ounces, this speaker is super lightweight and, with a 7-inch strap, is designed to clip onto a backpack or bike. It has a wireless capability of up to 33-feet, and up to five hours of audio playtime. Imprint your full-color company logo on both the speaker itself and its strap. Plus, it comes in a compact box perfect for wrapping and delivering as a gift.
For a bigger but still pocket-sized option, consider the Luna wireless speaker. Measuring just over 4-inches long, it boasts 6-hours of playtime from the 5-watt driver. Using bluetooth technology, the speaker can be paired to phones or tablets, plus it features a built-in microphone/speaker phone.
The modern design includes a soft-gray outer edge finish, and a silicone bottom which prevents the speaker from slipping and scratching. The Luna speaker is rechargeable with an included USB cord, and the white speaker grills can be imprinted with your logo using our four-color printing process.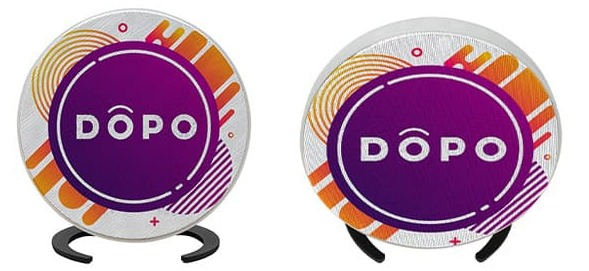 For even more functionality, you could give this Mini Sono speaker. It's slightly smaller and offers a built-in microphone making it a good option for those attending virtual conferences or meetings. With a 5W speaker, it provides higher quality sound and a 33-feet wireless range. If you're looking for a high-quality gift for clients, consider pairing two of these speakers together to be used as surround sound in the office or at home. Get creative with your speaker design with a full-color imprint on the front speaker grill.
3. Branded Drinkware
You really can't go wrong with branded drinkware as a gift. It's one of those products that everyone will have a use for no matter what. But with so many different options out there, it can be hard to narrow down a selection for client gifts.
One of the most frustrating experiences is when you take a sip of what you think is steaming, hot coffee, and find a lukewarm beverage instead. Whether at the office or at home, this double-wall constructed vacuum insulated tumbler will ensure your clients' drinks are hot when they want them to be and cold when they need them to be. It features a clear, press-on lid with a slide closure.
What's also neat, is it doubles as a drink insulator. Pop a can inside, and your clients can even enjoy this on the beach. Imprint your company's logo with pad print technology for a fresh, branded experience. Choose between a variety of colors like black, gray, hunter green, navy blue and white.
Give your clients one of the most on-trend mugs of the year with this 20-ounce Arctic Zone Thermal Tumbler. With a well-known brand name, they'll instantly recognize the value of this gift. It features a durable, powder spray color and double-wall stainless steel vacuum construction with copper insulation. The Arctic Zone technology is proven to keep your beverage cold for 24 hours and hot for at least 8 hours. It has a push-on lid with a slide closure, which allows for easy sipping. With a wide opening, it's perfect for ice cubes, comfortable filling, and pouring.
Laser engrave your company's logo in the center of the tumbler for a flashy decoration. Choose between black, gray, navy, silver, white or brick red.
A YETI is the ultimate high-quality tumbler and is the hottest brand name in the cooler industry. Consider giving this 30-ounce Yeti Rambler Tumbler to your most valuable clients as a guaranteed crowd-pleaser this holiday. The YETI tumbler is made with kitchen-grade stainless steel and double-wall vacuum insulation, and also promises to keep beverages cold for 24 hours and hot for 8.
These tumblers are BPA free, include a crystal clear lid, and come in a variety of different colors such as silver, blue, black, green, red or teal. You'll want to make it custom by engraving your logo with our laser etched tone-on-tone technology.
4. Custom Blankets
Custom blankets can be enjoyed at home and on-the-go, making it a thoughtful and versatile gift for clients. They also can be easily branded with your company's logo or chosen design. Here are a few of our favorite options for the holiday season.
This anti-pilling fleece blanket is simple yet incredibly soft and comfortable. Clients will love using this for almost any occasion outside or inside. Unfolded, the blanket is 50 x 60 inches. Choose between black, gray, navy, or red. Embroider your logo on the bottom corner of the blanket.
The blanket comes in custom packaging with a Happy Holidays or Thank You card, perfect for holiday giving.
You can hardly ever beat a two-in-one gift. This picnic speaker blanket allows you to give the gift of music and comfort all wrapped up in one. With built-in speakers compatible with almost any devices, this polyester fleece blanket is perfect for picnics, the beach, or any outdoor event.
It easily rolls up with a hook-and-loop closure and is easily carried with an attached handle. It also comes with a zippered pocket that holds the speaker's battery box, which uses four AA batteries. Clients won't have to worry about getting stuck in the rain with this blanket either, as it included water-resistant backing.
Imprint your logo front and center on the pocket between the speakers, to keep your company top-of-mind.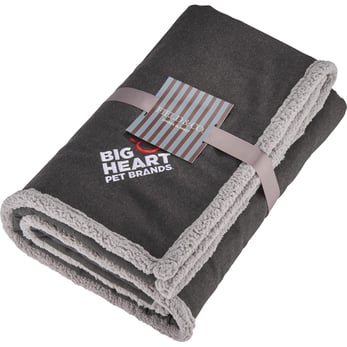 Have your clients snuggling up in this wool sherpa blanket all winter long. Made with a high-quality wool blend on one side and Sherpa on the other, it's designed to keep you warm and cozy. Plus, it's oversized design of 60 x 70 inches will leave no body part uncovered.
This blanket comes with a full-color card and blanket band, making it look truly like a gift. Embroider your company's logo on the open corner bottom. Choose between charcoal, navy or olive.
5. Gifts for the Home
There's nothing your clients will appreciate more than a thoughtful gift that will make staying at home, especially during the winter, a bit more fun for their families. These unique and creative gift sets are all designed to liven up those stay-at-home evenings.
This taco night gift set is perfect for those clients you know who love to cook, even if they might not be great at it. It combines everything they need to share a night of fiesta fun with friends or family. The contents include a Charlie Cotton Grill Apron, Tomatillo Garlic Taco Simmer Sauce, Mesa Rosa Chipotle Seasoning, Tacos El Pastor Seasoning Mix, and cotton carry tote.
A variety of customization options are available. Brand both the apron and the tote by embroidery, print, or a heat transfer method. Different locations and sizes of your imprint are available.
Most of your clients will likely be homebound this year. So a gift for the kitchen will certainly be appreciated. This cutting board set is crafted from black marble and acacia wood, making it a premium gift, high quality gift.
A built-in drawer that slides out of the cutting board, contains four different cheese cutting tools. The board boasts dimensions of 11.6 x 7.48 inches, making it large enough to host a variety of cheeses or spreads. Laser imprint your company's logo on the wood portion of the drawer.
Your high value clients will love this picnic set for two, featuring a deluxe wicker picnic basket with genuine leather. It comes complete with two ceramic plates, two mugs, plus two half-tang forks, half-tang knives, and half-tang spoons. One stainless steel corkscrew will allow your recipients to quickly open a bottle of wine while they're enjoying their picnic. It also includes one set of salt and pepper shakers to complement the packed meal. Your company's logo can be with either an oval leather patch up on the front of the basket.
The Most Important Season of Giving Yet
There's no denying that corporate gift-giving is going to be tough this year. With budgets slashed, it might be tempting to skip client gifts altogether. But after a long and difficult year, it's more critical now more than ever to show gratitude to those core customers that helped your business stay afloat.
Holiday gifts, even if small, have the power of boosting morale and lifting spirits. Two things that will be essential if businesses want to survive and thrive in the year 2021.