There are few better ways to bring your brand to life than a pop-up shop. Gifting branded company swag to your employees and clients is a surefire way to activate your brand and foster increased loyalty. But if you want to really cement those relationships, giving people the ability to select their own swag will take things to the next level.
Today, creating a company swag store is easier than ever. Whether you choose to create an in-person pop-up shop for people to browse or streamline the process with an online pop-up shop, you can bet the recipients of your custom-branded swag will be wowed.
What is a Pop-Up Shop?
The definition of a pop-up shop varies.
For consumer-facing brands, such as apparel businesses, a pop-up shop is a short-term retail store, usually in a premium location. It's a proven experiential marketing strategy that boosts brand awareness and fosters great relationships with customers.
It's such an effective strategy that many non-consumer-facing brands are now creating their own pop-up shops to give away branded company merchandise to their employees and customers.
Your brand can do this in person or online. If you choose to go down the in person route, you might set up a pop-up shop in your office or at a special event. On the other hand, you could set up an online pop-up shop: a custom-branded online swag store that enables people to pick their favorite items and have them shipped in bulk to one location or directly to their homes.
8 Pop-Up Shop Examples
Creativity is at the heart of all successful pop-up shops. We've pulled together examples from around the world to help spark some inspiration, but don't be afraid to think differently. After all, a pop-up shop is a celebration of your brand, and your brand alone.
1. Daily Harvest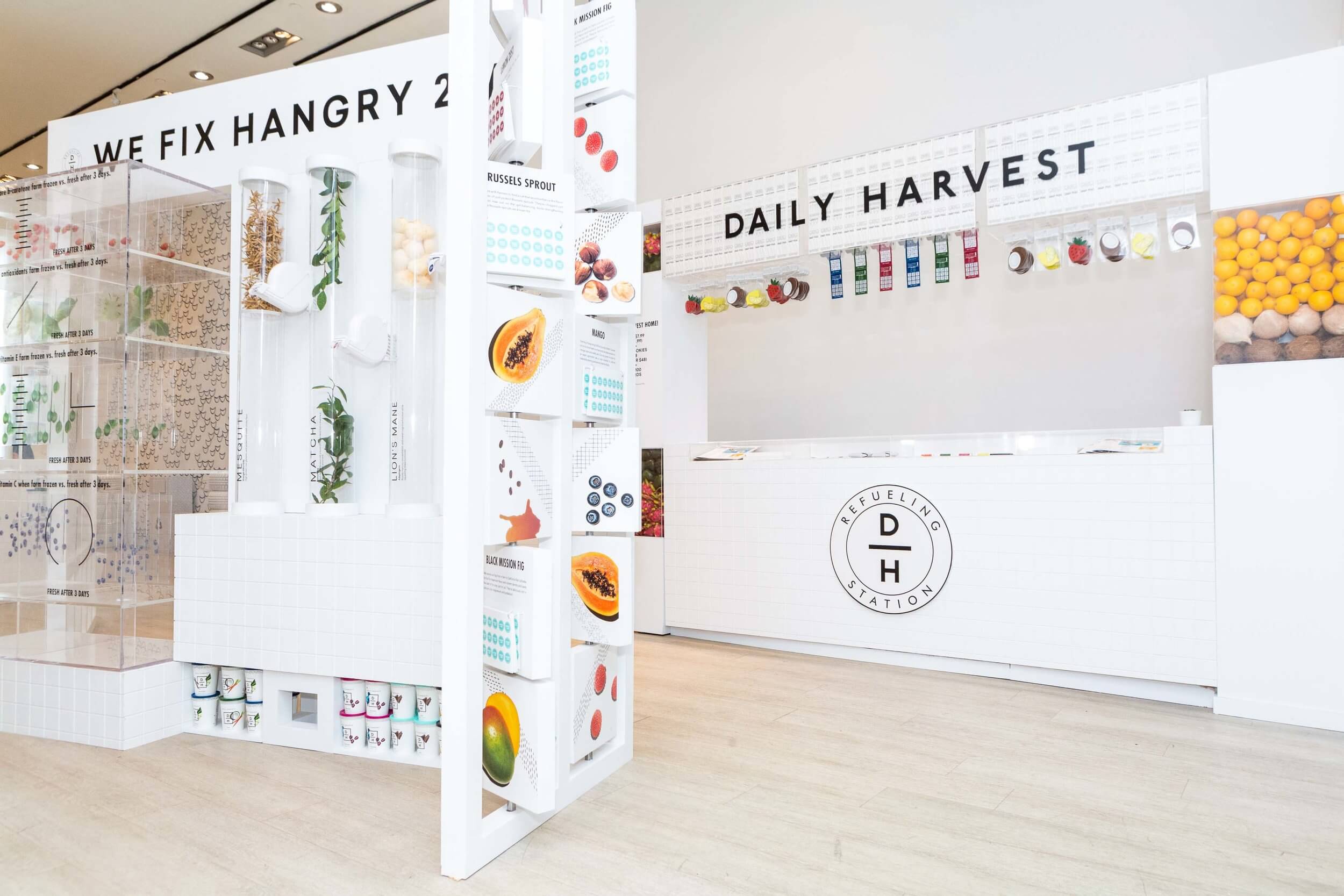 Daily Harvest is a popular online prepared meal company that ships healthy, organic meals right to their customers' doors. In 2019, they launched a Refueling Station in Los Angeles and New York, offering passing consumers a taste of their most popular products.
The pop-up shop was a fun play on the traditional gas station, drawing passing consumers in to sample Daily Harvest's products while "refueling" their bodies. With a fun design, an interesting concept, and plenty of free samples, this pop-up shop proved to be a winner.
(Photo: thegathery.com)
2. Netflix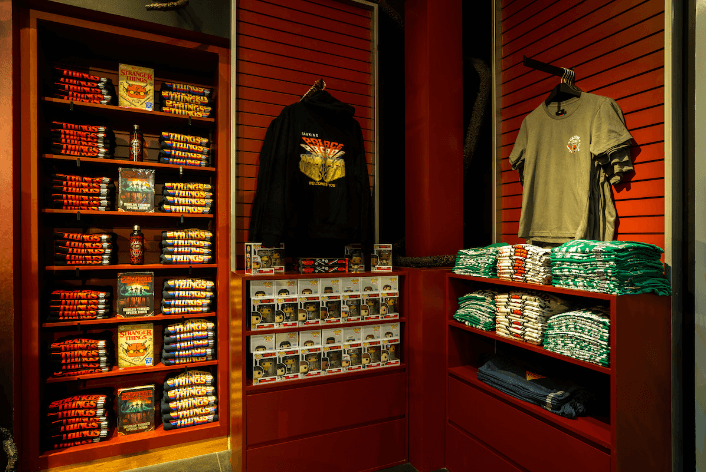 A brand that needs no introduction, Netflix's pop-up shop at upscale Los Angeles mall The Grove was a smash hit. Shoppers got the chance to buy limited-edition merchandise from their favorite shows, including Stranger Things, Bridgerton, and more.
The high-quality, exclusive swag was popular with fans, but this pop-up store was more than just a retail experience: it was an homage to the platform's most popular shows. Fans could explore sets from iconic shows and snap pictures of their favorite characters with interactive photo opportunities.
(Photo: netflix.com)
3. U.S. Compliance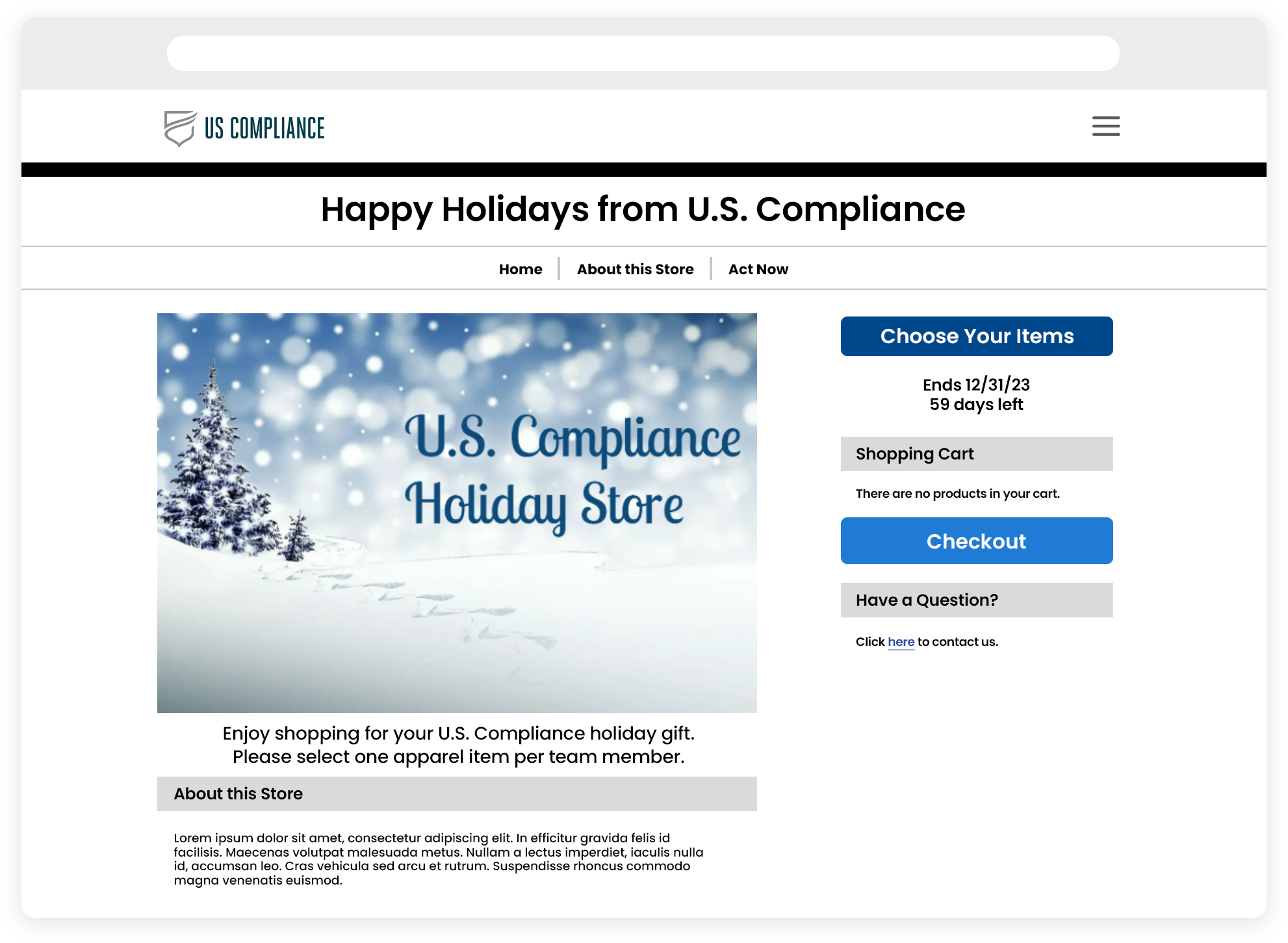 U.S. Compliance, a leader in environmental, health and safety compliance management and consulting solutions, has employees working remotely all over the country. In previous years, managing the company's annual employee appreciation gifts had been a real logistical challenge.
That all changed in 2022 when U.S. Compliance partnered with GoDelta to produce an online pop-up shop. Employees could select their own gift, in the right size, from a range of options during a two-week window. GoDelta not only built a branded pop-up shop for U.S. Compliance, but our team also managed all fulfillment and shipping, ensuring every item was delivered to employees' homes just in time for the holidays.
(Photo: godelta.com)
4. Jetex and Louis Vuitton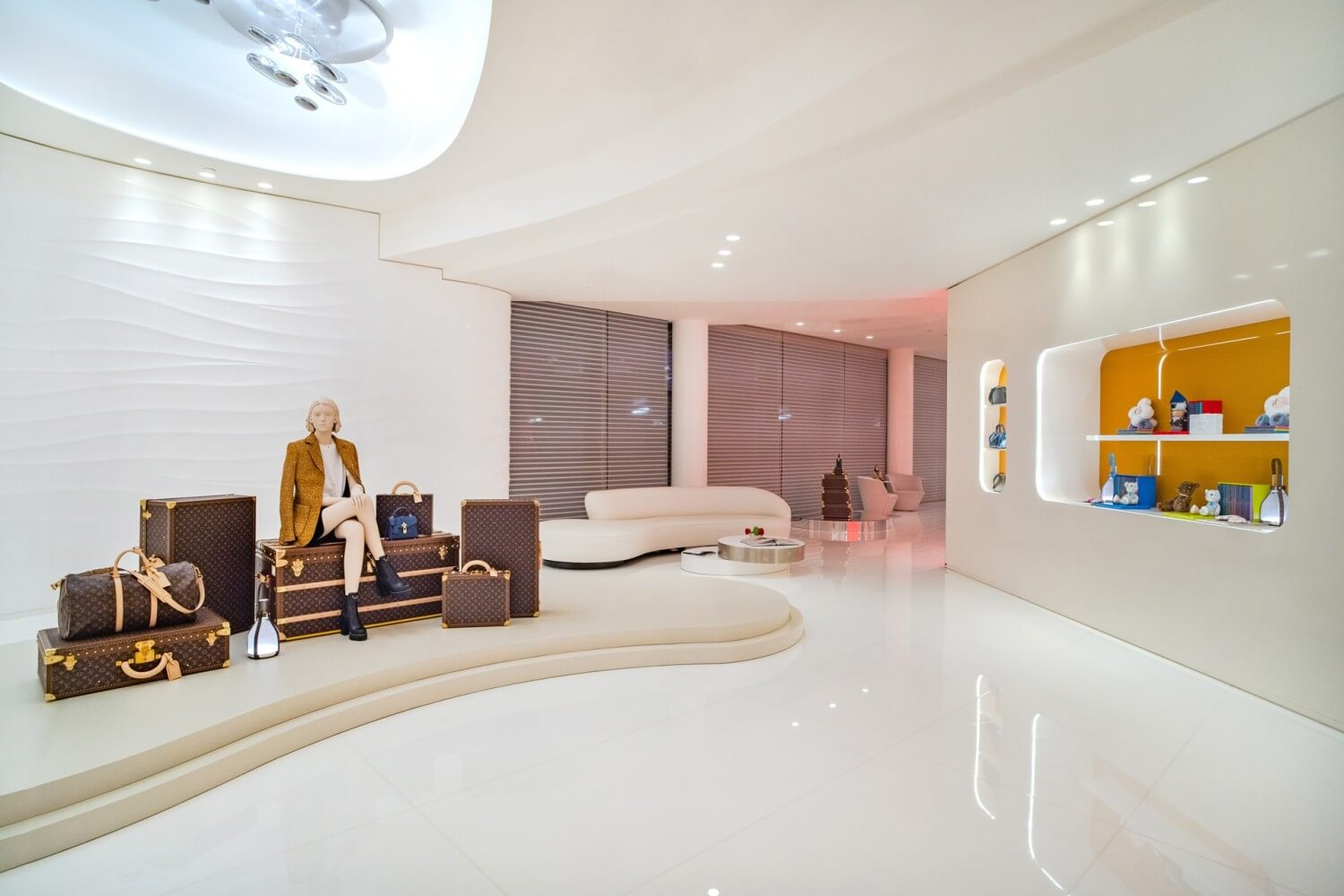 Few businesses have more crossover in clients than private jet operators and high-end luxury brands. That idea sparked the inspiration for a pop-up Louis Vuitton store at a Jetex private jet terminal in Dubai in 2022.
Jetex operates a series of private jet terminals around the world. With this pop-up shop collaboration, travelers enjoyed browsing high-end Louis Vuitton pieces while they waited to board, propelling the experience of traveling with Jetex to new heights.
(Photo: jetex.com)
5. Leesa Dream Gallery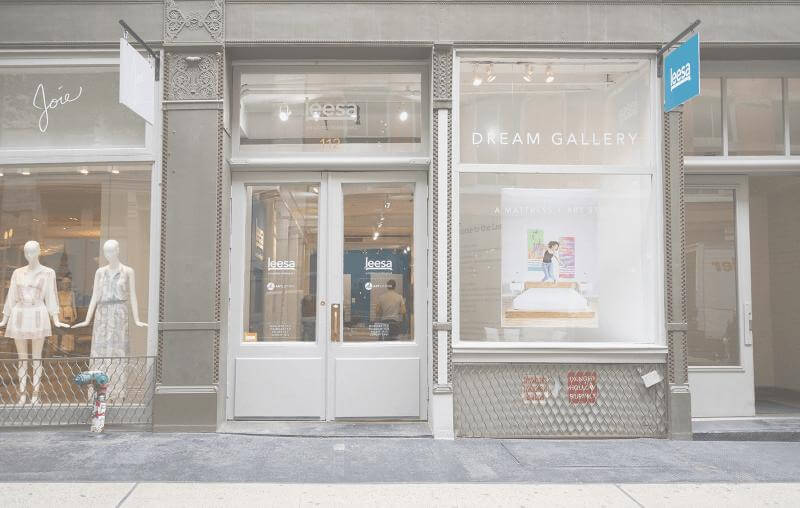 This pop-up experience, from online mattress brand Leesa, was held in a New York art gallery, creating a unique spin on the pop-up shop concept that attracted customers in droves.
Visitors to the pop-up store could test-drive one of Leesa's high-end mattresses while admiring art created by homeless and disabled artists. With a powerful social cause and a relaxing experience, Leesa's Dream Gallery proved popular.
(Photo: leesa.com)
6. DSST Schools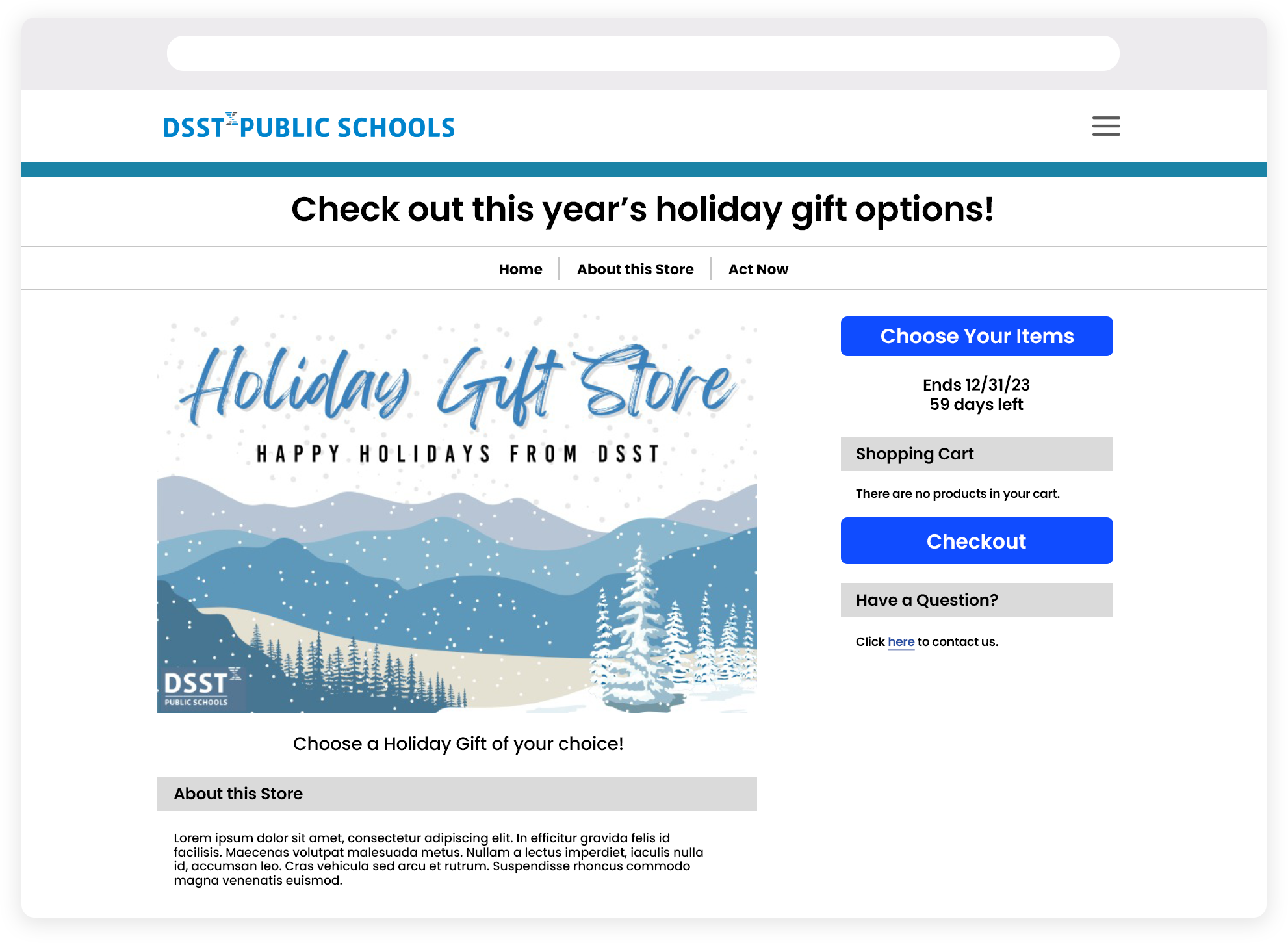 DSST Schools, a network of public charter schools in Colorado, wanted to create a custom-branded pop-up shop full of unique, embroidered apparel for their staff's annual holiday gifts.
They turned to GoDelta for help, creating a beautiful online pop-up shop with a selection of branded apparel and accessories available in a wide range of sizes. Working with GoDelta's pop-up shop experts, DSST created a digital storefront shop with customized branding, colors, and language.
Employees were free to pick their own gift, selecting their own size and the school they'd like their items to be shipped to. GoDelta provided DSST Schools with a varied selection of gifts, from one-off, embroidered apparel to custom backpacks, and more.
(Photo: godelta.com)
7. Nike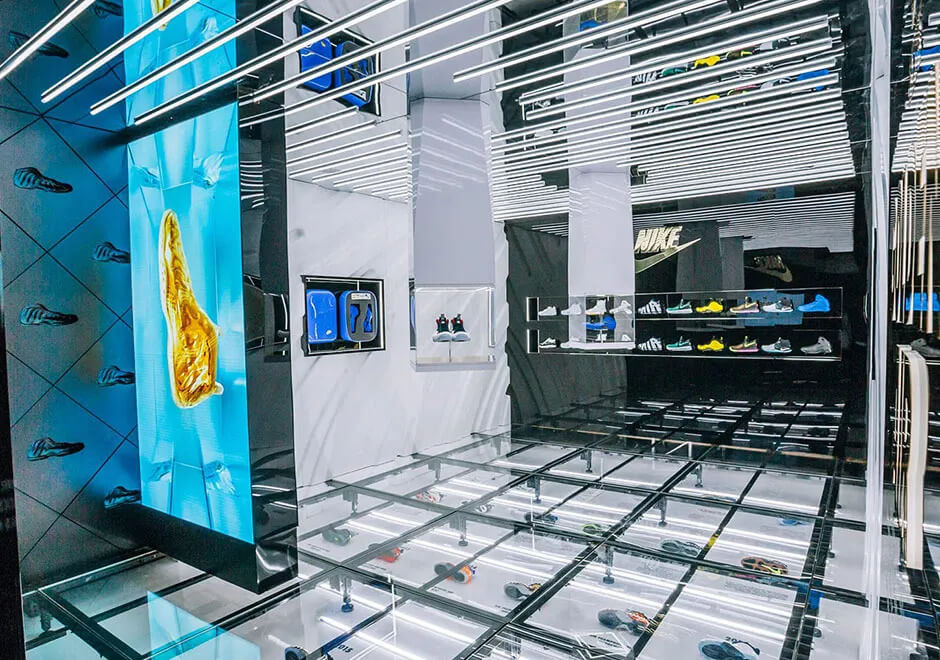 One brand that's an expert in pop-up stores is Nike. The sportswear brand has a storied track record of brand activation around major sporting events and cultural moments, and when the Golden State Warriors reached the NBA Finals in 2016, it was no exception.
This in-person pop-up shop took the form of a giant Nike basketball shoe box. Inside, customers found the latest basketball sneakers, official team merchandise, and much more. The success was so great that these unmissable pop-up stores in a prime downtown location have become a core staple of Nike's experiential marketing playbook.
(Photo: sneakernews.com)
8. Penguin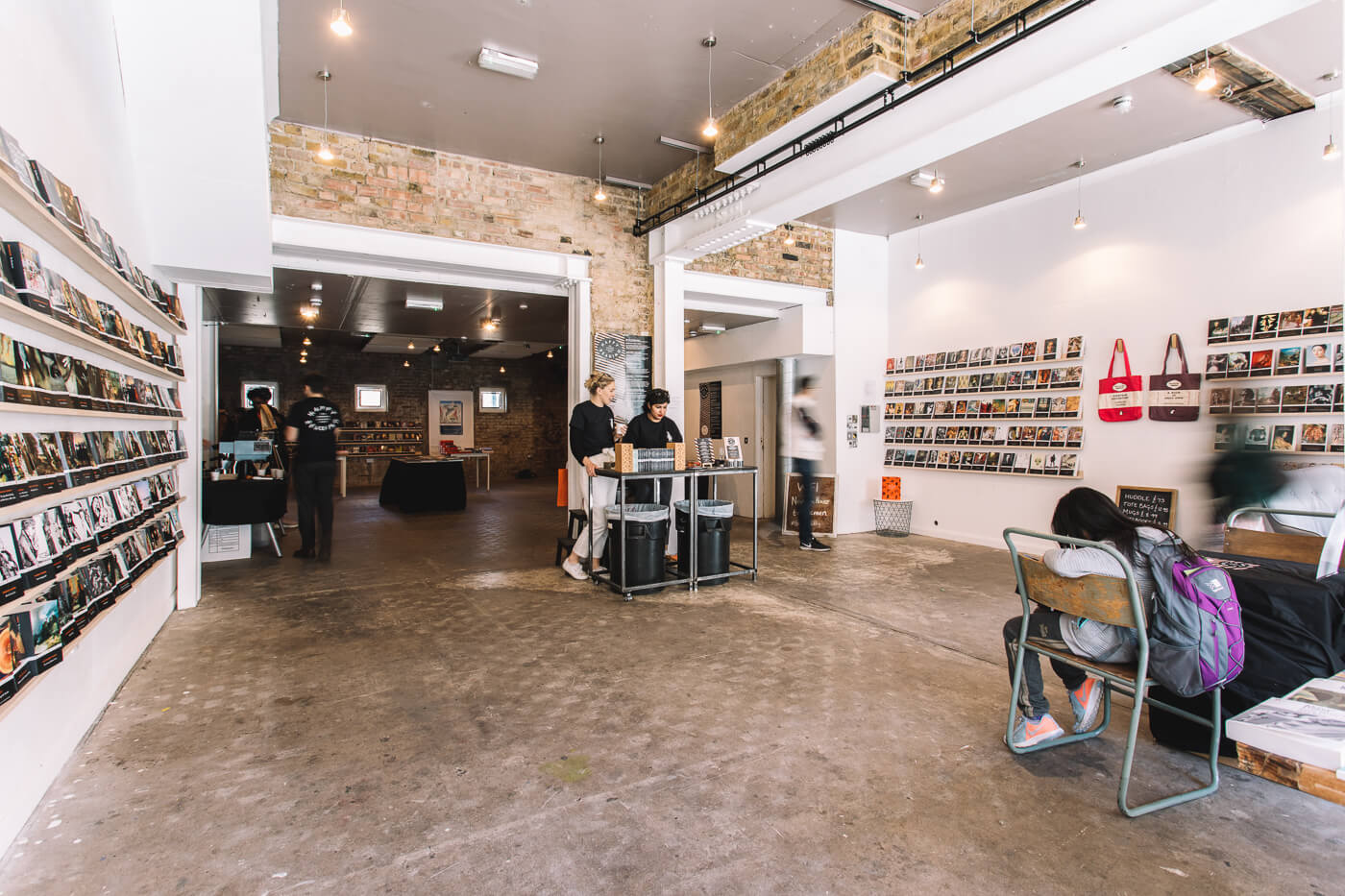 This pop-up shop from Penguin, the esteemed publishing house, wasn't just a bookstore: it was a social hub. Open for a week in 2019, Penguin held events, including book clubs, readings, and panel discussions every night.
All these events drove avid readers to the store, helping them discover new books from Penguin's endless library of titles while connecting with authors and like-minded readers.
(Photo: appearhere.co.uk)
How to Use an Online Pop-Up Shop: 6 Practical Use Cases
What makes online pop-up shops such a great brand activation strategy is their endless versatility. Your brand can create a pop-up shop for any occasion, from celebrating a major milestone to hosting a major event.
Here are six use cases for a corporate pop-up shop:
Client Appreciation: There are few better ways to demonstrate gratitude to your clients than branded apparel and merchandise. By establishing an online pop-up shop, you'll take the guesswork out of choosing swag items, allowing your clients to pick out their favorite items.
Employee Recognition: Reward your employees on their own terms when you set up an employee appreciation swag store. They'll be able to choose exactly what they need while making sure they get the perfect size and color.
Company Events: Whether it's a major rebrand or the celebration of a significant milestone, an online swag store lets your team choose exactly how they want to represent your brand.
Employee Apparel: Empower your people to represent your business by opening up a company apparel store that helps your employees customize their uniforms to their style.
Virtual Events: Bridge the gap between virtual events and the physical world by inviting attendees to choose from a selection of promotional items from a dedicated online pop-up shop.
Holiday Gifts: Celebrate the holiday season by enabling your employees and clients the opportunity to choose their preferred holiday gifts. It'll be one less item on their holiday wish list!
Start Planning Your Online Pop-Up Shop Today
Creating an online pop-up shop to share your promotional swag and apparel for your brand is a winning strategy. Not only will you be able to share high-quality giveaways with your employees and customers, but you'll also be able to streamline the gift-giving process.
If you need assistance creating a pop-up shop for your brand, reach out to a GoDelta Brand Consultant today. We'll help you select your products and create your online swag store, and we'll even manage the logistics on your behalf.
Pop-Up Shop FAQs
Want to learn more about pop-up shops? Browse the frequently asked questions below.
How long does it take to create a pop-up shop?
To make sure you hit the ground running, we suggest starting the planning process for your pop-up shop at least a couple of months in advance.
What items should I include in my pop-up shop?
Take care to include a selection of different items in your pop-up shop to make sure there's something for everyone. We suggest including between 3 - 10 items from categories, including apparel, bags and travel, drinkware, and office products.
How long do pop-up shops last?
Pop-up shops are short-term projects, typically only lasting for a couple of weeks at a time.