Creating an online pop-up shop for branded merchandise is a great way to boost employee morale, nurture client relationships, and show off your brand.
Online pop-up shops are growing in popularity because it's a solution that solves multiple pain points. They enable your employees or clients to pick the gifts they actually want, while providing you with a central hub for gathering sizing information, managing orders, and tracking delivery.
With proper preparation, you can quickly launch your own digital shop and eliminate the frustration involved with distributing swag to multiple locations and recipients.
Let's take a closer look at swag pop-up shops before diving deeper into the specific steps for creating one for your brand.
What is a Swag Pop-Up Shop?
A swag pop-up shop is an online platform that helps businesses, marketing teams, and HR departments distribute pre-approved branded merchandise, such as apparel, drinkware, tech accessories, and more. The easy-to-use, customizable platform stores essential information such as sizing and shipping information to simplify and streamline promotional product creation, ordering, and delivery.
It's important to note that, while similar, an online pop-up shop differs from an online company swag store. An online pop-up shop is a short-term solution that is typically active for 2-3 weeks, while a company swag store is an ongoing online presence, available 24/7, 365 days a year.
Setting Up an Online Pop-Up Shop
Creating an online pop-up shop is a straightforward process. Let's take a look at each step.
Step #1: Assess Your Needs and Determine Your Purpose
Your swag vendor will work with you to assess your specific needs and identify the reason for the pop-up shop. Many organizations use swag pop-ups for employee recognition, rebranding, corporate gifting, company events, team uniforms, or holiday gifts.
Use the following questions to help you flesh out the "why" behind your digital storefront:
Who is your target audience?
What do you hope to gain from this pop-up shop?
How long will the shop be open?
What date do you want the shop to close?
How many people are expected to use the shop?
What is your budget for the shop?
Once you have answered these questions, it's time to determine how many and what type of promotional items you want in your shop.
Step #2: Pick the Swag You Want to Include
When selecting the items that you want to feature in your store, the key is to pick various items across different categories. Aim to include a minimum of three items, but no more than 10. Items could include wearables or hard goods if that makes sense for your recipients and the purpose of your store. Here's a curated list of the most popular branded merchandise categories for you to use as inspiration.
It's also important to choose swag that will resonate with your target audience. For example, if you're targeting tech professionals, you might want to include laptop bags; if you're targeting important clients, you may want to include luxury gifts like a Bose wireless speaker or a customized pen.
However, finding the products you want, in the price range you want, is easier said than done. If you need assistance, just let us know your budget and a GoDelta Brand Consultant will happily share insights and provide recommendations on the most popular items in your price range. Once selections are finalized, you'll receive product samples – enabling you to touch, feel, and approve the item in person.
Step #3: Customize Your Digital Storefront
It's time to customize your online pop-up store to reflect your brand. This includes your logo, color scheme, and overall aesthetic. It's completely up to you to decide how much you want to be involved in the design process.
At GoDelta, our in-house graphic designers can design the store for you. For organizations that want a more hands-on approach, you can send us the logos and graphics you would like to use. Either way, you'll have a fully customized and personalized store – ready to launch!
If you choose to delegate design to your swag vendor, here's some of the information they're likely to request. Keep in mind that your store can be customized to include as many or as few of the options shown below:
Logo - Logo art files in a ".png" or ".jpeg" format.
Header Text - Text that appears front and center at the top of your page and usually lets the visitor know what the pop-up shop is for.
Feature Image/Video - An important visual at the top of your page that engages the visitor. This could be a video sharing a thank you message or holiday greeting, or an image of your team or a peek of the items in the shop.
Store Description - Appears just below your feature image. Think of it like your 15-second elevator pitch, your call to action, and your opportunity to share the essence of the campaign.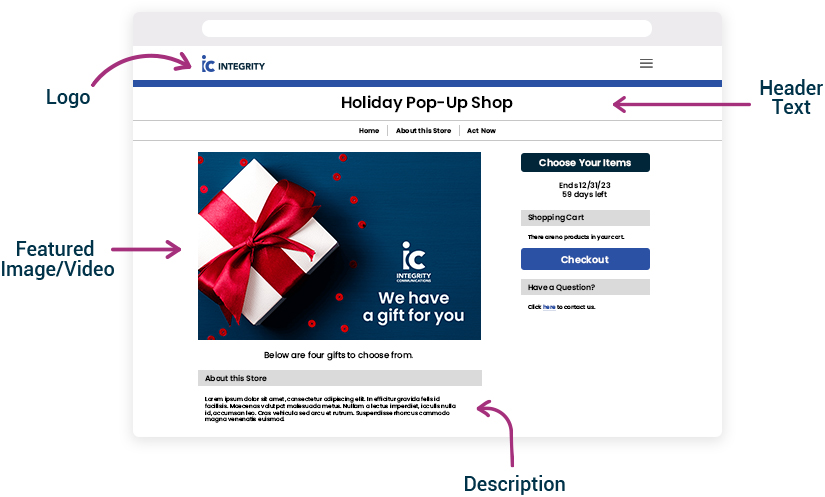 Step #4: Test Functionality and Approve Aesthetic
It's crucial to test the functionality and approve the shop's aesthetics to avoid any unwanted surprises. Before launch, work with your swag vendor and place a test order. Go through the entire process, from ordering to checkout, to identify any issues.
Your swag vendor will resolve any issue and handle all of the backend setups to get your store up and running.
And that's it! You're now ready to collect orders and distribute branded merchandise to your recipients.
Build Your Custom Swag Pop-Up Shop with Confidence
Regardless of the use case, online pop-up shops free up a ton of time and make the gifting process easier for everyone involved. Brands interested in opening a swag pop-up shop should request a free demo to experience the solution firsthand. During the demo, a GoDelta Brand Consultant will walk you through the entire process — from selecting branded merchandise to setting up a custom shop page.