Brand humanization is a big topic among marketers. Ever hear the phrase, "people buy from people, not businesses?"
Authenticity, personal connections, and relationships have all surfaced to the top of marketing trends this year. The irony is that we've never been in a more disconnected world. Even as the world begins to return to normalcy, the convenience of remote work and virtual events will keep both around for good.
There's no doubt that virtual events make it more difficult to connect personally with attendees and prospects. But giving purposeful gifts could be the answer. Giving eco-friendly gifts for virtual events is one way to connect with a cause your customers value, build more personal relationships, and humanize your brand.
Why Choose Eco-Friendly Gifts for Virtual Events?
Eco-friendly gifts are currently one of the most popular cause marketing gifts. Consumers are demanding sustainability from brands and businesses. According to a report by IBM, nearly six in 10 consumers are willing to change their shopping habits to reduce environmental impact and eight in 10 indicate sustainability is important to them. Not to mention, when it comes to eco-friendly gifts and promotional products, 46 percent of consumers admit to having a more favorable opinion of an advertiser if the promotional product they receive is environmentally friendly.
We know virtual event gifts are one way to build better connections with virtual event attendees. We wrote all about it in our post on How Virtual Event Giveaways Can Turn Attendees into Brand Ambassadors. So why not take things a step further, and use eco-friendly gifts for virtual events to connect with your attendees' values. The result is an even more humanized brand that people trust.
How to Choose The Best Eco-Friendly Gifts for Virtual Events?
There's a lot of different eco-friendly gifts out there. And not all of them are as "green" as they claim. You'll want to do your due diligence and ensure you're investing in a product that's truly sustainable.
Plus, when selecting eco-friendly gifts for virtual events, you have to consider product size and shipping costs. To truly make an impact on your customers, we recommend putting together a virtual event swag box that includes two to five items. Keep in mind quality over quantity. Some of the best virtual event swag boxes we've seen include one high-quality gift as the focus, with the other lesser price point items as compliments.
So there's a lot to consider. To help get you started, we've selected our top picks of the best eco-friendly gifts for virtual events. Consider choosing one of these items to incorporate into your next virtual event swag box.
Reusable Drinkware
Branded drinkware items are smart promotional products to include in any virtual event swag box. They're one of the most popular types of promotional products and offer a high ROI. The average product CPI is under ½ cents. That means it costs just half of a penny for one person to see your brand.
Resuable drinkware items are also perfect for virtual events, as they go hand in hand with virtual networking ideas such as Zoom happy hour or coffee meet and greets. By giving an eco-friendly branded drinkware item, you'll bring all your event attendees together under one common value.
Here are our top eco-friendly promotional drinkware items for your virtual events.
1. Custom CamelBak Pivot Water Bottle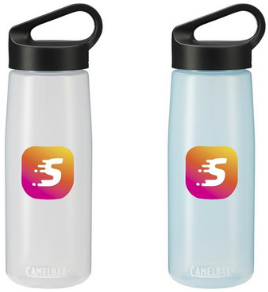 Retail-inspired promotional items are always a hit. Consider this custom CamelBak Pivot Water Bottle as an eco-friendly option to truly delight virtual event attendees. It's made with a sustainable copolyester material that's 10% plant-based. A lightweight and durable 25-ounce wide mouth bottle, it's the perfect size to fit into a virtual event box. Plus, attendees will love the idea that one percent of sales of this product go towards supporting nonprofits dedicated to protecting the planet.
The lid is made so it can easily be clipped onto any backpack or travel carrier. Choose between two different colors, cloud or ice, and print your event or company logo on the bottle itself with either a color print silkscreen or digital print inkjet imprint.
2. Dagon Wheat Straw Mug with Stainless Liner

A great alternative to a classic ceramic mug is this eco-friendly Dagon wheat straw mug. It's insulated with a double-wall stainless steel liner, which means it will keep beverages warm for an extended period of time. Plus it comes with a push-on lid with a twist secure closure, ensuring your beverage stays warm and fresh.
The outer wall is made with a sustainable wheat straw mixture. The perfect size for K-cup coffee machines, attendees will love bringing this 14-ounce mug to virtual coffee hours or meet and greets. Choose from beige or charcoal, and brand it with a color silkscreen imprint. Proceeds from this product also go towards supporting sustainable nonprofits.
3. Tea Cup Style Wheat Straw Mug

If you're looking for a more traditional style promotional mug but an eco-friendly option, this tea cup style wheat straw mug is your best bet. It features the same type of wheat straw barrel mixed material, but at 13-ounces, it's slightly smaller and has a wider mouth. Consider pairing it with a set of branded K-cups, and incorporating a coffee break into your virtual event agenda.
The mug comes in beige, charcoal, or grey. And, of course, you'll want to brand it with your virtual event logo centered on the body of the mug.
Sustainable Food Containers or Utensils
Custom printed lunch boxes, food containers, and/or utensils can all easily be shipped as a gift for a virtual event. Plus, they go hand and hand with sustainability. Most of these items are used in place of a single-use plastic item, like paper bags or plastic straws. They also are useful beyond just your virtual event. Attendees will enjoy using your lunch box, or reusable straw, when they eventually head back to the office, or even just throughout their daily lives.
Here are our top eco-friendly branded food containers or utensils for your virtual events.
1. Eco-Friendly Bento Box & Cutting Board Combo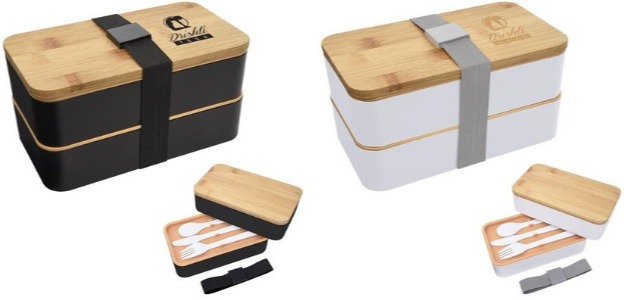 Here's a hybrid promotional item that will delight any virtual event attendee. Made from PLA, a bioplastic created from plant starches, this Bento Box combines sustainability with innovation. It features a bamboo lid that doubles as a cutting board for fresh fruits or veggies, promoting both eco-friendly choices and healthy living. It also has a divider perfect for separating food groups.
The lid and container are secured together with a matching band. Plus, it has a fork/spoon combo that attaches to the side of the box. Event attendees will enjoy either getting this box out during an event break or using it beyond the event itself. It's a product that will continue to generate brand recognition for your company long after your virtual event is over. Be sure to take advantage of the brand visibility it offers by branding your logo on top of the lid.
2. Wheat Straw Lunch Container with Utensils

Another reusable and eco-friendly gift for virtual events is this wheat straw lunch container and utensil combo. Slightly different from the Bento Box, it doesn't have food dividers and is better for an all-in-one dish. As it's microwave safe, attendees can easily pop it into the microwave for a quick and easy lunch on the go, in the office, or during your virtual event. Proceeds go to support sustainable nonprofit organizations.
It also comes with a fork and knife set, secured to the top with a black band. Choose from beige, black, blue, or gray and brand your virtual event logo right on the top with a color print pad imprint.
3. Branded Reusable Straws with Eco Tube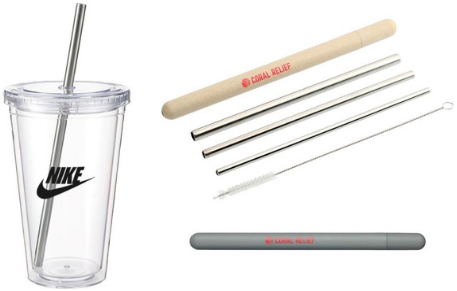 Not only is this reusable straw set eco-friendly, but it's also environmentally responsible. With over 8 billion plastic straws polluting the world's beaches, turning to a reusable option is a smart and ethical choice. Virtual event attendees will appreciate and connect with the brand standard you're setting.
This particular straw set comes with three pieces of 18/8 food-grade stainless steel straws. Each one is a different diameter, so there's an option no matter what tumbler your attendees use. Also included is a durable straw brush that serves two purposes: to clean each straw and hold them all together. A wheat straw mixed plastic case holds it all together for an all-in-one and easy-to-use reusable straw set. The case comes in beige or gray and can be branded with a bold color print or print pad imprint.
Eco-Friendly Office Gifts
Sometimes the best eco-friendly gifts for virtual events are the items they can use right away during the event itself. Any type of office gift or desk accessory can help attendees stay tuned in during your virtual conference. They'll certainly appreciate the gesture, and you'll have attendees showcasing your brand throughout the whole event.
Here are our top eco-friendly personalized office gifts and desk accessories for your virtual events.
1. Branded Wireless Charging Writing Pad


Here's a pretty innovative and unique eco-friendly gift for virtual events. A writing pad that charges your devices! The pad itself is made with 8.5" X 11" recycled lined paper and bound with recycled PET material. It features a front pocket, an interior mesh pocket, an elastic pen loop, and business card pockets.
But the feature that makes it truly unique is the built-in rechargeable power bank that supports wireless charging plus a charging stand. Compatible with any iPhone or Samsung Galaxy device. For iPhone 8 users or older, the charging pad can still be used but will just need to be connected with the included USB charging cable.
This eco-friendly gift is perfect for virtual events, as attendees can take notes and charge their devices simultaneously. Consider branding it with your event name or theme with a deboss imprint on the front cover.
2. Wheat Straw Bluetooth Speaker

This wheat straw Bluetooth speaker makes a perfect high-quality gift to focus your virtual event swag boxes around. It's a premium item that produces crystal clear sound at over 1.5 hours max volume. Plus, it comes in a gift box made from FSC certified recycled paper. The speaker is made with wheat straw material giving it a natural look while making it a very sustainable option.
Customize it with your company brand or event logo, and virtual event attendees might even want to use this during the event itself. But with such a useful item, you can be sure your attendees will be delighted with this eco-friendly speaker.
3. Bamboo Wireless Power Bank

This bamboo wireless power bank makes a perfect addition to any virtual swag box. Made from all-natural bamboo, it doesn't just look eco-friendly, but is truly sustainable. And what's really cool about it is it works with phones with the case on. So users won't have to worry about taking off their case to charge their phone.
Virtual event attendees could use this as a charging pad during your event and as an on-the-go power source after the event. It's a branded product that will have life even after your event is over. It supports wireless charging at up to 1A for all of the devices listed here. It also includes a micro USB to USB charging cable that can recharge the power bank or charge devices that aren't compatible with wireless power banks. Complete the look with a color print silkscreen or laser engraved logo on the top of this power bank.
Sustainable Branded Apparel
Presentation is a big part of virtual events. When connecting over video, it can be hard to appear professional. Custom branded apparel can help employees, and event attendees, showcase your brand during your event. Plus, by choosing eco-friendly custom branded apparel, your prospects and attendees will be even more excited to don your company's branded apparel outside the event itself. More and more people are actively seeking out sustainable fashions. Appeal to these interests by choosing custom branded apparel as an eco-friendly gift for virtual events.
Here are our top eco-friendly custom branded apparel items for your next virtual event.
1. Eco-Friendly Packable Jacket

This Rincon eco-friendly packable jacket is made with recycled polyester and incorporates a recycled zipper tape. Virtual event attendees will love this as a high-quality gift in their virtual event swag boxes. It's lightweight enough that they might even wear it during your conference. With a custom virtual event logo embroidered on the chest and color pop details based on your event's theme, this jacket will take your branding to the next level.
It's quite versatile with wind and water-resistant material and a roll-away hood for outdoor rainy weather. A really cool feature is that it can be packed away into a built-in stuff sack for easy stowing, making it great for those who like to camp or hike.
2. Eco-Friendly Branded Knit Half Zip

Another branded apparel option is this eco-friendly branded knit half zip. It's made from recycled polyester and will have employees or attendees of your event looking both professionally and repping your brand. With a convertible collar, it gives you two different style options. Plus, attendees will love wearing this after your event, with its moisture-wicking, snag-resistant, wash-and-wear fabric that includes UPF 40+ protection. It even has an anti-microbial finish to keep anybody wearing it clean and fresh.
Choose from several different colors like vintage red heather and black, metro blue heather and black, loden heather and black, heather grey and black, or heather charcoal and black. Your brand's event logo will look fresh embroidered on this half zip's chest.
3. Alternative Organic Crewneck Tee

What's an event without a branded t-shirt? This Alternative organic crewneck tee is a modern twist to the traditional logoed shirt and will fit perfectly inside a virtual event swag box. It's made from 3.5 100 percent organic cotton and satin washed. This tee features a ribbed collar and blind stitching on the sleeves and bottom hem, which adds an extra style element. Choose from 12 different colors, and brand it right in the center of the chest with an embroidered logo or apparel transfer print.
Reusable Virtual Event Bags
Okay, so a virtual event swag box or bag really can't be complete without the bag itself. Of course, you will have to mail these out in a box, but a conference swag bag will hold everything together inside your box and complete the package. Plus, your bag will be reusable. Not only will event attendees look forward to reducing waste by using an eco-friendly option, but they'll also be excited to have a sustainable alternative to a single-use plastic bag when shopping or heading out the door.
Here are our top eco-friendly virtual event bags for your next virtual event.
1. Recycled Lunch Cooler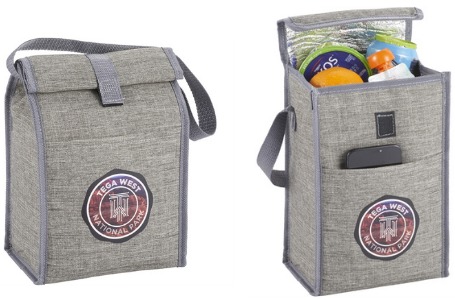 This recycled lunch cooler is small enough to fit into a virtual event swag box yet large enough to house your other virtual event gifts. It's made from 100 percent rPET fabric on the outside. The cooler resembles a paper lunch bag with a top fold-over style but takes things to the next level with a webbing grab handle, foil lining, and webbing trim. Another cool feature is the interior ID label, which allows for easy identification if used in the office, at work or on-the-go.
Don't forget about branding this cooler with your company's logo or event symbol. Attendees will certainly enjoy using this after the event is over, and a print silkscreen or print transfer logo will ensure maximum exposure for your brand.
2. Recycled Cotton Drawstring Bag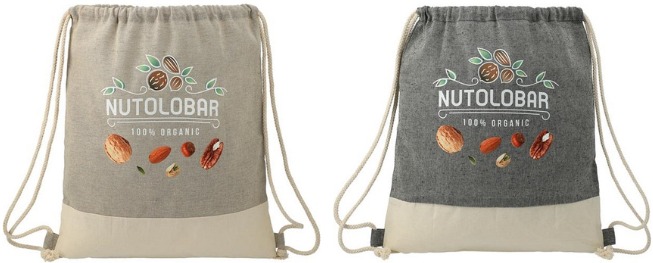 In true swag bag fashion, this recycled cotton drawstring bag can tie your eco-friendly virtual event gifts altogether. Made from cotton and pre-consumer cotton, it's an eco-friendly option that also features a trendy color-block design and drawstring closure. It comes in natural-looking colors like a faded and vintage-looking black or gray. Plus, with an 8x8-inch logo option, your event symbol will look big and bold on the bag's center in a print silkscreen or print transfer imprint.
3. Branded Fanny Pack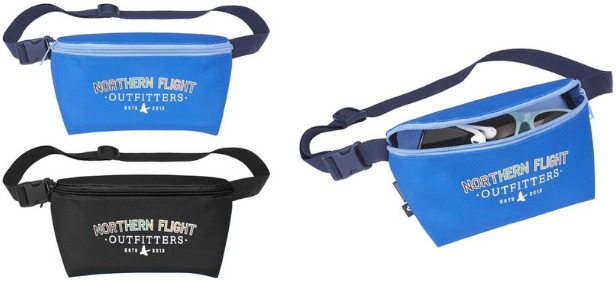 Last but certainly not least is a nostalgic gift idea perfect for those trying to target Gen Xers. This eco-friendly branded fanny pack, also known as the Parkland Bobbi, is a hip pack designed with style and sustainability in mind. It's the perfect size to fit into a virtual event box and hold your other eco-friendly gifts for virtual events. Made with recycled poly canvas material, proceeds from this fanny pack go towards nonprofits dedicated to protecting the planet.
Brand it with a fun motto, event logo, or company symbol with either a color silkscreen or print transfer imprint.
Use Eco-Friendly Gifts for Virtual Events to Create True Brand Connections
The whole point of events is to bring people together over a shared experience, creating meaningful and valuable connections. It's not as easy to accomplish this with virtual events, but it's possible. It just takes a bit of creativity and strategy. By offering a gift that's both valuable and meaningful, your brand will appear more human and be a whole lot easier to connect with.
Eco-friendly gifts for virtual events can do just that. By aligning your brand with cause and using gifts to prove your business values that cause, your customers and prospects will feel much more connected, appreciated, and in tune with your brand.