In the ever-changing world of promotional products, it's hard to keep up with all the new trends. One minute a product is a must-have, and the next, it's out of style.
After a bit of research, I found that popular promotional products fall into several different trending categories that represent what to expect in 2020. The most sought-after items are a combination of stylish, useful, and forward-thinking.
So, what are the top 10 promotional product trends in 2020?
1. Mobile Workspace Products
More of the workforce is remote, whether that's at home, on the road, or in a collaborative workspace. As a result, companies have to shift how they manage and engage those employees.
Mobile workspace products are great for connecting remote employees and keep them feeling in touch with the rest of the team.
Trending Mobile Workspace Products:
See the mobile workspace products collection here 👏
2. Generational Marketing Items



Generational marketing uses demographic information about your audience to speak in their terms and to their interests, so your brand transcends age.
Millennials and Gen Z are quickly becoming the largest generations to make up the workforce. Appealing to their interests and values through specific promotional products for them is a great way to delight a large portion of your audience.
Millennials value social issues, visual aesthetics, and innovation. They're resistant to traditional marketing and prefer to be online. Social media is huge with Millennials, because they look to their friends and networks to gather information before making a decision.
Gen Zers are starting to enter the workforce and will soon be the largest working generation. Similar to Millennials, Gen Z value companies that take on social issues, and they want to support businesses whose mission aligns with their own values. They're even more technologically-inclined than Millennials and seek the most cutting-edge devices.
Trending Products for Millennials and Generation Z:
See the collection of generational marketing items here 👏
3. Custom Socks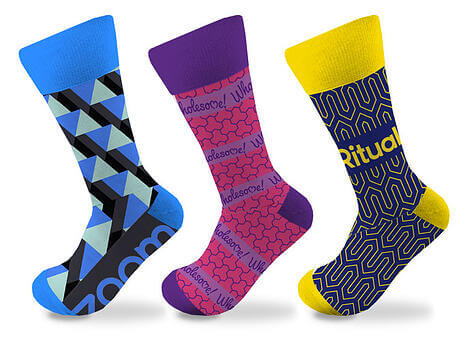 Apparel items are one of the most popular promotional items, and custom socks are a subtle but fun way to effectively promote your brand. They're extremely practical and useful; they can be worn on everyday occasions or to the office. Plus, they're a one-size fits all item which means it's budget friendly and easier to order large quantities on a budget.
Trending Custom Sock Types:
See the entire collection of custom socks here 👏
4. Social Giveback Items
Increasingly, consumers value corporate social responsibility. Brands associated with social giveback products have an added value that make them an important trend. In a social giveback program, companies donate a percentage of proceeds from their sales to charities or organizations in need. We're proud to work with corporations that care, like Miir, to give back to the community.
Trending Social Giveback Corporations:
See the entire collection of social giveback items 👏
5. Custom Swag
Custom products are a great way to attract attention; consumers love unique and one-of-a-kind items. This is your chance to activate your brand and move beyond a logo. Customizing a product specific to your target audience also increases its staying power. It demonstrates that you understand your audience and offer something unique.
Trending Custom Products:
See the entire collection of custom swag 👏
6. Power Products
People constantly use mobile devices in their personal and professional lives, making a "full charge" a highly desirable status. On-the-go power or products that extend mobile device functionality make it easier to connect socially and professionally. Products that allow users to charge on the go are a continuing trend, especially at busy conferences or events with few outlets or time for attendees to sit around for a charge.
Trending Power Products:
See the entire collection of power products 👏
7. Wireless Products

Continuing the trend of products that charge, the newest generation of devices with wireless charging cannot be ignored. Engage new tech adopters with products that minimize cord clutter. No one wants to be tied down to an outlet these days or have clusters of tangled cables. Wireless products are perfect for on-the-go work and keeping a tidy workspace.
Trending Wireless Products:
See the entire collection of wireless products 👏
8. Custom Journals & Notebooks


Even with mobile devices, lo-tech writing is still a necessity and a popular trend for 2020. Journals and notebooks are highly useful; they're great giveaways at events for attendees to jot down information, or for new employees or clients to use during meetings. Plus, they're endlessly customizable. The front, back, side, and inner panels can promote your brand and inspire ideas.
Trending Custom Journals & Notebooks:
See the entire collection of custom journals 👏
9. Retail-Inspired Products
Consumers want products that they recognize, whether in stores, from social media, or on the web. Those products have a solid reputation and a price to match. Giving away recognizable promotional items makes them seem more desirable and aligns your brand with a quality product. Retail-inspired products have similar designs to name-brand items, but are more budget friendly. Plus, you'll be able to customize the products to fit your brand.
Trending Retail-Inspired Promotional Products:
Here is a collection of retail-inspired products 👏
10. Messaged-Based Designs

Make your brand more than a logo. Brands that stand out have messages on their promotional products that inspire and tell a story. This is more than slapping your logo on a shirt; it's demonstrating your company's purpose and culture to evoke emotion, and engage new connections.
Message-based designs offer customizable options such as full color, unique imprint areas, and creative message placement.
Trending Message-Based Designs:
Here is a collection of message-based products 👏
Key Takeaways:
Keeping up with the newest trends lets everyone know your company is forward-thinking and innovative. Don't worry, you don't need a product from each category to get ahead. Find products that support your company culture or mission, connect with your target audience based on their identity and needs, and are within your budget.