Have you written off umbrellas as a promotional product? An overlooked commodity, a custom printed umbrella is one of the most undervalued promotional products out there. We'll prove it with some facts, but first, let's think about it anecdotally.
When was the last time you got caught in the rain? What was the first thing that went through your mind? Perhaps - "drat, I forgot the umbrella!" Then maybe you remembered that custom printed umbrella you received the other week when you went to open up a new bank account. Stored away in the car, this umbrella saves your day - and your outfit - and you can't help but think positively about the business that gave it to you.
That's the power of a custom printed umbrella. So before you write them off as a promotional product, let's take a hard look at why they are so valuable. Then we'll discuss 5 different custom printed umbrella ideas to activate your brand.
The Value of a Custom Printed Umbrella
So how much of an impact can promotional umbrellas have? According to ASI's most recent Ad impressions study, the custom printed umbrella will generate 1,100 impressions during its lifetime. This means, if that umbrella costs you $10, the cost-per-impression is just one cent. That's a lot of bang for your buck.
It goes further than just monetary value too. Custom printed umbrellas have a long staying power. On average, promotional umbrellas are kept for over a year, the majority of recipients holding onto them for at least 14 months.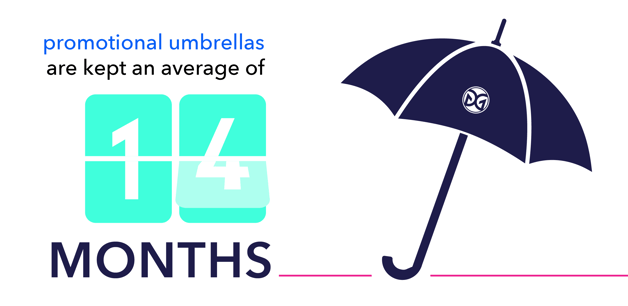 Alright, so we know umbrellas can make a big brand impact. But how do you effectively use them as a promotional item? It depends on your target audience. We'll break down the following ideas by industry.
1. Custom Printed Umbrellas for Healthcare
If your business or organization is in the healthcare industry, there is a ton of opportunity to delight potential prospects with the gift of a custom printed umbrella. Chances are you have lots of patients coming and going from your offices. This provides a great opportunity to show patients you truly care about them by offering them an umbrella to shield them from the rain as they leave your office.
Medical facilities can also use custom printed umbrellas in the waiting rooms as a display, or by the door, for staff members to use as they help patients to the car.
In the healthcare industry, the top purchasers of promotional umbrellas are hospitals, medical groups, doctors, dentists, nursing homes, and medical laboratories. Here are some ideas on how to use custom printed umbrellas as a promotional item in the healthcare industry:
Gifts for National Nurses Week (May 6- May 12)
Gifts for National Hospital Week (May 12 - May 18)
Employee Recruitment Giveaways
New patient gifts
Gift shops merchandise
Pharmacy sales
Charity events or blood drives
So what are the best types of promotional umbrellas for the healthcare industry? Here are our top custom printed umbrella picks:
2. Custom Printed Umbrellas for Financial Institutions
Financial institutions such as accounting firms or insurance companies typically have big-budget clients they are looking to impress. Umbrellas can offer that high perceived value you're looking for at an affordable price. According to ASI's study, 57% of consumers report the quality of an umbrella as the number one reason they keep it. If you invest in the right kind of umbrella, your gift will be perceived as high-class, and premium.
So if you are a financial institution, how can you use promotional umbrellas to delight your clients? Here are a few ideas:
Hand them out as gifts for new customers or accounts
Give them away at sales meetings
Use them as giveaways for industry trade shows or virtual events
Use them as a prospecting tool for salespeople
Again, quality is the most important feature to consider when choosing custom printed umbrellas for financial institutions. So here are a few of our favorite high-quality custom printed umbrella picks:
3. Custom Printed Umbrellas for Educational Institutions
When it comes to colleges and universities, custom branded umbrellas can be a great giveaway item or branded merchandise idea. From students walking to class to campus sporting events, school branded umbrellas will be utilized and appreciated by many.
Consider ordering custom umbrellas for educational institutions in a variety of different colors and styles. You'll want to include school mascots and show off school colors. Engravings also make a big hit when handing gifts out for a fundraising event.
Here are some ideas for promotional school umbrellas:
Teacher or parent volunteer gifts
Graduating class mementos
Fundraising events for booster club or sports teams
Alumni events
It's also a good idea to stock up the school store. Especially at colleges, most students don't remember their umbrellas. You'll notice the first day it rains, you'll sell out pretty quickly.
Here are some of our favorite custom printed umbrellas for schools:
4. Custom Printed Umbrellas for Hospitality
These days, the hospitality industry is focused on outdoor services. With the pandemic causing restrictions on indoor gatherings, and people cautious and wary of indoor gatherings, hotels, restaurants, and event venues everywhere have had to learn how to better accommodate outdoor service. Custom printed umbrellas can help keep guests comfortable while showcasing brand value.
And when the weather gets cold? There's a lot of additional uses for promotional umbrellas. Here are some ideas for those in the hospitality industry:
Gifts for guests
Employee morale or rewards programs
Souvenir gift shop merchandise
Special event promotion
When selecting promotional umbrellas for your hospitality business, first consider what you'll be using the umbrellas for. That will then determine how you choose to brand them. For instance, if you're using them for event promotion, you could include the date and time of the event. If one umbrella has an average of 80 impressions a month, think about how much impact an "umbrella" advertising campaign could have before your event.
5. Custom Printed Umbrellas for Sporting Events and Organizations
There's a lot of money that's spent in the sports industry. And I'm not just talking about the professional leagues. Business Wire reports that the youth sports market actually rivals the size of the $15 billion NFL market, with a $19.2 market share.
It makes sense. Just think about the last time you went to a community sports event. Advertisements were everywhere. But promotional items have so much more of an impact than just traditional banner advertisements or flyers. Custom printed umbrellas are a smart way to give fans at sporting events something tangible that they can take home and use again. An added bonus - prospects will thank you when it starts raining during a game.
So what are some smart ways to use promotional umbrellas in the sporting industry? Here are some suggestions:
Game day giveaways
College bookstores or souvenir shops
Booster club fundraisers
Free gifts to sponsors
Raffle prizes at sporting events
Custom printed umbrellas can also be a great giveaway item for corporate sporting events like golf tournaments. They'll impress event attendees by being both an impressive and useful giveaway item, and again, tournament players will love the fact that they can take it home and use it again the next time they hit the green.
So what types of umbrellas are best for sporting events and organizations? Here's are our top picks:
Activate Your Brand with Custom Printed Umbrellas
No matter what industry you're in, custom printed umbrellas can effectively activate your brand in new and unique ways. Not only will you be investing in a promotional product that people will value, but you'll be making a bold statement for your brand.
Custom printed umbrellas come in a variety of different color options, styles and sizes. Not to mention various features like ventilated, automatic open, inverted or UV protected. Browse all the different options in our handpicked collection here.
The umbrella you choose will all depend on your audience, industry, and brand. Our team of brand experts can walk through these considerations, and help you choose the perfect style and customization to maximize brand activation.