Hosting a charity golf tournament? You're not alone. There are approximately 1 million golf tournaments scheduled each year with at least 40 players or more. Two of the biggest challenges tournament planners face? Finding participants, and selling sponsors.
That's where golf event giveaways can make a big difference. Not only can you take advantage of maximizing your brand's exposure with high-quality event gifts, golf event giveaways can help you attract more players while selling sponsors on the opportunity. Use them as a branding tool during the event by giving them out as a "thanks" for signing up or as a raffle item or prize for the tournament winner. Sponsors might be attracted by the opportunity of branding their own giveaway items to be handed out during the event.
So what types of items make for a good golf event giveaway? It depends on your location, audience, and event type. Are you hosting an event with serious golfers or is it more a crowd of amateurs? You'll want to get a clear picture of your target audience. Once you have that, consult the following list of creative golf event giveaway ideas to spark some inspiration.
1. Custom Golf Ball and Tee Holder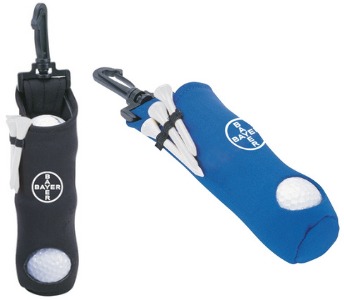 Golf balls and tees are small and easy to lose. This golf ball and tee holder is a great addition to any golf bag and will keep golfers from having to fumble around for a replacement. Its compact size, measuring 2.5 x 6.5 x 1.5 inches, and attached clip give it the ability to even be worn on a belt loop. It can hold up to 3 golf balls and 3 tees.
Activate your brand by customizing it with your brand's logo. The bag itself comes in royal blue or black.
2. Branded Golf Hat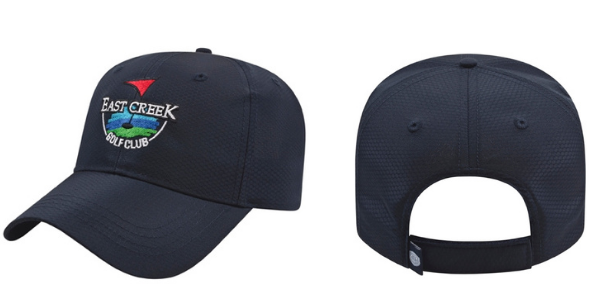 Ever seen a golfer without a hat? Me neither. A custom golf hat is an essential part of hitting the green. It's a practical golf giveaway that every golfer will make use of. And it's a great way to feature your logo for all eyes to see. This custom golf cap is made from 100% lightweight polyester fabric, that's UV protected and moisture-wicking. So even on the hottest days, golfers can rest assured they're protected. It has a woven loop label, fabric strap, and two-piece hook and loop closure for easy adjustment.
Choose between black, gray, navy, red, or royal blue. Your logo can be either embroidered or silkscreen imprinted on the front, and you can even include an optional imprint on the back for added exposure.
3. Personalized Lunch Container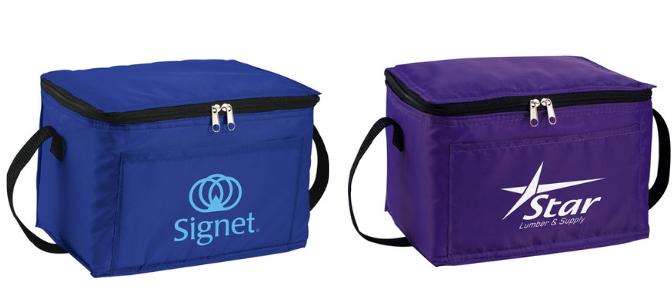 Lunch breaks are a must, especially during a long golf tournament. Give your golf players an easy way to carry their lunch along with them, with this personalized 6- can lunch cooler. Players will love that it's lightweight, yet spacey, capable of including lots of snacks and beverages for the whole day. With PEVA insulation in the main zippered compartment, beverages will be kept cold for hours. Plus, an open front pocket adds some extra organization space. The 21-inch handle makes it easy to throw over the shoulder.
Personalize it with a digital print transfer and choose between several bright and bold colors like hunter green, pink or yellow.
4. Promotional Golf Kit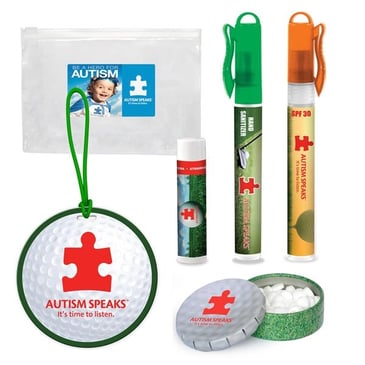 Golf tournaments have the tendency to last for hours. Protect your players with everything they need on the green with a promotional golf kit. This kit includes items that will not only be useful during the day but even long after. Spray hand sanitizer will keep germs away, along with sunscreen for hot days, golf-ball-shaped mints, customized lip balm, and a fun golf-ball-shaped luggage tag.
It all comes in a handy pouch that can be customized with a full-color imprint. All the other items can also be branded with your logo to for a full, brand cohesive look. Use it as a "thanks for playing" giveaway item. Your tournament participants will appreciate it long after the day is over.
5. Logoed Golf Shoe Bag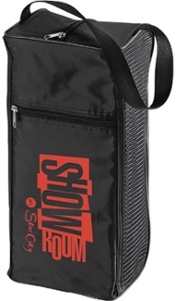 Sometimes the green gets muddy. Golf shoe bags are a thoughtful golf event giveaway item that your players will appreciate to keep dirt out of their cars. Add a branded logo to your bag, and you have a useful and practical gift that gives quite a bit of brand exposure.
This particular logoed golf shoe bag is made from 70 denier nylon and features waterproof backing and mesh vented sides. This helps air out any odors that might get trapped within the shoes. It measures 7.25 x 14 x 4.75 inches and can store any type of shoe, making it useful even for those that only golf occasionally. Add a silkscreen logo to its front for maximum brand exposure.
6. Personalized Golf Towel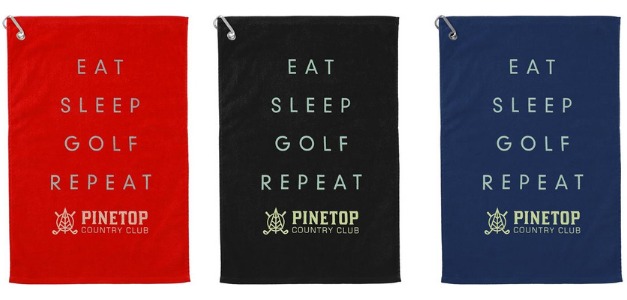 This simple golf event giveaway will add a touch of elegance to your tournament. A personalized golf towel provides ample imprint room for your logo. Include a fun, branded phrase or event theme. The 100% ring spun cotton towel comes with a grommet and aluminum carabiner clip that makes it easy to attach to a golf bag. It measures 15" x 18" inches, making it perfect for quickly cleaning off a ball and wiping off your hands.
Go big and bold with a logo centered on the towel or more subtle with a branded imprint in the top left corner.
7. Custom Sunscreen & Lip Balm Combo

It's often easy to forget sunscreen. And, lip balm is almost always an afterthought. Yet it's pretty common to get sun and wind burnt on the golf course. Protect your golf tournament participants with this easy and clippable sunscreen and lip balm duo. A custom label will keep your brand top of mind when your participants reach for this must-have golf essential.
The sunscreen comes in a 1.9-ounce bottle that has an SPF of 30. The lip balm comes in an assortment of flavors and has an SPF of 15. Both items are connected with a carabiner, that's available in several colors and is easy to clip onto a golf bag. Brand it with two different imprint locations. Add a full-color label to each product, and add a laser engraving to the carabiner, which comes in several different colors.
8. Branded Koozie® Golf Tee Kit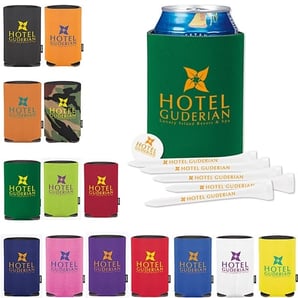 This branded Koozie golf tee kit includes everything players would need for a relaxing day on the golf course. Plus, if you're hosting a tournament, you'll help spread brand awareness with a matching kit everyone can enjoy on-site.
The Koozie kit includes an imprinted Koozie® can "kooler", 5 imprinted tees, and an imprinted ball marker. The Koozie is made of polyester with a foam backing while the tees measure 2.75 inches. All items come branded and in an assortment of colors, unless specified. Choose from 3 different imprint locations on the Koozie.
9. Custom Divot Tool and Ball Marker Combo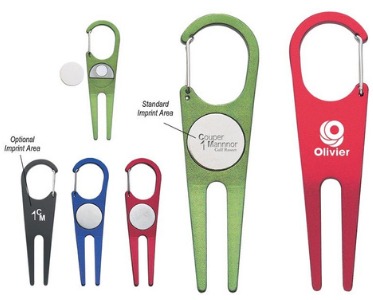 A divot tool is a must-have golf accessory. Every golf course deals with ball divots on the green. A divot tool and ball marker will help to repair these blemishes quickly while allowing the player to still mark his ball position before putting. This specific custom divot tool and ball marker combo is magnetic, so you'll never lose track of the white ball marker. It also comes with a convenient clip attachment, that can easily attach to a golf bag.
Choose from a variety of colors like green, red, blue, or black. Plus, add a laser engraved imprint in either color clear, gold-tone, silver tone-on-tone, or white.
10. Branded Caddie Candy Box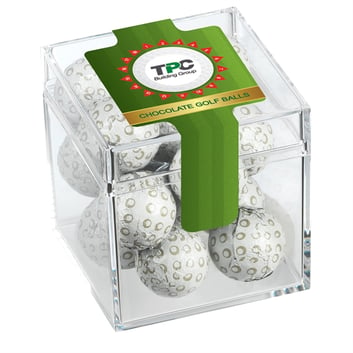 Golf event giveaways can be a little sweet too. Add some fun to your next corporate tournament or charitable event with this branded Caddie candy box. With a clear cube design, measuring 2.35 x 2.35 x 2.35 this is filled with 3.3 ounces of chocolate golf balls.
You'll want to be mindful of the weather when choosing the edible snacks in this gift. If your tournament is on a hot sunny day, you might want to opt to fill this cube with the apple gummies or cajun hot mix.
Each box includes a 4-color process label that can showcase either your brand name or event title. It's a fun item to give out at the end of a tournament as a special thank you for participating. You'll attendees will love munching on the snacks after a long day on the green. Plus, they'll find the cube itself as a handy container for future use.
11. Logoed Sunglasses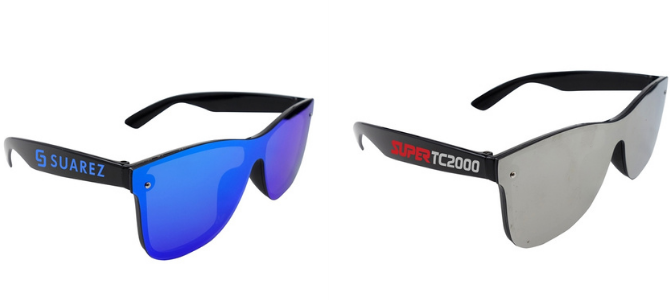 This simple, inexpensive product is a must-have for anyone on a sunny, golf tournament day. Logoed sunglasses are an easy golf giveaway item that you can bet will come in handy for your tournament players. These glasses have on-trend rimless shades that are shatterproof with a UV400 containing. They offer 100% protection that meets FDA standards, shielding eyes from both UVA and UBA light.

But they don't just offer high-quality protection, they also make a true style statement. With your choice of blue or gray tint and an added logo or message to the sunglasses arms, you'll have your golf tournament attendees looking their best. The glasses also come with an optional pillow pouch to complete the gift experience.
12. Personalized Golf Polos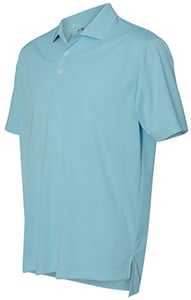 When you picture a golfer, what's the first thing that comes to mind? Polos shirts? They're kind of the gold standard of the golfer. So consider handing out personalized golf polos to complete your golf event while maximizing brand exposure. Your attendees while likely enjoy added it to their polo collection, and wearing it when they hit the green again.
Stuck on what polo is best for your golf event? Browse our handpicked polo collection for inspiration. You'll want to consider things like size and men or women sizes. Consider including a question about polo shirt size on your registration form. This will make sizing easier down the road.
And don't forget to embroider your event logo on your polo of choice. Typically, you'll want to place your event or brand logo in the upper left corner of the chest.
Final Advice on Golf Event Giveaways
The golfing community gives event marketers a lot of different opportunities. From charity or corporate events to multiple-day tournaments, personalized golf event giveaways can delight your players while giving your event brand cohesion.
Remember to think hard about who your target audience is. The goal is to pick truly useful, high-quality gifts that your tournament players will want to keep around. And maybe they'll even bring it with them to the green the next time. When done right, a high-quality golf event giveaway has the potential to increase your brand exposure long after your golf event is over.