Happy Anniversary!
Many of us are coming up on our 1-year mark of working from home. And for some, the home office has become the forever office, as companies have transitioned to a remote workforce.
Though working from home has it's efficiencies, it also can be wearisome. There comes a point where those online happy hours just aren't all that fun anymore. Zoom fatigue can come on strong, and leave us all in need of a little personal connection.
So, as an employer of a remote workforce, how can you improve employee morale? Think beyond a company memo, or gift card in the mail. Make your employees feel truly valued by sending a corporate care package.
You don't have to just include traditional promotional products in these work from home care packages. You want to select gifts that offer comfort at home, make employees feel appreciated and connected while physically apart. It's a weird time to be in the working world, and knowing you're thinking about their comfort can make all the difference in month 14 of 2020.
9 Ideas for Corporate Care Packages
So what should you put inside your work from home care package? To give you some inspiration, here are 9 work from home care package ideas to boost employee morale and help bring everyone together in a remote world.
1. Wearable Cozy Fleece Blanket

What I love About It
Nothing says comfort more than a cozy fleece blanket that you can wear. This oversized fleece sherpa blanket is both a practical and thoughtful gift for the home. And its wearable feature gives it a one up on a generic blanket. It's a gift that doesn't scream "office" and will show your employees that you don't just care about productivity, but you care about their wellbeing too.
Features
This blanket has two sides. The outside is made from 230gsm 100% polyester fleece that's soft to the touch, while the backside is a warm and cozy 200gsm polyester Sherpa. Oversized for extra comfort, it measures 50X70 inches unfolded, and 22.5 x 12.5 inches folded. It comes with sewn on snaps, which can be used to secure it like a sweater.
Branding Options
Make this blanket a true gift, by personalizing it to your employee or your employees in general. You can choose from multiple different imprint areas, and design an embroidery of up to 7,500 stitches.
2. Sherpa Blanket with Full-Color Card

What I Love About It
This blanket has a stylish, vintage feel that adds a perfect touch to home decor. It also comes with a card that can be branded with your custom logo or message, making it a personalized, heartfelt option for a work from home care package. I love how it mixes style with comfort, for a true homey and cozy gift.
Features
This blanket combines super soft velour and Sherpa backing with vintage branding element and details. Measuring 50 X 60 inches unfolded, and 16 x 11.5 inches folded, it's big enough to offer lots of comfort, but compact enough to fit into a care package. The card is included with a blanket band to keep everything together. With seven different colors to choose from (black, green, gray, navy, tan, brown or burgundy), you can find the perfect match for your employees.
Branding Options
The blanket can be customized with an embroidered logo of up to 7,500 stitches. Plus, the card can be branded with your colors, logo or message. The two branded options together make a pretty solid statement for your brand, while offering a personalized impact to your employees at home.
3. Custom Hot Chocolate Bomb Gift Box

What I love About It
It's a true trending product! Have you seen the videos on social media hyping up hot chocolate bombs? Just search #hotchocolatebombs on Instagram and you'll see what I mean. These can easily be incorporated into a work from home care package. You can even take it a step further, by having your employees share their hot chocolate bomb videos on social media. It might help create a sense of virtual community amongst your team members leading to a boost in morale.
Features
Not only is this a cool product in general, it tastes good! Filled with delicious marshmallows, and made with indulgent rich chocolate, this hot chocolate bomb creates a steamy, hot cup of delicious hot cocoa. All you have to do is place the "bomb" in a mug, and pour 10 ounces of hot milk over it. Watch the bomb unravel like magic before your eyes, and there you have it - a delicious and warm treat.
Watch it in action:
Branding Options
You can make this gift truly your own by customizing the gift box it comes in. Choose a full-color imprint to ensure your employees know where this unique gift is coming from.
4. Custom Port Authority Quarter Zip Pullovers

What I Love About It
Fleeces are one of the top branded apparel items of 2021. So you really can't go wrong with this retail inspired Port Authority ¼ Zip fleece. Not only is it a popular brand name item, it also comes in both men and women styles, and is a perfect piece of work-from-home clothing.
Features
This fleece is made with 100% polyester sherpa fleece. It has a reverse coil zipper, with dyed-to-match neck tape, plus open cuffs and hem. It comes available in eight sizes: XS, S, M, L, XL, 2XL, 3XL, or 4XL and five colors: black, grey heather, oatmeal heather or charcoal.
Branding Options
Make this trending clothing item your own by adding an embroidered logo to the chest. Your employees will love feeling comfy and cozy in your company's fleece during meetings or just lounging at home.
5. Branded Basecamp Zion Mug

What I Love About It
For me, coffee is always a morning must. And when I'm working from home, I've found it a lot easier to have two...three...maybe four cups. But what's frustrating is how cold it will get if I just use a basic mug. That's why I love this Basecamp Zion mug, that keeps coffee hot all morning long, no matter how busy I get. Employees will love getting this in a work from home care package, and they might even rep it during the next virtual office meeting. Or maybe, change up the weekly virtual happy hour, and have everyone grab their branded mug for a morning coffee get together. Switching things up can help boost employee morale.
Features
This Basecamp Zion mug can hold 15 ounces and is made out of 18/8 powder coated stainless steel. It has a copper lining and is double-wall, vacuum-insulated to keep beverages hot as long as possible. The unique flat carry handle makes it feel more like a cozy, at home mug then a travel thermos. A push-on lid with silicone gasket ensures your beverage is sealed and locked inside for maximum temperature regulation. Choose between black, white, graphite or blue.
Branding Options
Make this mug your own by choosing between a classic silkscreen imprint or a chiseled logo. The latter involves chiseling your logo into the mug, revealing a brilliant stainless steel surface underneath.
6. Bento Box Lunch Set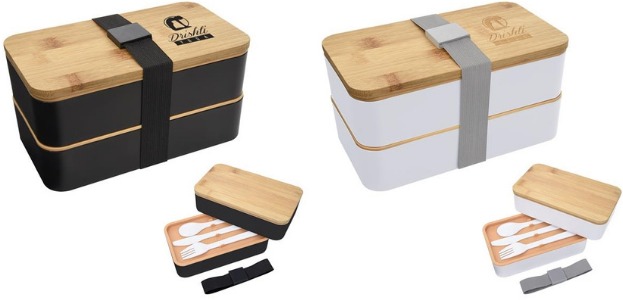 What I Love About It
Hear me out. Sure, lunch boxes seem like a "bring to the office item." But one thing I've learned from talking with other remote employees is that we all find comfort in routine. A great way I've seen people adapt to the work from home lifestyle is by consistently packing their lunch, even while at home. So a stackable bento lunch set like this one can be a gift that will help your employees find some normalcy in this new work lifestyle. Maybe include a handwritten note in your work from home care package, and explain your gift. They are sure to appreciate the thought.
Features
This stackable bento lunch set features two 20-ounce food containers. It also comes with a plastic fork, spoon and knife, making lunch time convenient and easy, even when at home. It offers a leakproof, airtight lid, with a black strap, while will keep everything safe and secure in the fridge.
Branding Options
Customize this bento box with a laser engraved, or silk-screen imprint on the lid. Choose from a variety of different bold branding colors like kelly green, reflex blue, silver, forest green, or even tone-on-tone.
7. Candle Light Bluetooth Speaker

What I Love About It
This is a true gift for the home. As an employer, this is the type of gift you want to include in a work from home care package that shows you truly care about your team as people and just as workers. And your employees will certainly appreciate the unique features this candle light bluetooth speaker offers, while they're listening to calming music with a candle light ambiance in the background.
Features
The plastic based speaker is shaped like a candle, and features a built in LED light to mimic a flame. The base is a built in Bluetooth speaker that can play music for over an hour. It has a three-watt speaker output, and includes a micro USB charging cable. It's made of ASB plastic, and comes in royal, white or wood.
Branding Options
Make this candle stand out with your company's logo. Choose between color print pad or color print. It will be featured on the top part of the candle.
8. Black Marble and Wood Cutting Board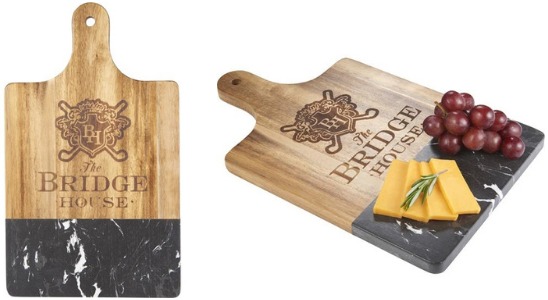 What I Love About It
It's classy! Sure, maybe your employees are tired of those routine virtual happy hours, but why not host a wine and cheese virtual party. This black marble and wood cutting board is perfect for a charcuterie board. Have your employees break out these cutting boards after sending them their work from home care packages, and wine and dine for an employee moral booster.
Features
This cutting board is crafted from black marble and acacia wood, making it a premium gift. It features a long wood handle that makes it idea for serving cheese or snack plates. Plus, the handle has a small hole which can be used to hang the board from a hook.
Branding Options
You'll want to customize this cutting board with the sleek branding options available. Choose between a laser or laser plus imprint on either the handle or the top centered wooden portion of the board.
9. English Toffee Mailers
What I Love About It
These english toffee mailers are an ideal employee appreciation gift to add to a work from home care package. Consider pairing it with another gift, or with a heartfelt note of appreciation. You really can't go wrong with treats in the mail. It's another great way to show your employees that they are more than just a worker to your company.
Features
This toffee gift set comes in an eco-friendly kraft pillow pack box. Packed inside are 12 pieces of exquisite english butter toffee. The box measures 9.125 x 5 x 2 inches and is perfect for the mail, or to pack inside another box. This set is all tied together with a classy black grosgrain ribbon tie.
Branding Options
Stick with the elegant feel of this box, by branding your logo via a foil stamped black imprint. It will make the gift feel personal and high class.
A Work From Home Care Package that Gives Appreciation
Your remote workforce is important to you, and they need to know it. Don't be generic with your employee gifts, think outside of just office themed promotional products. By filling a work from home care package with thoughtful products for the home, you'll be more intentional about your gifts, and it will show.
Employees want to be appreciated now more than ever, and it doesn't take much to show you care. Understand that your employees might be having a hard time adjusting to remote work, or there might just be a lot going on in their lives. Instead of focusing on these negatives, think about how you can help make that better.
A work from home care package will not only show that you appreciate them and their hard work, but it will give your team additional ways to connect. Consider holding virtual networking or team bonding activities incorporating the gifts sent in your work from home care package. By adding something tangible to these virtual get togethers, you'll be creating a new experience and adding a unique spin to what's become the mundane.
Remember, boosting employee morale is all about appreciation. Most of the time it can be quite simple. Think hard about what defines your workforce, and how you can add a little something special to their home.