When was the last time you performed a backlink audit? If the answer is never… you have some work to do ASAP. See, backlinks are one of the most important ranking factors. Yet it's pretty common for backlink maintenance to take a back seat for a lot of digital marketers.
Regular backlink audits are critical. But if you're not convinced, here's a quick story to put things into perspective.
The first time we did our backlink audit, we were a bit shocked. We had over 16,000 links to review. Yes, 16,000. Even worse - nearly half of those were what's called "toxic" links. These are spammy sites linking back to our site, and potentially affecting search rank. As you can imagine, it was a bit of a heavy lift to audit, analyze and review these links. But we prioritized it and saw a boost in our SEO performance because of it. Now, each month we perform a regular backlink audit as part of our website maintenance. With that first audit out of the way, it's been much easier to maintain.
If you haven't established your own regular backlink audit schedule, now is the time. And once you develop a process, it's easy to rinse and repeat. In this post, we'll walk you through the steps of performing a backlink audit and why it's a critical SEO strategy. Let's start from the very beginning.
What are Backlinks?
Simply put, a backlink is a link back to your website from another site. For example, if someone links to your site that's a backlink from them. If you link to another website, they have a backlink from you. They might sometimes be referred to as "inbound links" or "external links".
Backlinks are commonly overlooked, probably because we don't have as much control over them as we might like. Yet, they are one of the most important SEO ranking factors. Even Google itself has alluded to this, at one point listed backlinks in one of its top 3 ranking categories.
It's pretty critical to build up a backlink profile. But it's equally important that these links are high-quality, authoritative sources. And this is where a backlink audit comes into play.
Why Is It Important to Perform Backlink Audits?
There are quite a few spammy sites out there. And it's not unusual for these types of websites to find your own site and link back to it. Because Google evaluates the domain that links to yours when it determines rank, it's essential to evaluate what types of sources are linking to you, and whether or not these are reputable sites.
Have you ever heard of link schemes? Google cracks down hard on these. They're a bad user experience for everyone involved. Google's policies define link schemes as, "Any links intended to manipulate PageRank or a site's ranking in Google search results may be considered part of a link scheme and a violation of Google's Webmaster Guidelines. This includes any behavior that manipulates links to your site or outgoing links from your site."
So if you have any unnatural, spammy, or just plain low-quality links on your site, you could be at risk for a penalty from Google. So if you want to keep your backlink profile clean, you'll need to learn how to perform regular backlink audits.
6 Steps to Perform Your Own Backlink Audit
What is a backlink audit? It's a method used to record, analyze and manage your site's backlinks. Throughout this process, you'll compile exactly how many backlinks you have, remove or disavow the toxic links, and whitelist the authoritative high-quality sites. By regularly doing this process you'll maintain a clean backlink profile while identifying potential link-building opportunities.
We'll be honest, it's a bit complicated the first time you do it. But it gets easier with time. Follow these 6 steps to perform your own backlink audit.
1. Find All Your Backlinks
When performing a regular backlink audit, the first step is to make a list of all your site's current backlinks. Easier said than done. Luckily there are quite a few tools out there to help with this process. You'll want to decide if you want to use a free tool or invest in a more comprehensive resource. If you go with the latter, the process will be a bit simpler. But regular backlink audits are certainly still doable with a free program. It will just take a bit more legwork. In this blog, we'll walk you through the manual process.

There's a lot of different tools out there you can use. I'm going to recommend three. But really, any link analyzer will work. The idea here is you need to come up with a list of every single one of your backlinks, along with the source of the link.
Google Search Console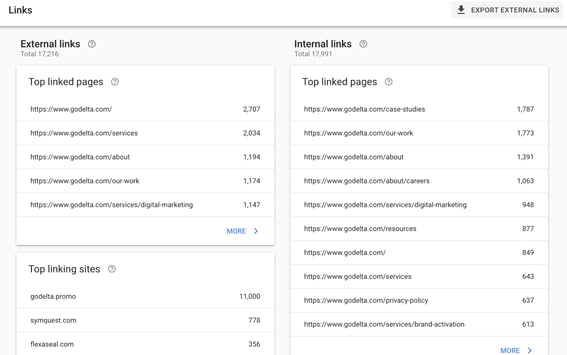 This tool is free. You'll need to add your site to Google Search Console if you haven't already. But this tool offers valuable insights that are helpful even beyond your backlink audit process. To find your list of backlinks follow these steps:
Log in and select the property you want to download the backlinks from.
Click on "links" in the left navigation bar.
Under "top linking sites" click "more".
You'll notice your total number of backlinks at the top. You can export this list as a spreadsheet by clicking "export".
SEMRush Backlink Audit Tool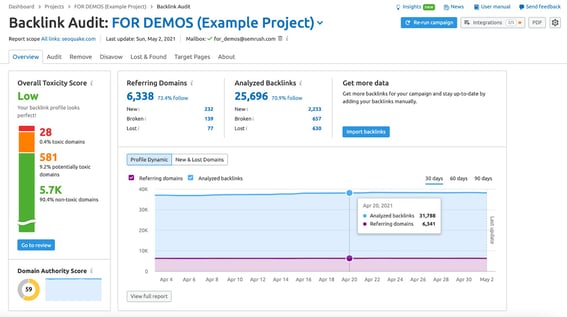 This is the tool we used to complete our own backlink audit. SEMRush offers a "backlink audit tool" that easily compiles all your backlinks into one, easy-to-read list. But it does require a subscription to use this feature. Here's how to use the backlink audit tool to find your links:
Go to the

Backlink Audit tool

and set up a project.
You'll be given the option to configure your audit by entering your campaign scope. You'll have the option to specify your brand name (enter any alternate spellings), select the categories for your brand, and select the countries associated with your target audience.
You can also enter target keywords, categories, and competitors associated with your domain.
Then click "start backlink audit" and wait a few moments. It takes a while to compile all your links, especially if you have quite a few.
Moz Open Site Explorer
If you have a subscription to Moz you can take advantage of their Link Explorer tool. It offers the same type of functionality as SEMrush, but also gives you your Domain Authority, which can be helpful as you begin the work on link building. Here's how to get started with Link Explorer:
Enter your URL into the dashboard.
Hit enter and you'll be given the following: Domain Authority, Linking Domains, Inbound Links, and Ranking Keywords.
Take notice of "inbound links". You'll be given various metrics on these links and have the option to export the list to an excel document.
The list building is the easy part of your audit. Once you've compiled your backlinks, it's time to assess each link's quality and take action on those that are potentially toxic.
2. Analyze Backlink Quality
If you're using a tool like SEMRush, you'll automatically be notified of potentially toxic links. This process gets a bit more complicated with a free tool, but still doable. You'll want to analyze each backlink for the following:
Referring Domain - This is the address of the site where your backlink is located. Investigate the site. Is it spam? Or is it a high-quality domain?
Anchor Text - Pay attention to what's being used as the anchor text for each backlink. This is the text that's being used for the link. Usually, an exact URL for an anchor text is a red flag of a spammy site.
Domain Authority - This is a very important metric for analyzing link quality. Basically, DA refers to how well a site will rank on Search Engine Results Pages (SERPs). The higher the DA the better quality backlink it is. But just because a backlink has a low DA, doesn't necessarily mean it's not a quality link. Sometimes, these types of links can lead to more reputable links down the road. You've got to start somewhere after all.
Other things to pay attention to are sites that might be linking to your pages dozens or even hundreds of times. These are usually spammy sites. Also pay attention to sites that add your domain to their footer, as a reference. Though this might be innocent, this can give you hundreds of links from a low-quality site that could potentially damage your SEO.
Make a note of each potentially "toxic" site. If this is your first time doing a backlink audit, you might have quite a few. Don't let this scare you, this is normal. Once you've established your regular backlink audit process, these links will be much easier to manage.
3. Ask Site Owners to Remove Toxic Links
Now that you have a list of toxic sites linking to your website, it's time to take action. You'll want to divide your lists into two different categories: link spam and low-quality links. Low quality will differ from your spam sites as these backlinks are legitimate enough, yet they are affecting your backlink profile. Spammy sites are clear junky sites that you shouldn't waste your time reaching out to.
It's important to reach out to site owners for these low-quality sites though, as Google can penalize you for disavowing sites for no apparent reason. When possible, reach out and ask kindly for them to remove your link. Here's an example of a good outreach message:
Subject: Please Remove Link
Hi there,
I'm working to clean up our website, and I need your help removing some links from your site. Though I'm sure your site is credible, I'm working to eliminate as many links as possible.
Here's the page with the link:
Here's the page on my site that you're linking to:
Please remove this link and send me a quick note once you do. That will help keep track throughout my link cleaning process.

Thanks so much!
Your Name
Obviously, you'll want to keep track of your responses and your efforts. If you aren't getting anywhere with your outreach, then you'll have no choice but to disavow these sites.
4. Disavow Bad or Toxic Links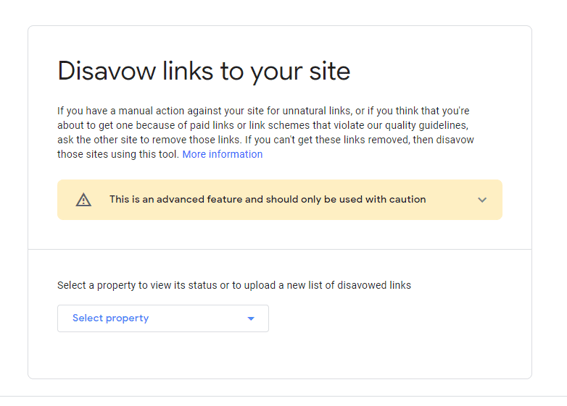 Google offers a special tool for this. The Disavow Links tool allows you to tell Google to ignore these links when indexing pages. It's important to use this feature with caution. If used incorrectly, you could harm your site's search performance. But if your confident that a site is spammy, or if you've already tried reaching out to a low-quality site with no response, disavowing is your next best option.
To do use this tool you need to save a list of all the links you'd like to disavow in a .txt file. If you're keeping track of your links in an excel file, simply "save as" a .txt file. If you're using SEMRush or Moz or another tool, you'll need to export your list.
We always recommend double - even triple - checking your list. You definitely don't want to disavow a high-quality backlink that's an authoritative source.
Once you have your list, head over to the Disavow Tool. Select your property and upload your list. Yep, it's that simple. Once you upload your list, Google will process your request and you can expect the links to be disavowed within the next couple days.
Remember, only disavow links when you're left with no other choice. It's the last resort option.
5. Make a Note of Any Quality Backlinks
Throughout the backlink audit process, you've hopefully noticed some high-quality, authoritative sites linking to your website. That's what backlinking is all about. So it's really important to make a note of these sites, and use these naturally obtained links as a basis for future link-building strategies.
Make a note of any high-quality links, and consider reaching out to some of these site owners to introduce yourself. Consider the types of high-quality sites that are linking to you, and brainstorm other similar sites that might also be worth reaching out to.
Backlinks are very valuable when legit. So it's important your backlink audit doesn't just focus on removing spammy links. Use it to come up with a comprehensive backlink building strategy as well. And you're in luck - we wrote a detailed guide on how to build up your backlinks (without begging).
6. Check and Monitor Progress
When you think you've completed your backlink audit, you haven't. A backlink audit is never one-and-done. This post is, after all, about why you need to perform regular backlink audits. So a big part of the process is measuring and monitoring your results.
Keep an eye out for any improvement in search rank or website traffic because of your efforts. And don't forget about your email outreach. Did anyone answer your request? Have you sent a follow-up reminder? Maybe they removed your link without responding.
By coming up with a regular cadence for your backlink audits, you'll be able to check the results of your efforts. Plus, with regular maintenance, you'll ensure you won't ever have to sort through thousands and thousands of links again.
Clean Up Your Site with Regular Backlink Audits
So there you have it. That's how you establish a regular backlink audit routine. Keep in mind that SEO best practices are constantly changing. So your backlink audit strategy should adapt over time. And the more you audit your backlinks, the more insight you'll gain on the type of links you want - and the type of links that have got to go.
And remember, there are quite a few tools out there that can help. As the world of SEO changes, keep your eye out for new information, strategies, or tools that might help make your backlink audit easier and more successful. Your search rank performance will be grateful.