Over the last few months, we've been talking about how the future of promotional products is high-quality, retail-inspired items.
One company that illustrates these trends especially well is Seattle-based drinkware maker MiiR.
MiiR makes beautiful and functional drinkware including travel mugs and camp cups. But the company is known for its humanitarian projects as much as its products. MiiR donates three percent of its revenues to charitable projects related to water quality, the environment or community building. And unlike many brand-name products, MiiR allows its products to be used by other brands for promotional products.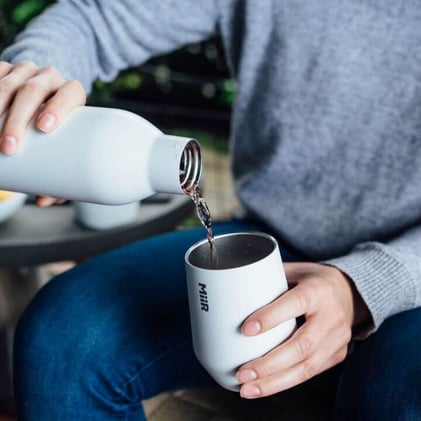 To put it simply: MiiR is doing it right.
That's why we're happy to announce that this fall we began offering MiiR's custom logo drinkware, including travel mugs, camp mugs and gift sets.
Here's what we like about MiiR:
A brand-name product available for custom logo engraving (more than just retail-inspired)
Earlier this year, we called retail-inspired promotional items the number one trend for logo gear in 2019.
Highly-stylized branded products are everywhere today, so much so that when people receive promotional products they aren't satisfied with things that look "generic." For example, people don't just want sunglasses, they want ones that feel like Ray-Bans. Similarly, not all leggings are Lululemon.
Promotional product manufacturers recognized this trend and responded to this demand with retail-inspired custom logo gear, items that had the same look and feel, and in some cases were even made in the same factories as the brand-name equivalent product.
But in the case of drinkware, there's an option that one better than retail-inspired: actual brand-name promotional products from MiiR. MiiR products including tumblers, camp mugs and gift sets can be custom made to feature logos of businesses or organizations. These custom promo products also have the subtle MiiR logo on the side, so people know it's the real thing.
Form and function
Of course, MiiR wouldn't be such a strong brand if it didn't make such good quality drinkware. We've been especially impressed by MiiR's products because they look great, and because they excel at keeping hot drinks hot and cold drinks cold.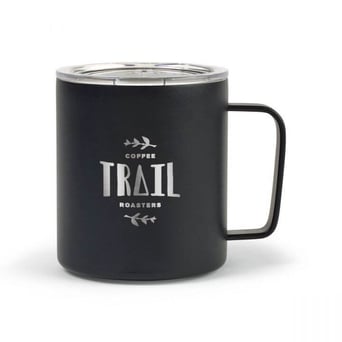 Both MiiR's cups and tumblers are vacuum insulated, which makes them much better at maintaining beverage temperatures than cheaper single-walled cups. It's the difference between hot coffee and a lukewarm cup of java. Vacuum-insulated containers have most of the air sucked out of the space between the inner and outer cup so there are fewer air molecules to transfer heat from the beverage to the external environment (or the reverse for cold beverages). It's the same principle that's behind the Thermos.
Aesthetically, we like the clean, rugged feel of the stainless steel that both MiiR's travel cups and camp mugs are made of. The matte finish on the exterior is also a pleasing touch. It makes for an understated look that works well with any kind of logo.
Like retail-inspired products. Products with matte finishes are one of the top promotional product trends we identified for 2019.
Verified 3% giving-back program
MiiR isn't only known for being a maker of high-quality drinkware. The company is also famous for giving to charitable projects, and for the innovative way that the company tracks the good it does.
As a Certified B Corporation, MiiR has made commitments to both people and profits, and has pledged to donate three percent of revenue to charitable projects, most of them related to protecting clean water — an appropriate choice for a company that sells drinkware.
MiiR's charitable contributions are trackable, and give consumers a window into the benefit others are getting from their purchases. In addition to a custom logo, and the MiiR logo, each piece of MiiR drinkware comes imprinted with a GiveCode™, which each consumer can use to follow a specific project that they helped fund. Recent projects include supporting women entrepreneurs in Rwanda, and conservation projects in Yellowstone National Park.
To date MiiR has contributed more than $1 million to 61 projects in 26 countries. Now that's something we can all drink to!