Content is king and long shall it reign.
Behind every successful campaign is a wealth of valuable and original content that fuels the engine and propels the inbound process forward. Without relevant and educational content, there is no momentum putting the marketing flywheel in motion.
Contrary to popular belief, content marketing is not a new and revolutionary marketing strategy. However, businesses are increasingly discovering how to apply content marketing to produce content that proactively answers their target personas' most prominent questions to ensure they are informed and ready to buy when the time is right. Content marketing has become a mission-critical growth method for most businesses.
So what exactly is content marketing and why is it important for your organization?
What is Content Marketing?
HubSpot defines content marketing as "the process of planning, creating, distributing, sharing, and publishing content to reach your target audience." To take this definition a step further, strategic content marketing focuses on creating consistent, relevant, valuable, and highly informative original content to attract, engage, delight, and most importantly retain a clearly defined target audience with the end goal of driving more conversions. A robust content marketing strategy can boost factors such as brand awareness, reach, interactions, brand loyalty, and overall sales.
The key difference between content marketing and traditional marketing methods is content marketing seeks to earn your trust by pulling you in through useful content rather than forcing messaging onto unwilling or disinterested customers. A successful content marketing strategy aims to equip prospective customers with the knowledge they need to convert without interrupting their lives. If you prioritize your prospective customers' time and experience, they will reciprocate with their support, loyalty, and ultimately their business.
Benefits of a Robust Content Marketing Strategy
Businesses are rapidly identifying content marketing as the key missing ingredient to their successful marketing campaign recipe. Organizations that implement a robust content marketing strategy are seeing positive ripple effects on other initiatives such as brand authority, SEO ranking, and social media engagement. Website traffic is higher, and they drive more leads because of it.
Take a look at the data. It's been proven that those with comprehensive content marketing strategies see 7.8 times the traffic compared to those that don't. According to the Content Marketing Institute (CMI), 72 percent of marketers say content marketing increases engagement. That same percentage also agrees they've seen an increase in leads because of it.
Despite these positive growth opportunities, many businesses don't have a content marketing strategy in place, or they don't know how to properly use it. According to a joint study by Marketing Profs and the CMI, a shocking 63 percent of businesses don't have a documented content strategy in place.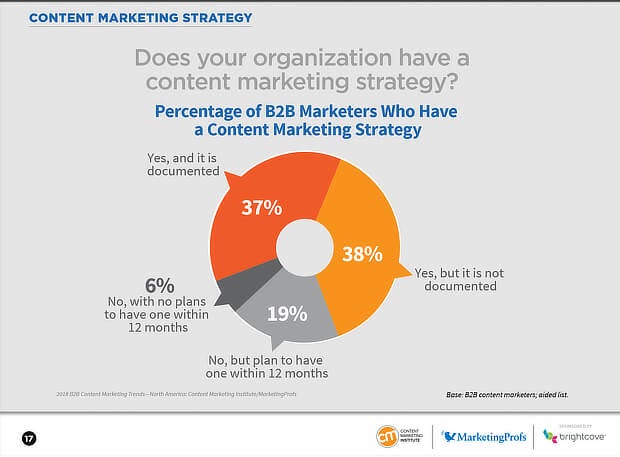 Yet, seeing the positive effects content marketing can have, more and more businesses are interested in learning how to make it work.
As they should. Content marketing is king.
So in this post, we'll break down the benefits content marketing can offer your organization, and guide you with actionable tips to help implement these strategies into your workflows.
Bolster Brand Credibility and Authority
In today's increasingly saturated and competitive digital marketplace, it's imperative for brands to differentiate themselves from their competitors. One way to achieve this differentiation is through deploying consistent content marketing.
Content marketing provides businesses the opportunity to showcase their subject matter expertise and industry knowledge in order to build trust, credibility, and authority with potential leads and customers. Consumers are simply more trustworthy of brands that consistently and transparently answer their questions with quality content without taking anything in return. As prospective customers consume more quality content, it's more likely they will positively associate your company as a credible thought leader.
But how do you write content that improves trust, and brands yourself as a thought leader? Here are a few ideas to get you started:
Talk to your sales team. Find out what some of the most frequently asked questions are from prospects and customers.
Stay up to date on your buyer personas, and their unique, individual paths throughout the buyer's journey.
Do keyword research, find out what your buyer personas are searching for.
Make sure all your content has a purpose and provides answers to the questions your customers are searching for.
Don't neglect social proof - include reviews, case studies, quotes, and testimonials in your content.
Improve SEO Efforts
One of the greatest benefits of a comprehensive content marketing strategy is the capability to improve search engine optimization (SEO). A proactive SEO strategy plays an important role in improving the visibility of your online presence. It is important to keep in mind, however, that in order to improve your SEO, you need to create original, optimized content. Implementing optimized content into a developed content strategy, such as a pillar page or hub and spoke model, will improve your visibility and help rank higher in search.
Consistent publication of optimized content also provides brands the opportunity to rank for more keywords, increasing ranking potential. For example, creating a comprehensive blog strategy that covers different relevant topics provides businesses more opportunities to rank for the relevant keywords that their target audience is searching for.
Cost-Effective Marketing Tactic
Creating consistently engaging, original, and valuable content is a cost-effective marketing tactic for bringing in new leads. Contrasting from traditional outbound marketing initiatives, content marketing is an affordable lead-generating strategy that often fits the budget constraints of small and medium-sized businesses (SMBs).
According to DemandMetric, content marketing costs 62% less than traditional marketing and generates about 3 times as many leads. While I could bombard you with a mountain of statistics, this one statistic encapsulates the true value of content marketing: get more leads for a fraction of the cost.
More Effective and Qualified Lead Generation
Content marketing plays a key role in the efficient generation of marketing qualified leads (MQLs). As prospects go through each step of the marketing funnel, they are exposed to original SEO-rich content that further educates them on the desired product or service. Content should address the questions, concerns, and needs of the prospective customer at various points of the marketing funnel to strengthen their perception of the brand and increase the likelihood of conversion. Here is a breakdown of the marketing funnel and the types of content that should be included at each stage.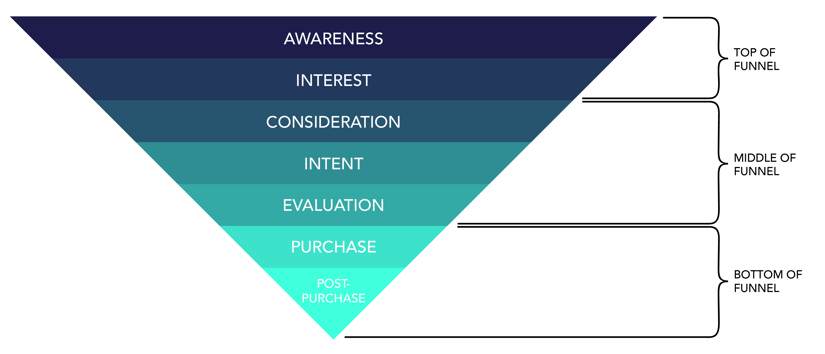 Top-of-funnel (TOFU) - During this stage, prospective customers are just entering the funnel and becoming aware of their problems. Content at the top of the funnel is created to facilitate awareness. Common content created for the top-of-funnel includes:
Blog
Social Media
Paid Ads
Infographics
Videos and podcasts
Middle-of-Funnel (MOFU) - During this stage, prospective customers need educational content that will facilitate evaluation, get them closer to a final purchasing decision, and turn them into MQLs. Common content created for the middle-of-funnel includes:
Email marketing
Ebooks and white papers
Reports and long-form guides
Templates and toolkits
Case studies
Bottom-of-Funnel (BOFU) - During this stage, content is created to help nudge leads over the conversion finish line. Common content created for the bottom-of-funnel includes:
Customer success stories
Competitive comparisons
Detailed specifications
Testimonials
Webinar or hybrid event
Enables Social Media Traffic
Businesses seeking to establish a prominent online presence can turn to content marketing to boost social media traction. Content marketing can be used to expand your audience and further promote your uniquely valuable content. Strategic digital marketers can leverage social media to post shareable snippets of their content on social platforms such as Linkedin, Facebook, Instagram, and Twitter that link back to their website page in order to boost website traffic and grow a broader audience.
Remember, the content that you share across your social platforms needs to target your specific audience. Your buyer personas are likely, not active on every social media platform. When putting together a content marketing promotion strategy, ask the following questions to determine which platforms you should focus on.
Who will be reading this content?
Why are they reading this content?
What stage of the buyer's journey are they in?
What product/service is it that they are searching for information on?
What types of social media assets (video, photos, stats, text) will make this content most compelling to the buyer searching for this information?
Answering these questions will help you make better use of your content on social media. Attracting the right people will lead to a boost of the right kind of traffic on your site.
Creating a Comprehensive Content Marketing Strategy for Your Business
A comprehensive content marketing strategy can have positive ripple effects on a business's SEO rankings, lead generation, and overall brand reputation including the degree to which prospective customers view your brand as a credible thought leader in your industry.
Businesses seeking to reap the benefits of content marketing should begin by conducting a thorough audit of their current content. This will provide a roadmap for creating future content that aligns with your target audience's questions and concerns ensuring they will be properly educated and ready to convert.