If you're not sure about all of the Facebook ad options, you're not alone. There are a ton of variables to help you customize your ads, but they can also be overwhelming when you're starting out.
How do you know when to use one campaign objective over another?
We've broken it down into three bite-size pieces, to help navigate when to use each campaign type, which ad placements to use to reach your audience, and what images or media are best suited for your objectives.
1. Choose your campaign objective
First, figure out what you're looking for your ad to do. Are you looking to increase awareness about your brand or Facebook page? Maybe you want to drive actions such as likes, shares, or chats to increase activity and traffic. You can also add code to your website to track conversions and purchases stemming from Facebook traffic.
Facebook offers a variety of campaign objectives to help you reach your advertising goals. Learn more about the various campaign types below.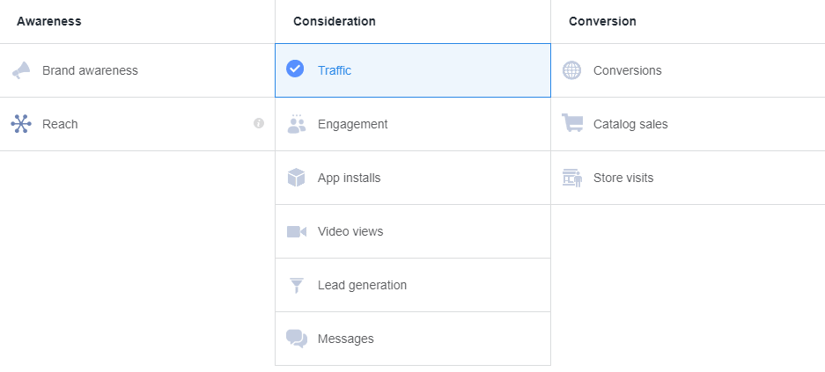 Awareness Campaigns
To increase awareness and maximize the amount of people out there who know about your business or product, you have two campaign types to choose from.
Brand Awareness will show your ad to users strategically across various placements. The more often a brand is presented to a user, the more likely they are to remember the brand, and interact with you page or posts.
Reach campaigns maximize the overall exposure of your brand to the largest number of people possible. While you might be showing your ad to more people, this ad type does allow you to "pepper in" your ads by customizing how often the ad is shown to a user during the duration of the campaign.
Consideration Campaigns
Drive your audience to take action with consideration campaigns. This option can send traffic directly to your website, Facebook page or specific posts.
Traffic campaigns are best used to encourage users to click through to your website. Consider this type when you have a blog post or page of content on your website that is particularly helpful or informative to your audience. You will have the option to add an Offer style ad to this campaign, which can help drive traffic if you are running an incentive, like sale pricing with a specific end date.
Engagement campaigns drive likes or reactions to your ad, which can be great for increasing overall activity on your page, but will not have a direct correlation to driving traffic back to your website or Facebook page.
App Install campaigns should be used to encourage users to download your registered app. Ads appear in the News Feed as well as in Messenger chats. If you have your own app and want to increase downloads or awareness, this is a great option for you.
Video View campaigns maximize the number of people who are shown your video, but performance is measured as a play time of three seconds or more. You can upload video content into an Engagement campaign instead, and specify where the ad is played to get a longer play time on average.
Lead Generation allows you to create a form on the Facebook platform itself to gather lead information. This can be a convenient, seamless option if your audience prefers to stay in the platform as opposed to pushing them to fill out a form on your website.
Messages ad campaigns appear on Facebook, Facebook Messenger and Instagram. Users can click on the ad to instantly start a Messenger chat with your business. If you're online and looking to chat, this could be a great opportunity to get potential customers the answer they need now.
Conversion Campaigns
Add value-tracking into your advertising campaign with conversion campaigns. You'll need to install the Facebook pixel in order to set these campaign types up correctly.
Conversion campaigns utilize the pixel to track actions on your website or in your app. You can assign value to actions to help track ROI. Make sure you have the ability to add the tracking pixel to your site or app if you want to pursue a conversion campaign.
Catalog Sales are a dynamic campaign that pulls items and images from your personal catalog. These ads are pulled automatically, based on your target audience or pixel audience. Learn more about the setup of this ad type here.
Store Visits use Facebook user location technology to find your target audience when they are in proximity to a brick and mortar location.
2. Consider Where Your Audience Is
Different ads can be displayed in different places, or placements. While you can probably identify the ads on the sidebar of your Facebook home feed, an ad can display in up to 12 different placements, depending on ad type and your objectives.
A "placement" can be a sponsored Facebook post, Instagram post, an embedded video in your news feed, or even a banner ad on your phone. Different placements change the look and feel of your ad, which can help appeal to a larger audience and drive actions across platforms as opposed to showing one ad always in the Facebook news feed. You want your ad to feel like something that would naturally be in the viewer's news feed on Facebook or Instagram and not appear out of place.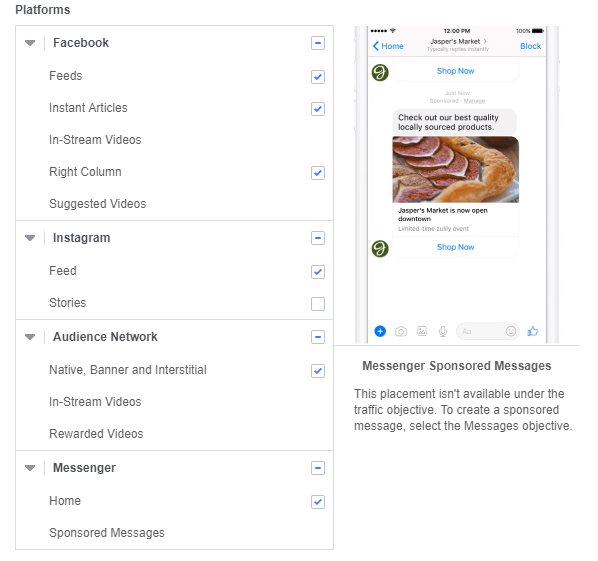 To find the right placements for your ad, ask yourself: Who am I looking to reach? This can vary campaign by campaign, but always know who you're looking for with any paid advertising.
New audiences usually mean you're trying an awareness campaign type, though traffic or engagement campaigns can also help reach new audiences. For reaching new audiences, align your Facebook targeting with your buyer personas. Then, start with a small budget to find what ads or messaging is most effective with this new audience.
When in doubt, rely heavily on high quality images or visuals to reach new audiences. Images account for anywhere between 75-90% of ad performance, so invest the time to only apply the ad spend to the best creative assets.
Returning visitors are sometimes easier to target than new audiences, but only if you have the Facebook pixel already installed on your website. The pixel tracks those Facebook users who have visited your site from the last 30 days and creates an audience of these users. Select this audience if you have decent traffic but a low conversion rate, as these potential customers may take action if shown your ad within their consideration stage.
You can reach new and returning audiences through various placement settings within the Ad Creator. Some placements depend on the type of campaign objective or ad creative (image versus video), but you can customize the placements to find your audience where they already are. If your buyer persona tends to spend a lot of time on Instagram, choose this placement for a campaign and track the results.
If you're not sure where your audience is yet, try all of the placements and let Facebook do the heavy lifting for you. After running a campaign or two, you can check the performance of different placements, and use this to inform future campaign placement.
3. Create Ads that Inspire Action
You need engaging imagery to accompany every single ad you create. A picture or video might not appear in every placement of your ad, but you need an asset to accompany each ad in the setup.
What type of creative will you run in this campaign: video, images, or other kinds of rich media? Adding these creative assets to your ad can drastically increase engagement and brand awareness, regardless of the campaign type you choose.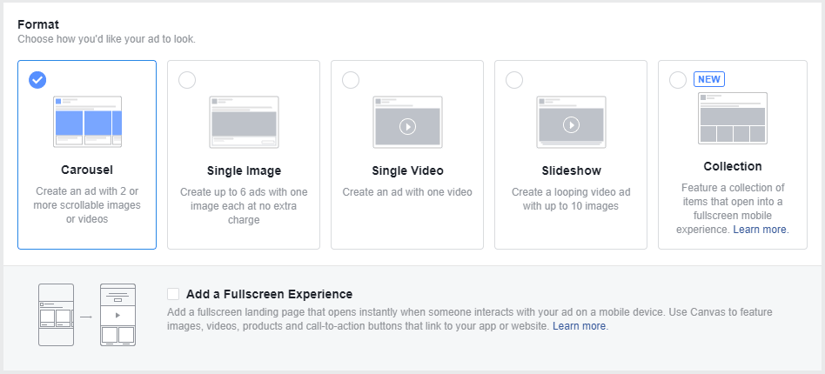 When to use photos
Single image ads are an easy way to test what kinds of images inspire your audience to take action. Simply keep the ad copy the same within an ad group, but upload 3 or more images to test. Facebook will automatically show the best performing ad more, once the data makes that delineation clear.
Carousel ads include several images in a single ad. You can set up a carousel of images that the viewer clicks through, or create a short video that cycles through the images in the carousel. This ad type is helpful if you're trying to promote a product that has customizable aspects, details that are difficult to convey in a single image, or are location-specific. See examples of carousel ads here. Choose this ad type if the entire product is not clear in a single image, and multiple views enhance the viewer's understanding of the product or service. Facebook can also be set to change the order of the images in the carousel to keep the most viewed images sooner in the carousel.
When to use video
Video content can be very engaging on Facebook, and this is especially true for mobile users.
A well-made Facebook video ad has captions and attracts the viewer's interest within 3 seconds. Videos are most likely to be watched with the volume off, and adding captions can increase view time by 12%.
When to make an offer
Offer ads can be a great call to action. Offers can include sale prices, coupon or discount codes, or link to a specific landing page. You should only use an offer ad type if you have an event, sale or special with a precise end date.
These ads perform best if you have a date attached to a conversion goal. You should run an offer ad for around 2 weeks or less, to keep a sense of urgency.
When to use a Canvas ad
Facebook created the Canvas ad option to add a full-screen, rich media experience. A Canvas ad can be a very effective way to present a strong branded experience to a Facebook user without taking them off the platform itself. For example, a razor manufacturer utilized Canvas to demonstrate different options for seemingly mundane product details, to create an immersive ad experience for the viewer.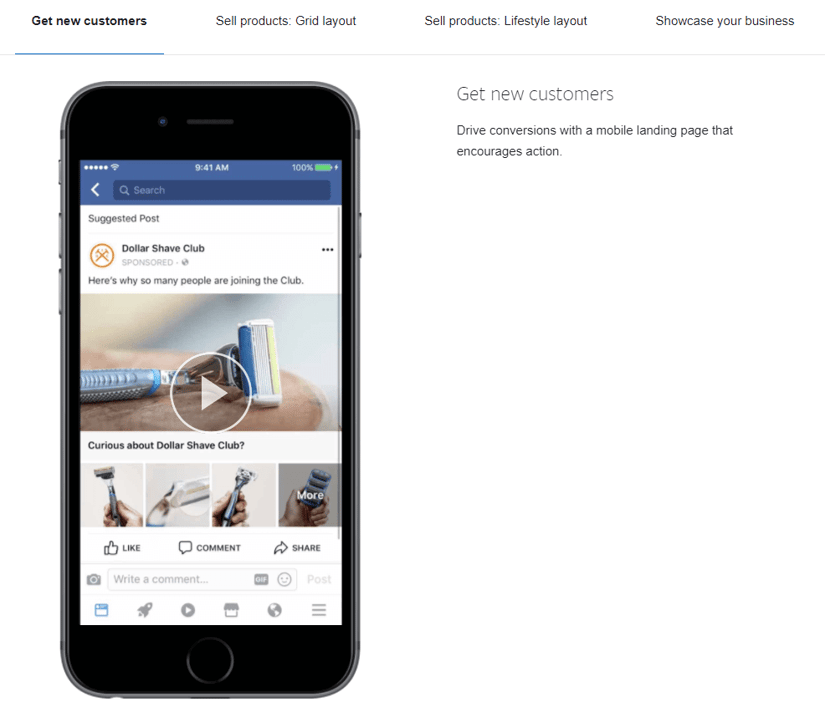 You can create a Canvas ad from the Single Image or Carousel ad options as an additional experience for mobile users. See some Canvas examples here.
Creating the Perfect Ad
For your next campaign and every campaign after, start with three short questions: What is my objective? Who am I trying to reach? Does my ad inspire action?
Answering these three questions can help define various campaign types, new audiences to target, and different types of ads to try out. Just remember that high quality visuals can make a huge difference in ad performance, so invest the time in your creative assets before applying any ad spend.