Companies are shifting how they think about revenue. Forward-thinking businesses are no longer treating it as a positive outcome of a high-quality product or service, but rather as a pipeline for business growth and success.
It's led to the term revenue operations, or RevOps, which is founded on the idea of alignment. By aligning your sales, marketing and customer success teams, you'll create a unified revenue-generating engine to power your business. This is RevOps.
And it's a smart move. Forrester Research predicts those B2B organizations that embrace aligned revenue operations will be best positioned to thrive in the next three to five years.
RevOps is more of a mindset than anything. It takes a solid understanding of what it is, why it's on the rise, and the benefits it can offer to effectively implement a RevOps structure in your own business model. In this beginner's guide to RevOps we'll discuss these basics, plus walk you through 5 actionable steps to begin the transition to an aligned revenue operations strategy.
What is Revenue Operations (RevOps)?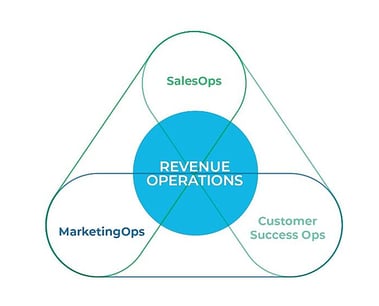 Revenue Operations is a business mindset that focuses on the alignment of sales, marketing, and customer success operations in order to provide a consistent process across the buyer's journey and drive growth through operational efficiencies.
A RevOps structure breaks down the barriers between sales, marketing, and customer success operations and brings them together under one department. This central RevOps organization allows the transparency and fluidity of data between all departments and ensures every part of the company is aligned to propel the buyer forward.
RevOps is about so much more than just converting a customer. It's about maintaining a relationship with that buyer, so they become repeat customers and continue to drive revenue in the future.
What's Causing the Rise of Revenue Operations?
We no longer live in a transactional world. The way we do business has changed. Buyers are more empowered than ever before. Before a salesperson even reaches them, they've already learned a great deal about your product or service, by conducting their own research. And with the rise of subscription-based business models, even in the B2B space, what happens after the sale is now just as important as the sales and marketing tactics before the sale.
This new type of customer requires businesses to place more focus on a unified buying experience. All departments of a business, sales, marketing, customer success, must be aligned in order to succeed.
With the rise of technology and new developments in automation, more and more tools and platforms are being used in the sales process. Separate tech stacks and systems have created barriers between departments, while buyers are demanding more alignment.
Thus the rise in RevOps - the solution to a siloed team structure and the key to a unified and data-driven collaboration focused on business growth.
The Benefits of Revenue Operations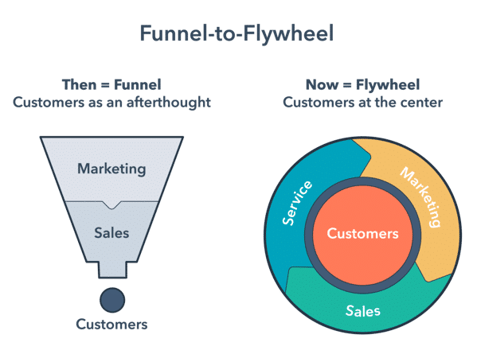 Data fuels everything we do, right? So where's the proof that this new business mindset is worth it? We don't have to dig too far. As top B2B companies are leveraging this new business approach, sales productivity, customer satisfaction, and digital marketing ROI are all increasing.
Boston Consulting Group reports that the adoption of a RevOps strategy in some of the biggest B2B tech companies across the country has resulted in:
10% to 20% increase in sales productivity
15% to 20% increase in internal customer satisfaction
30% reduction in go-to-market expenses
10% increase in lead acceptance
100% to 200% increase in digital marketing ROI
Not to mention, public companies adopting a RevOps model are seeing 71% higher stock performance. But let's go beyond the numbers. What benefits can you expect to see if you implement RevOps processes within your organization?
Increase in Revenue - The efficiency that a RevOps model brings to the company allows sales reps to focus more strategically on sales, generating more revenue, and increasing overall revenue growth.
An Agile Organization - A RevOps team gets the necessary people together in one room, making it easier to adapt to market changes and implement new products. It creates smoother transitions for the organization as a whole.
Growth Founded on Goals - A RevOps team focused on revenue growth will be responsible for setting and achieving high-level growth goals. This gives you some predictability in your business strategy as a whole and allows you to more effectively control the direction of your organization's success.
How Do I Know If RevOps is Right for My Organization?
All this is probably sounding pretty great right about now. But just because RevOps works for one B2B company, doesn't necessarily mean it's right for yours. So how do you know if it's time to start developing a RevOps model? Check if any of the following ring true:
Tool Overload - Do you feel as if your organization is using too many tools that don't integrate with each other? RevOps can be a worthwhile solution to help consolidate and align your software and tech stack into a centralized tool that fuels all of your departments.
Broken Processes - Is your business still operating on yesterday's market expectations? Business practices need to constantly evolve and remain updated and prepared for today's fast-paced market. A RevOps team puts the necessary people into place to keep processes up to date and adaptable.
Gaps in Data - Are you missing key data insights into issues like churn and low ROI? A RevOps team will ensure you have a centralized view of all your data in your organization while taking a hard look at what it all means.
If you're dealing with any of these challenges, it may be time to start implementing full-funnel accountability through a RevOps model.
How Do You Implement a RevOps Approach?
There are three essential requirements of a RevOps approach. To be successful, you need a dedicated team of people, specific operational processes put into place, and the tools (or data) to back it all up. The following steps will ensure you've properly integrated the people, processes, and tools needed to launch a successful RevOps department.
1. Designate an Operations Leader with a RevOps Mindset
It's critical to think of RevOps as a mindset, not just a business practice. So to successfully implement it into your organization, you need someone at your organization to put on the RevOps "hat". This person should hold the mindset that the key to growth is aligning core operational functions around revenue data. And this is the person you want to lead your operations team.
That doesn't necessarily mean hiring outside personnel and creating a completely new department. Usually, there is already someone in your organization that has this mindset. Think about those individuals in your company that usually ask the hard questions in leadership meetings. Designating someone internally to take over this role gives you the advantage of having an expert who truly understands your company.
You'll work with your Operations Leader to implement the next steps of your RevOps approach. Eventually, a dedicated RevOps team will be necessary to back up your head, but first, you need to come up with the processes and practices that this team will follow.
2. Audit Current Processes
Now that you have your operations leader with a RevOps mindset, work with this individual to audit all of your current processes. This will help you find any gaps or overlaps between departments. Look for the following:
Misaligned process between departments
Areas where a lack of process is requiring team members to create their own
Overlap in processes where two or more departments are responsible for essentially the same thing
It's not necessarily about which team is responsible for what. It's more about peeling back the layers of each process and evaluating how to make things uniform across departments. This audit will give you valuable insight into the areas that should be prioritized when implementing RevOps practices.
3. Develop RevOps Practices
RevOps practices are the processes, metrics, and goals of your RevOps approach. These are the tactics and daily progress your company will need in order to accomplish the revenue goals you set.
The processes you develop should:
Improve collaboration between sales, marketing and customer success
Provide a data sharing process that gives transparent insight to each department
Establish a feedback loop for each department that discusses improvement, business growth and revenue goals.
Here are some questions to ask that will help as you form these processes:
How do we implement a process with all of the teams that achieve our revenue goal?
How do we connect departments to ensure collaboration towards this goal?
What's the data that we need to make sure all departments are aligned along the way?
What type of metrics will be used to track the effectiveness of these processes?
Keep in mind that you shouldn't be adding new tools to your tech stack at this stage. Implementing a RevOps approach means getting your processes and goals well defined and aligned before you start implementing systems, technology, and tools to help accomplish these goals.
4. Decide on the Tools Needed to Accomplish These Processes
Now that you have your RevOps practices in place, you can start looking at the systems you need to make these processes possible. Take a hard look at your current tech stack. Evaluate what it's currently offering. A RevOps approach requires technology that offers three things: platform, process, and perspective.
Platform
A RevOps approach needs a unified platform for marketing, sales, and customer service teams. This means you need to have a centralized location where all your data is stored across departments. Your organization's data should flow freely between any systems that your teams are using. And any customer-facing employees should have streamlined access to this data. It should be as simple as possible for these team members to reference and update this knowledge base at all times.
Process
Your tech stack needs to support the processes you've established in the previous step. Your customers want a single, coherent process. So any technology you have should be aligned and make the customer's experience as simple as possible.
Perspective
Finally, the tools you adopt should offer a RevOps perspective. The systems you use should give you a clear idea of how one department's efforts are affecting another. For example, you should clearly be able to see how a marketing campaign affects sales numbers, and whether the customers that come out of that campaign are satisfied or not.
If you're looking for a technology solution that covers all three bases, we'd recommend HubSpot's new Operations Hub. This software combines RevOps tools into a CRM platform, which enables all data to be accessed from one platform, in a centralized location.
Need A Solution?
Book a meeting with us to find out more about HubSpot's RevOps solution for your technology needs.
When evaluating your current technology, consider if it offers a centralized platform, supports RevOps processes, and gives you the right aligned perspective. If your technology does all three - you're in a good place. But you might want to also consider the following:
Are there any redundancies in technology across teams?
Do you need to implement any new tools to accomplish the above objectives
Should you remove any tools that aren't aligned with the RevOps approach?
5. Create a Dedicated Revenue Operations Team
Once you (or your dedicated RevOps leader) have adopted the RevOps mindset and implemented the right processes, the natural next step is to build upon this value by creating a dedicated revenue operations team.
This is known as the RevOps structure, or the reorganization of your company to make room for a single team focused on revenue growth. Now, before we scare you away with the word "reorganization", this doesn't have to be as dramatic as it sounds.
For smaller companies, the mindset and practices are really the heavy lift. Your RevOps leader is your strategist. This person will be responsible for the strategic planning and coordinating with sales, marketing, and customer success.
For larger companies with more resources, establishing a more comprehensive RevOps department might be necessary. Ask your RevOps leader to bring over personnel from other departments and create a unified Revenue team. Keep in mind that RevOps is not one team taking over, it requires all teams to come together on ONE team.
Accomplish Strategic Growth with the RevOps Approach
So there you have it. The RevOps approach. It's the vision of a unified revenue team, operating on a single source of truth, with unified processes in place. The result? A consistent customer experience through the full sales cycle. And that leads to repeat customers and - revenue growth. Really, it comes down to growing as a business by being organized, strategic and intentional as a business.
There's a lot that goes into developing a RevOps approach. But it's only possible if you have the right hat on. Remember to start by adopting the RevOps mindset, and believing in the power of alignment across departments. This critical first step will help you pinpoint the areas or processes that might need improvement. And with every step forward, your company as a whole will begin to develop growth-minded team members focused on creating more revenue for your business.