In exchange for their loyalty, your customers expect more. They expect to be delighted. Their attention needs to be earned. They need to align with what your company stands for.
That's where brand activation comes in.
The goal of brand activation is to form an emotional connection between audience and brand. It can take many forms and make use of multiple channels. But no matter the method, the objectives remain the same: drive action, inspire engagement, and build long-term customer relationships.
Brand activation agencies bring your brand to life
It's not always easy to execute a truly effective brand activation strategy on your own. Many companies lack the experience, resources, and in-house skills to create a cohesive brand story that resonates with their audience.
That's where brand activation agencies can help.
At Delta Marketing Group, we define ourselves as a brand activation agency because we specialize in creating complete brand experiences. We design, manage, and produce the products and strategies you need to form deeper connections with your audience.
Here are some of the qualities we believe define a brand activation agency:
Starts with the "why" before the "how"
A good brand activation agency won't jump right into creative, outside-the-box ideas. Those may be fun and exciting, but it's important to start with strategy before tactics if you want a brand activation campaign to be successful.
That's why we always start with the "why" behind our customers' campaigns. We need to define goals and objectives before we can create an activation strategy that resonates with customers.
The success of a brand activation campaign isn't always measured by increased sales. Sure, any marketing campaign's ultimate goal is revenue generation, but brand activation is more focused on building and deepening customer relationships to inspire loyalty. That's why the key measure of success for an activation campaign is engagement rather than purely sales.
Understands the real-world applications
Brand activation isn't just for the major brands of the world—the ones that have seemingly endless budgets to create amazing live experiences. A good agency understands the scope and budget for customers of all sizes.
Small-scale activation campaigns are often some of the most creative. You don't have to participate in experiential marketing at South by Southwest to activate your brand. Events and campaigns of all sizes present opportunities to engage your audience and form deeper connections.
Offers limitless creativity
Brand activation agencies do more than design logos and promotional products.
They solve challenges.
It's almost impossible for a brand activation agency to methodically list all of their capabilities, because they provide new ideas and solutions every day. Every company is unique, and every new project comes with its own opportunities.
A brand activation agency's job is to drive results with a combination of strategy, creativity, execution, and good old-fashioned thinking outside the box.
Masters multiple channels
Because brand activation can take many forms, a good agency has experience with a variety of different channels—and knows how to integrate them.
Here are a few of the most common types of brand activation:
In-Person Experiences and Events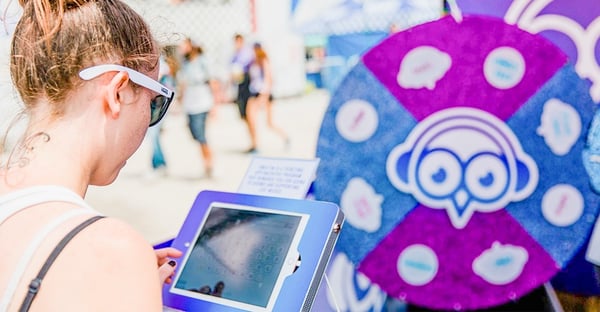 The word "activate" obviously brings to mind action. In-person events are perfect for a brand activation strategy because attendees get to experience your brand in motion. Whether your company's own event, an industry trade show, or a sponsorship at another event, exciting in-person experiences help your brand stand out.
Products and Promotions

Your company's swag speaks volumes about your culture and brand. Products and promotions can incorporate any physical product; inexpensive event giveaways, custom branded merchandise, apparel, corporate gifts, direct mailers, and more. There's true power in a piece of your brand that your audience can actually hold in their hands.
Digital Experiences
Your digital footprint is connected to every aspect of your branding and marketing. Digital experiences are a unique way to reach a broader audience than you may be able to access with physical products or live events. Digital experiences can include everything from interactive microsites to apps to games and beyond.
The heart of brand activation is forming a deeper connection between your audience and your brand. Whether you do that through live events, interactive experiences, amazing giveaways, or a remarkable digital presence, a brand activation agency can help bring your vision to life.