Webinars can provide a lot of value, especially in the B2B space. The numbers back this up. According to a study from B2B content and demand marketing platform, BrightTalk, 91 percent of professionals say webinars are their top learning format. That's pretty powerful.
Webinars can extend reach, brand recognition, and authority. And by offering valuable, educational content to your audience, you're able to nurture leads through the funnel more effectively.
But there's one significant value of webinars that's often overlooked. It's evergreen content. Repurposing your videos into an educational content library can provide extreme value to your clients and prospects. Plus, when properly optimized for search, you can use this content to generate more leads and traffic to your site.
Webinar SEO is similar to traditional SEO techniques, with a few strategic differences. Understanding how to optimize your webinar for search will help you get more value out of this content. These four tips will help you do just that.
1. Choose a Webinar Topic Based on Keyword Research
The best way to properly optimize your webinar for search is to start at the very beginning. Just like when you're optimizing a blog for search, the process begins with keyword research. The topic you choose should be based on relevant, highly searched keywords in your target industry.
This will guide you when choosing your webinar title and writing the content for your landing page. By including these relevant keywords, you'll ensure your webinar is searchable once published.
Here are three reasons why keyword research is essential for webinar SEO:
You ensure the webinar topic you choose is something of interest to your target audience. If you fail to do robust keyword research, you risk putting a lot of effort into hosting a webinar that no one is really interested in.
Keyword research will also give you a list of relevant and related keywords that you can include in the marketing content you create associated with your webinar.
These related keywords are also valuable for future webinar topics or subtopics that you might also want to cover.
When doing keyword research for a webinar, you'll want to think about search terms people use when searching for online video content. You might consider browsing YouTube or Vimeo, as this is where the majority of the web's video content is hosted.
You'll also want to be careful not to go too broad with your target keyword. Choosing a long-tail keyword of three words or more will help decrease your SEO competition. You can then focus on a very niche topic that is of particular concern to your target audience.
For example, if you're a manufacturing company, you might choose to target "machine monitoring solutions" or, even better, "machine monitoring system benefits" instead of just "machine monitoring."
How do you perform keyword research? There are quite a few tools that make it easy. We'd recommend the following:
2. Optimize Your Webinar's Landing Page
So once you've done your keyword research and settled on an appropriate topic for your webinar, it's time to think about the landing pages your webinar will be hosted on. And we're not just talking about one landing page. You'll need to think about the following:
Webinar registration page
Live webinar landing page
Webinar video recording landing page
Each of these pages should follow on-page optimization best practices, which involve weaving your keyword into the following content elements both on and off the page. This includes:
Page Title
Meta Description
H1 Tag
H2 and H3 tag if applicable
On-page body copy
Internal Links
Be strategic about your optimization. Don't just stuff in your keywords. Keep your content readable on your webinar landing pages. The most important part of SEO is, after all, the user and experience.
You'll also want to make sure all your landing pages are optimized for both desktop and mobile. Thanks to Google's new Page Experience update, this is a critical ranking factor that affects SEO.
3. Use Schema Markup to Increase Visibility
This might be new if you're used to optimizing written content. Schema markup is a way to tell search engines there's a video on your page, and what type of content, keywords, and information that video contains. This is a very important part of webinar SEO, and crucial if you want to optimize your webinar for search.
You'd probably recognize the use of structured data if you saw it. When a video is optimized with schema, also called structured data, it gives Google more context about your video, and in return, provides searchers with a rich snippet for your link. Just like this example below.

So how do you create schema markup? It does have to do with code, but you don't have to be a developer to use it.
First, use a free tool to auto-generate the schema you want to create. There's a ton of different resources out there. We won't bore you with listing them out, but I'd recommend just typing "schema generator" into Google. Most of these tools will do the trick. The tool you choose will ask you to fill in several different fields. Here's a look at which information you should prioritize for SEO.
Video name: This is a required field, and is the title of your video. It should be short and engaging and centered around your keywords.
Video description: This is a required field, and describes what your video is about. This is what appears in a rich snippet in search results. So the goal is to make it enticing enough that a user wants to click on it. This should also include your relevant keywords.
Video duration: This isn't required, but is recommended. This tells searchers how long your video is, and is often helpful.
Content URL: This is a recommended field that points to the video file URL. It's important to note that this file needs to be accessible on the web, otherwise Google won't be able to generate a thumbnail or video preview.
Thumbnail URL: This is the URL to the file you choose as your thumbnail. Don't underestimate the thumbnail. It may be small, but it's often what drives a searcher to read the description of your video. Choose wisely.
Embed URL: This is a recommended field that points to the player of your video.
Once you've filled out all these fields, the tool will create a custom code that you can copy and paste. You can then give this to your website developer, and have them add it to your webinar landing pages.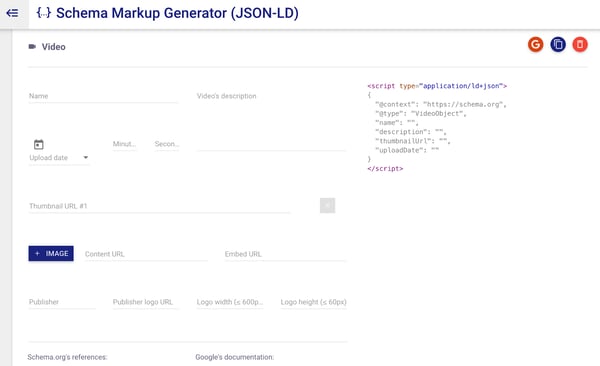 Keep in mind that site users won't be able to see this code. Schema markup simply helps search engines crawl your page, and index your video pages to show them in Google results, if you're lucky, in a rich result.
4. Create a Transcript of Your Webinar
The last bit of advice we can give you is perhaps the easiest webinar SEO tip of all. Include a video transcript on your webinar page. Creating a textual transcript will not only help search engines better understand your content, but it will even help users who might not have time to watch your full video.
Think about it. Most of the time, searchers are looking for a quick and clear answer. That answer quite likely is in the webinar you've created that ranks for a certain search term. But if it's not super easy for your audience to find that answer, they are going to bounce. By providing a transcript of your webinar, a user can easily search for the keyword their looking for on that page, and pinpoint the answer they need.
The average webinar provides about 10,000 words of content on your site. That's a whole lot of context that you'd be ignoring if you didn't take advantage of transcribing it. Not to mention, captions on videos actually boost view time and overall engagement.
Optimizing Your Webinars with Webinar SEO
Webinars can certainly provide a lot of value for B2B industries. But if no one can find them, or if they disappear after the event is over, then there's a lot of potential being flushed down the drain. Smart digital marketers will learn how to optimize their webinars for search and capitalize on the evergreen content they offer.
Learn the language of SEO, and turn your webinars into other content marketing tools that last long after the webinar itself is over. When webinar SEO is done right, you'll not only drive more traffic to your videos, but you'll begin to see other pages on your site drive more and more impressions, leads, and ultimately, conversions.