2020 has been a year of adjustment. Leaders in every sector have had to make difficult decisions. Many are recognizing this moment as a chance to adjust their strategies and are finding creative and unique ways to adapt.
Sales leaders have watched as the entire customer experience was forced online. They've had to make difficult decisions about their own teams, most of which took a legacy approach to sales. While offices worldwide shut their physical doors and opened them virtually, sales leaders were forced to pivot their teams to remote selling.
But here's the good news. The sales leaders who embraced these changes by adapting their sales models to enable sales reps to sell remotely are now exceeding their revenue targets.
While everyone else has been left to play catch-up.
Remote Selling is Creating a Competitive Advantage
According to newly released data from HubSpot's 2021 Sales Enablement report, 64% of sales leaders who transitioned their teams to remote selling in 2020 have met or exceeded their revenue targets, compared to 50% of leaders who kept course with their current models.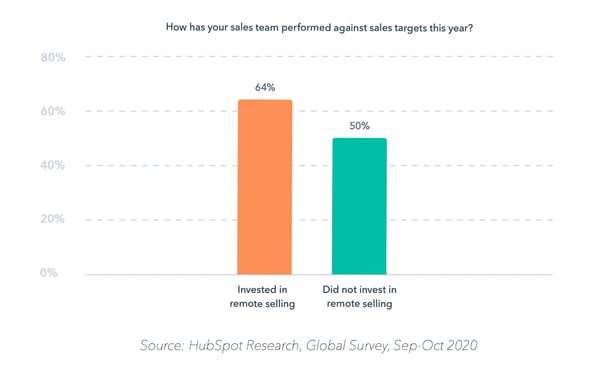 Now, a gap is forming between these two groups. When asked about their goals for 2021, those who exceeded their revenue targets are now focusing on acquiring new business, selling to new markets, and increasing sales to a new product or service line. While those that didn't make the shift are having to double back. Their goals for the new year are vastly different, focused on improving sales processes and making the transition to remote enablement in 2021.
HubSpot predicts this will further widen the gap between the two groups, as the sales leaders who embraced remote selling have their eyes set on new business. And the sales leaders who didn't adapt must now take two steps backward before moving their teams forward.
Regardless of this gap, 68% of sales leaders plan to implement a hybrid or full remote sales model in 2021.
So as you think about the amount of catchup you might have to do for your own sales teams - keep in mind that the majority of sales teams will be adopting some sort of remote process next year. To avoid furthering this revenue gap, now is the time to adopt a remote selling model.
So how do you enable your sales teams to sell remotely? Here are five steps to help make the transition successful.
1. Sales Leaders Must Model a Remote Selling Mindset
One of the most important jobs of any leader is to be a positive role model for their team. You have the power to greatly influence your organization with something as simple as your mindset.
So it makes sense that before you can expect your team to fully adapt to a remote selling model, you have to clearly demonstrate that you believe in it and you practice it yourself. Remember, it's your job as a leader to create a strong foundation for your organization.
When introducing the method of inbound selling to our own clients and their sales teams, we've clearly seen the sales managers who become champions of this new approach have the most success with their teams.
Now, remember talking the talk isn't enough. As a manager, you have to demonstrate these new selling practices yourself. If sales leaders see these new methods in action working, they'll be less resistant to change, and more willing to buy into the process of inbound and remote selling.
Without guidance, sales reps might start making things up as they go. As a sales leader, you want to support message consistency for your brand. That's why it's important you model the way they should be using the inbound selling practices you adopt as an organization.
If you transition to a robust CRM, like HubSpot, to support remote selling and inbound practices, make sure you understand how to use it. HubSpot offers a variety of free courses and certifications to help sales teams and leaders better understand and use their tools. These certifications should not only be required of your team but be completed by you as well.
From there, you can show your reps how to structure their email scripts and use prospecting sequences. We also recommend creating a sales playbook for your team to follow and then demonstrate it in action.
By buying into this new remote sales model and adopting the process along with the mindset, your team will be more encouraged to follow suit.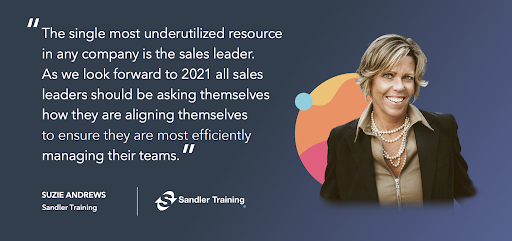 2. Invest in a CRM that Reps are Willing to Use
A customer relationship management (CRM) system is critical for a sales team's success. Numerous studies and reports show that businesses across the board gain ROI benefits from using CRM systems. Yet, only 13% of sales reps report they are satisfied with their CRM. What's the disconnect?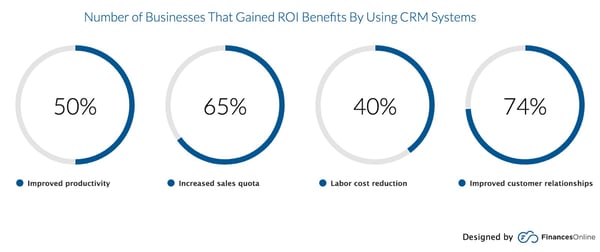 Unfortunately, because so many companies use a clunky and outdated CRM system, sales reps are left with a lot of manual data entry and administrative tasks that keep them away from doing what they do best - selling.
To get buy-in from your team, it's critical to invest in a powerful sales software that's easy to learn and easy to use. HubSpot is a great option that will enable sales teams while selling remotely by providing a centralized view of data in an organized and efficient way.
Auditing your current platform will help you determine inefficiencies, and determine areas that can be improved. This process should be a part of a larger tech stack audit, that will ensure all your technology resources are aligned with your goals as a sales team. Here's a great resource that will walk you through conducting a tech stack audit.
In this article, we'll go into further detail on what you should focus on when auditing your CRM. Follow these steps to determine if your current platform is meeting the needs of your team and organization.
Define the original purpose of your CRM.
Take a step back and clearly define the reason for adopting your current CRM in the first place. What were your initial goals as an organization when adopting this technology, and how have your goals or sales processes changed since? Is this CRM system still supporting the original and new goals of your organization? With a clearly defined purpose for your CRM, you'll have a better idea of what changes you might need to make.
Talk with your team about how they use the CRM.
Obviously, if you're going to invest in a CRM that your sales team is willing to use, you must make sure it meets their needs and expectations. You also have to understand what your current software system may be lacking in their eyes. Learn what they think the strengths and weaknesses of your software is, and how it could be improved.
Analyze whether your CRM is giving you conversions.
Sales all comes down to conversions. So when you take a look at your data during your CRM audit, it's important to evaluate whether or not this tool is helping your business meet the key conversion goals of your organization. If your CRM isn't helping you achieve sales, then is it really offering any value?
Look for data redundancies.
One of the most common complaints we often hear about CRM's is their inaccuracies. Especially if sales reps are not utilizing them to their fullest potential. So whether you decide to clean up your current CRM, or shift to a completely new one, it's important to analyze where the inaccurate data lives, clean it up, and ensure it doesn't happen again with whatever new process you use.
When analyzing your data, take a hard look at whether this information is providing obstacles for your team's success. Remember, a CRM's goal is to reduce the amount of work your team has to do. If data inaccuracies, redundancies, and inefficiencies are resulting in barriers as reps chase their quotas, this is a clear sign it's time for another platform.
3. Optimize All Sales Collateral
Having a robust library of sales resources is key to enabling the remote seller. In the days of door-to-door sales, reps relied on face to face conversations to build trust and relationships. Now, with email being the prime way to communicate with our prospects, reps need to have access to content that will help them replicate that trust.
Take a hard look at what you currently have as far as sales collateral. Does it give your reps tools for all stages of the buyer's journey? Here's what HubSpot recommends having in your toolbox:
Awareness Stage:
Blogs
E-books
Webinars
Whitepapers
Landing pages
Consideration Stage:
Datasheets

Case Studies

Buyer's Guides

Product Brochures
Decision Stage:
Pricing Guides

Sales Call Scripts and Email Templates

Product Presentations and Demos

Competitor Comparisons
Now that you know what type of sales collateral you should have, it's crucial that you've optimized it in a way that makes it easy for your team to access it - especially while selling remote.
While working with B2B sales teams, I commonly hear reps complain that their collateral is kept on an external hard drive, where they are forced to go in and copy and paste documents every time they need access. And I've worked with several companies that have absolutely no strategy in place for organizing all their sales resources. This is a problem in itself that is significantly magnified when teams are forced to go remote.
Creating a central location for all sales collateral and making it easy to access is crucial to enable remote sellers. HubSpot's Sales Document Management & Tracking Software offers a valuable solution.
With this tool, you can create a unified and shared library for your team, and organize it according to the buyer's journey. Even better, sales reps are able to choose documents to include in their emails from a drop-down menu in their Gmail or Outlook inbox.
As a sales leader, what I love about this tool is you can actually determine what documents are helping close deals. HubSpot offers aggregate data, including how many shares, visitors, and views each piece of content received. As a sales manager, you can use this information to determine which content is closing the most deals, and use this knowledge to fuel your sales collateral strategy moving forward.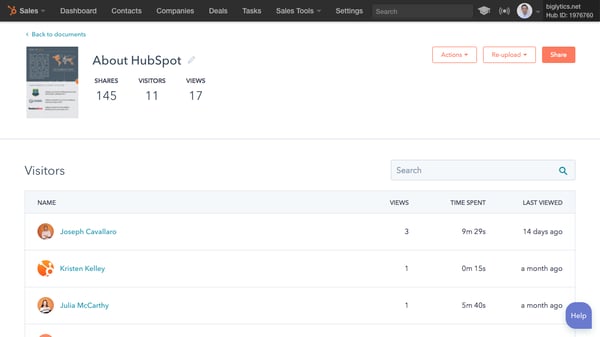 4. Prioritize Sales Enablement Training
So you've cleaned up or invested in a new CRM, and you've organized a new library of sales collateral. But what good is it all if your sales reps don't know how to use it?
That's why sales enablement training is so important. As a sales leader, it's your responsibility to provide your team with the content, training, and coaching services they need to provide the sales results your organization is looking for.
So how do you do it?
The first thing that's important to note is that sales enablement training is never one and done. It's a strategy that must be applied consistently and collaboratively as the processes, industries, and selling models change and adapt. It's a practice that must be kept up continuously.
You also have to understand what sales enablement includes. There are a lot of different philosophies out there, but we follow the HubSpot model which incorporates the following:
Aligning your team around a central revenue goal
Defining a service level agreement between marketing and sales teams
Maintaining alignment with sales and marketing collaboration meetings
Using content and technology to empower your sales teams
Supporting customer retention goals at the top of the marketing funnel
Oftentimes sales enablement works best when a third party leader, also known as a sales enablement manager, is able to lead the overall initiative. This person should have experience in both sales and marketing and is responsible for developing the strategy, overseeing technology implementation, and providing onboarding and training while keeping all parties informed and involved.
The sales enablement manager then leads a workshop with both your sales and marketing teams to help bridge this alignment. Our agency has guided several sales teams and businesses to success by implementing this sales enablement strategy, and we'd be happy to start a conversation with you about your own sales enablement goals.
After aligning your teams with a workshop, it's critical every single rep is certified on the CRM. When your team doesn't understand how to use your company's software, they won't waste time with it. In fact, this Accenture report reveals that only 13% of reps are using their sales tools' full capabilities.
That's not what you want to hear as a leader who just invested a lot of time and money into a new software system. So part of sales enablement includes ensuring all employees are well-versed in this technology. Because remote selling requires more touchpoints than ever before, it's critical for reps to be comfortable using and utilizing their CRM system.
Finally, investing in one-on-one time with your sales reps is key to sales enablement. This will help accelerate your reps' ability with a customized game plan for each of your team members. Because personality plays such a big role in sales, there's no one-size-fits-all for sales reps. Every one of your team members is different, and they'll need coaching and strategy designed to play off of their strengths.
5. Leverage LinkedIn
The final step to enable your sales reps to sell better remotely requires your team to get active on LinkedIn. Social Media Today recently reported that the social network is seeing record levels of engagement this year, increasing from 675 million members to 722 in the past year.
With such a wide audience and endless opportunities, it's critical that sales reps use LinkedIn as their personal marketing and sales platform. Unfortunately, I've observed that most reps don't understand the purpose of the platform. As a result, they become lost when trying to use it for their sales initiatives.
In order to turn LinkedIn into a useful sales asset, reps should first fully optimize their profiles. They should adjust their headline, job description, and projects and media according.
Once they have branded their profiles accordingly, reps should begin to engage and interact with their prospects, even before they reach out via email. Also, have your team pay attention to the groups that their prospects are part of. This will allow them to join and engage with these groups and potentially discover additional opportunities.
Engage in LinkedIn groups by sharing helpful and valuable information to the community. Some examples include:
Actively commenting on other member's posts with your own insights
Asking questions about your industry
Posting helpful and relevant content of your own
Answering community questions with helpful insights
Reposting other people's content
Finally, sending a highly personalized and helpful InMail message can also be an effective use of LinkedIn. Be careful about how you come across, though. When not appropriately structured, InMail messages can instantly be recognized as a sales ploy and thus ignored.
Remember to find common ground in your message, keep it short, and give them a reason to reply. Here's a great resource to help improve your InMail strategy.
Growth Opportunities Exist in 2021
In the past year, we've seen the business and sales leaders who adopt these 5 remote selling methods rise above their competition. They've experienced growth in one of the most challenging economic climates in history.
And yes, we've also seen those stuck in legacy approaches struggle and fall behind. The good news is that it's not too late.
Position your organization and your team for success in 2021 by adapting to the new remote selling strategy now. By reviewing your current sales model, and pinpointing the areas that need to change, you'll head into the new year well-positioned to reach your revenue targets.
Remember, your job as a sales leader is to both enable and inspire your team. Don't forget the importance of leading with an open mindset.
After all, we can't be certain what faces us in 2021. But we can learn from the data trends of 2020. And by remaining open-minded and adaptable, you'll lead your organization to new opportunities for growth.