HubSpot users: when was the last time you checked your page speed? If it's been a while, you've got some work to do. Here's why:
Google has started to roll out its long-awaited Page Experience update. The new ranking algorithm is expected to be complete by the end of August 2021. Site speed, overall user experience, and page responsiveness will become three critical factors determining search engine rankings. Google created three metrics known as Core Web Vitals to measure a site's page experience ahead of their update.
There are multiple tools out there to help you measure these Core Web Vitals and plenty of tips to help you improve them, but as a HubSpot user, some of these recommendations might not be the best fit. That's why we put together this HubSpot-specific guide to overcoming the Page Experience update. Here are 6 ways for HubSpot users to overcome the Core Web Vitals update.
1. Understand What Core Web Vitals Are
First things first, let's make sure we have a solid understanding of what core web vitals are, how to measure them, and what a good score looks like. A fair warning - these terms sound a bit complicated. But when you break them down, it's a lot simpler than it seems.
The three metrics that makeup Google's Core Web Vitals are:
Largest Contentful Paint (LCP) - This measures the speed of your site. The metric refers to the time it takes for the main content on the page to load on a user's screen. Think of it as the amount of time it takes for content to load after clicking on a link.
First Input Display (FID) - This measures interactivity on a page. It measures the time it takes for a user to interact with your site. For example, when someone clicks on a button, FID measures the amount of time it takes to actually process that request.
Cumulative Layout Shift (CLS) - This measures how stable a page is while it loads, or "visual stability". A high CLS means elements on your page move around a lot while it loads, which is not a good user experience.
Along with these metrics, Google has also established benchmarks in which it determines if a page meets the Core Web Vitals. Here's the goal:
LCP - A page should load the main content within 2.5 seconds of landing on it.
FID - A user should interact with the page within 100 milliseconds of landing on it.
CLS - Cumulative layout shift score should be less than .1, meaning there are little to no jumps in page layout.
So now that you know what you should score, how do you measure your site's Core Web Vitals? Google has made it super easy for site owners by adding several new ways to measure these metrics. We won't get into them all here, but perhaps the easiest way is to head over to Page Speed Insights and enter your URL. You'll automatically get a score and recommendations to improve this score. The page will also tell you if your score qualifies as passing or not.

2. Use HubSpot's SEO Recommendations Tool
With a solid understanding of Google's Core Web Vitals, you can then take advantage of HubSpot's tools. In preparation for the Page Experience update, HubSpot revamped their SEO recommendations tool to include metrics that help you improve your Core Web Vital scores. It's helpful to look at these recommendations, along with Google's, as HubSpot will give you unique suggestions based on their website platform.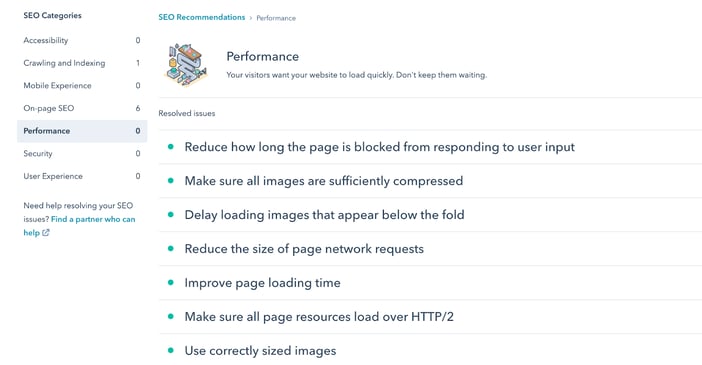 How do you use this tool? HubSpot makes it pretty simple for its users:
In your account, head over to your Marketing Hub.
Navigate to "Website" and click "SEO."
You'll see an option to scan a new domain for recommendations.
Enter your website domain, and click "Scan URL."
When the scan is complete, click "View Recommendations."
You'll notice HubSpot gives you seven categories. Performance, Security, and User Experience were added in light of the Page Experience update.
HubSpot's SEO recommendations tool gives you a good starting point to figure out what areas of your site might need improvement before Google's rollout is complete. But there are also some other HubSpot-specific adjustments that you might want to evaluate and adjust if necessary.
3. Lazy Load Large Images
One of the biggest inhibitors to a fast LCP or page load time is a large image or video files. Best practice is to shrink and compress images as much as possible before hosting them on your HubSpot site. But sometimes, you just can't get around having a larger file size. That's where you'll want to take advantage of what's called "Lazy Loading."
Lazy Loading is exactly as it sounds. It's where images on your page don't load completely until you've scrolled to the section of the page where that image is located. In its place is a low-quality thumbnail until the scroller arrives at the image. By not fully loading these larger files, page load time significantly decreases.
In the past, as a HubSpot user, to implement Lazy Loading, you had to add the code in a custom module. Meaning you needed the assistance of a web developer. Now, HubSpot allows you to implement Lazy Loading in default modules. This means you can easily enable lazy loading when creating landing pages, blog posts, or other website pages using the default image module.
How? Simply add an image module to a page and select "Lazy Loading" within the "Image Loading" toggle. It's that easy.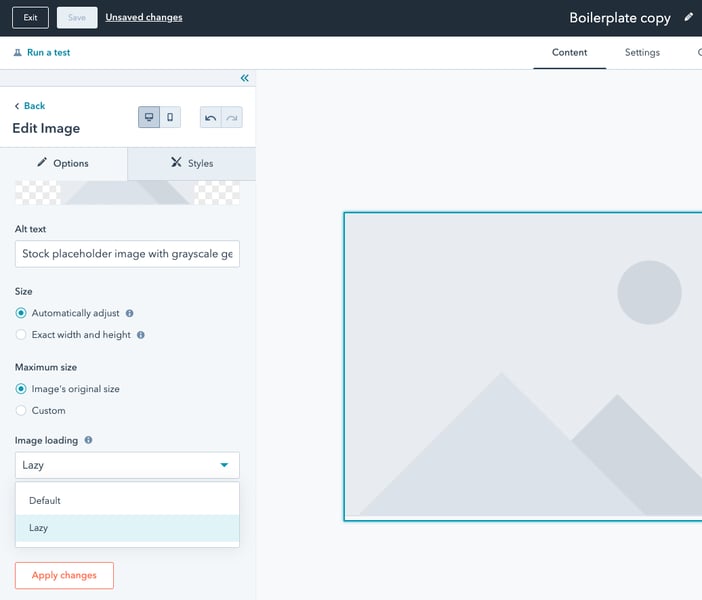 Before you start doing this on all your images, a word of caution. Lazy Loading images can sometimes affect your page layout or user experience. So use it strategically. Images that are already low in file size might not need it.
4. Double Check Smart Content
Smart content is a valuable tool in HubSpot. But if not used properly, it could impact the user experience. We recommend double-checking all the pages you have smart content on. Does the personalization make sense? Is it performing the way a user might expect?
Typically, HubSpot is pretty good about loading the right content when utilizing the Smart Content tool. But while analyzing your Core Web Vitals and your site's performance, it's a good idea to test the experience yourself. Ensure that everything loads as expected and the page layout behaves as it should.
You might also want to analyze the performance of your smart content. Take a look at total page views, form submissions, CTA clicks to determine if users are responding appropriately to your Smart Content. If not, maybe it's time to rethink how you're presenting this content.
5. Delay Your Chat Tool
Do you use HubSpot's chat tool? You're probably pretty fond of it, and we get it. It's a great feature for converting traffic and lead generation. Unfortunately, it has a large effect on your page speed.
No, we're not asking you to get rid of it. But there are some things you can do to optimize it so it doesn't slow down your site. You can delay the chat's load time, so it doesn't appear until after your page has fully loaded for the user. Here's how:
Navigate to Conversations -> Chatflows.
Click "edit" on the chatflow you'd like to change.
Under "Display" and "Chat Display Behaviors", you'll notice a prompt to edit the time on page.
Enter the number of seconds you'd like to delay your chat. This will delay your chat from loading for that set amount of time. HubSpot recommends 5 seconds as best practice.
6. Be Careful with HubSpot Forms
HubSpot's forms and CTAs can have a pretty drastic impact on page speed, especially on mobile. Why? Each form and CTA has its own Javascript, which requires a significant amount of load time.
The easy fix is to use forms and CTAs sparingly. Don't always opt for the button. Sometimes you can use a regular hyperlink in place of CTA and get the same results. You'll also want to be a bit more strategic where you place your forms and CTAs. For instance, many companies are so focused on lead generation that they opt to have a form fill in the footer of almost every page on their site. Is this really necessary?
Use data to fuel your decision. Access what forms are performing well, and compare this to the benefits of increasing your page load time. Decide if increasing your page speed is worth removing a particular form or CTA. You'll also want to test the results of hyperlink CTAs. If they perform just as well, you've discovered a way to capture leads and reduce page load time.
I improved my HubSpot site's Core Web Vitals. When will I see the results?
That's a tough question to answer. It depends on how poor your Core Web Vitals were in the first place. If you scored somewhere in the red, and now you are scoring in the green, you could see some pretty drastic changes in web traffic.
But the benefits go beyond just search rank and traffic. You'll likely see an increase in conversions too. Think about it. If you're providing a better overall user experience, with a fast page load time and little to no page shifts, users are less likely to get frustrated with your site and bounce off it as a result.
So while we can't guarantee you'll see an instant boost in search engine rankings, we can bet that by taking the time to improve your Core Web Vitals, you'll have happier website users and, as a result, traffic that's much more likely to convert.