With over 18 years of experience in the promotional products world, I've learned that marketing trends come and go quickly. However, there's a current marketing trend I've noticed that is here to stay: companies being socially and environmentally aware when it comes to distributing safe promotional products. Customers like you have a role in maintaining product sustainability, too. Here's how.
Usefulness Above All Else
According to the Global Advertising Specialties Impression Study of 2016, usefulness is key when it comes to consumers keeping promotional products. Statistics prove that consumers prefer promotional items with practical, everyday uses like USB drives, calendars, and reusable bags.
If companies order promotional products that are useful, it not only benefits the business by maximizing repeat brand exposure, but also benefits the environment by ensuring that consumers keep their useful products instead of throwing them away and adding to the world's already harmful landfills. We don't want you or your customers to throw promotional items away, so be sure to order products that have a high staying power because of their usefulness.
One of your best bets for picking useful promotional products that customers will keep lies in the category of tools. Think about it: people find themselves needing tools in everyday life whether it be at home, work, or school. Gifting your customers with well-made tools that they probably never knew existed is a unique way to delight customers into keeping your company's promotional items for a long while.
Here is a list of useful promotional products from an inventive tool manufacturing company, Alexander Manufacturing, that will maximize your brand's exposure with their high staying power and usability.
1. Pocket Partner Reversible Screwdriver
I'm sure you're familiar with the standard pocket sized screwdriver; I bet you even have one yourself. However, there are unique characteristics that differentiate the Pocket Partner reversible screwdriver from your traditional household tool. This miniature tool features an easy-to-change reversible Slotted and Phillips blade for all of your "fix-it-up" needs. While this item is appropriate for all industries, I'm confident that it would make a perfect industrial trade show giveaway.
2. SHARPDRAW ™ Pencil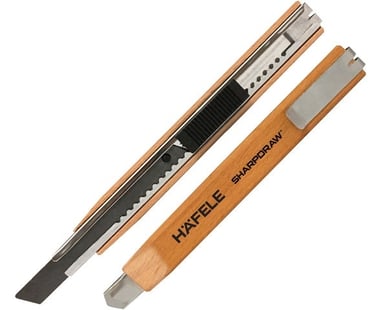 The SHARPDRAW ™ Pencil is a professional grade wood carpenter pencil with a fancy name and additional bells and whistles. In case you don't know, a carpenter pencil is a pencil with a rectangular body to prevent it from rolling away upon setting it down. This useful promotional product is a more advanced version of your typical carpenter pencil; it features a spring steel pocket clip and a slider button with an automatic lock-in place design. I envision this product as an employee gift or incentive for building, architecture, and of course, carpentry companies!
Just for fun, click the play button on the video below for a quick tutorial on how to sharpen a carpenter pencil.
3. Magnetic Metal Flashlight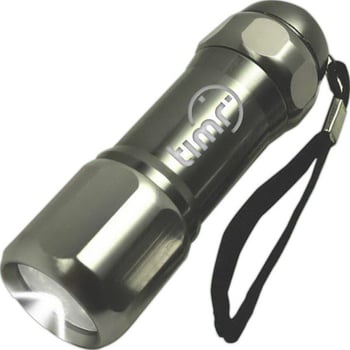 Here's a sturdy little tool that is useful to anyone. This magnetic metal flashlight is unique because of the two magnets on the sides of its body that allows it to mount magnetic surfaces. Place this useful tool on your refrigerator, file cabinet, and more for convenient use. Your logo will look sleek and modern when laser engraved on this polished, miniature flashlight.
4. Pop-Up Lantern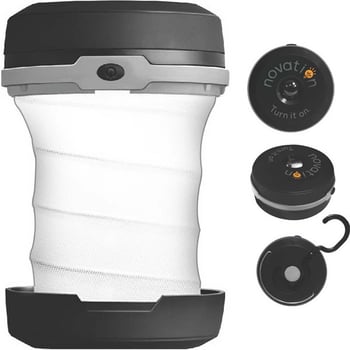 Lanterns have become trendy in indoor and outdoor decoration as well as for outdoor recreational activities like camping. Promote your brand with a trendy item like this pop up lantern that has three lighting functions: high, low, and flashing.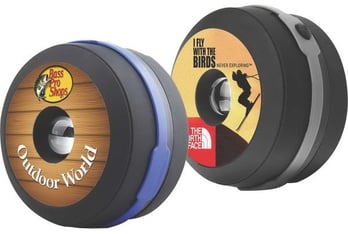 Another unique feature of this trendy tool is its ability to transform shapes! It pushes down into a compact, hockey-puck like shape for easy storage and distribution.
5. Carabiner Tape Measure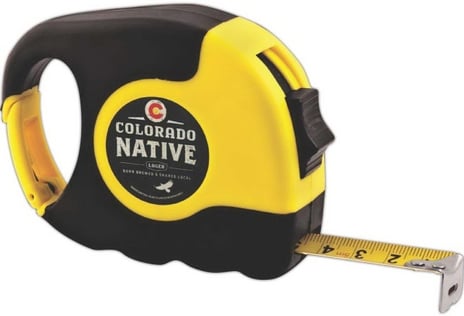 Unlike other promotional tape measures, this 25-foot carabiner tape measure sports a rubberized no-slip grip to ensure that it won't fail the determined workers using it. It features a carabiner and blade-locking mechanism for precise measurements. Going back to the promotional side of things, I love this tape measure because it allows for digital full color process printing of your logo to maximize brand exposure.
6. Small Snap Blade Cutter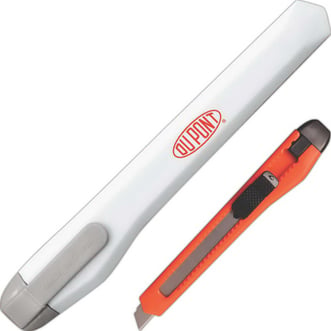 This product is an everyday essential for general and utility usage. The small snap blade cutter has a plastic body ideal for printing your logo that covers a 12-section blade. Keep this tool in your desk drawer for whenever you need it. It stores easily thanks to its small size, and is completely safe with its removable top and sturdy pocket clip.
7. Utility Scissors with Magnetic Holder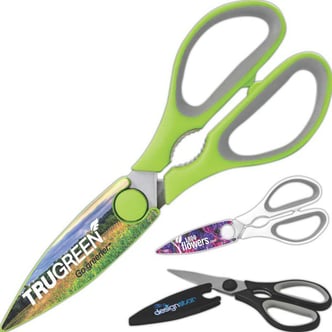 These heavy-duty utility scissors with a magnetic holder aren't for light arts and crafts endeavors (unless that's how you want to use them, of course!). Made of high-quality stainless steel, these scissors have serrated edge blades and a jar lid opener/gripper. Starting at $10 each, these scissors have a magnetic holder that attaches to most magnetic surfaces, which allows for convenient placement and makes them hard to use!
A trendy aspect of this tool is that it's available in neon colors. Neon colored everything has been sweeping the nation for the past five or so years in terms of fashion, products, hair – you name it! This is probably because of the attention-grabbing effects neon colors illicit. Definitely a cool marketing trend to keep your eye on!
8. Budget Tire Gauge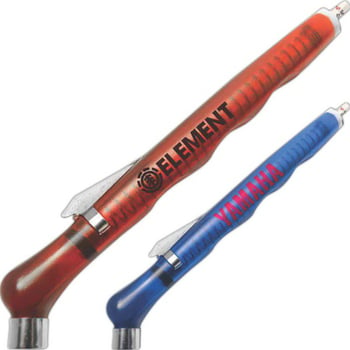 Help your customers with achieving better fuel efficiency and having comfortable drive with this budget tire gauge. Perfect for auto companies or anyone who drives a car, this useful promotional item has the ability to measure a 10-75 PSI (pounds per square inch) range. Customers will keep this tire gauge handy in their vehicles and be reminded of your brand every time they use it.
9. Coaster with Bottle Opener

Here's a dual use tool that will showcase your company's inventive side. This multi-function tool is the same size as a standard drink coaster with a bottle opener in the corner. This coaster with a bottle opener is made of heat-resistant plastic and has a non-skid rubber base to ensure that it won't slide around. Broadcast your brand with your full color logo on a tool people will use for years.
10. Page Marker Magnifier

To wrap up this list of useful tools, I've chosen to showcase this simple page marker magnifier, also known as a fancy bookmark! This simple giveaway features 4x magnification as well as a ruler for small-scale measurements. This is perfect for anyone who has to sift through text-heavy, technical books.
So, what's the point?
Companies looking to improve their marketing with promotional products need to know that they share a role in ensuring environmental and social responsibilities when it comes to the promotional products industry. It's not just about blindly marketing yourself with cheap products and expecting to see results, it's about sending a message that your company values sustainability.
Also, it's important for businesses to know which promotional products out of the tens of thousands of items available will maximize their brand exposure. Promotional products with a high staying power, like the tools listed above, will ensure that your customers and clients keep these products around, thus being continuously exposed to your brand.
So remember, make sure that the promotional products you choose for your brand are useful! After all, it's for the benefit of everyone when consumers hold on to promotional products instead of just throwing them away; it will create a positive impression of your brand in your customer's minds as well as not contribute to the tons of trash that are destroying our environment.